International break wraps up this week as Serie A action returns this weekend as a league action resume. It is finally back and Roma are ready to kick things off this weekend as they host 14th Place SPAL at the Stadio Olimpico and hopes to string at their 5th win in a row. After a rough start to the season Roma have finally got themselves back where they should be as they find themselves in 6th within Striking Distance of the top three. Last season Roma won the season series against what was then a newly-promoted team. The last time these two teams faced off in Rome Roma recorded the highest shot total of the season in Serie A with 37 shots in what was a 3-1 victory. Roma find themselves in great form on a four-game winning streak whilst SPAL has lost four straight games. Given the form and the way the teams have played it's going to be very difficult for SPAL to come to the Stadio Olimpico and get a result in the opening fixture of the weekend we could see a this Roma team punish them. The question is can SPAL a team in need of points make things tough on the heavily-favored Romans.
A.S Roma
As I mentioned Roma will be heavily favored in this game and for very good reason. They had a really tough start to the key new campaign but have found a way to overcome the adversity they faced early in the season as they drop points to inferior opponent and DiFrancesco found himself in a very difficult position in regards to his job security. However this is no longer a problem as Roma have caught quite a bit of steam over the last few weeks. Since their loss to Bologna Roma have won 4 games in a row. A win again lowly Froisione emotional win in the Roman Derby a ugly win away at Empoli and a demolition the Czech Republic champions in the Champions League. With that being said Roma will have a few players who will miss action due to injuries. It has been confirmed that Diego Perotti will miss action as he picked up another injury in training the Argentinian Winger has only appeared in 3 games for Roma this season. Also Roma captain and Daniele De Rossi will miss the SPAL match. I don't have any other information regarding how long he will be out for but based on what I've been hearing he could miss several games. Then finally Javier Pastore has been listed as doubtful as he continues to recover from previous injury. Roma are in a really good form and hopefully that momentum can carry. I see no reason to change formation since going to the 4-2-3-1 Roma scored 14 goals and only giving up one during that stretch. I think it's very possible we could see the same lineup Roma had in the Champions League a few weeks ago. A defensive Midfield held by Steven Nzonzi and Bryan Crisante I thought they did tremendously well together last time they were paired up. In that match Brian Crisante had a 92% pass accuracy. I think those two complement each other very well and it would be wise to pair them together. I think in Romans attacking Midfield we will see once again Lorenzo Pellegrini in a more attacking position as he continues to adjust to his new role since he has been moved further up in the attacking sense he has been superb one of the best players in the league over the last few weeks. It seems everything he touches turns to gold. I would love to see Justin Kluivert get another start for this Roma team especially in a game that shouldn't cause them too much trouble. I think pairing him in an attacking position with Pellegrini and Under could be a very wise tactical move. That string of Midfield is incredibly strong and talented I think it would work in really well together the defense will have no answer for the type of chances they will be able to create in the middle of the park. I think there is a possibility that Luca Pellegrini and gets another start I thought he did really well in his debut. In the attack we will without a doubt see Edin Dzeko and I believe will be the key player in this match he is incredible form having scored four goals in his last two games. During International break he became the 10th highest  international goal scorer among active players with his performance for Bosnia. He's in incredible form right now and I think at the moment he will be incredibly difficult to stop SPAL will have their hands full defensively because of what he is capable of he is just on fire at the moment and can use his strength and size to give them nightmares. Roma has all the tools necessary find life quite easy.
SPAL
SPAL are not going to be thrilled with the idea of coming to the Stadio Olimpico a place where they were absolutely crushed last season. Top to bottom this team just cannot match up with the weapons that Roma have even if Roma are slightly short-handed. These teams are at polar opposite points Roma are on fire and  SPAL from the looks of it has caught a cold. They are winless in their last four games and are creeping closer and closer to the relegation Zone a place I think they will ultimately avoid but its getting worrisome. Being unable to take care of their chances last time against Inter Milan is going to cost them now they have to go on the road to what I believe is a stronger team. Although they have some players that can make plays on a consistent basis they do lack consistency which is why I think the best move for them is to play defensive and send their to Play makers forward whenever they grab some momentum. When you are on the road against a big team going forward and attacking in an aggressive way can it be a calculator risk that could bite them. I expect to see a very defensive formation with multiple defensive midfielders to try to hold off what looks like will be the inevitable doom. Playing for a point might be a little negative however they find themselves far too close to the bottom and they would like they have a little breathing room but if they continue to play as poorly as they are they're going to be in big trouble. The key player for them will be Alberto Paloschi I believe he is probably the only possibility or chance of them creating a goal that is the one problem with trying to play defensive if they concede a goal they will have to try to play attacking football. The only hope they will have in terms of that is a moment of Brilliance from Paloschi.
Bottom Line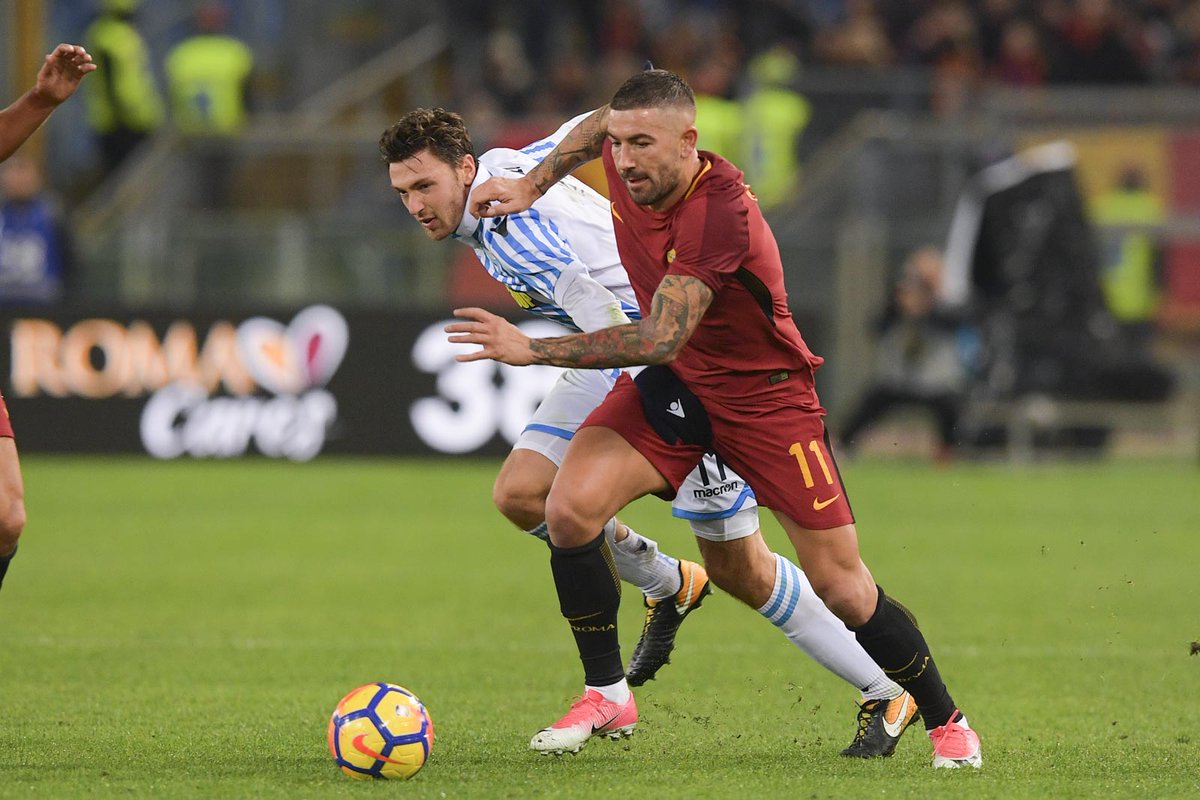 You should never underestimate bottom table team who's in need of points. SPAL do have have breathing room but they are on an incredibly poor run of form going at the team that has all the tools to break them down. I think it's unlikely we see an ugly win as we saw a week ago they going to the Stadio Olimpico and getting a result against this Roma team is  going to be very difficult. Even if they defend superbly well it is just simply too big of a task to ask of a team without any significant Stars. While SPAL have some quality players they do not match the weapons and the depth that this Roma team has. Roma are facing some injury crisis but have the depth in the team to deal with it. This is a talented and young Squad that is in a great place with four consecutive wins in all competitions despite their poor start this Roma team is looking for blood and I think they're going to get it. They are heads and tails above this team from top to bottom. Roma is currently the second highest scoring team in the entire league with only one less goal then League leader Juventus. The goals they have scored this season have them spread out and they they can get them from lots of different sources. Obviously in the attack Edin Dzeko the one you worry about because of how well he is been playing over the last few weeks he is in unbelievable form and he's scoring goals with ease. No matter what the defensive pressure is that SPAL can inflict on the game the weapons Roma have just are far to Superior. Roma being at home in front of their fans is only going to add fuel to the fire they have momentum and confidence which is something that SPAL is seriously lacking. SPAL have lost 4 games in a row and going up against this team who is on fire is the last thing they want. Roma are confident and have all the tools necessary to put this game to bed early. Roma should win is quite handedly and I expect they will SPAL just doesn't have the resources to counter this high-flying Roma attack. 
Roma's Projected starting XI 4-2-3-1
GK: Robin Olsen
DEF: Alex Kolarov, Federico Fazio, Luca Pellegrini, Alexandro Florenzi
DEF MID: Bryan Cristante, Steven Nzonzi
Front Three: Cengiz Under, Lorenzo Pellegrini, Justin Kluivert 
Striker: Edin Dzeko
Manager: Eusebio Di Francesco
SPAL's Projected starting XI 3-4-2-1
GK: Gomis
DEF: Cionek,Djourou,Felipe
DEF MID: Lazzari,Schiattarella,Missiroli,Valoti
ATT MID: Petagna,Paloschi 
Striker: Antenucci
Manager:Leonardo Semplici
Impactful Players to watch out for
Roma's Edin Dzeko
SPAL's Alberto Paloschi
Date: Saturday October 20th, 2018
Venue: Stadio Olompico,Rome 
Kickoff: 8:00AM (USA) 2:00PM (ENG), 3:00PM (ITA)
TV Broadcast: Sky Itaila, ESPN+