Score A.S Roma 0 SPAL 2 FT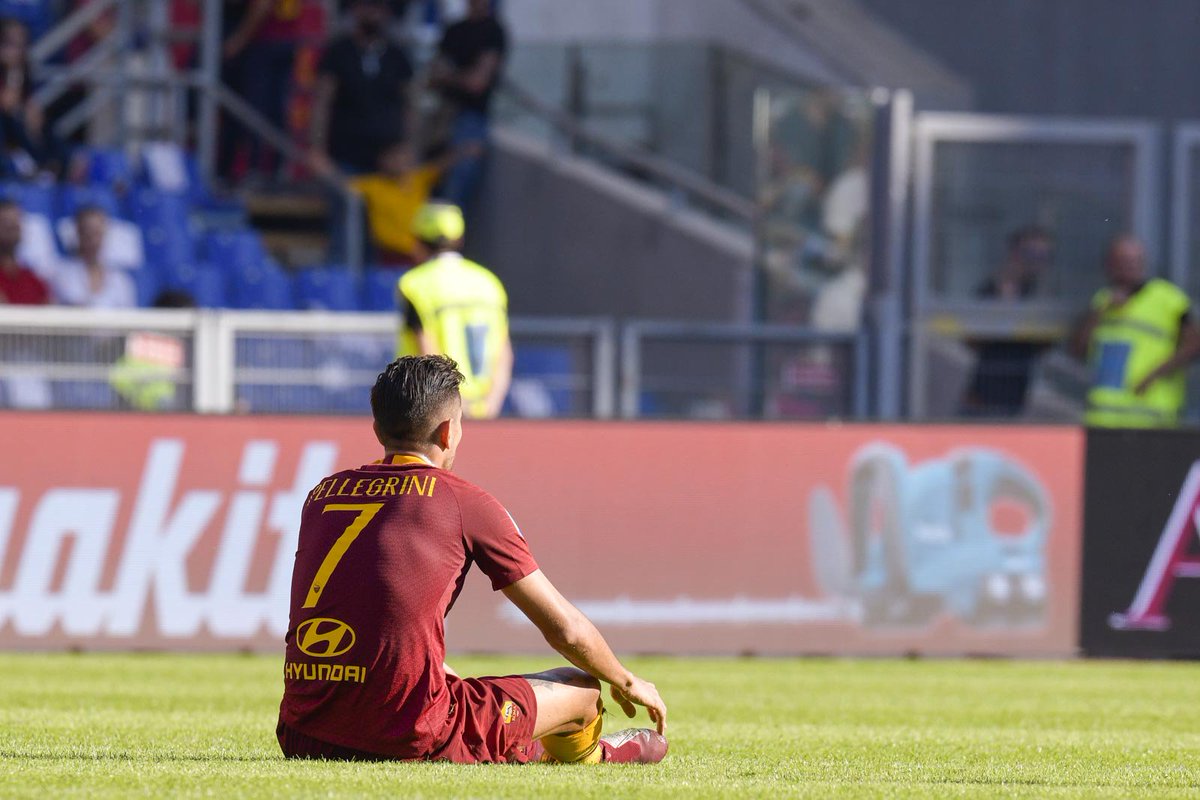 After a week-long international break Italian football returns as Roma host the opening the opening fixture of the weekend. Roma Welcome League struggles SPAL to the Stadio Olimpico in Rome. These two teams these two teams faced off twice last season with Roma handling their business quite accordingly winning the season series against what was a team that had just recently come up from Italy second division. Roma's poor start to the season has seemingly come around as they are winners of four consecutive games and three consecutive in the league as they find themselves in reach of the top four. Meanwhile SPAL have lost four consecutive games as each week they find themselves closer to the bottom of the league in danger of relegation even though they are not there yet another couple losses could drag them down even further. This is a game that Roma dominated at least in the first half there was no comparison the amount of chances Roma had was phenomenal and a large portion of those chances were on target. During that first half it looked like Roma in complete cruise control as it would only be a matter of time before they scored. However a lapse in judgement at the end of the first half allowed SPAL to take advantage when Manuel lazzari was taken down in the Box by Luca Pellegrini. SPAL had not register the shot yet. SPAL converted from the penalty spot to give themselves the 1-0 lead. Roma's weren't as forthcoming in the attack. Roma certainly had an opportunity to turn the mass around and get the three points Unfortunately they were unable to do that spal double their lead in the second half to put Roma in dismay. Somehow someway Spa stunned Roma at the stadio olimpico. As of Roma fall to 2-0 they could have quite easily  beat. They had opportunities to score and what really cost them is that first 10 minutes not stick one of those changes in the back of the net squandered their chance to win. Roma had more scoring opportunities more possession better passing accuracy and pretty much every aspect of the match Roma where the better team. They didn't have the confidence and a convection to come back from the dead. Roma left in devastation as Spa steal three points from Roma at the stadio olimpico. Roma fail to protect home when it was absolutely necessary.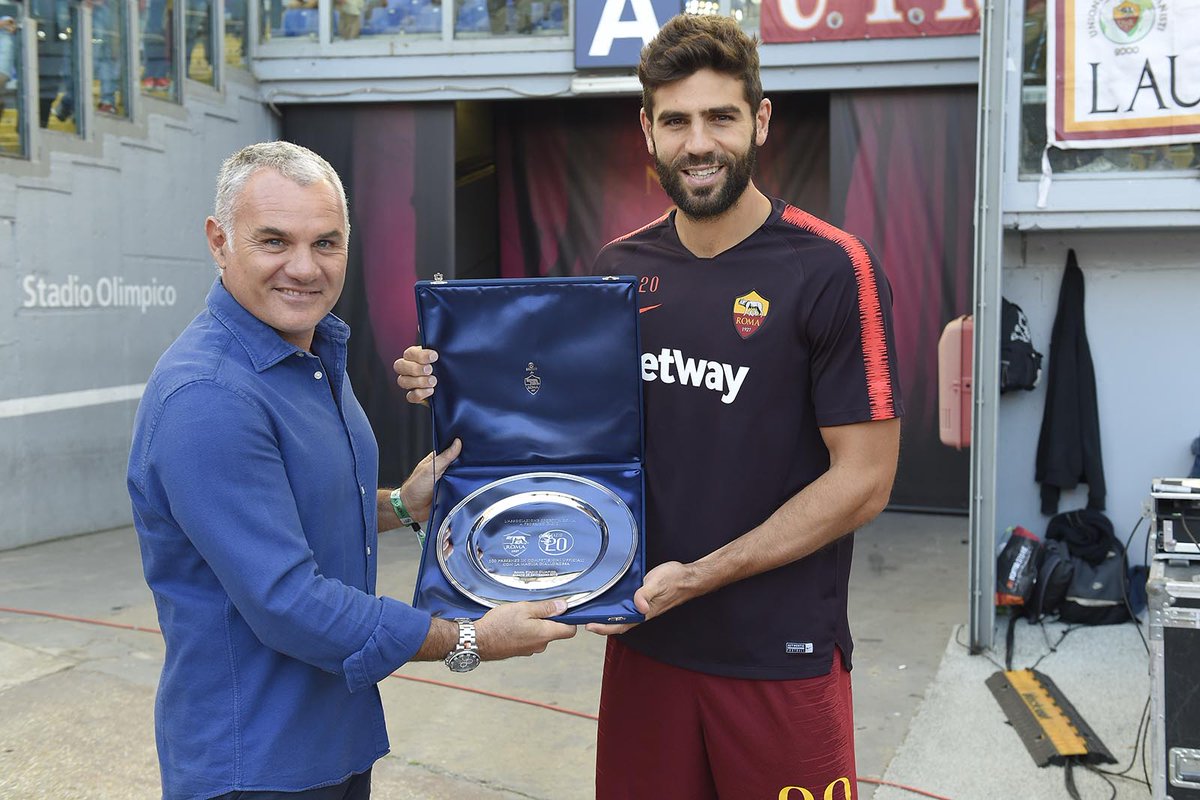 Before the Match Federico Fazio awarded with a Plack As he reached his 100th Match for Roma
Coming off an international break Roma is ready for battle again. Eusebio di Francesco continues to set his team out of the very effective 4-2-3-1 formation since making this change his team is yet to lose and has only conceded one goal. In that goal for Roma between the sticks would be Roma's number one Robin Olsen looking for his fourth clean sheet. It would be a slight shake up in the Roma defense with their Champions League match in midweek Alex Kolarov and Kostas Manolas would be given rest. At last back making only his second Serie A start of his career would be Roma Academy graduate Luca Pellegrini I think we will see more and more of him as the season progresses. Beside him we would see the centre-back partnership of Ivan Marcano and Federico Fazio then at last back would be stand in Roma captain Alexandro Florenzi. In front of the defense in the defensive Midfield we would see the pair of Steven Nzonzi and Bryan Crisante who comes in for injured Roma Captain Daniele De Rossi. The pair played exceptionally well together in the Champions League last time out so I like move by DiFrancesco. We would see a very strong and Speedy attacking midfield for Roma. In central Midfield would be Lorenzo Pellegrini who continues Thrive under his new role has he has solidified his spot in the lineup I find it hard to believe Pellegrini will give that spot up that's how good he is been in his new position. On the right wing would be Bayern Munich linked Turkish star Cengiz Under who has been a sensation this season. Then up front as Roma's main Striker would be the very dangerous Edin Dzeko who over the week became the tenth highest International goal scorer among active players passing Wayne Rooney with two goals for Bosnia over International brake. Edin dzeko was also on record watch this week as he is a goal away from equaling Dino Dacosta 78 goals which would tie him for 9th all time on Roma's scoring list. a strong team with an as always strong bench with the likes of Justin Kluivert, Davie Santon and others Roma should have no problem getting 3 points with this team.
After preparations and predictions ahead of this much anticipated fixture as football in Italy returns. Roma had the first match of the day against spal on a Saturday afternoon in Rome. Both teams arrived to the stadium and got ready for another match in this league Campaign. Teams that are at polar opposite sides in terms of form with spal having a four-game losing streak and Roma with a four-game winning streak. Early in this match we saw what you would expect from Roma they dominated from the first kick of the ball. In the opening moments of the game Lorenzo Pellegrini showed more of brilliance finding Stephan El Shaarawy with an important pass. El Shaarawy took a shot from inside the Box what was ultimately denied by The Keeper. A fast and fluid start from Roma just a few minutes later Roma went after it again Cengiz under took an ambitious strike from deep but his shot couldn't find the target. We have seen under score from those were distances so I didn't mind the shot. This was followed by yet another golden opportunity for Roma this time it was Edin Dzeko looking for goal as he struck from Deep but his shot was saved by the goalkeeper. It was a very aggressive opening few minutes for Roma is they had three chances in the opening 10 minutes just sit back in defend with no real threat going forward. About 10 minutes later Edin Dzeko found himself in a dangerous position again he drilled a shot into the bottom corner but remarkably the goalkeeper was able to deal with it again. Roma attack was just coming and coming just a few minutes later it was Edin Dzeko again as he struck another shot into the bottom corner but again was denied. Despite the fact that Roma has not scored a goal yet Edin Dzeko went at that goal so aggressively. As the first half went on Roma's attacking pressure continues Alexandro Florenzi saw his shot go wide before that was followed up with another chance 2 minutes later as Florenzi took a strike on goal but again was saved by The Keeper. Practically everything was going Roma's way however a lapse in judgment by the young Luca Pellegrini cost Roma as Manuel lazzari was it brought down in the Box as a penalty was given. Andrea Pentenga Barry's the penalty that gave SPAL 1-0 lead at halftime.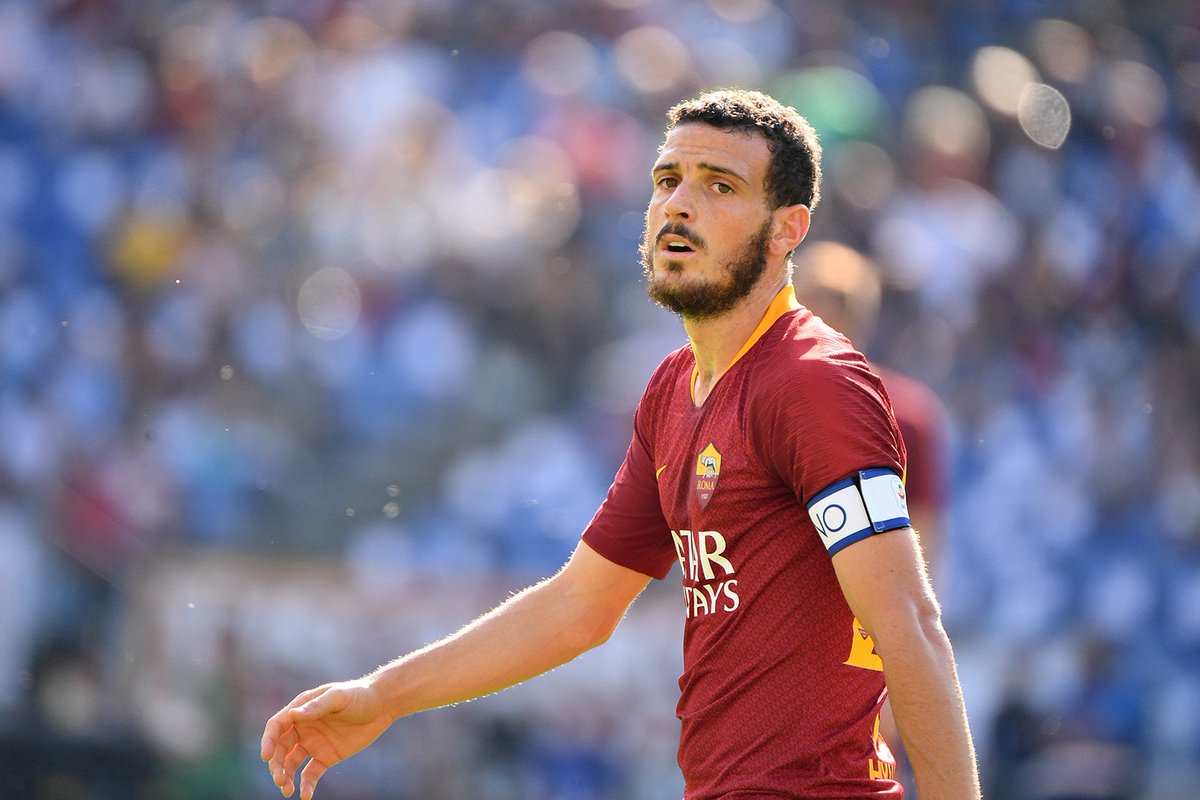 Florenzi stares into frustration after Roma conseed to end the first half 
Despite the deficit it was a great performance by Roma in the opening 45 minutes. Roma attacked in such an aggressive way that it always looks like Roma were going to take the lead unfortunately it was unable to happen that is something that surley was going to cost them. Rome were just one down they had the opportunity to bring them back and squeeze out the victory it wasn't over quite yet. It had looks like Roma we're going to continue they're great play in the second half when Edin Dzeko came close with a strike that just missed. Despite SPAL having the momentum they had really struggled to even register shot in the first half. Unfortunately early in the second half in the 56 minute somehow someway despite being dominated they had another breakthrough. When Kevin Bonzifazi drilled a header into the back of the net giving Robin Olson no chance to save it. All of a sudden Roma found themselves 2-0 down as SPAL doubled their lead. Despite the fact they were at home this was getting into dangerous territory Roma needed two goals just for a draw and against this team even a draw is a poor result. Justin Kluivert entered the game for Bryan Crisante as DiFrancesco was forced to make a change to try to inject some energy into the side. There was little to be desired from this Roma side the team slightly paniced with the two-goal deficit and it showed on the pitch. Roma were fighting a losing battle it became possession football rather than an aggressive Roma attack which I believe was required to get back into the game. The killer instinct that Roma had in the first half and dried out  they were fighting against the clock and they were losing. A little later El Shaarawy connected with Justin kluivert on a cross the Young Dutch Winger fired a shot that came close but ultimately misfired. This was followed by a Lorenzo Pellegrini strike from deep that was saved. Rome weren't fighting as much conviction and aggressiveness they showed in the first half evaporated. It just wasn't the same intensity that they played with in the first half. SPAL came close to adding a third Robin Olsen made a great save to deny it. With a little over 20 minutes to go Roma made yet another change as Cengiz Under made room for Anton Coric who would make his debut in a tense game. As well as Javier Pastore coming in for Luca Pellegrini. Roma were bringing in the reinforcement to turn the match around. Roma slightly lacked the sense of urgency required to turn the match around. However with under 10 minutes ago Edin Dzeko came close again as he drilled a header near the goal but was unable to capitalize. It got later and later into the match Roma were not going to win this game but they still tried to get back into it. Ivan Maraco saw his shots misfire from his header. Then it just a few minutes later Edin Dzeko tried to score late But ultimately failed to do so. In the end inconsistent Roma failed to protect the stadio olimpico as SPAL steal a 2-0 win at the Olompico. the momentum and confidence that Roma had before the international break was flat-lined.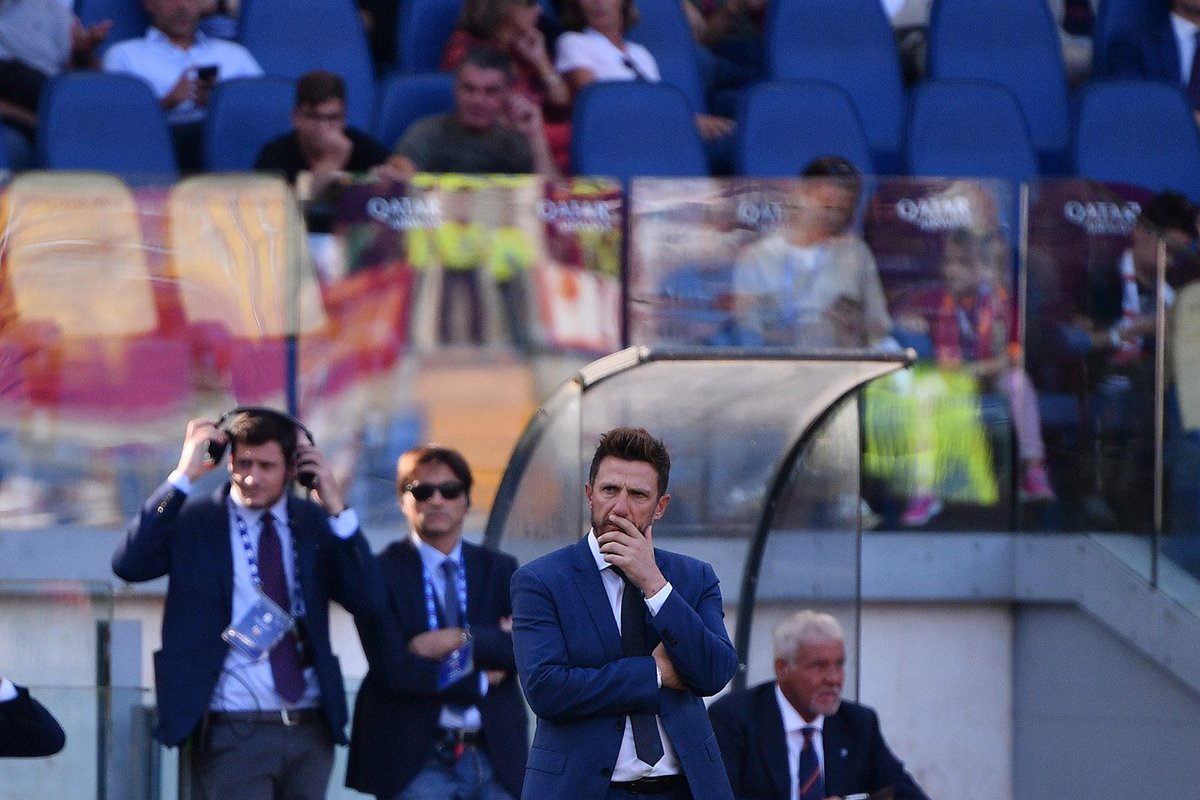 Di Francesco watches his team crumble at home in Rome on Saturday Afternoon
Before International break happened Roma were in the best form of the season on a big winning streak they had momentum and confidence. The international break killed their momentum. It is my belief Roma get a different results had they not had a week off for international break. Roma don't have anybody but themselves to blame for their 2-0 loss to a small team that was on a huge losing streak. Roma blew the opportunity in the opening 10 minutes of the match they had four or five legitimate chances to score a goal and they just couldn't finish them off. It's absolutely pathetic that they could not win this game they were better at everything how could they allow this to happen.  I don't think this goes to defense or the squad this team has. Roma have quality players and have a lot of young talent that will set them up nicely for the future but we are in the now and this team was not assembled properly too many important parts left in the summer. One man is responsible for that happening. Monchi is highly respected in football for what he did in Spain he's not finding it easy and Italy in fact it seems like every season this team is taking a step back. The future of the club I'm not concerned about but today was a display of the types of mistakes that were made in the transfer market. None of Roma signings have been bad but getting rid of key players is partly why this team is so inconsistent. Roma completely dominated the first half and the majority of the match they cannot allow a team like this to come in here and win matches and that's exactly what they did they gave him opportunities and they took advantage. However with that all being said Roma did deserve to lose this match 100% because when you don't put away your chances you are leaving yourself vulnerable however a late penalty in the first half changed the momentum of the game. Luca Pellegrini was called for a penalty that should have been reviewed and cancelled off what is the point of VAR if you're not going to use it in crucial situations. the SPAL player was rolling around like he had just been shot this was not a penalty. Then in the second half and Edin Dzeko penalty claim was not even looked at in any way. Roma shot themselves in the foot in this match I'm not saying they deserve to win but certain can circumstances went against them when they shouldn't have. Spal doubled their lead in the second half and it made it so there was mutually no chance of a comeback. It all comes down to that opening 10 minutes when they failed to score. From a chance creation perspective they were phenomenal but it means nothing if you don't find the back of the net. I am a Roman and I can not fully admit that dropping points like this at home is absolutely embarrassing. A few seasons ago the Stadio Olimpico was a fortress for this team it's just not the case anymore I don't understand why this team struggled so much when they're playing in front of their own fans. This was an incredibly frustrating performance because Roma could have done so much better this game could have been easily won if they were mistake-free. Maybe resting players for the Champions League this season isn't a good idea there's nothing wrong with the setup of this team or the formation or the tactics Roma just need to do better. All around it was a frustrating performance from most of this Roma team however Stephan El Shaarawy and Edin Dzeko never gave up and kept fighting throughout the match. El Shaarawy's service was superb and delivered so many key passes  throughout this match. While Edin Dzeko had so many chances the score in front of goal he kept fighting even when the results was quite clear. El Shaarawy will be given the man-of-the-match for his performance it wasn't his fault that a lot of his service was let down by the finishing touch I thought he was the best player on the pitch and it showed. Roma still need time to gell because of all the changes that were made but as far as going forward I wouldn't make any drastic changes with the formation or anything like that because since going away from the 4-3-3 It has worked. Roma need to forget all about this match and focus on the Champions League on Tuesday against  cska Moscow but a it's been a let down from the Romans today.
Man of the match: Stephen El Shaarawy (2)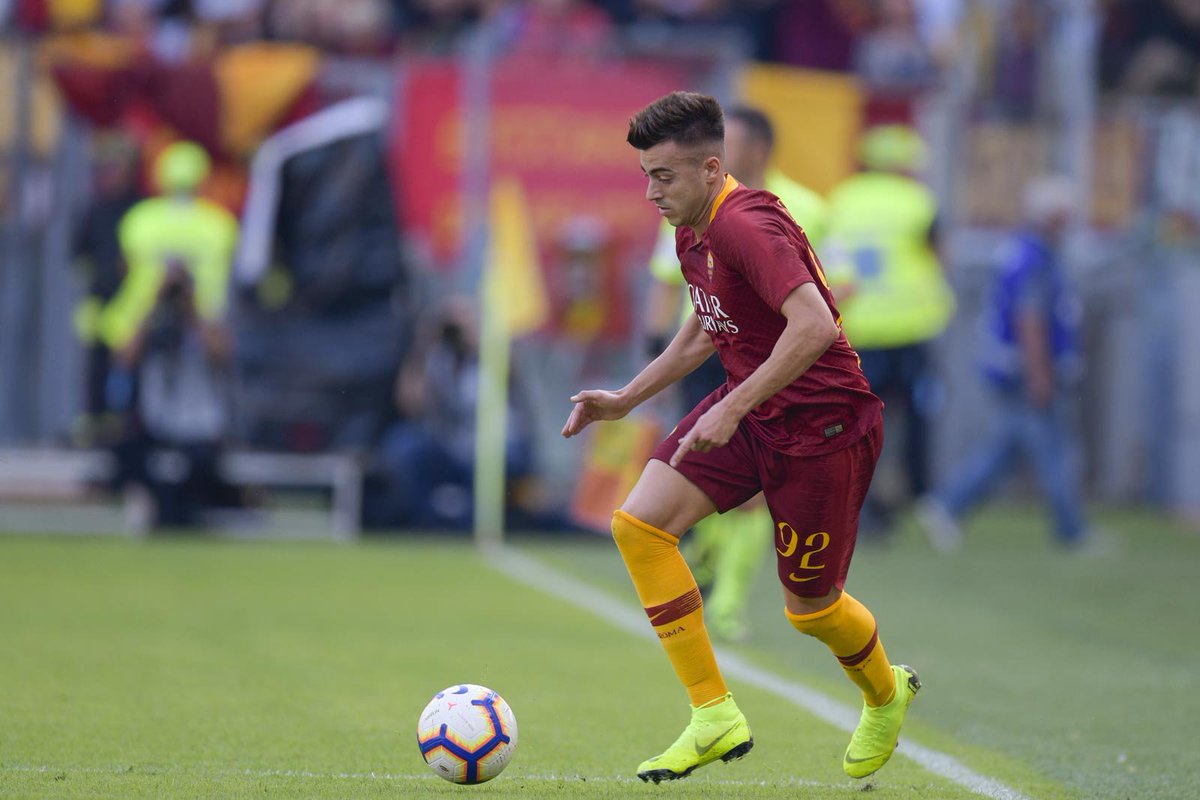 BY THE NUMBERS
A.S Roma
Shots: 18
On Target: 8
Possession: 63%
Passes: 555
Pass Accuracy: 85%
SPAL
Shots: 6
On Target: 5
Possession: 37%
Passes: 322
Pass Accuracy: 71%
Top of the table
1.Juventus 8-0-0 24pts
2.Napoli 5-0-2 15pts
3. A.S Roma 4-2-3 14pts
4. Florentina 4-1-2 13pts
5.Inter Milan 4-1-2 12pts
Bottom of the table
16. Bologna 2-1-3 7pts
17. Atalanta 1-3-3 6pts
18. Empoli 1-2-5 5pt
19.Frosinone 0-1-7 1pt
20.Chievo 0-2-5 -1pt