After a very disappointing performance from Roma at home as their winning streak was a abruptly put to an end at the Stadio Olimpico this weekend as seasons struggles steal a game. After weeks of good form the inconsistency  of this Roma team seems to have put themselves on further display in a game Roma should have found life quite easy given the difference in quality. However that is all in the past as this Roma team has to focus on what lies in front of them on Tuesday night. That's right the Champions League return to Tuesday night as a Roma have an opportunity to revive themselves in front of their home fans as they will welcome the top of the group cska Moscow to the Stadio Olimpico in a crucial Champions League match as we are set to kick off Match day three in a few days time. Roma with the opportunity here to go top of the group. Under The Lights in what will be a hugely critical game for this Roma team they needs to start to picking up the momentum that they had going into the international Break. Meanwhile cska Moscow are in high spirits after their win against Real Madrid they roll up in Rome with confidence and belief that they have what it takes to get another huge victory. While Roma are coming off a 5-0 demolition of plzen in their last Champions League match against a cska Moscow team that will be tough to beat. A lot is at stake for both these clubs in Europe the Stadio Olimpico will be rocking for this hugely important match in front of their home fans so they can forget all about what happened on Saturday afternoon. Will the Romans prevail or does cska Moscow have another upset on their hands.
Roma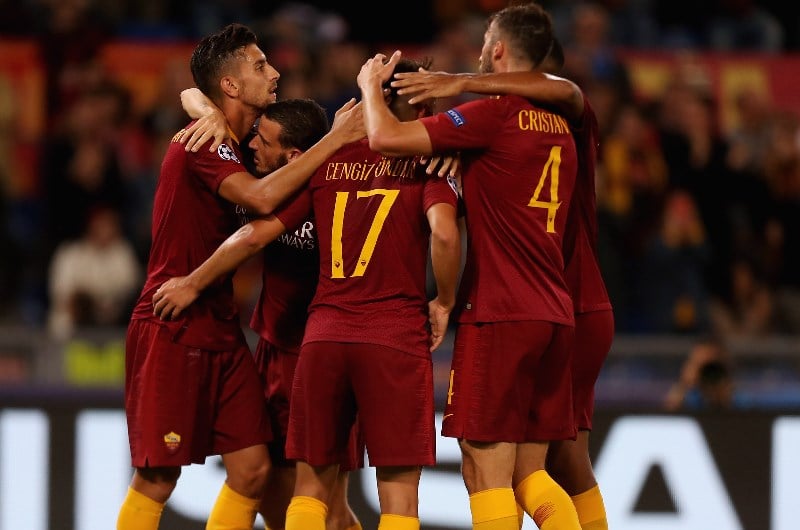 Roma's performance this week was the last than stellar as they've really failed to convert their chances when they created them which would have in all likelihood have created a different result in the match. The criticisms of Roma in the match was more about the team that was assembled by Monchi then the formation and tactics by DiFrancesco used on Saturday. Roma should be a little panicky at this moment in time because of how the team performed and failed to win another match they should have easily won. However as far as the tactics and the formation that has been used over the last few weeks there is no reason to change it. We have seen a Roma use what was their usual formation from a year ago but it didn't work the 4-3-3 formation broke down constantly when it was used. Since adjusting to the 4-2-3-1 Roma are a much well-rounded team and saw great success prior to Saturday. Cska Moscow even though they are Russian team with not a lot of success in this competition it is not a team you want to underestimate. Roma need to line up the strongest they absolutely can. Kolarov Fazio Manolas and Florenzi all need to perform extremely well in math Roma defense you don't want to leave Robin Olson in a vulnerable position because mistakes were made. We are hoping that Daniele De Rossi will be back for this match but in all likelihood he could miss another match. Steven Nzonzi and Bryan Crisante once again it should be paired in the defensive Midfield. Nzonzi has been a tremendous this season so that is a no brainer I think we need to stick Crisante with him once again he may have struggled so far this season but his potential and abilities has no limit he  has a extremely high ceiling. In Romans attack we should see El Shaarawy Lorenzo Pellegrini and Javier Pastore all start together while leaving under out this move makes sense to me because of the experience of Pastore and El Shaarawy. Up front you have to have edin dzeko who is Roman most dangerous offensive Outlet. Roma do have Napoli upcoming after this Champions League Clash Roma need to find their momentum and get their mojo back they need to treat this Champions League match with huge importance. I believe the Lorenzo Pellegrini will be Roma's key player in this match-up if he is able to orchestrate chances for his teammates the chances of Roma winning will multiply. I do realize Roma had issues with clinical finishing Roma knows the importance of this match and if Pellegrini creates great service it would give them a better chance to win he is the kingpins of this Roma team going into Tuesday night.
Cska Moscow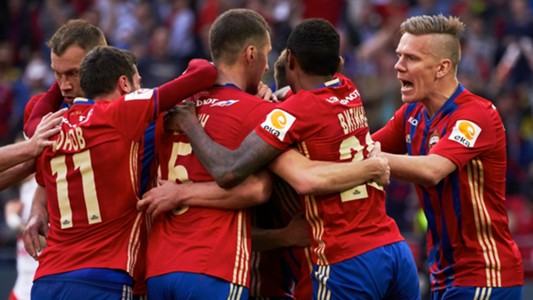 Cska Moscow find themselves on a good run of form in the Russian League as they currently sit in second despite the fact there is a six-point gap between the top of the table. This is an extremely offensive oriented team with the ability punishing on the counter attack this isn't a team that's going to sit back and defend against a fluid Roma offense Moscow will attack with numbers whenever they're given the chance. This is a team that could see potentially dangerous on the counter-attack when they come forward they can exploit Roma they have a lot of quick players with intelligence. They are not as good as Roma and they do not create as much but they will go at them unlike other teams who  customarily sit back and defend. If they catch you sleeping it can be big trouble all it takes is one mistake for them to punish you for it. Against Real Madrid they took advantage when they had their chance and they made the Champions League holders suffer for it. Roma will be the favorite but cska Moscow has all the intangibles and abilities to pull off another huge upset as they want to carry their momentum into Stadio Olimpico so they can create more space at the top of the group. The key player to cska Moscow will be that 20 year old Striker Fyodor Chalov he has so much ability for someone at such a young age and has been they're most effective player this season if he can perform at his very best against this Roma side it's gives Moscow a great chance for a result.
Bottom line 
Despite the inconsistent performance on Saturday Roma going to this game as slight favorites we know the dangers of the cska Moscow team but Roma is a different team during the Champions League. Roma have struggled mightily at home in League action but in the Champions League they hold down the fort quite well which can be really frustrating but it does give him a small Advantage. Having the match at home to give them the opportunity to make amends for their poor performance in front of the home crowd on Saturday. To light the fire even more it is a judgment game for Eusebio Di Francesco. It has been reported that James Pallotta Roma's president wanted to stack DiFrancesco after Saturday's performance but has it been convinced to give him a little more time. The report is that DiFrancesco has four matches to turn it around or else he will be let go by Roma. The more players will be inspired by this and want to play for their manager. Edin Dzeko it's coming off a hat trick in his last Champions League game I expect he is in for a another impactful showing when his team needs at the most. I also consider Lorenzo Pellegrini another key component needing to thrive for this Roma team. However cska Moscow are a very capable side with the ability to break down a defense if they make a mistake cohesively they have an attack that can be quite dangerous. Roma need to be careful not to underestimate them. Given the circumstances and the hot water DiFrancesco find himself in I think Roma rally together and respond to their criticism just enough to withstand the Russians in what I believe will be a very tough match of football at the Stadio Olimpico.
Roma's Projected starting XI 4-2-3-1
GK: Robin Olsen
DEF: Alex Kolarov, Federico Fazio, Kostas Manolas, Alexandro Florenzi
DEF MID: Bryan Cristante, Steven Nzonzi
Front Three: Javier Pastore, Lorenzo Pellegrini, Stephen El Shaarawy 
Striker: Edin Dzeko
Manager: Eusebio Di Francesco
Cska Moscow 's Projected starting XI 4-2-3-1
GK: Akinfeev
DEF: Nascimiento,Franca, Chernov, Ferandes
DEF MID: Bijol, Akhmetov
Front Three: Oblyakov, Dzagoev, Vlasic
Striker: Chalov
Manager:Viktor Goncharenko
Players to WATCH
Roma's Lorenzo Pellagrini
Moscow's Fedor Chalov
Date: Tuesday October 23rd, 2018
Venue: Stadio Olompico,Rome 
Kickoff: 2:00PM (USA) 8:00PM (ENG), 9:00PM (ITA)
TV Broadcast: Sky Itaila, Fox Sports