Center back: Chris Smalling (Roma)
The other center-back would be Gianluca Mancini's teammate and one of the most unlikely teams of the season selections going into the campaign. Chris Smalling Gianluca Mancini's center-back partner. Going into the season, they were Minimal expectations on Chris Smalling whatsoever. He had just left Manchester United on loan after a decade. Despite this, Chris Smalling was not viewed as good enough to play for the team. Manchester United spent 86 million on Leicester city Defender Harry Maguire. Ironically Chris Smalling in a new country had a better season by any metric then Manchester United's new defender. The exit at Manchester United was not exactly smooth as he was out of favor by the team, and the fans lost faith in him. So Roma did what they typically do give a struggling a premier league player a chance. He turned out to be one of the best signings of the entire season; there was criticism that Chris Smalling was past his prime and had no longer has the ability to perform. Chris Smalling proved that notion wrong so many times this season. He built an excellent center-back partnership with Gianluca Mancini as the Duo was the best in all of Italian football. Even with the decline that showed at Manchester United, he got a breath of fresh air and a new opportunity to prove he can still perform at the highest level. He proved everyone wrong this season. He quickly became a fan-favorite at the Stadio Olimpico once he got settled in his team, there was no replacing him. His season was highlighted by top-class performances constantly throughout the campaign; he performed his very best against the biggest teams in Italy. A breathtaking performance against Napoli in the derby Del Sol showed his unbelievable qualities with a goal-line save that somewhat highlights how consistent he was the season. He did make mistakes occasionally, but nonetheless, weekend and week out Roma could rely on him to perform at a high and Elite level this season he was one of the best defenders in all of Europe. Roma has tried to make the deal permanent; it looks like they will unable to pull it off, but despite this, in his one season in Italy, he was one of the best center backs in the entire league. However, his crowning moment in Jersey came against Inter Milan at the San Siro. Against former teammate Manchester United teammate Romelu Lukaku who had scored goals for fun this season in a massive game against Inter Milan, he pocketed Romelu Lukaku giving the Belgium problems constantly through a 90-minute match in which he provided next to nothing. He was a big reason why Roma ultimately massively improved their defense over one summer. The hope is that Roma can find a way to keep him at the Stadio Olimpico Beyond this Season it has some doubt, but even if this is the only Season Chris Smalling in his once season, he was without flaws. His partnership with Gianluca Mancini made Roma one of the best back lines in the entire league. He showed the association that he still can perform at a high level; he was incredibly tough very intelligent and was a nightmare to deal with defensively and even found his way to be very effective on set pieces scoring several goals. No one really expected Chris Smalling to be able to go into a new league and thrive immediately, but that's exactly what he did. There's not a real case against his spot on this list; the Roma pair quite honestly was Sensational easily the best we saw this season. He has rejuvenated his career after a terrific debut campaign in Italian football he walks into the team of the season.
Right Back: Giovanni Di Lorenzo (Napoli)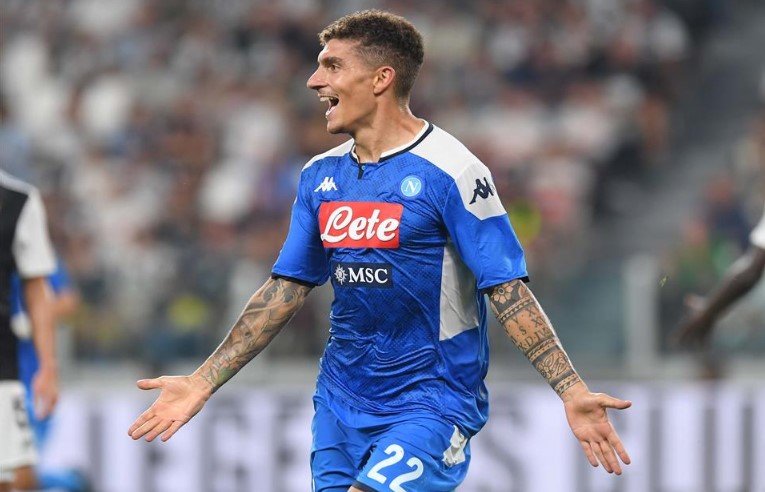 Napoli's Giovanni Di Lorenzo is the best right-back in all of Italian football. Out of this entire team, there may not have been a more natural selection. There are a lot of players in the left-back, and right back positions that are brilliant going forward and have an attacker's mentality but are unable to defend. Theo Hernandez, who I've mentioned earlier, is one of those players who is just on a level by himself in the attacking point of view but struggles massively and is catastrophic to his own team's demise because of it. Giovanni Di Lorenzo is what Hernandez would look like if he could show defensive qualities. In terms of defender that can defend and go forward Di Lorenzo is just in a league by himself. Napoli season has been a wash; it has been one of the worst seasons they have experienced in a long time. There was a point in the season they had lost to teams near the relegation zone. They were as low as 12th in the table at specific points in the season. Napoli started to get it together late in the year with the possibility of pushing for the Europa League. Still, there's no other way to put it, Napoli; this season has been an epic disaster. This was a team that was expected to challenge for the scudetto this season. Even though they looked great at moments, they have fallen on their face far too often. It becomes complicated when your best player is your right back. He has scored a couple of goals this season and has supplied assists as well. He also gets his team in position in multiple areas that give them opportunities to score goals and to win games. On top of that, his defensive Brilliance is as good as anyone in the league. He is easily the best right-back in all of Italian football what makes Di Lorenzo so dangerous is his ability to get his teammates involved with the capacity to go forward the endurance stamina and intelligence to know when to readjust his position. He is not a very physically demanding player and is not going to scare you with toughness, but he is cheeky incredibly intelligent and reads the game exceptionally well. He's very versatile and can be dangerous and a multitude of areas on top of what he already does he also is capable of playing and wingback position where he plays almost like a right-winger. He has given players problems all season. The unfortunate part about that is he is the only player in this Napoli team this season that has looked and displayed these qualities. Obviously, Napoli has some really exceptional players from top to bottom, but they have not meshed well together. Di Lorenzo has not missed a trace through the two managers that they have had this season; his quality is not dropped off and continues to show how versatile he can be as a right-back. He ended up becoming one of the best signings of the season he came from relegated Empoli and was viewed as a depth signing with Kostas manolas expecting to be the big buy of their defense. Even with all that, he became the real value signing this season. Best right back in the league, he sits on a throne by himself. He may not do what Hernandez can do in the attacking function. Still, in terms of the collection of abilities, he is a much more refined and explosive Defender than anyone in the league at his position. Napoli has been horrendous this season. He has been the bright spot of an otherwise unpleasant Napoli team. In the team of the season at the right-back spot, only he has truly proven consistency during the duration of the season.