Right Wing: Paulo Dybala (Juvnetus)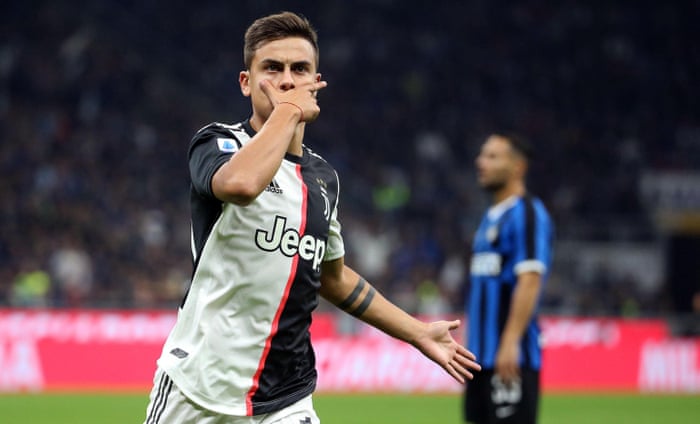 On my right-wing, It was pretty much unanimous selection to my team this season. With the league's best player, Paulo Dybala. Paulo Dybala is one of the best players in the world end of discussion. However, the last couple of years at Juventus have been difficult for him. Last season he struggled to get significant game time under Max Allegri, which nearly led to his exit this summer. The club was actively trying to get rid of him during many points of the summer. They had two separate deals in place for the Argentine playmaker. Juventus had accepted deals from Manchester United and Tottenham Hotspur. However, despite the opportunities for him to leave Serie A, the Superstar refused. He wanted to stay at Juventus and earn a place on the team and to try to rewrite the wrongs from the previous season. The interesting thing about Dybala last season is when he played he was Sensational; the problem was he never really got his opportunity that he deserved under Max Allegri. Even though he has been the league's best player this season, even this season he has started games on the bench. Last season Cristiano Ronaldo was arguably the best player on the team this year; it's not even close. Even though Cristiano Ronaldo has scored at a rapid pace, especially during the second half of the Season, Paulo Dybala has been constantly the best player throughout the entire season. If you look at the statistics of what he's been able to do with this team, it's not going to blow you away. However, being the best player is not determined by statistics; it obviously goes in your favor, but that does not tell the whole story. That's the biggest issue that I have with the way a lot of these awards are determined. Dybala this season has seven goals and four assists, which is not an overly outlandish statistical season, but that doesn't matter the impact he has had on this team; furthermore, proves why Juventus were at the top of the table when the season got suspended. Without his impact, especially in the big games, Paulo Dybala made the team tick. In the biggest games of the Season, Paulo Dybala has shown up. There have been some games in which Juventus have played incredibly poorly, and Paulo Dybala had to come and save them. Not necessarily providing goal- or an assist but making that difference in the Midfield doing the little things that make the biggest difference. In both matches against Inter Dybala scored in both meetings supplying crucial moments in big matches, that is what highlights the league's best player. Paulo Dybala has seven goals. Cristiano Ronaldo and romelu Lukaku have twice as many, But that does not mean that had better Seasons. There is not a player who has made more impact on a team than Paulo Dybala. In matches, Paulo Dybala has started the games on the bench Cristiano Ronaldo has struggled. Cristiano Ronaldo, for half of the season, was not even one of the best players in the league; he got back on the right track and started a historic run. Still, people don't mention how influential Paulo Dybala has been to that occurring. Paulo Dybala is not going to give you a season with 30-plus goals or even a season would 15 + assist, but that doesn't matter the impact he makes within the team makes a huge difference this team would not have been in that title race without him. This is not a great team that may have not really flourished under the new system Sarri ball really hasn't worked. Juventus has been ugly to watch; they've just been able to get results largely due to what Paulo Dybala means to the attack. Not only can he score goals in the biggest games but he supplies service helping his teammates get into position that doesn't mean he's going to get an assist every time, but he's putting his teammates in the right space in the right moments to score a goal. The numbers don't tell you that the impact of what he's had on the team certainly does. Paulo Dybala is the best player on this team; everything goes through him. That fact that he would ever be on the bench at any point in time makes little to no sense. However, Paulo Dybala has adapted to every role that has been given to him. He has been sensational but not always from the starting lineup; he's come off the bench and produced Magic. His incredible vision and consistency only continue. this season he's only scored 7 goals in the league, but he has doubled his goal total from last season. When Dybala is given the opportunity to shine, he shows everyone what a tremendous player he is. At this moment in time, He is a better player than Cristiano Ronaldo; he is one of the 10 best players in the world when he's on his game, and more times than not, he is performing at a high level. Of course, there are inefficiencies to everything what in the biggest games he always shows up regardless of how well he's playing or whether or not he's in good form he has been and continues to be the best player in the league. His spot on the team of the season was quite simply unanimous. I'm not sure there's another player who had a more consistent season then Paulo Dybala the team was trying to get rid of him during the summer, and he proved anyone who thought he should have left wrong. regardless of what Juventus tries to get in the summer, nothing they can bring in will have more value more impact and more consistency then Paulo Dybala. Paul Pogba isn't the answer, especially when there's someone already in the Juventus Midfield that is far superior. In this league is he is tier-one player miles above the majority this league has to offer. Quite simple A few players this season in Europe had a better campaign than Dybala as he returns to my team of the season after a one-year absence. Performing at a peak level, don't look at the stats look at the difference he's making in big matches. even though he's technically not a Winger, he slides in at that position by the way he performs in a 4-3-3 formation often going on one side. He has the pace of athleticism and incredible football intelligence. He sees things before they happen; his anticipation rate is one of the best in the entire league. When Paulo Dybala is at his best, no one even comes remotely close to his level.
Left Wing: Jermaine Boga (Sassuolo)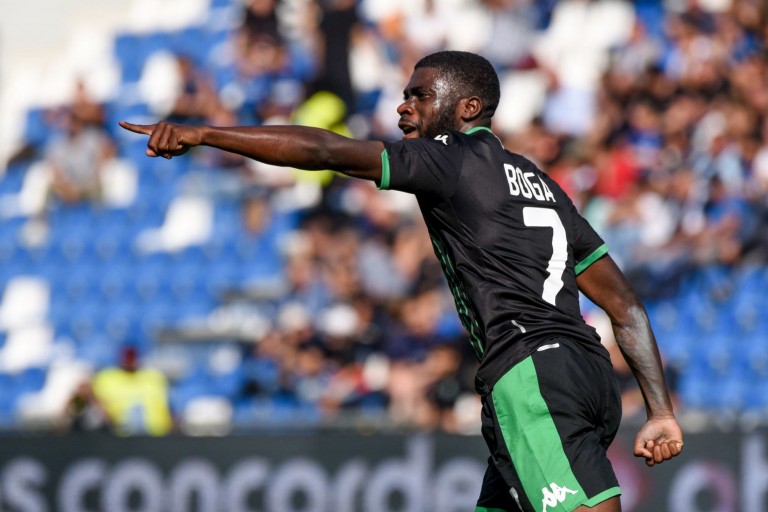 Fitting in nicely on the left-wing would be another shock in the team of the season. No one expected this player to even be on the radar of the best 11 in Italian football. However, against the odds and to everyone's surprise, Jermaine Boga quietly became one of the Best Wingers in the entire league. Displaying and an Incredibly high level of explosiveness and a Killer Instinct in front of goal something that many players have lacked this season. Jermaine Boga is in his second season with Sassuolo in Serie A. He had a relatively productive season last year, but this season he took it out below. He has proven his ability to perform at a high-level pretty consistently. Much like Paulo, Dybala may not have the gaudiest stats but certainly has developed into one of the best players in the league. He was once played at Chelsea but never was really given a chance after being sent on multiple loans; it was bought by the Italian side two seasons ago by a minimal margin one of the bargains of the last couple years certainly. He has provided eight goals and four assists this season as his side has been in the top 10 yet again. This was never really going to be a team that was going to contend for European football, but back-to-back seasons in the top 10 or near the top 10 is certainly something to be proud of. He has been the crowning Jewel of Roberto De zerbi Sassuolo side. His link-up play with Francesco Caputo has been on point. The team does have variety, but he is as consistent as any player in the entire league. There are matches in games where he really looks like something unique but with his deficiency, Jermaine Boga and Francesco Caputo have been the players to take the team up a level. They lost individual components of their team in January as Albert Duncan went to Florentina, who played a very similar role within the group. During the late stretch of the Season, Jermaine Boga was one of the best players in the league. He has shown that quality and has earned the opportunity to play for a bigger Club; however, with that being said, staying where he is for a few more seasons could be really valuable. It was really hard between Jermaine Boga and Riccardo orsolini for this position; there weren't really any other players at that spot that really competed with these two. However, Jermaine Boga has taken incredible strides the progression from his first and second season in Italian football is night and day. Not only has he become one of the Best Wingers Italy, he has become one of the most exciting players in all of Italian football. His skillset and ability is just something else; his ceiling is incredibly high. He may not have the talent of some of the other youngsters in European football but he certainly can become one of the best in Italy at his position. He continues to improve each season end in Roberto De Zerbi's system he has dramatically progressed into something special he is slowly but surely coming into a star. In all honesty, he is one of my favorite players in the entire league. I love the energy anticipation he plays with he has an incredibly High motor; he never runs out he continues to strive for greatness. He has come up in some massive games. Against Roma, despite having a solid defense, there was nothing that could have been done to stop him. Jermaine Boga is as explosive and athletic as any player in the entire league going into the season him earning a spot in the best 11 seems like a shock. Still, based on everything he has done this season, he has earned it and justify that claim with his performance. He is a player that hasn't even really started to reach into his potential. He is indeed just getting started and that is the absolutely terrifying thing. It will not be very long until he finds himself on one of the best teams in Italy and whoever ultimately gets him will be getting a phenomenal player. He's happy where he is and its really essential to continue to develop but a move but he certainly will be a one to watch as crazy as it sounds he was one of the best 11 this season he comes out of nowhere making such a jump as he is creeping into Superstar status this time next year he very well could be one.