Borussia Dortmund were Flawless  
Borussia Dortmund were the big winners of the weekend. Not just because they absolutely annihilated Schalke but due primarily to the fact of how comfortable they seemed despite the circumstances. Schalke was atrocious, and Dortmund took advantage of this regularly. It's hard to say whether it was more about Schalke or the consistency of Dortmund. Nonetheless, Dortmund came through and dominated the match. Once Dortmund scored, there was no stopping them; they made them pay repeatedly were vicious on the counter and got production from many different areas. They even started with their Jadon Sancho, the bench. There is a specific expectation that the team's performance in the opening week would be somewhat tricky to handle. These players have not played with one another in months; however, it could have fooled me. Dortmund looks like they had been training together for the past 3 months. There was no crack in the foundation; they were utterly flawless; there was no stopping them. Even without fans in their home stadium, they were incredibly dangerous and dominated all over the pitch. It was an utterly complete performance. It looks like Dortmund's if certain results go their way could have a legitimate chance of winning the title. RB Leipzig and at Bayern Munich both struggled in their Opening matches while Dortmund was in cruise control playing without any flaws whatsoever. If they can get hot beat Bayern in a few weeks and get a little help, they can win the league title very well. It was complete control by Dortmund in a Flawless performance.
RB Leipzig Out of Title Race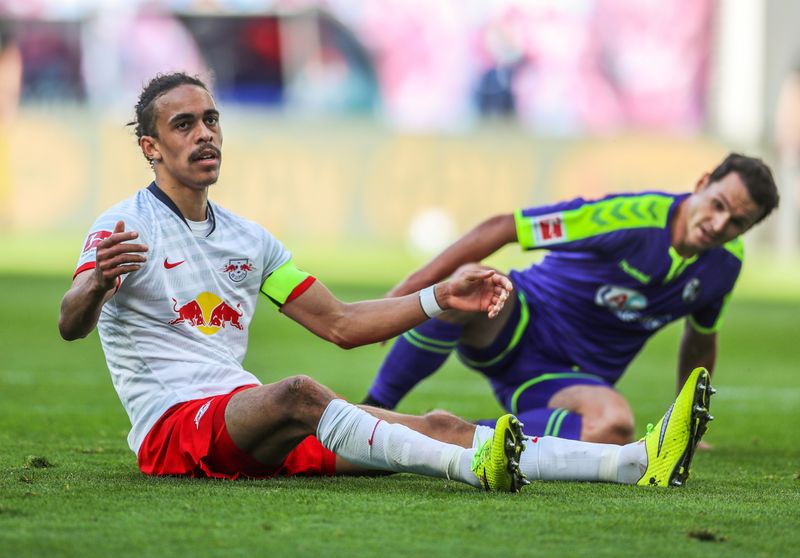 RB Leipzig has been in the title race all season. They have been in that conversation for the last several seasons; they've done an outstanding job building their team into something special. However, much like Dortmund over the last couple of years, they always seem to fall short and implode in the most significant moments. Going into that match on Saturday, they were still in reach of the league title and were favorites in the match. They were just a few points behind Bayern Munich, just like Dortmund. They have a powerful team from Back to Front, and if they were to start the reopening of the season in strong form, they very well could have ended up reaching for the league title if other results went their way. In the Bundesliga return, they let themselves down. By all accounts, they have fallen out of the title race even with the firepower they have. RB Leipzig, we're at home against Freiburg, a competent team, but nevertheless, they should have done enough to get the job done, especially with players like Werner and Poulson. Freiberg outplayed RB Leipzig the majority of the game, and they didn't equalize until the very end. Only getting points almost certainly signifies the end of the title race; they laid an egg at home. This team may be set up for success over the next several seasons, but this year, the glory that they were hoping for has run out of gas. RB Leipzig is stopped in their tracks at home against Freiburg.
Bayern Munich Unimpressive in win
Bayern Munich maybe the kings in the Bundesliga, but this year might be the last if they're careful. In the return of the Bundesliga, Bayern Munich came off very Rusty, and despite winning, the game didn't quite look like themselves. Especially having seen Dortmund look Flawless and dominate Bayern just didn't look nearly as good. Union Berlin put up a fight against the league leaders. Even though Bayern Munich still has a four-point lead at the top of the table with seven games to go, it is reasonable to believe that they could see that disappear very quickly. They need to start playing much better. Robert Lewandowski, the best striker in the world, returned to action; still did not look all that impressive throughout the game. Bayern Munich created a lot of chances but just seemed to be a little off in the way they performed. Benjamin Pavard was the only Shining Star in an otherwise unconvincing performance. Even though it's in a victory against a Union Berlin side that was up for it, this has more of a negative viewpoint than a positive one. Even though they were able to get all three points and got the victory with a late goal in the second half, there's a lot of reason to be concerned. They were rusty a lot of the time they were not on the same page, and they had issues with communication. They play Dortmund in a few weeks and need to be in a much better position than they displayed against Union Berlin if they want to stand any chance in that matchup. They got the points they needed but the performance in itself was discouraging.
Schalke are in Trouble 
Schalke was in horrid form before the league being suspended. You would have thought the two-month absence would have benefited them in some way. Schalke was entirely out of rhythm had no sense of confidence whatsoever. They have not won a game since January, and their European spot is massively a risk. This opportunity was a chance to hit the reset button. Something they needed even though they have an excellent coach in David Wagner, the squad itself doesn't seem to have the capabilities of getting back to Europe. Now they still have the opportunity to do that, but the performance on Saturday was incredibly disheartening. In fairness to Schalke, they had an incredibly tough match in the revierderby against dormant. After not playing for months, even an empty Stadium without their fans, Dortmund is a tough task because there are so many ways to hurt you. They had issues all over the pitch; they let their Rivals run Riot on them. The complete opposite of the way shocking performed Dortmund looked like they haven't missed a step, and they took it to them repeatedly. They're scared and are barely hanging on to a place in Europe that may disappear sooner rather than later they came into the game in 6th Place after their loss on Saturday to Dortmund slid them down to 8th in the table. Hoffenheim and Koln both within Striking Distance of their spot. Defensively they were disorganized; they made errors all over the pitch, and their goalkeeper had more than one shocker as they were absolutely hounded throughout the match. They had an early chance in the opening couple minutes, but once Dortmund scored their first goal, they seemed like a mentally broken team. They had issues all over the pitch, and I would have serious concerns about their ability to finish in the top 10; they may slip out of the top half of the table. They have so many issues at the top half of the table. They have so many problems at this point this game in particular really set them back this is not what they needed if things don't start changing over the next few weeks they could be in serious trouble. There was an opportunity for them to get points, especially without the fans in Dortmund, but they just weren't up for the challenge, and they got thoroughly embarrassed.
John Brooks Wolfsburg's Defensive liability 
In the attack, Wolfsburg was as consistent as any team in the opening weekend of the Bundesliga. At least at some points. They did manage who win the game with a late goal from the substitute coming off the bench. However, the only reason they were in that situation was that the defensive inconsistency from the entire backline, especially John Brooks. The American Defender has been one of the best defenders in the last couple of years; however, it is apparent that it is no longer the case. He is starting to look like a defensive liability. I'm not picking on him over one performance over his last several games both on the national team and in the league have not been up to par. John Brooks will lose his position in the starting lineup if he doesn't start performing better. Augsburg deserves a lot of credit for their ability to come forward and provided an attack. Even though Wolfsburg was more consistent in their attack, Augsburg thought back never gave up on the game even though they lost you could argue it was a bit harsh because of how they perform as they outplayed Wolfsburg in the second half. However, they would not have been in the game if it wasn't for a catastrophic Mistake by John Brooks, who nearly put the equalizer in the back of his net, ultimately miss timing the header and allowing Augsberg to get back into the game. Augsburg ended up taking the lead, but the goal was disallowed, and even on that goal, he was the reason they conceded. He was disorganized out of position and made several errors throughout the 90 minutes that really highlighted his misery had the results of the game looked different. Wolfsburg has an excellent chance to secure European football if he doesn't clean up his act and have to replace him with someone else. Too inconsistent too many mistakes were fortunate that Wolfsburg won this game because had they not done that, he would have been partly responsible for the results. There's no way he gets in at to the national team if he continues to play like this.