Bayern 1 Dortmund 0FT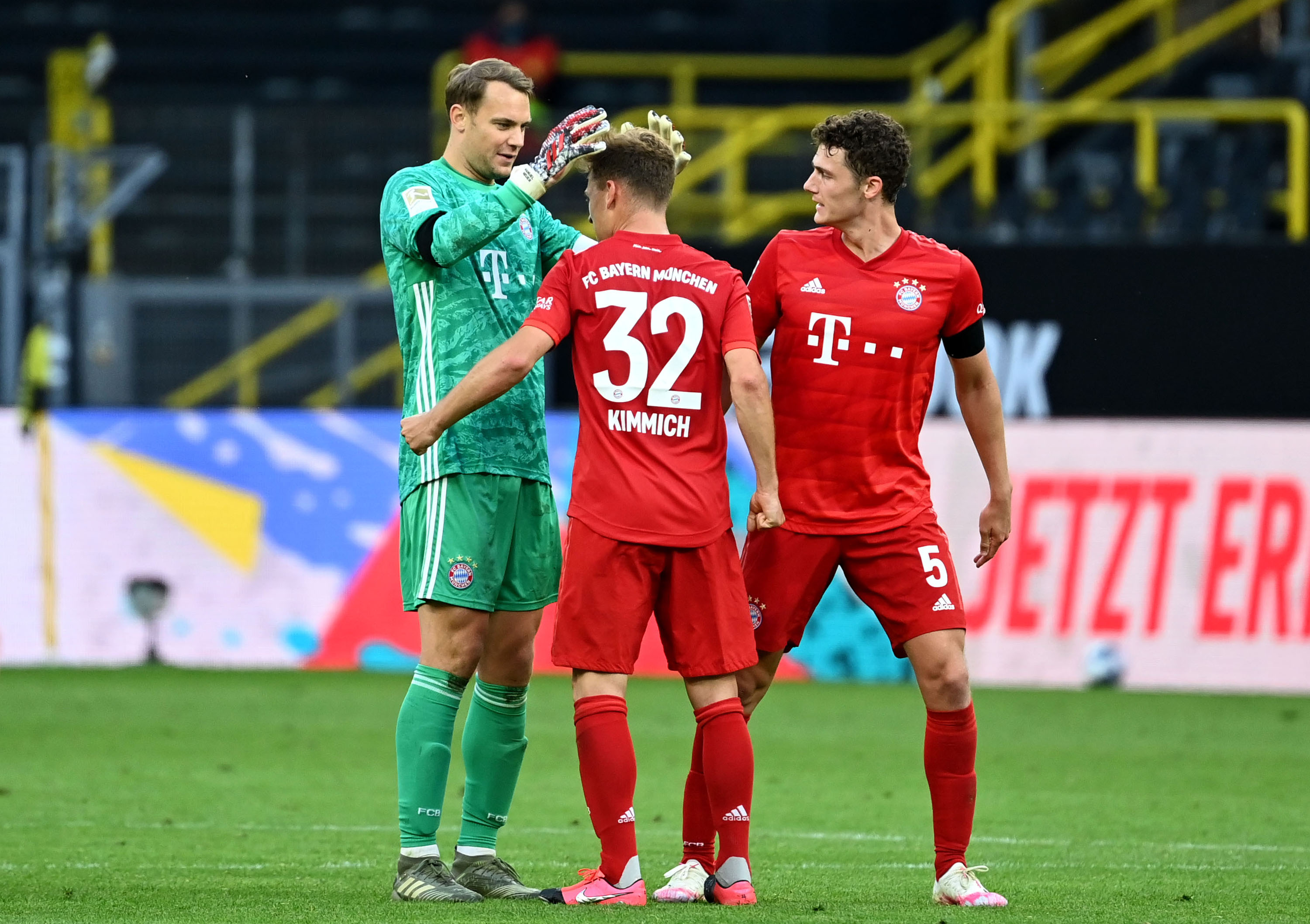 The match that we've all been waiting has arrived this weekend with the league title on the line. Bayern Munich vs Dortmund known as the El Clasica. The most consistent teams in German football over the last decade. Since Jurgen Klopp and Pep Guardiola, we're in charge of a rivalry has ensued not only because of that but because of some player that has gone from one to another Matt Hummels, Robert Lewandowski and Mario Gotze to name a few. This may not be a derby, but it might well be because these teams do not like each other. Dortmund is just simply tired of Bayern winning the league title every single year. With a restart of the Bundesliga, both of these teams have had mixed results. It's first versus second in Dortmund. Unfortunately, the yellow wall is not there without fans; the effect is not the same, but a title is on the line for both of these teams. While Bayern Munich would all but wrap up their eighth consecutive Bundesliga title with a win. Dortmund has come close to many times, and all they want to do is make up some ground in a title race. A win for Dortmund would take them within one point of Bayern Munich. Both of these teams went into this game completely different. Dortmund had an opening throttlefest against Schalke to while Bayern Munich struggled against Union Berlin. However, the last week coming up to this game it was utterly different Dortmund beat Wolfsburg, but we're outplayed for most of the match while Bayern was ruthless against Frankfurt being on the same page the entire time. These two events are incredibly important to what happened this weekend, mainly because of the confidence that each team felt going into this match. Haaland was denied and shut down by the Wolfsburg defense. It would not be an easy game for him yet again. With everything on the line, the two Rivals went to battle. In the early part of the game, Dortmund had a few chances one that included a goal-line clearance, but beyond that, Bayern took control at several points. In a different way, I would usually talk about it because Dortmund had chances and opportunities to get into good positions. Bayern just had higher quality chances and looked more in control of the game. Bayern had there moments while Dortmund had to deal with the speed and athleticism of Alphonso Davies, who made Haaland look regular; they had to work for the opportunities. Dortmund's striker has been the talk of the European season, but he's not looked good against Wolfsburg, and against Bayern, he was mutually normalized in the attack. It continued to be a back-and-forth battle in between the best two teams in the country. Alphonso Davies dominated the first half-stoped Haaland on a break one of his few chances despite them being so far apart we really got to see the phenomenal Canadian's speed and athleticism. He showed Haaland, who's boss. Dortmund had their chances to break through, but they struggled to make much out of it. Burki had a spectacular afternoon as he kept Bayern at bay, but he could only hold off the inevitable. Late in the first half, Joshua kimmich scored an outrageous goal. Chipping from outside of the box causing Burki to try and reach the ball over only falling trying to get it in the process. Just an incredible touch from Joshua kimmich. From the spot, he scored he had a 0.05 chance of scoring based on the metrics he helped Bayern Munich steal the momentum to end the first half with a 1-0 lead thanks to his worldie. In the second half, it became back and forth once again. Bayern did have the momentum going for them, but Dortmund wasn't shying away from the challenge. They came forward and possessed real opportunities, but Alphonso Davies and the backline seemed to handle all of it. Dortmund never gave up and fought until the very end they came close on several chances, but Bayern Munich, we're just better. Haaland had a potential handball situation against Bayern Munich, but the players didn't react, and had they been given the penalty, they may have gotten points they did not deserve. It was a borderline penalty at that. Haaland had a miserable afternoon. Roman burki was indeed the best player for Dortmund despite giving up the first goal he was Sensational and really kept the game closer then it should have been. Late in the game, Robert Lewandowski hit the post in what would have been a sensational strike from outside the box. The score remained unchanged as Bayern won the game and probably the title too with a 1-0 victory thanks to a ruthless and creative strike from Kimminch. He proved to be the difference Bayern deservingly will be champions again. Still, in light of these events, the teams around them will be motivated to upgrade Bayern Munich won't do this forever, but it looks like they'll do it for one more season.
Friedberg 3 Frankfurt 3FT

The biggest match of the weekend was without question Bayern Munich against Dortmund. The best match for the weekend was Freiburg and Frankfurt. Freiberg in the top half of the table once again while Frankfurt despite finishing in fourth place last season are falling out and may get dragged into a relegation battle that they shouldn't be in. Frankfurt has the quality and the players to at least finish in the top half I believe there are better teams above them like Schalke. This was a big match for both teams Freiburg is probably not making Europe but given their league positioning they have an outside shot of it giving them real incentive ahead of this match. Meanwhile Frankfurt needs points badly because they don't want to end up in a situation where they need certain results to survive. It was incredibly dramatic in a battle between two teams that needs points for very different reasons. Both teams shared opportunities to score goals in the first half it was a pretty back-and-forth battle Freiburg did seem to have a Competitive Edge against Frankfurt at least for a good portion of the first half. However Frankfurt was still providing a spark they looked a lot better than they had the previous week against Bayern Munich. Freiburg ended up pulling in front as Grifo cut into the box before his strike took a slight deflection giving Freiburg a1-0 lead. Frankfurt didn't have to wait all that long for an equalizer. After the keeper denied a strike from close-range Andre Silva came off the rebound heading the ball into the back of the net to score his second goal with three games. It became back and forth or continue to do so but that would be the end of the first half. The majority of the second half Freiburg took superiority in the final 45 minutes they got themselves into a comfortable position. On a set piece coming just outside the box the cross found the head of Henderson as the ball flew into the top corner to give Freiburg the 2-1 lead. Not long after they would extend it even further. After a through Pass from the Midfield Friedberg got on to the break they got into the box and Lucas Holer beat the goalkeeper one-on-one just like that they opened up a 3-1 lead Frankfurt looked dead in the water with not much time remaining but nonetheless they got their way back with some misfortune from the  backline miscommunication caused an easy goal for Frankfurt as they limited the deficit. Under 10 minutes ago Timothy Chandler the American Defender entered the match. On his first touch he got Frankfurt back in the game. Coming on a cross he beat his Defender to the far post sticking his foot out as the ball rolled in the back of the neck to equalize after being 3-1 down Frankfurt fought back to Make it 3-3 with not much time left. Freiberg came through and had a couple of late chances but it was too little too late. Frankfurt came back from 3-1 down to earn important Point while Freiburg was the better team throughout in the second half they couldn't finish the job as they choked away a two-goal lead. A result that didn't really help anyone but a match you couldn't take your eyes off. 
Wolfsburg 4 Bayer Leverkusen 1FT

Bayer Leverkusen and Wolfsburg went to battle over the weekend. Both teams are looking to secure some level of European football next season. Champions League is within reach for both of these teams. Bayern Leverkusen came into this game as slight favourites after Kai havertz has been the best player in the league since the start. Meanwhile Wolfsburg have played really well. Last week they lost the Dortmund despite having some Misfortune with the crossbar and on top of that they outplayed Dortmund for the majority of the game despite losing. The points between the teams we're not all that far apart. This was going to be a really important game. Bayern Leverkusen  just beaten gladbach last week as they overtook them in the Bundesliga table. This was going to be a another big-time Clash at home for them. However we didn't see what most of us would have expected. Kai havertz still showed his unbelievable quality it was Wolfsburg that had the big advantage in the game. They came out and attacked them early. In the early parts of the game Bayer Leverkusen were more involved than they had been for the majority of the evening. Leverkusen came close on a couple of opportunities but it was clear that Wolfsburg had the momentum as they were on the verge of pulling off an upset.  Wolfsburg were able to handle them on both sides of the ball. They were excellent in attack and they held their own on the other side with great goalkeeping. However set pieces ended up being the recipe of disaster. Maximilian Arnold was the orchestrator. On a free kick coming from the left wing he drove the ball into the box finding the head of Marin Pongracic who scored his first Bundesliga goal to give Wolfsburg a 1-0 lead. In the second half they ran through them. Maximilian Arnold again from a free-kick this time hisslef found the back of the net with a strike underneath the wall with a slight deflection that ended up giving them a 2-0 lead. They hit back almost immediately again this time a strike from Victor coming on the wiing meeting the head of Renato Steffen they ran out to a 3-0 lead. Wolfsburg on the road against Leverkusen was just running through them. However it wasn't over. On another free-kick Max Arnold connected with Marin Pongracic scoring his first brace in the Bundesliga they ran out to a 4-0 lead. Max Arnold was the huge difference with one goal and two assists. Bayer Leverkusen could not contain Wolfsburg on set pieces as they took advantage of them repeatedly in those situations. a late goal off the rebound got one back for Leverkusen but it was an utterly uninspiring performance as Wolfsburg go on the road and beat them down. Bayern Leverkusen have those qualities they just didn't show them on the night they have a good chance of still making the champions league but Wolfsburg humbled them as they got schooled at home. Even with Kai havertz they could only do so much.