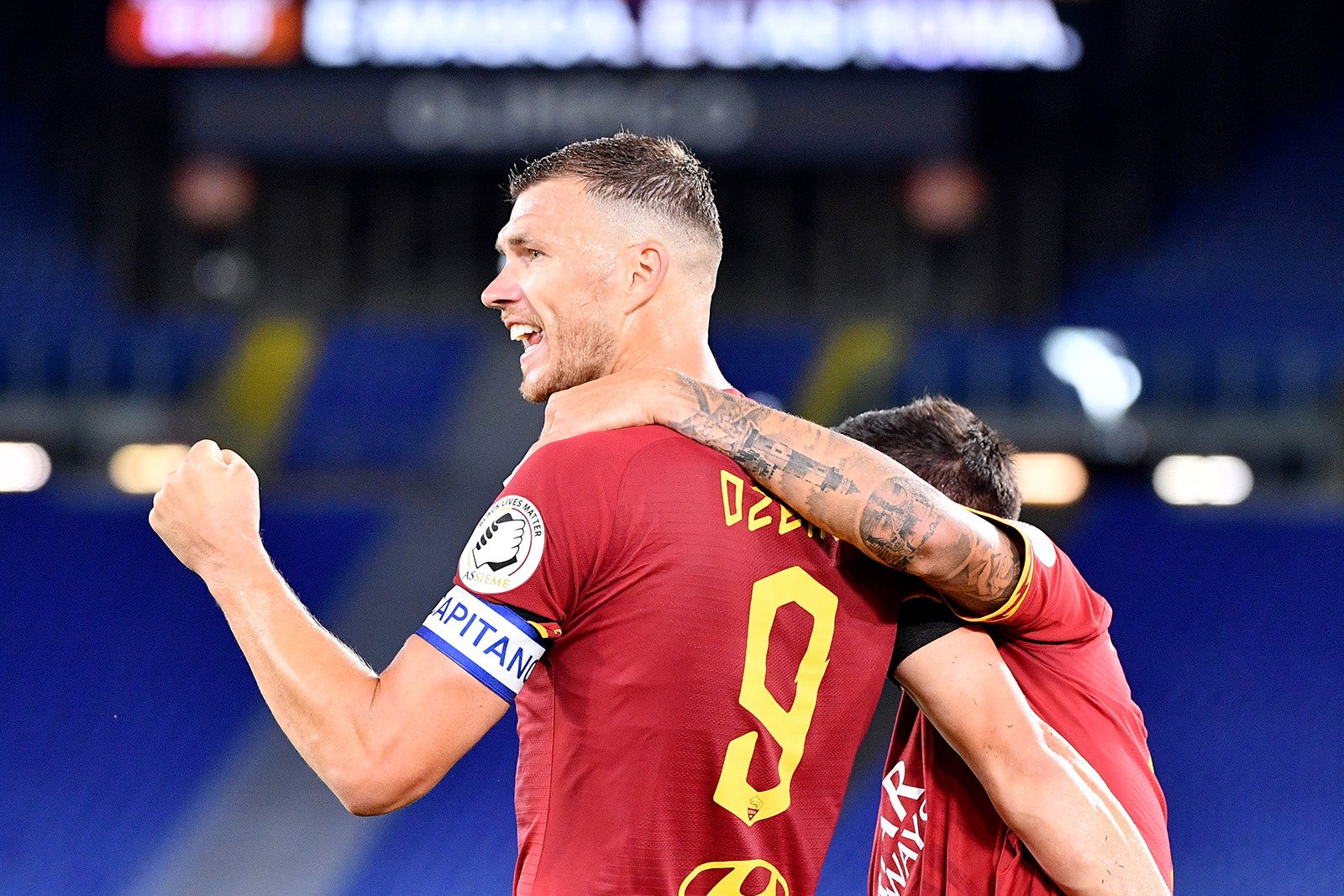 After three long months, Roma returned to action following the epidemic of the coronavirus which has stopped Italian football for the last several months. This week the league has officially returned and even though it is not the same because no fans are in the stands football its back as Roma prepared to take on Sampdoria. Sampdoria and Roma played earlier in the season in what was one of the most disappointing performances of the Season despite dominating Roma only managed a measly point in a 0-0 draw as Roman manager Claudio Ranieri got a point from his former side. It was unclear what we should have expected ahead of the match yesterday. One thing is clear there was going to be a certain adjustment because of the rust. These players have not played together in a competitive match in quite a while so there was going to be an adjustment. Roma had the better team and should have found last night quite easy. However, that simply wasn't the case. Even though they were home at the Stadio Olimpico without the fan involvement it was going to be less of an advantage then it normally would have been. Paulo Fonseca came out with a very unusual lineup with many players that aren't usually featured Javier Pastore Bruno Peres and debutante Rodger Ibanez all were featured in last night's starting 11. Outside of that, it was more or less the same. Roma looks incredibly dangerous going forward even in the early parts of the game they had somewhat control as they were driving some momentum. However, a catastrophic Mistake by Diawara allowed the rug to be taken underneath them. The African midfielder that probably was not fit to play the match supplied a horrendous back pass that was picked off by a Gabadini as he went around the goalkeeper putting the ball in the back of the net as a series of misfortunate events allowed Sampdoria to take an early 1-0 lead. In the first half Sampdoria's 4-5-1 formation largely attributed in their favor as they kept Dzeko quiet and allow them to get forward In the attack. Meanwhile, they continued to look dangerous on the counter and it felt like it was only going to be a matter of time before they broke through. Roma midfielder Jordan veretout hit a disgusting strike from outside of the box that ripped through the net it would have been one of the goals of the season but the officials took the goal away after an alleged handball by Carlos Perez. It was an unjustified decision because a similar call in Roma's favor was not called earlier in the game. Roma left the first half behind with a bitter taste in their mouths. All things considered, Sampdoria did an excellent job in the opening 45 minutes. in the second half, the momentum shifted in the game. Samp tried to trap Roma from getting into dangerous positions it worked in their favor at least temporarily. Even though they were holding firm they provided next to nothing going forward as they were defending their lead. The game changed when Bryan cristante and Lorenzo Pellegrini came in in the second half. Not only that edin Dzeko came into the game much more it just felt like He was going to find his footing eventually. With under 30 minutes to go Lorenzo Pellegrini picked out a pass for edin Dzeko as the Bosnian hit a strike out of the air into the roof of the net to get Roma back into the game. Roma continued to come forward and Supplied incredible danger to Sampdoria they needed all three points to keep distance between themselves and Napoli. Roma kept going forward and waiting for the moment to arrive. With about five minutes remaining Bryan cristante pinged a superb ball from Center Midfield Landing Inside the Box at the feet of edin Dzeko who supplied the Finish. Despite defensive concerns and the first half, they were able to hold off Samp as Roma held on to collect all three points in a 2-1 victory as edin Dzeko gets his first brace since last season as he climbs into Roma's top 5 all-time leading scorers. Edin Dzeko was the difference as he is still showing he is one of the best strikers in Italian football. Roma left it late but edin Dzeko supplied the difference as Roma come from behind to win in Roma's return.
Jordan Veretout's Disallowed Goal and the Handball Rule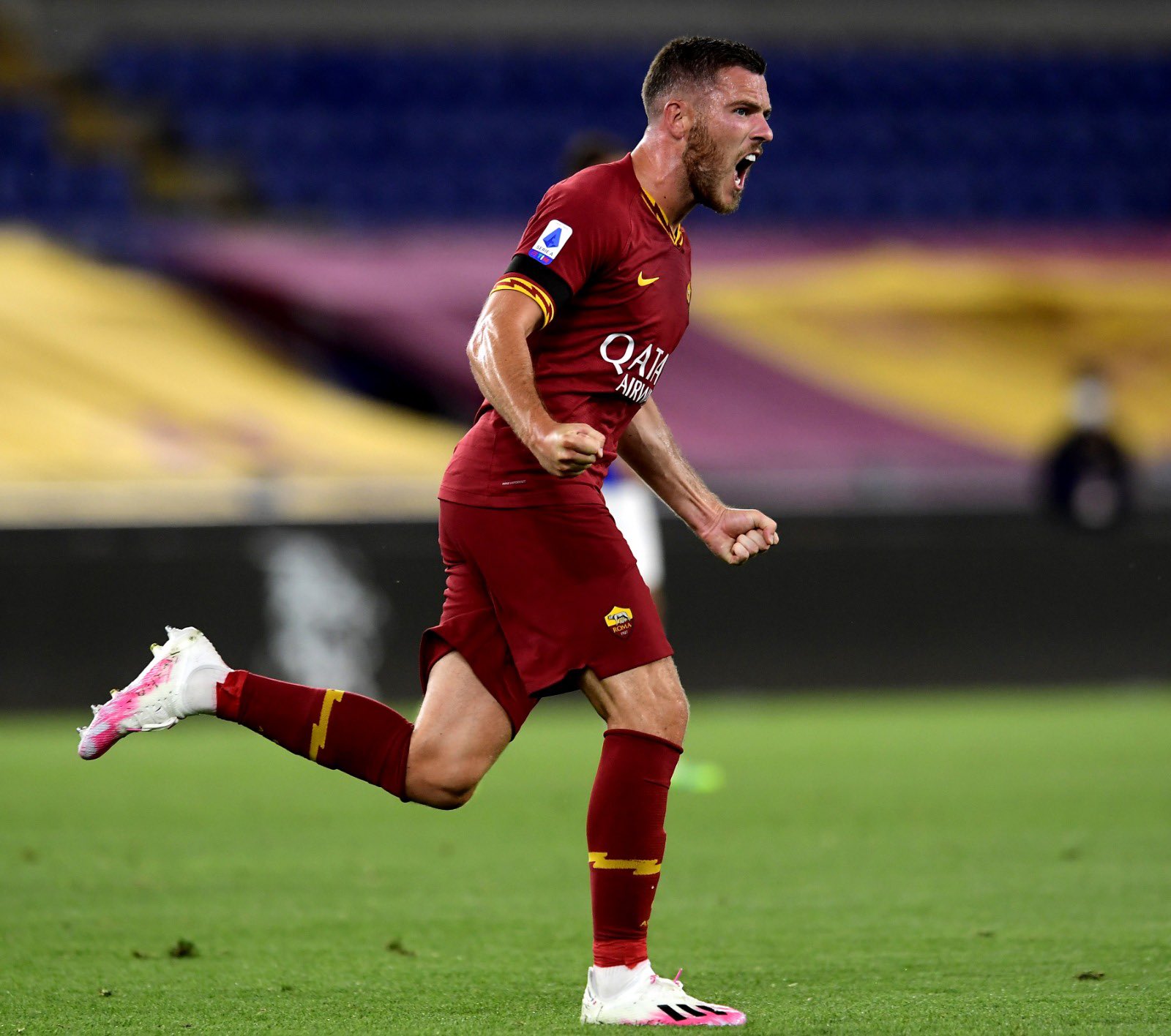 In Roma's 2:1 victory yesterday Jordan veretout had a goal that was wrongfully ruled out. This forced Roma the score two goals deep into the second half to earn all three points. Had the original goal stood in the first half it wouldn't have to have led to that. Not only did it rule out one of the best goals of the season but Roma would have overtaken the momentum and put the game away much sooner. This is only highlighting a much deeper problem with the way handballs are being officiated not only in Italy but throughout Europe. The VAR review I believe is absolutely good for European football as long as it's being used correctly. However, this isn't necessarily about VAR review even though it took away a perfectly good goal. This is about the handball rule that has been instituted in the sport. It didn't always use to be this way the handball rule was a very simple one for a long time until they started changing the rules. The reason they said Jordan veretout's strike didn't count is the ball deflected off Carlos Perez forearm. The Spanish youngster could not have done anything to prevent the ball from striking him where did. He didn't have time to get out of the way and his arm was not in motion. The old rule is as long as your hand or arm is completely still when the ball strikes you it is not considered a handball only when your hand is in motion can it be called. Of course, there are exceptions to the rule if you are running the ball hits off the ground and touches your hand in the box then it is a clear penalty however if you're firmly stood in place and it strikes you it should not be called as a penalty or even a foul. What are we supposed to do in these situations where the ball hitting them in the arm is completely unavoidable. I feel bad for Jordan because that was an outrageous hit and in addition to that Roma would not have to have struggled as much to win the game. The handball rule must change because now any time the ball hits your arm it is considered a foul or a penalty. This is allowing players who are in the box to aim for people's hands and then they get a penalty you can get 10 penalties the season that way. This is not a fair representation of the rule. If the hand is in motion it should be called a penalty. This isn't complicated and the fact that they even want to this rule blows my mind. This is something that needs to be reviewed and discussed because there is nothing absolutely nothing Carlos Perez could have done to avoid that he was in the range of a strike. It certainly was not a handball and the goal certainly should have counted. This is something I feel is going to be discussed more and more because this doesn't just happen and Italy this happens everywhere and goals are being taken away for Pure stupidity.
The Edin Dzeko Show in Rome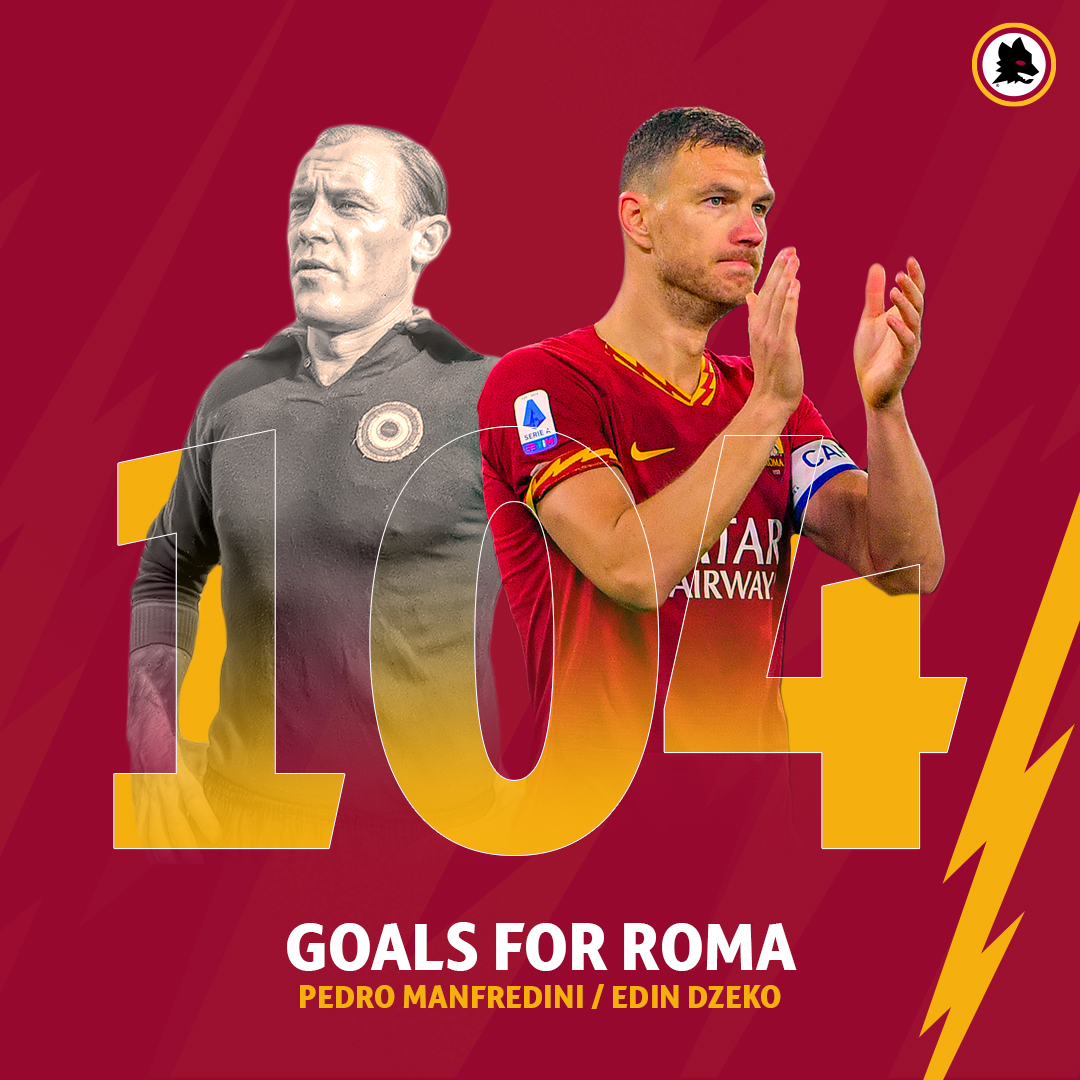 Edin Dzeko has been one of Roma's best players in the last decade. He has also developed into one of the best players they ever had. He has been so important to Roma's success over the last couple of seasons and it's hard to imagine Romo being a team in Europe without him. His value of this Roma team cannot be understated he has been so valuable especially considering all the important pieces Roma has lost over the year. Edin Dzeko has been the one constant it is really remarkable the type of things he's been able to do with Roma. In fact, when he retires it is quite possible he will be more known for what he did in Rome than in England and Germany. Yesterday in the return against Sampdoria he was fantastic he scored his first Brace in over a year. Under Paulo Fonseca, he has progressed massively and despite him being 34 years of age he has found ways to become an effective piece not only in scoring goals but in the all-around performance under Paulo Fonseca he has progressed massively and despite him being 34 years of age he has found ways to become an effective not only in scoring goals but in the all-around performance of a striker. Edin Dzeko is not the goal-scoring machine that he once was but the way he plays in the value he brings in this team is unlike the majority of the strikers in Italian football. There are players that Score at a higher level than edin Dzeko but he still Remains the most all-around Striker in the league. Edin Dzeko isn't scoring like his colleagues but he's making a difference in multiple ways. It isn't just about going goals it's about the way he holds up and controls the frontline and opens up the game with his passing. He's not a player that is going to get a lot of assists but he creates opportunities and opens the game up for Roma. Statistics are not everything and edin Dzeko while he may not be world-class anymore is as productive as anyone at this age given the type of impact he can bring to a team. Yesterday he scored twice bringing him to 17 goals this season as well as reaching 104 Roma goals which now puts in in the top 5 in club history. As we saw another historical night for the Bosnian. It's not just that he made history it is his performance last night was important. Roma was screwed early in the game and it took to edin Dzeko's goals in the final 30 minutes to overturn the tie and helped Roma get three points. after the match, Paulo Fonseca called him the best Striker he's ever coached. Even at his age, he is still as good as anybody at this position. The importance he has to Roma was highlighted with truly world-class performance. Sampdoria did a good job containing him the opening 45 minutes but once he got control and opened up the game Rome became much more antagonizing. A superb strike out of the air in the first goal a very difficult connection but he took it with ease. Then on the second goal, he showed his poise in front of goal completing his second in the game-winning goal that came with 5 minutes ago. Bryan cristante and Lorenzo Pellegrini largely contributed with superb passing but edin Dzeko deserves a lot of credit for his ability to finish. Edin Dzeko made the biggest difference under Fonseca he is becoming a much more efficient player even in his late years. He is poised to surpass 20 goals this season it will be the third time in five years in Rome that he has done this. He has been and will continue to be one of the most underrated strikers in Europe. It's not just about the stats the all-around play makes Dzeko special this is something that very few Strikers possess. He has learned to be a leader and a great captain as long as he is playing at this level Roma will go as far as he takes them. He was essential in the victory sometimes we forget how great The Bosnian actually is last night was further proof of that.
Defensive Collapsing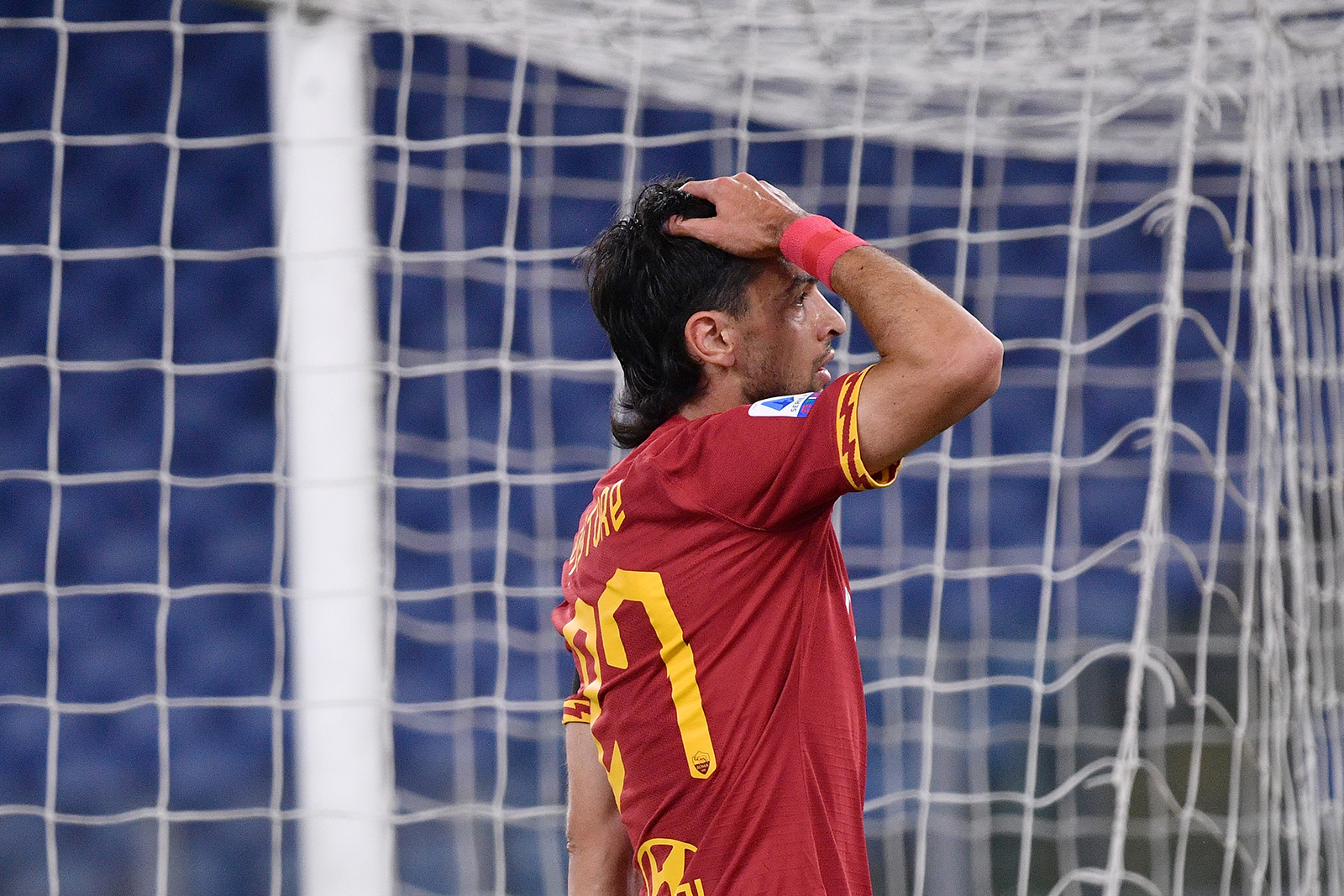 Roma was in complete control during the second half dominated the run a play and we're ruthless on the counter-attack. They got the goals they needed to capture all three points however they made it hard on themselves. Catastrophic mistakes in the early part of the game forced Roma into a huge second half. Had they not made those are the mistakes they would not have been in the situation where they needed to score two goals in the final 30 minutes. Diawara has been one of Roma's best players this season. It seemed like he wasn't prepared to start the game as it was his worst performance of the year. He was horrendous and nearly was responsible for two goals conceded against Roma. He has to take full blame for the opening goal as he made an atrocious back pass that allowed Sampdoria in the game. Had that not occurred Sampdoria probably would not have scored in the game. Defensively Roma has much improved since last season. Paulo Fonseca started a very strange backline as Chris Smalling was paired up with Rodger Ibanez who was making his first Roma start. There was miscommunication they were unorganized and in the first half, Sampdoria looked like they could have scored on several occasions. Outside of what the team did defensively, there were a lot of positives to take. However, these defensive mistakes cannot be repeated especially against better teams. While Sampdoria did some nice things in the game they are in the bottom half of the table and are in a relegation fight. Against a better team, Roma could have gotten in a much bigger hole. The defensive Midfield continued to collapse allowing  Sampdoria to get forward and even look dangerous on several occasions. The defensive Midfield and the defense need some big improvements for the game on Sunday. They cannot start as Rusty and as unorganized as they did in the game on Wednesday. On Sunday they have to be ready to keep it tight and they must be mistake-free. Roma cannot make these types of mistakes in crucial moments Roma had to play from behind the entire match largely because they gave Sampdoria an early lead. Roma has to really break down and evaluate the defensive performance and find ways to change the way they performed. If Romo can make these improvements in the defense and feel more in control in the defensive Midfield this team could go on a big run and pick up a lot of important points down the stretch.  This isn't something they should have to worry about on a regular occurrence the rest of the season fix the defense and Roma will get in a much better position where late goals are not required to save them from disappointment.