Roma is coming off a massive three-points picked up in their return to Serie A following the Coronavirus. It was an edin Dzeko brace that made the difference in a come-from-behind 2-1 victory over Claudia Ranieri and Sampdoria. Despite having not been the best performance Roma will take the momentum from their win Wednesday. They have guided significant separation between themselves Napoli and AC Milan as Roma sits comfortably and their position they are still trying to chase down Atalanta for the final Champions League spot but that seems bleak at this point. Roma will travel to Milan on Sunday to take on AC Milan who are coming off a very impressive victory in their own right. It was a 4-1 Victory against Lecce that kicked off the restart for AC Milan. When these two teams faced off in October at the Stadio Olimpico it was a 2-1 victory for Roma with edin Dzeko and Nicolo zaniolo scoring two goals. This would be an opportunity for Roma to complete a season sweep of an AC Milan team that has kind of had an up-and-down season. Roma should go into this game as favorites. Even though Rome has had their down moments they are the better team and should coast to all three points. A win for Roma would pretty much eliminate any chance Milan getting into the Europa League without qualification.  It's hard to trust this Milan team but you never know anything can happen. Will we see Roma do the double against AC Milan or does Milan have something up their sleeve for Sunday afternoon. We will find out all that and more when Milan and Rome go to battle at the San Siro on Sunday.
A.S Roma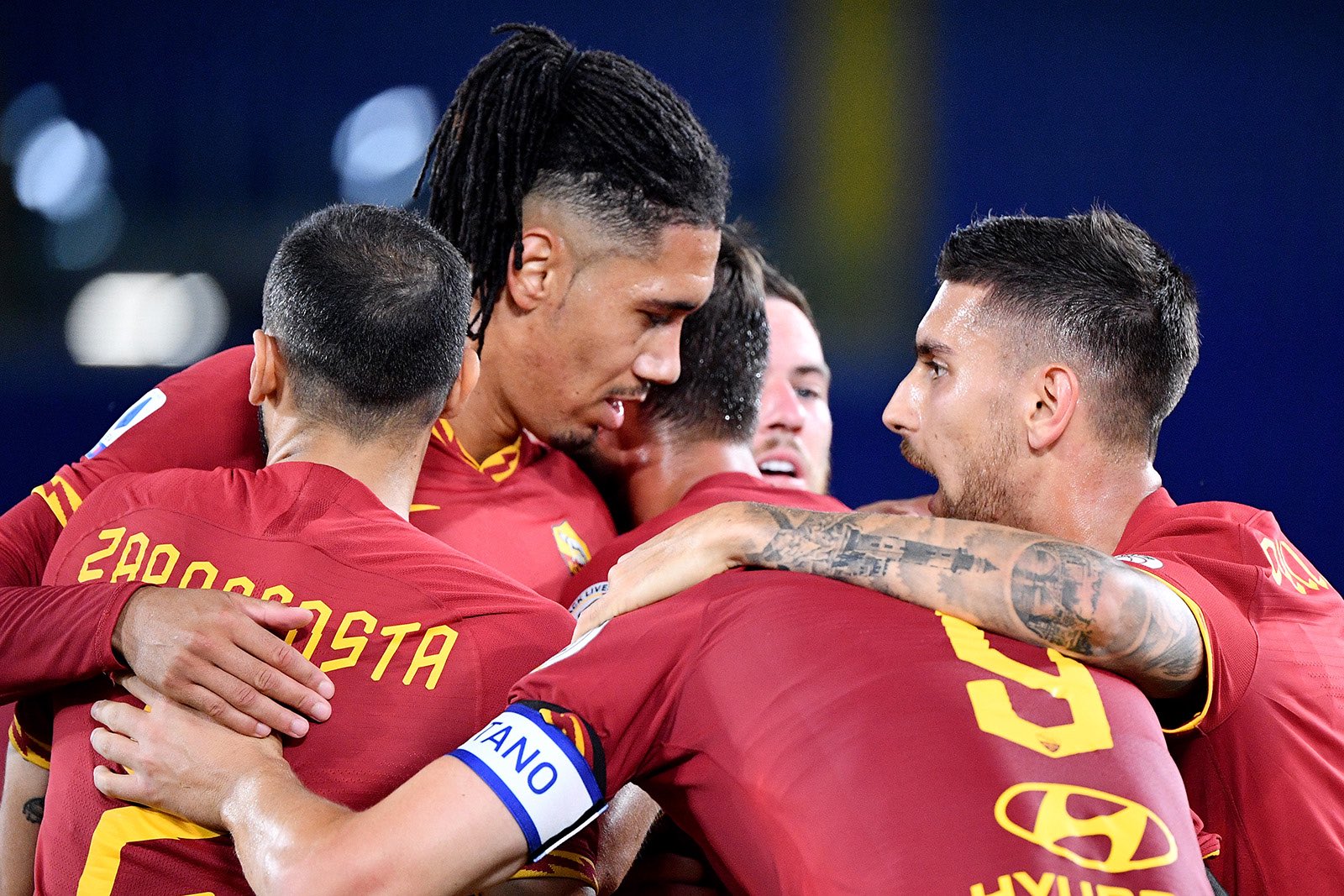 It was a strange lineup against Sampdoria Paulo Fonseca is likely going to go back to something more usual. I suspect Roma will come out of the 4-2-3-1 formation yet again as they have done the majority of the season. It is unclear whether or not Pau Lopez will be ready to go for the match if he is presumably he will retake his spot between the sticks otherwise Antonio Mirante will be in goal once again. Roma could make some changes to the backline ahead of this match. At left-back, we should expect to see Alex Kolarov as always. Beside him, we could see the return of the center-back partnership of Chris Smalling and Gianluca Mancini. Although Ibanez did perform well in his debut and it is possible that Paulo Fonseca will give him the nod again. At right-back your guess is as good as mine it could be Bruno Peres or Spinazzola. The defensive Midfield should be pretty simple. It was clear that deal Diawara was not fit to play last week following his atrocious performance. Against Milan, we should see the duo of Bryan cristante and Jordan veretout. Then in the central Midfield, we should see Lorenzo Pellegrini return to the starting lineup following is an assist on almost first goal yesterday coming off the bench. On the left-wing presumably, I suspect Justin kluivert will return to the starting lineup. On the opposite side, henrikh Mkhitaryan should get the nod once again. Carlos Perez will also be in contention to start but even if he doesn't start the game he will make an appearance coming off the bench. Upfront as the main Striker will certainly be edin Dzeko who scored a brace in his last game that took him into the top 5 of Roma's all-time top scorers. He will be the key component in this match having scored in the reverse fixture as well as being in-form having scored eight goals in his last 10 games. Paulo Fonseca will have good options Off the Bench with the likes of Carlos Perez Diawara and others.
A.C Milan 
AC Milan typically operates out of the 4-2-3-1 formation In goal without question the team's best player Gigi Donnarumma who is the best young goalkeeper in Europe. We should see a very similar backline to what we saw last week against Lecce. At left-back we should see the very versatile Theo Hernandez beside him we should see the center-back partnership of Romagnoli and Kjaer then right back it has been confirmed that Andrea Conti will get the start. In the AC Milan, the defensive midfield will likely be the pair of Bennacer and Kessie. Then in the attacking midfield in the central position we should see Calhanoglu beside him on the left we will likely see Bonaventura then on the opposite side on the right Castillejo. While the main striker should be Anton Rebic. Milan will have good depth on the bench with Raphelio Leao who came off the bench last week and scored he will start this game from the bench this game as the manager is going to use a similar tactic.
Bottom Line 

Roma should feel pretty good about themselves coming into this game a sense of optimism from the team from the Eternal City. As long as Roma can perform better defensively they should have no problem taking all three points at the San Siro. AC Milan may have put together a terrific display against Lecce but at the same time, they have more cracks in the foundation. I'm not suggesting that Roma is perfect but nonetheless they have a significantly stronger team and AC Milan has been as inconsistent this season as any team in the top half of the table. AC Milan's biggest weapon is Raphael Leao he is such an explosive player the problem is AC Milan for the most part don't start him as he is often coming off the bench. In this match, I suspect no difference because AC Milan still has not understood his value.  Rebic can be handled by the back-line as long as they go mistake-free for the majority of the match. It could potentially be a nip-and-tuck battle between two teams that want to keep their momentum going. Roma's form over the last five games is better than Milan's in Milan can show up or lay an egg both of these are high possibilities based on the way they have performed the season. Romo has a job trying to slow down Anton Rebic and Theo Hernandez offensively. However, edin Dzeko is an incredible form and he is going to be such a weapon and this game once again. When he is in-form he is incredibly difficult. Not only because of his ability to score with showed in the last match but his ability to hold up the play and spread the ball out opening up the effective link-up play that often leads the counter-attack. When Roma comes forward on the break they are close to unstoppable especially the pace they have with guys like under Carlos Perez and Justin kluivert. Without the fans at the San Siro this gives Roma a huge advantage in that they feel comfortable and make a smart effective place and start quick AC Milan will struggle to recover. Tactically speaking the point of attack should be quite simple. Hernandez is an incredible weapon offensively but defensively he struggles to make any impact whatsoever. I've said this countless times he is a liability defensively. That's not to take away what he does on the other side but when he's defending he creates a problem for his own team. Roma should attack him on the left-wing as constantly and as regularly as possible that is the best way to carve them open. He may be quick and super athletic but getting past him has not been an issue for many teams this season. Especially with the speed and intelligence that Roma has in the side with the passing of Lorenzo Pellegrini and Bryan cristante they can make him dig his own grave. An early start for Roma could mean a very routine Victory. If its a slow build-up then Milan will have more of a chance but a quick start is a nightmare scenario for AC Milan. AC Milan way less talented team and they don't have a player that does what edin Dzeko does that can erupt at any moment. Don't misunderstand AC Milan do have a chance to steal one here but it's going to take a lot for that to happen. Anton Rebic needs to continue his scoring streak for Milan to stand a serious chance. The Milan team is on his shoulders right now they are depending on him to provide what he has done over the last couple of games. However, even a match as he has scored that hasn't always led to victories. He will need to be at his very best. Milan certainly has a chance in this however Roma has all the momentum they won their last three games even though they were months apart outside of the defensive issues Roma were superb going forward it's going to be a problem in this match AC Milan will not be able to handle it which is why Roma go to the San Siro and leave with all three points.
Manager: Paulo Fonseca
Roma's Projected starting XI 4-2-3-1
GK: Pau Lopez
DEF: Alex Kolarov, Chris Smalling, Gianluca Mancini, Bruno Peres
DEF MID: Jordan Veretout, Bryan Cristante
ATT MID: Justin Kluivert, Lorenzo Pellegrini, henrikh Mkhitaryan 
Striker: Edin Dzeko
Manager: Stefano Polili 
Sampdoria's Projected starting XI 4-3-2-1
GK: Donnarumma 
DEF: Conti, Romagnoli,Kjaer, Theo Hernandez
DEF MID: Kessie, Bennacer 
ATT MID: Bonaventura , Calhanoglu,Castillejo
Striker: Anton Rebic
Key Players to Watch: Edin Dzeko & Anton Rebic
Match Details
Date: Sunday, June 27th, 2020
Venue: San Siro
Kickoff: 10:15PM (USA) 4:15PM (ENG), 5:15PM (ITA)
TV Broadcast: Sky Italia, ESPN+