Atalanta 3 Udinesse 2FT
Atalanta tries to keep the run of form going as they still have their eyes on the possibility of the leapfrogging Inter to finish in the top three. Atalanta, more or less, has solidified them in the Champions League for next season. The League's most potent attack traveled to Darcia Arena to take on the Udinesse. They are winless in the last nine, and if they are not careful, they will be dragged down into the relegation zone. Atalanta had an opportunity to take themselves within one point of Inter Milan. Even though Inter Milan ended up beating Parma, a victory would undoubtedly continue to pressurize Antonio Conte's side. Gasparini was back on the bench for Atalanta as they kept this magical season going. It was a relatively back and forth battle. Even though Udin only had a limited amount of chances, they look threatening throughout the match. In the opening couple minutes of the game, they nearly even took the lead. Golini made it big save. On the other end shortly after, it would be Duvan Zapata that charge Atalanta into the lead. After receiving a perfect ball from Papu Gomez, the Columbian gave Atalanta a 1-0 lead as he struck the ball into the back of the net. The Colombian striker has scored 15 goals this season, which is truly remarkable given how much time he is lost due to injury. It shows the unbelievable qualities he certainly has. In the opening 10 minutes, Atalanta already positioned themselves to pick up another three points. However, Udinesse would not go away as they struck back near the half-hour Mark as Kevin lasagna on the counter-attack got Udinese back into the game, making it 1-1 after 45 minutes. There was a certain sense and belief that Atalanta would eventually overpower Udin and keep this winning run going. The game changed when Luis Murial came off the bench. Even though Udin had their chances, Atalanta was in control of the game and looked like it was only going to be a matter of time before they were in the lead again. Luis Muriel change that the former Udinesse Striker came to the occasion. Atalanta continued to look antagonizing going forward as the League's best attack showed it's true colors. Back to front, Atalanta has a team of warriors, and then the moment happened. On a free-kick Luis Muriel hits and absolute Majestic piece of art into the top corner to give Atlanta a 2-1 lead. It was such a perfectly hit ball play placed precisely when he needed it. Last then, 10 minutes later, he hit again. This time it was a scorcher from outside the box as Atalanta built a 3-1 lead. It was his ninth goal coming off the bench this season; he has the best minute to goal ratio in Serie A this season. With two goals in 10 minutes, he shows exactly why. However, even though Atalanta built a two-goal lead, Udinesse didn't give up on the game. Eventually, Kevin lasagna would get a second just three minutes before stoppage-time he connected on a header That minimized the deficit to 3-2 with very little time remaining. Kevin lasagna did everything he could to keep his team in a game, but ultimately it was not enough as Atalanta's magical story continues to cruise. They have been a revelation in Italian football, but with that being said, they're not surprising anyone anymore. Atalanta gets all three points as they prepare for their biggest match of the season on Thursday as red hot Napoli take on red hot Atlanta; they have proven their qualities all season, and even in a match like that, you like their chances it's just what they do.
Inter 2 Parma 1FT
After Inter Milan's disaster last week at home against sassuolo, the Milan Giants would be tested once again. Inter Milan would travel to the Stadio tardini to face off against Parma. Inter Milan are a significantly better team, but Parma is trying to fight for European football next season. Inter Milan historically have struggled at the Stadio tardini against Parma. They have only picked up maximum points a minimal number of times. It isn't just against inter a lot of Club struggle against them at home. Parma may not have the players, but they're no slouches they have quality players throughout their squad. With players like Gervinho. Andreas Cornelius and Juventus bound Dejan Kulusevski. Last week Inter Milan nearly fell out of the title race. I suppose there's still a small chance that they get back into it, but it remains unlikely. However, Atalanta, with their victory early in the day, had a chance to draw within one point of Inter Milan if Parma ends up beating them. Antonio Conte would not be on the bench as he had to watch the game from the stands for the third time this season, and Milan skriniar would be out for the next three games after picking up a red card for descent. Diego Godin would get the start, which would turn out to be catastrophic. After a poor performance last week, it didn't seem like it was going to get any better. Parma was significantly the better team throughout this game and took the lead early. Gervinho cut into the box before drilling the ball into the bottom corner with the Inter Milan defense having no answer for him. The game could have been over before it even started for Inter Milan they were struggling to create much of anything. Inter Milan was struggling to keep themselves afloat in the game. Parma looked dangerous on the counter and had countless opportunities in the first half. I wouldn't say Parma was wasteful, but Inter Milan being in the game in the second half was purely fortunate. On another counter-attack, Andreas Cornelius, who had a hat-trick at Genoa last week, missed an opportunity to double Parma's lead. Right before the end of the half, Parma added another opportunity to push themselves in front when the Dejan Kulusevski came within inches. Parma could have easily had a 3-0 lead after 45 minutes Inter Milan wasn't in this game whatsoever. They were playing incredibly poorly and could not find their footing, and time was not on their side as it began to look unlikely that they were going to pick up all three points. At the rate, the game was being played; they would have been Fortunate to get even one point. Inter Milan continued to struggle in the second half; only one player really showed up for Inter Milan. Nicolo Barella was Majestic in the Midfield and created opportunities for his teammates every time he touched the ball. He held up the line of play controlled the game brought the ball out to his teammates to get Inter forward as much as possible. Unfortunately, none of his teammates we're doing him a favor and giving him any help whatsoever. In all honesty, I felt bad for him, given how much he was creating for his teammates. Lukaku and Martinez and others we're getting pinpoint accuracy with the balls Barella was getting to them but couldn't do anything with it. Nicolo Barella was pulling strings for Inter Milan and truly was the only reason they were still in the game at that point. I could understand his frustration visibly because of all the dirty work he was doing in the Centre of Midfield. He has been their best player over the last couple of games, and he may be the team's most important player next season. You could see his value in the way he played that game. It was starting to look like it was going to be all for nothing. Inter Milan, we're still searching for that goal, and it looks like they weren't going to get it. it was a truly horrendous performance Barella was the only reason they were in the game whatsoever. They also benefited from Parma, who was unable to increase their advantage. Late in the game, Victor Moses came off the bench to help Inter Milan draw level. Then a late drama would occur when Bastoni entered the game for Diego Godin to had a horrific display. Parma would go down to 10 men after they was a sending off in stoppage time. Inter Milan, by no stretch of the imagination, they didn't deserve to win this game; in fact, they didn't even deserve a point based on how they played Barella was the only player that really stepped up for Inter Milan. However in the closing Moments by Bastoni was left unguarded on a corner kick and the man who spent last season at Parma on loan connected on a header that ripped through the back of the net to give Inter Milan and undeserved to 2-1 Victory. Football can be funny sometimes Inter Milan didn't deserve a point but ended up with three. They largely benefited from the wastefulness of Parma, who should have put the game away earlier.Inter keeps some separation from Atalanta despite a miserable performance Inter Milan keep all three points.
Milan 2 Roma 0FT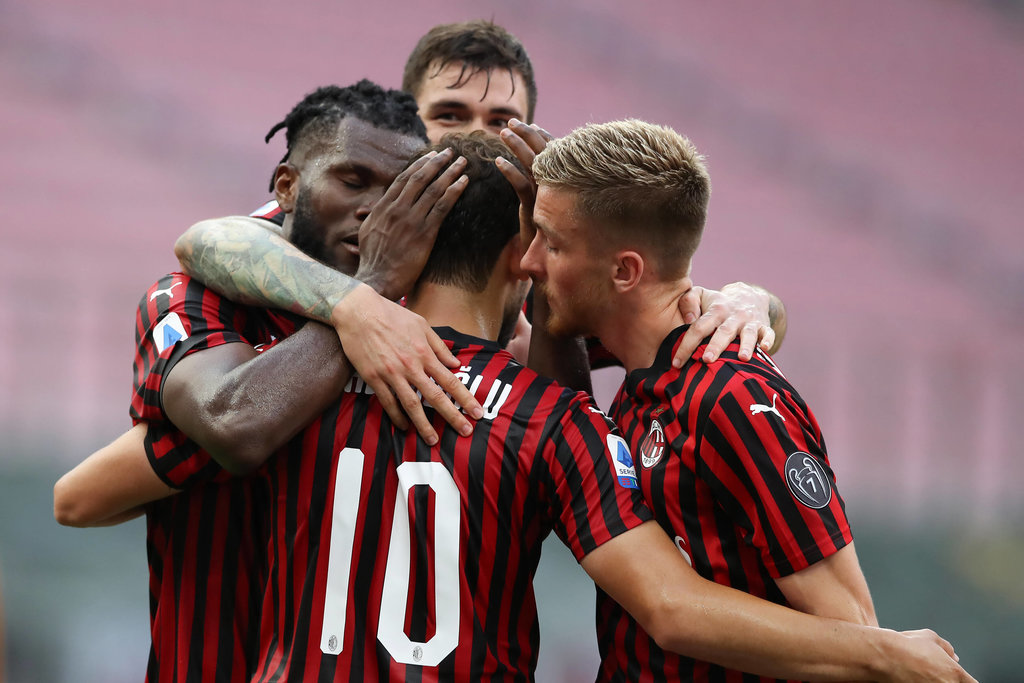 Going into the match, yesterday Roma had just picked up a massive three points against Sampdoria thanks to edin Dzeko, who led a come-from-behind victory. There was reasons to feel optimistic that Roma could again collect all three points again. They headed to the San Siro to take on AC Milan, who, despite having played well over the last couple of games has been a very inconsistent team. Roma has some of those same problems but has a significantly better team. Back in October, Roma beat AC Milan at the Stadio Olimpico thanks to edin Dzeko and Nicolo zaniolo in a 2-1 victory. However, yesterday afternoon things didn't exactly go as planned. It was an excruciatingly hot day in Milan. An argument can be made that the heat levels could have been unbearable to the players. However, the match went on as scheduled. It was a dry first-half and match as a whole. Only limited opportunities were coming from both teams in the opening half. Edin Dzeko & Hendrick Mkhitaryan provided the only legitimate chances to score in a very unenthusiastic first half. Roma's disposition was utterly different from the week before. They offered very little going forward and improved Defensively for the most part. They weren't creating much of anything for a large part of this game it looked like we were heading for a goalless draw. This match had his importance because, with the loss, Roma would have only three points separation from Napoli. AC Milan completely controlled the second half controlling possession and did look like the better team for a large portion of the game. However, with that being said, it still didn't seem like they're going to break through as their chances while there were a lot of them we'rent on target, and they struggled with their clinical finishing. Meanwhile, at the same time, Roma created almost nothing in the second half, and we're just defending the majority of the time. However, another defensive mistake This Time by Zappacosta cost them three valuable points. An egregious decision to cross the ball into his own box saw Anton Rebic be in the right place at the right time as some Misfortune for Roma allowed the Croatian to continue his scoring run as he gave AC Milan a 1-0 lead. Questionable substitutions didn't help as Roma struggled even more in the closing moments of the game in stoppage-time AC Milan won a penalty, and Hakan Calhanoglu converted as they picked up all three points upsetting Roma as Milan earn a 2-0 victory at the San Siro. All of a sudden, Roma isn't all that secure in their possession as they face Napoli in a week they need to get themselves back on the right track slipping out a fifth-place would be catastrophic As Romans mistakes caught them up once again.