A.S Roma 1 Napoli 2FT
Following an egregious 2-0 loss to Udinese at the Stadio Olimpico on Thursday, Roma will try to put that behind them as they face their toughest test of the season. It would be the return of the Derby Del Sol, known as a derby of the sun between Napoli and Roma. Earlier in the season, Roma earned a 2-1 victory over Napoli at the Stadio San Paolo. Roma tries to take some points against the odds against a Napoli team who, despite losing last week, are Red Hot and in great form. Paulo Fonseca worked some unorthodox ideas; ultimately, we saw the improvement from Roma, but Napoli was the team that dominated the match. They controlled possession that created a lot of chances, and if it wasn't for Pau Lopez, Napoli would have killed it off very early. This match was in balance for the majority of the game. Roma may not have had the attack and the consistency going forward as Napoli did, but none the last, they hung around longer than they probably should have. Roma kept them scoreless in the first half, but in the second half of Napoli finally had their moment, Callejon pushed Napoli in front. Roma had very minimal chances throughout the match it looked like it could be over. Still, Roma against-the-odds fought their way back into it as Mkhitaryan beat Alex Meret shortly after Napoli took the lead. It became more of a battle in the second half, but Napoli did seem to have the momentum. In the second half, Roma brought on Nicolo zaniolo as he made his first appearance since his ACL tear in January. He gave Roma a spark, and during moments, it looks like they were going to steal some points; however, despite Roma's Valiant effort would be less than 10 minutes to go, Lorenzo Insigne buried them despite Roma having much-improved Napoli came away with all three points. Napoli pulls level with Roma in points; however, Roma's slight advantage in goal difference allows them to stay in fifth place, but with that being said, Napoli and AC Milan are on their tail. Roma falls tonight, but a much-improved performance will give them some kind of momentum going forward through the next couple of weeks. Napoli controlled the game, but Roma was in it the entire way. Hopefully, a performance like this can push them forward as they attempt to fend off Napoli and AC Milan for the automatic Europa League spot.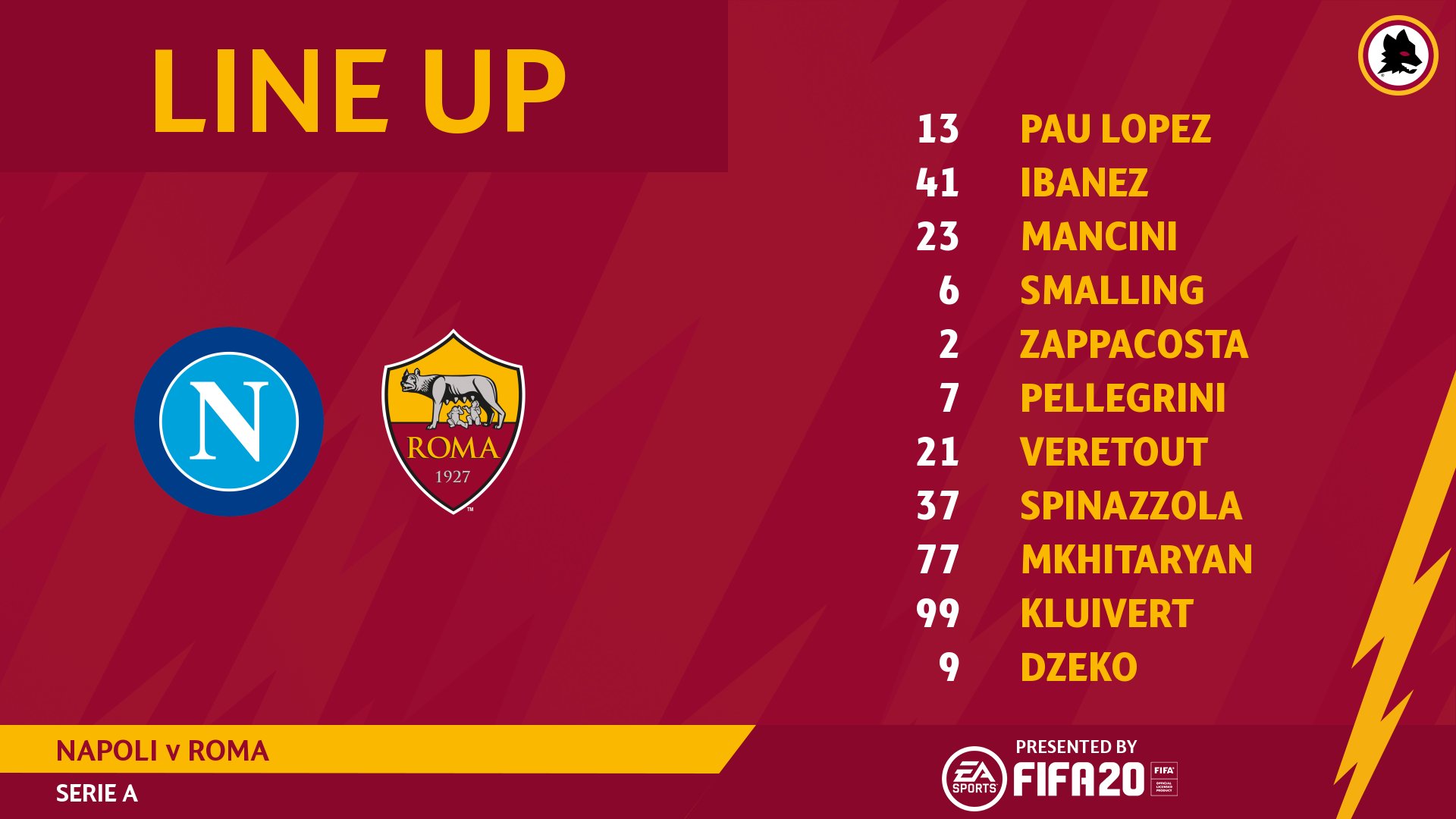 Paulo Fonseca typically operates out of the 4-2-3-1 formation as he has done the majority of the season. However, after the disaster that took place on Thursday night, he unorthodoxly changed his formation, something he's only done several times this season ahead of this match; he set his team out of the 3-5-2. Returning in goal would be Pau Lopez, who returned after nursing an injury. At left-back coming in for Alex Kolarov would be a Leo Spinazzola. Beside him would be the center-back partnership of Gianluca Mancini and Chris Smalling. Beside him would be David zappacosta at right-back and Ibanez in between the two of them. A very defensive shape something they have not done this season. Patrolling the central Midfield would be Jordan veretout beside him would be Lorenzo Pellegrini, who, much like Jordan, is returning from suspension. Occupying the left-wing, then Hendrick Mkhitaryan would be on the right-wing. Then upfront would be edin Dzeko alongside Justin kluivert, who is pushed into the striker position. Nicolo zaniolo made the squad sheet which had an opportunity to make his return.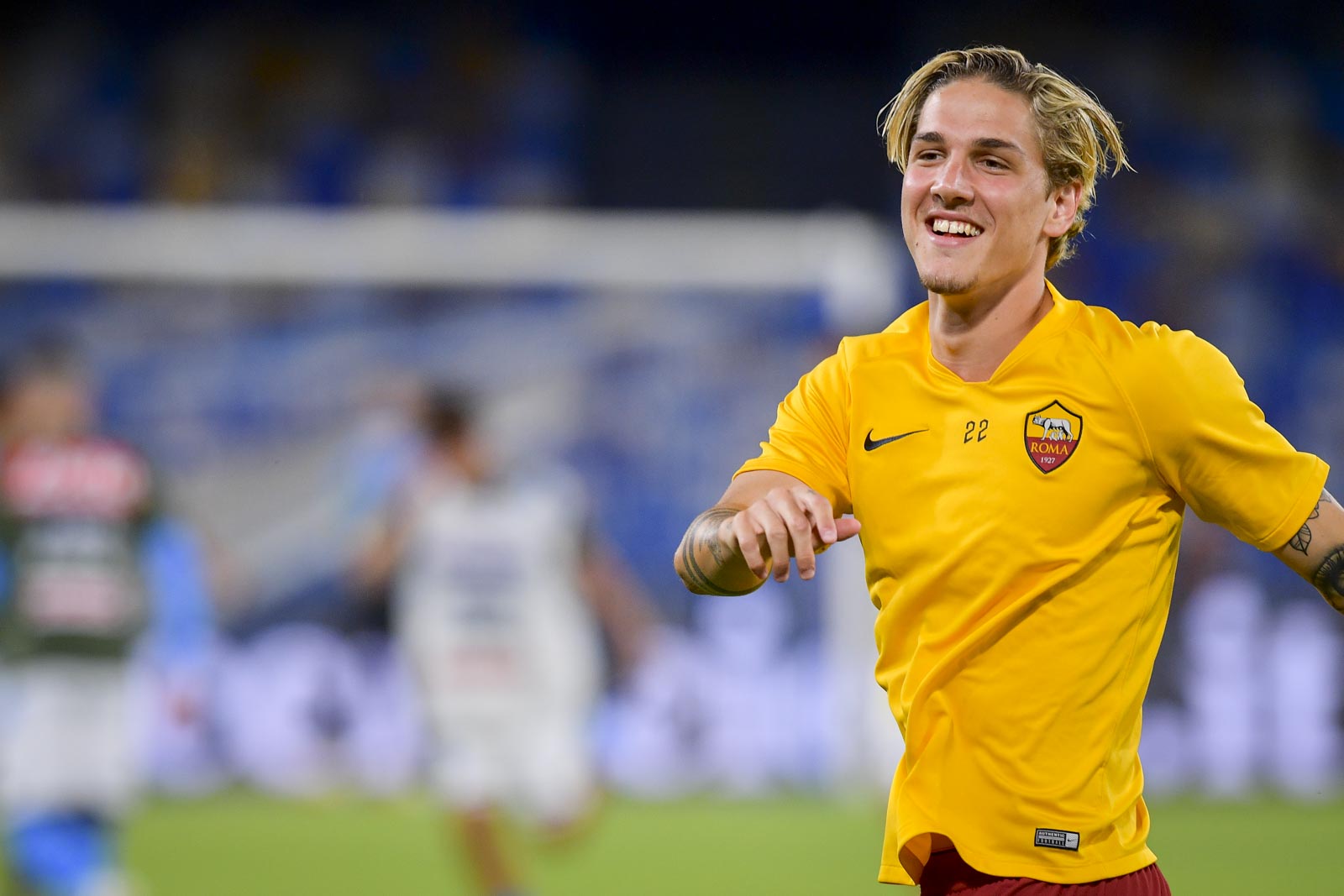 After preparations and predictions, the match was just about to get underway in Naples for the Derby Del Sol. Roma, we're coming off a pathetic display and their midweek loss to Udinesse, this was an opportunity for them to try to turn things around. Napoli is a counter-attacking team that often has fluidity through the Midfield. As expected, Napoli completely controlled possession and looked like the better side from the very beginning. However, even with that being said, Roma seemed to be in the game from the very beginning despite the lack of opportunities. It was possession-based football for the opening part of the game, but eventually, Napoli started trying to chip away at the Roma goal. Callejon saw his shot from distance miss before Pau Lopez denied Fabian Ruiz minutes later. They're certainly felt like an avalanche of chances from Napoli, but Pau Lopez was spectacular, especially in the first half. Denying Piotr Zielinski and Lorenzo insigne. In the opening 20 minutes, Napoli had already put together several big-time chances, but it didn't matter because Roma was bailed out by their goalkeeper. henrikh Mkhitaryan gave Roma their first chance of the game as his strike came close coming off a cross from zappacosta. Roma didn't have much of the ball at all, especially in the first half, as Napoli had complete control in that area. However, Roma tried to get all the opportunities they could despite that. Unfortunately, at the half-hour, Mark Chris Smalling had to be taken out due to an injury as Federico Fazio entered the game. Napoli continued to come forward and attack the Roma backline. Milik came really close as his header was denied once again by Pau Lopez. Despite how decisive that Pau Lopez was playing Napoli just kept coming forward, you felt it was only a matter of time before they would breakthrough. Pau Lopez was out of this world with his performance right before halftime; he would deny Milik yet again. In closing moments of the first half, Roma nearly took the lead as Lorenzo Pellegrini watched his strike from outside the box just nearly missed. That would end the first half after 45 minutes as we had a scoreless game on our hands.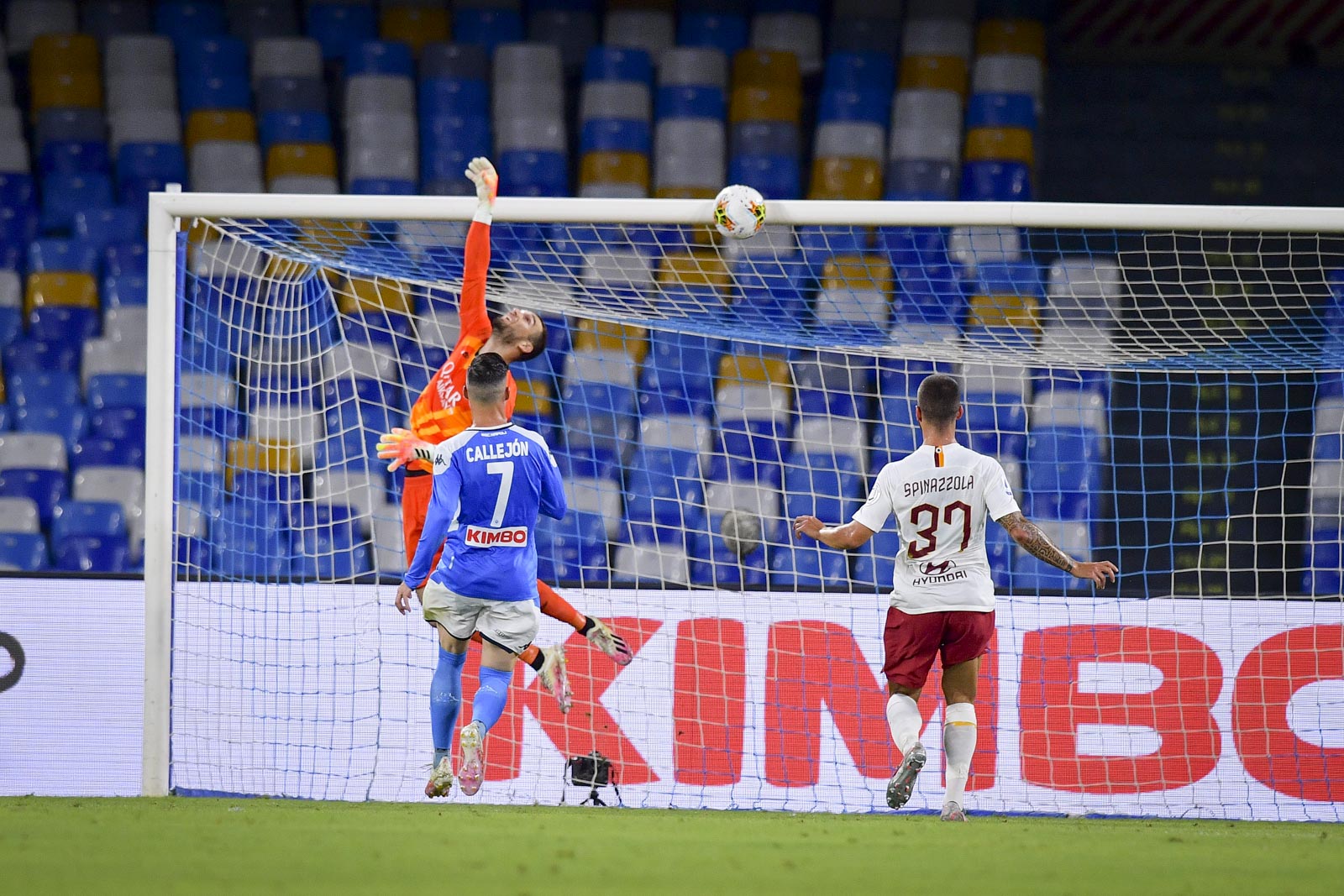 Pau Lopez was the difference in a heroic performance 

Roma had to be optimistic about how they played during that first half despite the number of chances that came their way they were able to deal with them, and on top of that, they kept the game close despite their lack of a Killer Instinct goingforward. However, it was only going to last so long; finally, Napoli had their moment. In the 55th minute, Mario Rui supplied a perfect ball into Jose Callejon, who ripped the ball at Pau Lopez sneaking it is between his legs and into the back of the net to give Napoli a 1-0 lead. Despite the way, it looked in livetime; Pau Lopez could not have prevented the goal despite his most considerable efforts. Just a perfect cross in a perfect finish, nothing could have been done. Lopez would deny Peter Zielinski 2 minutes later. It felt over that point even though the game was very back-and-forth Roma just did not supply enough going forward, but 5 minutes later, in the 60th minute, Roma got their chance and delivered. After seeing Edin Dzeko show, superb holdup play the Bosnian switch the field sending a cross into Henrikh Mkhitaryan, giving him space and time to operate on the other side he drove the ball from just outside the box and buried it into the bottom corner to get Roma Back into the game. He supplies the leveler as Henrikh Mkhitaryan scores his seventh goal of the season. He is the second-leading scorer after Edin Dzeko. The Armenian recently just extended his stay at Roma and pays back the club with an excellent goal. It became much more back and forth, and it was Prior as Roma had some momentum about it. It looks like they could potentially steal a point. In the 66th minute, Nicolo zaniolo returns to the pitch for the first time since he tore his ACL. It gives some creativity that Roma had not seen in quite a while; it was so good to see him come back. He replaced Justin kluivert, who did not have a perfect outing. However, I will give Justin kluivert credit on Roma's goal he pulled the defender away to provide Roma with a strike their goal. A few minutes later, Henrikh Mkhitaryan came close again. Napoli continue to go forward, and Roma did occasionally as well, but both teams had difficulty breaking through searching for that winning goal. Lopez made a great save on Mario Rui with a not much time left; however, Napoli in the 82nd minute stole the points from Roma Lorenzo insigne put a bullet the top corner to give Napoli a 2-1 lead. Roma tried to push back and get themselves back into it. Edin Dzeko, who overall had a fantastic night he can close at the very end, but his header in stoppage time was denied as Napoli collect all three points. Napoli after being so poor a significant portion the season, find themselves on the doorstep of overtaking Roma in the standings. Roma still controlled their position due to goal difference. Napoli just keeps things rolling while Roma, even though they lost, showed a much more reliable performance that will give them confidence throughout the next couple of games. A climactic battle between two Italian football heavyweight end with Napoli winning on the boot of the Lorenzo Insigne.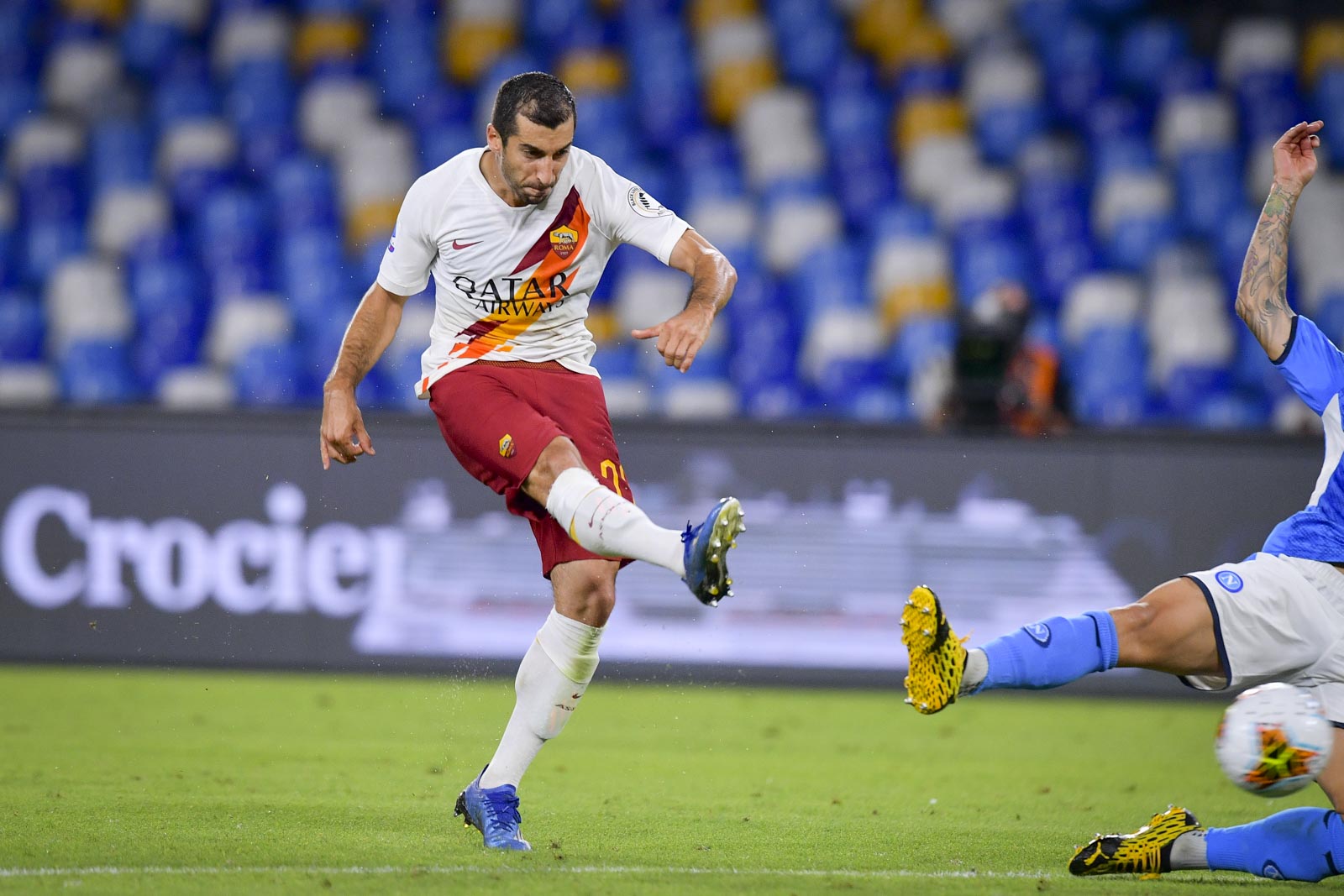 Heartbreaking finish as Miki's strike canceled out with Napoli 
Napoli takes the three points as Roma, and Napoli split the season series. Coming off a horrendous performance on Thursday, Roma was much improved but still wasn't good enough to get the points they were looking for. Napoli is now level on points with Roma and AC Milan not too far behind despite the circumstances Roma needs to find a way to get themselves out of this rut. The performance we ended up seeing from Roma may correctly do that but still wasn't good enough. Paulo Fonseca tries to mix it up with a new formation, and it worked only up to a point. The truth of the matter is Napoli dominated the majority of the game had twice as many chances to score, which is ultimately why they ended up coming away with a point. However, with that being said, Roma was very much in this game the entirety of the way. DZEKO was simply fantastic holding up the strike line, but Roma just did not create enough chances going forward. This is something Roma have struggled with now and their last two games. It needs to be corrected as soon as possible. However, there were no mistakes made in the backline, and Roma didn't beat themselves. Napoli won this game because they are the better team, not because Roma allowed them back in it. Tonight's man of the match goes to Pau Lopez; he was absolutely Sensational in return to the starting lineup. He saved some really big chances for Napoli that they probably could have put the game away much sooner had he not been in such great form. Leo spinazzola came in for Kolarov and played quite well. I still don't believe in him long-term, but if he can play like that more consistently, Roma won't make as many mistakes. The defense still needs work, and losing Chris Smalling the first-half certainly didn't help the situation. Nonetheless, even though it wasn't quite good enough, I thought Roma made it a point to prove they played much better, and we're in the game the majority of it as it took a Lorenzo Insigne's strike decides the results. Even after Callejon scored Henrikh Mkhitaryan and got Roma back in it immediately but sadly couldn't hold for a point. Roma has now lost three consecutive games and needs to pick up points as soon as possible now that their position isn't as secure as it could be. They played Parma in Midweek, which could be a tough game and then have a breeze against Brescia; this performance, I think, will give them some momentum over the next couple of weeks, but only time will tell. Not quite good enough for Roma, but despite the loss is a push in the right direction. Napoli was the better team in the deserved to collect all three points. Roma needs to get out of this rough patch will it end against Parma we'll just have to see.
MAN OF MATCH: Pau Lopez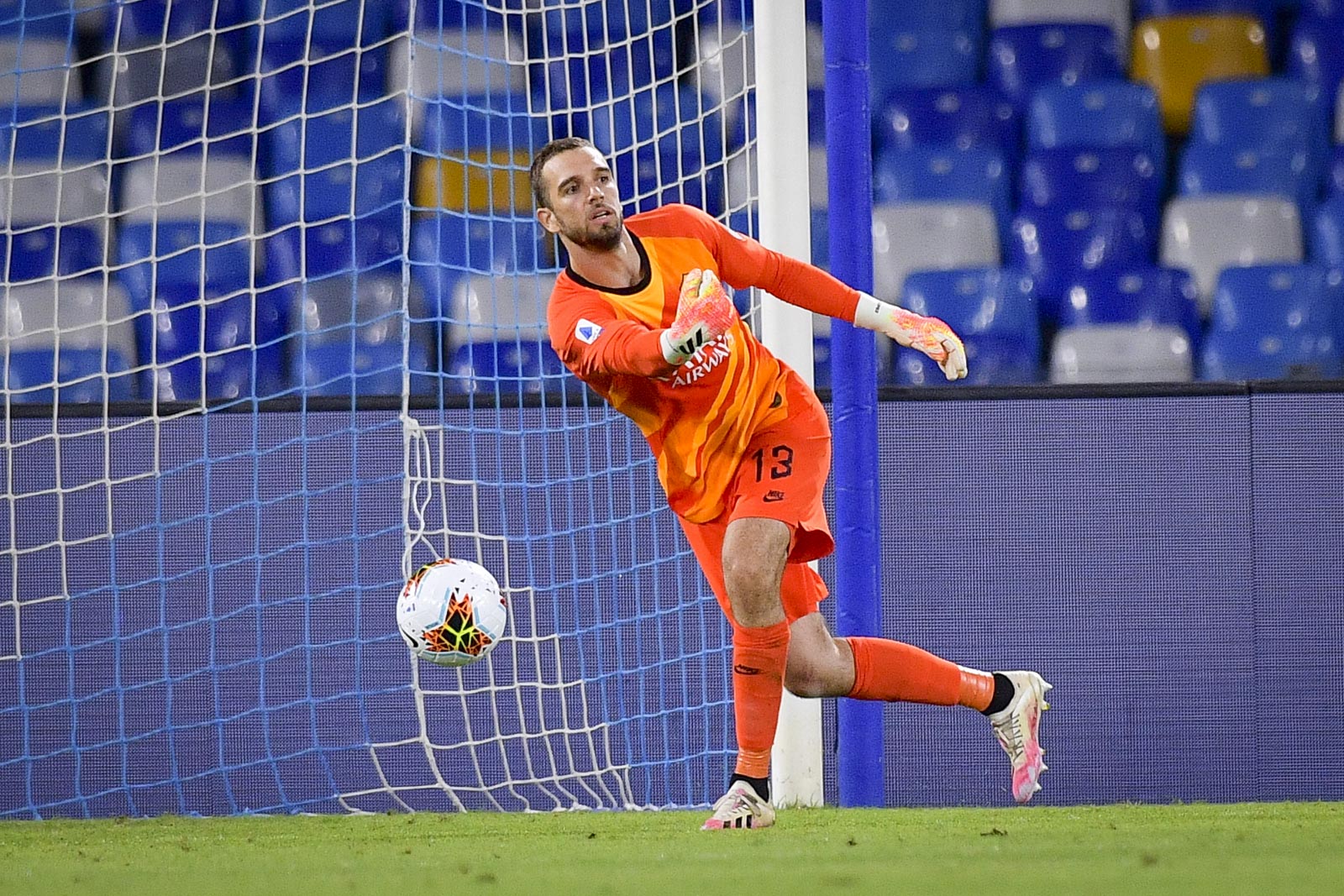 Top Of Table
1.Juvnetus 24-3-3 75Pts
2.Lazio 21-5-4 68Pts
3.Inter 19-7-4 64Pts
4.Atalanta 19-6-5 63Pts
5.Roma 14-6-10 48Pts
Bottom of Table
16.Torino 9-4-17 31Pts
17.Genoa 6-9-15 27Pts
18.Lecce 6-7-17 25Pts
19.Brescia 5-6-19 21Pts
20.SPAL 5-4-21 19Pts