Coming into this game, Roma were coming off three consecutive losses as the team has not played well since the restart of Italian football. Even in the one game, they won during this time, it was a come-from-behind victory against Sampdoria. Over the weekend against Napoli, it was a much-improved performance than what we saw against AC Milan and Udinesse. They were in the game a longer than they should have been, and it required a Lorenzo Insigne late winner that decided the points in the derby, Del Sole, after Pau Lopez's heroic. The Romans return home to host Parma at the Stadio Olimpico. Roma and Palma have already played two different times this season. Roma knocked out Parma of the Coppa Italia in a 2-0 victory. Then in Serie A, Parma did the same beating them at the Stadio tardini with the exact same scoreline. Andreas Cornelius, was spectacular on that day. Roma has an opportunity here to get revenge from their previous meeting and in hopes of winning the season series against Parma. Despite having a similar form in the last five games, they have been playing really great football some things that could be a concern for Roma. They nearly beat Inter Milan as well as being in a position to beat Verona as well. This is a team that Roma has had his issues. Even with how poorly Roma is playing, they were coming to this game as very slight favorites. Given the quality of their side. However, with that being said, Parma still has a great chance, especially given the form of the host. Will the Romans get back on the right track after three losses in a row? Or will Parma only continue to induce misery on the lads from the capital?
A.S Roma 

Pressure continues to mount on the job security of Paulo Fonseca. I personally think it's unfair to make a change, given the situation that the Portuguese manager was handed. He is well aware of this as he made some adjustments to the formation for only the second time this season. Against Napoli, he said his team out of the 3-5-2 formation. He intends to try this again against Parma to see if it's any more successful. In goal as always will be Paul Lopez, the hero from the Napoli game, hoping to take that momentum into the game against Parma. The back three is likely to consist of Alex Kolarov at left-back Gianluca Mancini at center-back and perhaps Leo spinazzola at right back. The back three worked to a certain point against Napoli. In the central Midfield, we should see Lorenzo Pellegrini. In the defensive position, Adamo Diawara will be alongside Jordan veretout; then, on the wings, we should see Henrikh Mkhitaryan and Carles Perez. Then upfront as the main Strikers should be edin Dzeko alongside Justin kluivert once again. Nicolo zaniolo did make his return against Napoli, but for the time being, he will remain on the bench until he reaches full fitness. Edin Dzeko should be the key player in this matchup if he can have one of his games when he can score while also opening up the attack Roma should find a way to win this game.
Parma 

Parma typically operates out of the 4-3-3 formation play, really attacking football, which sometimes can be their downfall. It's going to be really important for this team to be able to defend. However, their attack will not be as fluid as they are without Roberto Inglese. Inside the 4-3-3 formation other than just a few adjustments, it's likely to look more or less the same as it did last week with maybe a change or two. In goal as always will be Lupe Sepe. In their backline at left-back is likely to be Pezzella beside him the center-back partnership of Bruno Alves & Lacoponi. Then opposite side likely at right-back is Former Manchester United Defender Darmian. In Parma's attacking Midfield, they typically go with Cozzarella in the Central position with a Zevedo Junior and Kucka on the outside. Upfront, we should see Gervinho as the central Striker beside him Yann Karamoh and Kulusevski on the wings. A strong team that can wound Roma Gervinho is vital.
Bottom line 

This will be a match that shows Roma, who they really are a match of character; this is a Breaking Point in the season, and if Roma does not get their act together, they can slip even further down the table. For the time being Roma, are in the fifth position as long as they keep winning if they start dropping points they could be in trouble. With Napoli level on points with them and AC Milan not far behind either. Fortunately for Roma AC Milan play The League leaders today; however, Ac Milan won and will stay there if Roma doesn't win vs. Parma. Meanwhile, even though Parma sits in 12th Place, they have an opportunity to climb up into the top 10, which would be a massive season for Parma this next season. It is going to be a tough match that each team will have its set of challenges. Even though Parma not in the top 10 right now, they have some exceptional players in their side that can give Roma some severe problems. Gervinho, Andreas Cornelius, Kulusevski all players undoubtedly capable of turning it on when it's needed. They are a quick ambitious side with questionable defending. This may be able to factor into the way Roma can go about breaking them down. However, Roma's defensively can't really compare either because they have struggled significantly over the last couple of weeks. I fully expected to be a battle between two teams in need of points; however, even though there are no fans at the Stadio Olimpico, I feel like being at home will sway into Roma's favor. Roma do you have the better team even if it's not by much. The attacking options that Parma certainly has could really give Romo some serious issues; however, with all that being said, if edin Dzeko can play at his level in this most critical game, Roma's game will open up. It will have much more success going forward. That is the big talking point of this game Roma need to be able to attack with much for success in this matchup. If Roma can go forward consistently, they will win this game. If it is a slow attack, then they probably won't. Just like Mki and said after the Napoli loss, this is the opportunity for Roma to show what kind of team they are together, and even though they're in an awkward position, they can show, precisely who they are. When Roma is in-form, which has not been very often, they have been deadly as they're able to reach inside themselves and put together that type of performance. Roma could pick up three points and get right back into the momentum. The big matchup will be Gervinho against the right-back whoever it may be. There's no secret that is the position that Roma is in desperate need of Gervinho is quick enough and fast enough to exploit that very early in the game. With the Midfield, it should allow them to control the possession. Roma must control what they can. It's tough to say who's going to win this game, but this is a game Roma just cannot afford to lose. Against Napoli, I will never favor in that game, and it was going to be unlikely that they were going to get anything; this is a team more capable of picking up all three points from. Gervinho is tough, Cornelius is exceptional, and Kulusevski is just such a talent. Roma has to find a way to win this game, or else let's not talk or else they must find a way.

Roma's Projected starting XI 3-5-2
GK: Pau Lopez
DEF: Alex Kolarov,Gianluca Mancini, Leo Spinazzola
DEF MID: Jordan Veretout, Diawara
ATT MID & Wings: Henrikh mkhitaryan, Lorenzo Pellagrini, Carles Perez
Strikers: Edin Dzeko, Justin Kluivert
Manager: Paulo Fonseca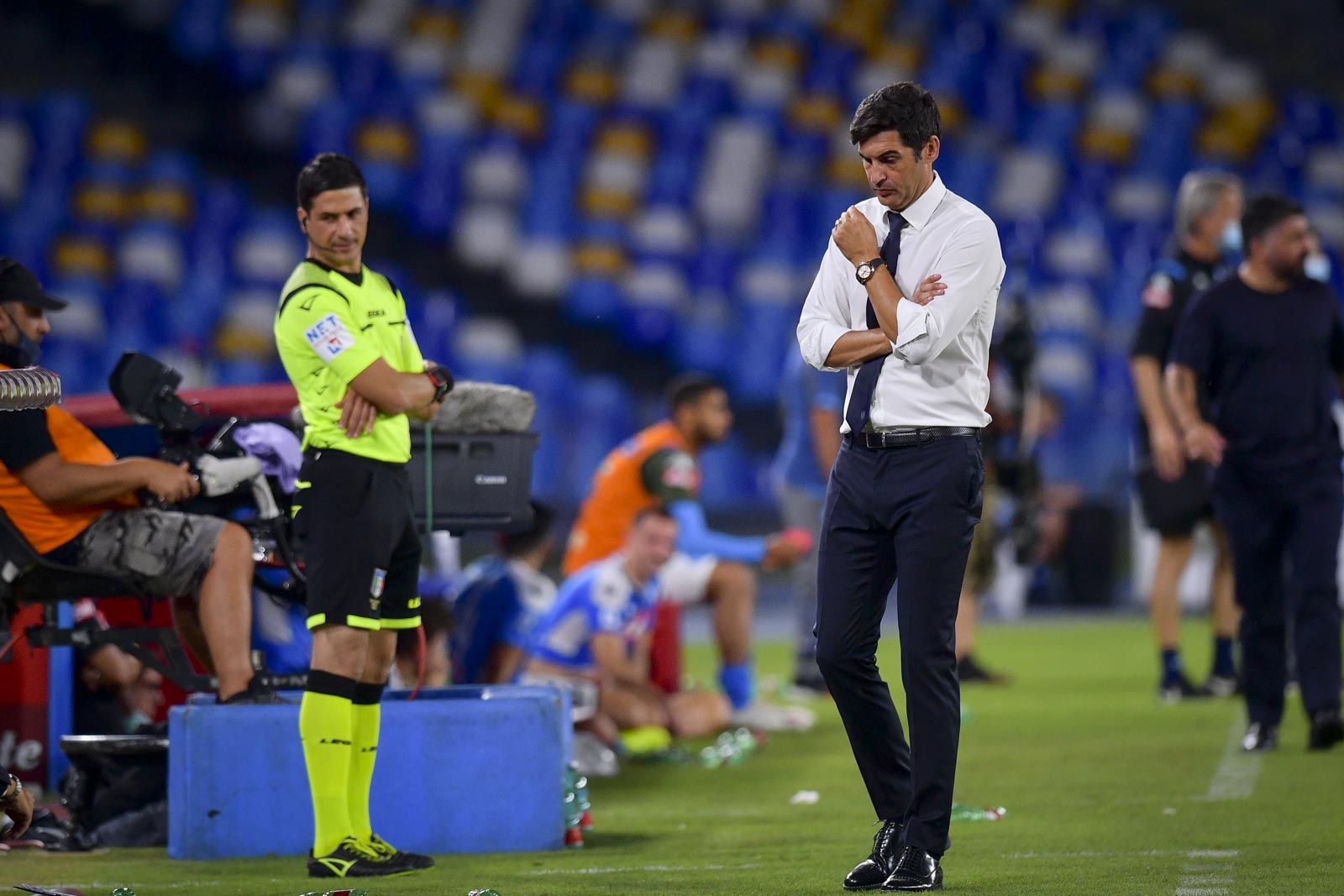 Parma's Projected starting XI 4-3-3
GK: Sepe
DEF: Pezzella, Bruno Alves & Lacoponi., Darmian
MID: Cozzarella, Kucka, Zevedo Junior
Front Three: Karamoh, Gervinho, Kaulusevski
Manager: Roberto D'Aversa
Players to Watch
Edin Dzeko 

Gervinho
Match Details 

Date: Wednesday, July 8th, 2020
Venue: Stadio Olimpico
Kickoff: 2:45 AM (USA),8:45PM (ENG), 9:45PM (ITA)
TV Broadcast: Sky Italia, ESPN+