Atalanta 2 Juventus 2FT
In one of the most controversial yet enticing matchups of the weekend, we saw a battle between two of the best teams and Italian football. Likely Champions Juventus led by the League's best player Paulo Dybala who truly has carried this Juventus team to unimaginable Heights. Against the magical story in Bergamo that Gasparini has built over the last couple of Seasons.  Juventus hosting the League's most potent attack Atalanta. Despite having half the budget, they are the most dangerous attack in Europe out there. They can score like noavile With Papu Gomez orchestrating through the Midfield and the attack that features Josip ilicic, duvan Zapata, and have weapons on the bench like Luis Muriel and Ruslan Malinovskyi. They are as dangerous as any team in the league; a result here may have been able to steal the title down the line. Atalanta went into this game as the hottest team since the restart having won 7 games in a row, which is a club-record. Against a Juventus team that allowed AC Milan to come back from 2-0 down to beat them 4-2. This was a match that could determine anything and everything in Italian football. Atalanta had the possibility of jumping over Lazio, who had lost earlier to reclaim second place, but we're within enough that they could against the odds win the title. Atalanta is the better team, and it wasn't even close. They looked absolutely breathtaking on the ball, and it didn't take very long to pressurize the league leaders. Outside of Paulo Dybala, who created practically all the chances and Berendeschi who had a great link-up play with the attack, no one else showed up, and it looks like from the beginning it was going to get really ugly. less than 20 minutes into the game, Papu Gomez picks out a world-class pass into the monster Duvan Zapata who calmly ripped the ball into the bottom corner to give Atalanta a 1-0 lead. This would only be the beginning as they were constantly giving Juventus problems regularly. Christiano Ronaldo provided almost nothing despite Juventus getting back into the game on his foot; it was a really poor performance by Juventus; unfortunately they were given a lifeline by a very controversial call that gave Juventus a penalty they certainly did not deserve. The handball rule has become a massive problem. This rule is redundant and stupid. Juventus were given a penalty purely because the defender had arms attached to his body. The ball strikes his arm despite him being still as a statue the official called it anyways. This gave Juventus a penalty, and up came Cristiano Ronaldo, who converted from 12 yards out to get the league leaders back into the game despite it being undeserved. Calls like this can truly determine everything, especially in a title race that was just given some more energy. Due to this atrocious decision, it was all square after 45 minutes. in the second half, it was more of the same from Atalanta their link-up play from the backline all the way into the attack was nothing short of brilliant. There's a reason why they have been so dangerous going forward this season they have weapons all over the place. If Atlanta could get a couple of better Defenders, they would be such a problem. Juventus continued to look mediocre-at-best while Atalanta ran through them. On a night without a shadow of a doubt was the better team. Even though Cristiano Ronaldo did convert the penalty, he provided nothing in terms of creativity. As great as he has been at times this season, he no longer can create, he needs to be set up.this is largely why Paulo Dybala has been so important to this Juventus team he has given Cristiano Ronaldo and Juventus the luxury to score goals because of his creativity. Atalanta continues to dominate, and even though Juventus had their moments, especially after the penalty, they were different levels of quality in comparison. Late on with less than 10 minutes to go recent substitute, Ruslan Malinovskiy cut Inside the Box before the Ukrainian International send a rocket past Szczesny to give Atalanta a 2-1 lead with not much time remaining. They even had more opportunities to increase their lead even further at that point of the game they were on the verge of becoming a real factor in the title race it would dethroned Leicester city had they been able to pull this off. However, once again, the official made an egregious mistake and error that cost Atalanta a spot in the title race potentially. Another handball call the first one wasn't a penalty, and this one wasn't a penalty; they just happened to hit a ball in their Direction, and the Atalanta Defender is the only crime was that he had arms attached to his body. Cristiano Ronaldo stepped up from the spot and deliver once again. In the 90th minute, the referee spoils the game with another poor decision. The rule is stupid, but nonetheless, the referee does not have to make that call at that moment that was a decision to take points away. I'm not one to blame the referee, but two questionable penalties severely cost Atalanta points that would have put them on the doorstep of the title race. you can look at the score box and think Ronaldo was fantastic it was a horrendous game for him and his team Atalanta are the better team and Atalanta outplayed them significantly if Atalanta finishes just a few points behind Juventus this game, in particular, is what will have cost them. The results were unjustified Atalanta was the better team and deserved all three points. Juve didn't deserve anything from this game, but unfortunately, they got it. As controversy puts a damper on what was a truly cinematic match between two giants.
A.S Roma 3 Brescia 0FT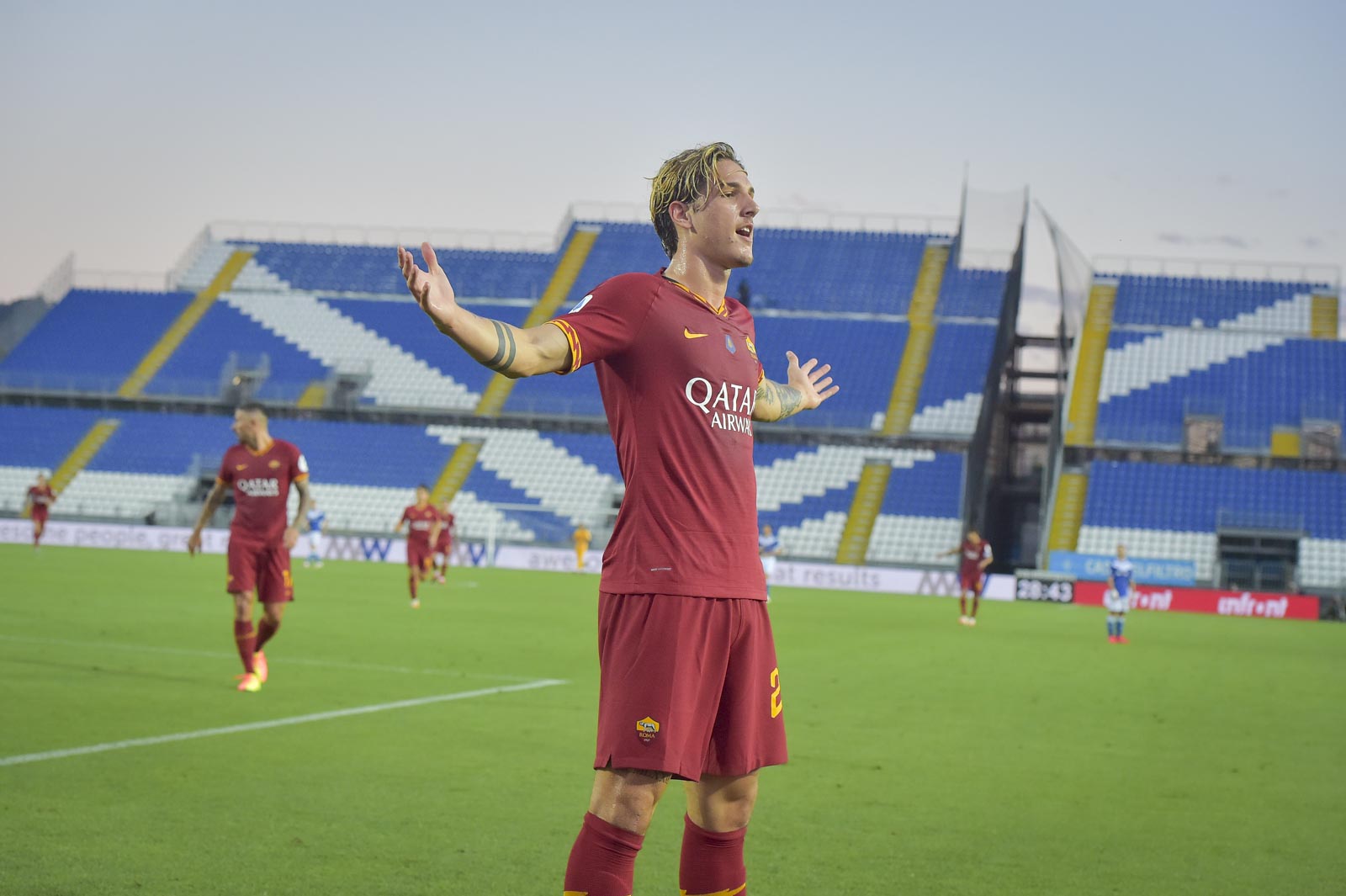 The Europa League race only continued to heat up after Roma's victory last night. Roma for the last couple of weeks has really struggled not only in terms of results but in terms of performance. A tough loss to Napoli got them back on the right track as Paulo Fonseca changed his formation as Roma Now operating out of the back three. Roma has improved massively under the new setup. After defeating Parma in a two-to-one come-from-behind victory on Thursday at the Stadio Olimpico. Rama looked to keep their momentum going. Rome is in a very tricky situation where they need to pick up as many points as I humanly possibly can until either AC Milan or Napoli drop point. Coincidentally they played this weekend. Regardless of the results of that game, they must keep picking up the points because of how close it is. Roma made it two-in-a-row against relegation-threatened Brescia. Roma has been historically significant against newly-promoted teams; they have the best form in league history. With 21 wins in 21 games. They have never even dropped a point against newly-promoted sides. Not only that, but Brescia also is at the bottom of the table, and it's pretty much mentally already relegated; they have very little shot of surviving. Three points once again would be a requirement. They played it early in the season, and Roma picked up a very routine 3-0 victory at the Stadio Olimpico. Roma, we're going to do more of the same this time around. The first half was a bit of a process. Brescia didn't exactly rush forward, but they have their moments. It took Roma a little while to really get into the game. Roma was in complete control possession and provided better chances in the first half. Roma played with a slightly weakened team with Pau Lopez, Edin Dzeko being rested while Mkhitaryan was out with suspension and Chris Smalling out with injury. It still was a strong team, but it wasn't Roma at full fitness. Carles Perez provided the games the best chance with his strike going wide on the break. Once Roma found themselves within the game, it was Game Over. Very early in the second half coming off of a corner, Federico Fazio scored at the near post striking with his foot. Roma continued to play well defensively and came through in the big moments Roma connected with the attack & the game opened up for them, and before not too long, the points were secured. Before not too long, Roma doubled their lead as Carlos Perez picked out a perfect pass for Nikola kalinic, who supplied a superb first touch maneuvering around the goalkeeper before sliding the ball in the back of the net to give Roma a 2-0 lead. It only got worse from there with about 20 minutes to go. Nicolo zaniolo Roma's super-talent, who just recently recovered from a ruptured ACL, came off the bench and did the impossible. Nicolo zaniolo on a break scored to give Roma a 3-0 late. It was his first goal since his injury back in January. Late in the game Edin Dzeko nearly increased Roma's lead even further, hitting the post twice in what could have been a much more lopsided victory.  Roma secured a 3-0 victory as they pick up another three points . Even with absentees Roma win the season series as Roman momentum has engaged.
Sassuolo 2 Lazio 1FT
Lazio has had a truly remarkable season. They went from 8th in the table last year to on the doorstep of pushing for the league title. They have not been in a title race in such a long time, and this year looks like it would be their best opportunity to do so. At one point this season, they were unbeaten in 19 games until that team from Bergamo that we just talked about ended that run. Before the coronavirus pandemic, Lazio seems to even have a considerable advantage against League leaders Juventus. They have already beaten them twice this season, and even though Juventus has the best player in the league this season in Paulo Dybala. Ciro immobile has been historically great and was on the verge of breaking the goal scoring record until recently. However, while some teams have looked incredibly flawless still after the break, something like Lazio has ultimately reached their Breaking Point. Since the restart, Ciro immobile I wouldn't say has struggled because he's had his chances but is not the same player nor is this team. They won their first couple of games, and then they lost to Atalanta got crushed by an AC MILAN without him, and even Lecce, a team fighting in the relegation Zone, managed to beat them. This weekend Lazio would find another momentous challenge that put them on the verge of slipping out of second place. Sassuolo having basked in great form with the ageless wonder Francesco Caputo and the young star Jermaine Boga they have been the driving force out of this unique team lead by Roberto De zerbi. There's no denying going into this game despite their form that Lazio is the better team with the better players. However, sassuolo has been on fire as of late, and it was going to be a mighty challenge for the scudetto hopefuls. The race is probably over already, but surely Lazio needed a result to solidify themselves just in case some of the top teams had a slip-up. This match did not go as planned even though they did take the lead in this game in a bizarre fashion. Sassuolo did actually take the lead; at least it appeared that way until the video review took their opening goal away. Late in the first half somehow someway Luis Alberto found the back of the net to give Lazio a 1-0 lead. Despite being in the front, it was a back-and-forth battle between two teams, an argument could even be made that sassuolo was the more energetic team. Things changed a little bit in the second half as they got themselves back in the game. Francesco Caputo connected with Giacomo Raspadori scored his first Serie A goal that leveled the scores early in the second half it became a nick and tuck battle until the very end regardless if Rome club got the point or not is irrelevant they needed all three points to keep that glimmer of hope alive. In the end, it was clear last this is a broken team, in the end, Francesca Caputo scored the winner connecting on an acrobatic header at the near post has the ball hit the back of the net as Lazio drops yet another game. Sassuolo wins it late in the 90th minute as they continue to climb up the table on the verge of Europa League football. They have been on fire since the restart as they have shown what kind of quality they truly have; they continue to climb the table. At the same time, Lazio is a has lost momentum it's clear this point they don't have any left they have burned out and psychologically are mentally broken seeing the pictures of the bench after the winner goes in completely simplified where they are right now. An argument can be made that is possible they would have won the title without the virus and the break from Italian football, but unfortunately, Lazio just lost themselves; this run of form has lost them the title.