Roma comes into this matchup having secured back-to-back victories and having played a relatively well over the last of the games. Their race for Europa League qualification becomes a little easier. However, they're not out of the water yet. What I failed to realize was Napoli has already secured it because they won the Copa Italia, which means as long as Roma finishes ahead of AC Milan, they have nothing to worry about. Roma should still play as if they're pressured, but the pressure has decreased a little bit. There is now a four-point distance between Roma and AC Milan after they drew with Napoli a few days ago. However, Roma's ambition should still be to stay in their position. They will face a significant challenge tomorrow night. Hellas Verona may not be in good form right now, but they have the qualities to beat Roma even at the Stadio Olimpico. Roma beat them in Verona earlier in the season in what was a 3-1 victory. Despite the scoreline in that game, it was very balanced throughout until the very end. Roma will deal with a challenge on their hand despite their form it's not going to be easy. Roma does have history on the side as we learned last week they have the best form against really promoted sides in league history with 22 victories no draws and no losses. None the less they still have to show up and perform Roma have looked much better over the last couple weeks, but they always can make a mistake. Roma has looked much better over the last couple of weeks, but they still can make a mistake. Roma needs to keep their momentum going and try to pick up maximum points against Verona ahead of their big match on the weekend against Inter Milan. Roma will go into this game as slight favorites. Still, only slight Verona has the capabilities of picking up big points against some of the best teams in Italy exhibit a for Inter Milan just a few days ago that will give him some confidence ahead of a big game against Roma. They may not be able to create a lot, but if Roma makes mistakes, you can count on Verona, making them pay for it. Roma has more than enough quality to get the points, but it's never that easy. Will we see Roma keep their winning streak alive, or will Verona spoil the party and take momentum away before their most important game of the season. We will find out all that and more when Roma and Hellas Verona go to battle at the Stadio Olimpico in the Eternal City. We'll have to see what happens.
A.S Roma 
Roma has continually operated out of the back three since they got their momentum back. It has seemed to work ever since Paulo Fonseca made that formation change; the team is playing much more together and at a much higher level. Last week Pau Lopez was rested in favor of Antonio Mirante. The Spaniard certainly should return to his post inside the net. Chris Smalling made his move to Roma permanent this week as Roma got a big part of their transfer business is taken care of. However, even though he may be healthy, I suspect he will be rested for The Inter Milan match this weekend. The center-back in all likelihood will be Gianluca Mancini alongside Ibanez and Federico Fazio. Roma could potentially make some adjustments within that, but given the situation, it is possible we could see more or less the same from the Roman defense. In front of the defense at the wing-back positions should be Leo spinazzola and Bruno Peres. Patrolling the defensive Midfield should be the pairing of Diawara and Jordan veretout. In the attacking Midfield, we should see Lorenzo Pellegrini once again alongside Henrikh Mkhitaryan, who returned from suspension. Then upfront as the Central Striker should be Edin Dzeko, who was rested in the match earlier in the week. Roma will have a surplus of options of substitutes like Carles Perez, Gonzalo Villar, and Nicolo zaniolo, who came off the bench and scored for the first time since his injury. Justin kluivert move to Arsenal seems to be on the cards he has not played recently, but that could change we'll just have to see.
Hellas Verona 
Hellas Verona typically plays out of the 3-4-1-2 formation; they play with security on their backline with several defensive midfielders while going forward through their attack. I don't expect there to be very many changes in the team. In goal should be Silverstri. Their backline should consist of left-back Bocchetti, at center-back Gunter, then finally occupying right-back should be Rahmani. This team plays with four defensive midfielders. On the outside should be Lazovic meanwhile, the inside defensive Midfield is likely to be Pessina and Amrabat with Faraoni on the outside. Their lone attacking midfielder should be Verre and as always the front two with Di Carmine and Salcedo. The key player for Verona is Marash Kumbulla he can make a difference in the Defence as well as pushing forward in the attack he will be essential in the final result.
Bottom line 
Roma will look to make it two in a row against Italy's surprise package Hellas Verona. This match could not have come at a much better time for the Romans. Roma has just got their groove back and is starting to play well for the first time since the restart. They have a fair bit of momentum and confidence that they did not have previously. Hellas Verona is a perfect match up to test them ahead of what will be one of their biggest matches left on the schedule next week at home against Inter Milan. Hellas Verona was a newly-promoted side that went from a team likely to be in a relegation battle to a group pushing from Europe. However, Verona is not the Basking of great form at the moment. Not to mention Roma has a spotless record against newly-promoted sides the best in league history. However, this isn't just some newly-promoted side; this team has quality piercing through it. They can test Roma in a multitude of different ways. They may not have a better team or the class, but they have significant difference makers on their side who, on their day, can surprise a walking Giant. They beat Juventus this season and got the point against Inter Milan last week. This will be a challenge; however, Roma still should manage to collect all three points. If Roma can beat Verona and you're up to this challenge, there is a good chance they can take down Inter Milan over the weekend who are not in good form. Defensively Roma has struggled significantly over the last couple of weeks. However, in their previous game, they were able to make the big stops when it mattered. Even with that being said, they have a mistake in them. Ibanez is Young, and all have shown promise this season has a knack for making mistakes occasionally. Verona should approach this and exactly that trying to force Roma into those mistakes. It has worked for a lot of teams, so there's no reason why Verona can't force Roma into an error. From Roma's point of view from Romans simply, they have to do what they have done over the last couple weeks that has made them successful. The defensive Midfield will be absolutely essential in this matchup. Jordan veretout and Diawara was sensational against Brescia. The point of attack should come from the Midfield and the wing-backs. To push forward and give edin Dzeko opportunities to score goals, Roma has a great chance to pick up all three points. Edin Dzeko hasn't had a Breakout game since Sampdoria he undoubtedly due for one that's why tomorrow night I think he is the crucial piece for Roma. Especially after missing some golden opportunities of the Bench in his last game, he will be tuned in and focused on the task at hand going into the Inter Milan game with momentum is precisely what Roma want to see from this game. It will be a battle Verona has quality Marash Kumbulla is one of the best young stars in Italian football this season he is a big part of that success. He is a Defender that everybody wants to get their hands on even after one outstanding season. He could be essential, and Verona has other weapons in which they can hurt you. Roma Must tread carefully; however, if they're able to play at a high level once again out of this setup, they should collect all three points I'm expecting a fierce and challenging battle through 90 minutes, but Roma has everything required to get the job done. If they beat Verona at the Olimpico, there's a good chance they can get a result against Inter Milan. Roma is playing on fumes and momentum; they must continue to drive this until they have confirmation of Europa League football. Verona will be a test but not one that Roma are unable to handle.
Manager: Paulo Fonseca
Roma's Projected starting XI 3-4-2-1
GK: Pau Lopez
DEF: Ibanez, Fedrico Fazio, Gianluca Mancini
Wingbacks: Bruno Peres, Leo Spinazolla
DEF MID: Jordan Veretout, Adamu Diawara
ATT MID: Henrikh Mkhitaryan , Lorenzo Pellegrini
Striker: Edin Dzeko
Manager: Ivan Jurić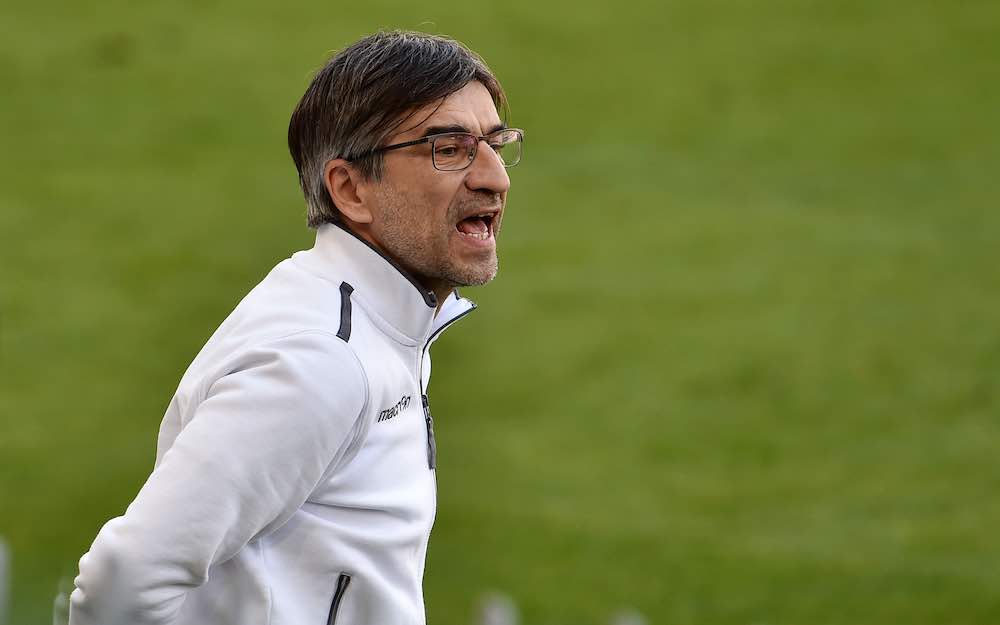 Verona's Projected starting XI 3-4-1-2
GK: Silveresti
DEF: Bocchetti,Gunter, Marash Kumbulla
DEF MID: Lazovic,Pessina,Amrabat,Faraoni
CF: Verre
Striker: Di Carine,Salcedo
Players to Watch
Edin Dzeko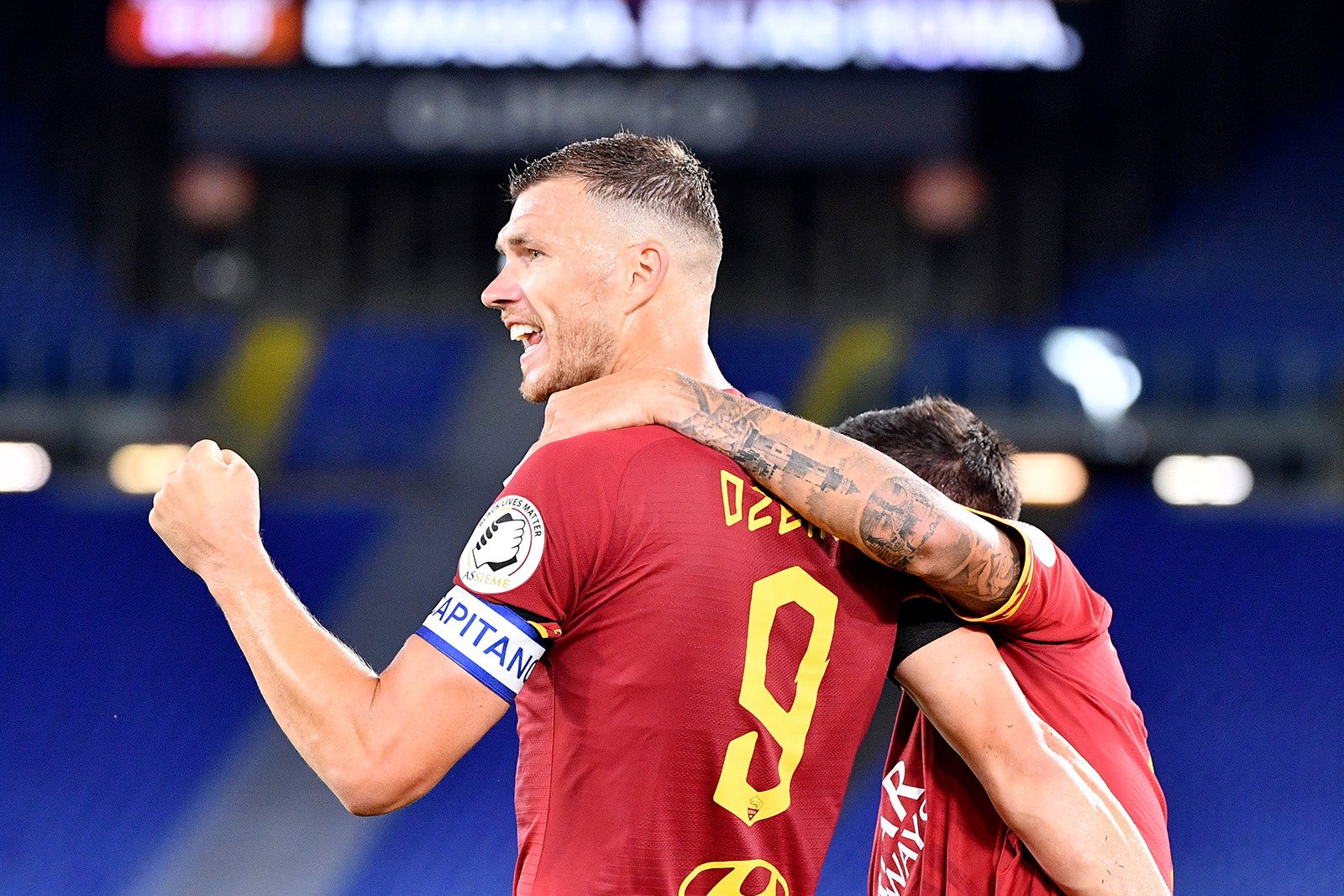 Marash Kumbulla
Match Details 
Date: Wedesday, July 15th, 2020 
Venue:Stadio Olompico 
Kickoff: 2:45AM (USA) 8:45PM (ENG), 9:45PM (ITA)
TV Broadcast: Sky Italia, ESPN+