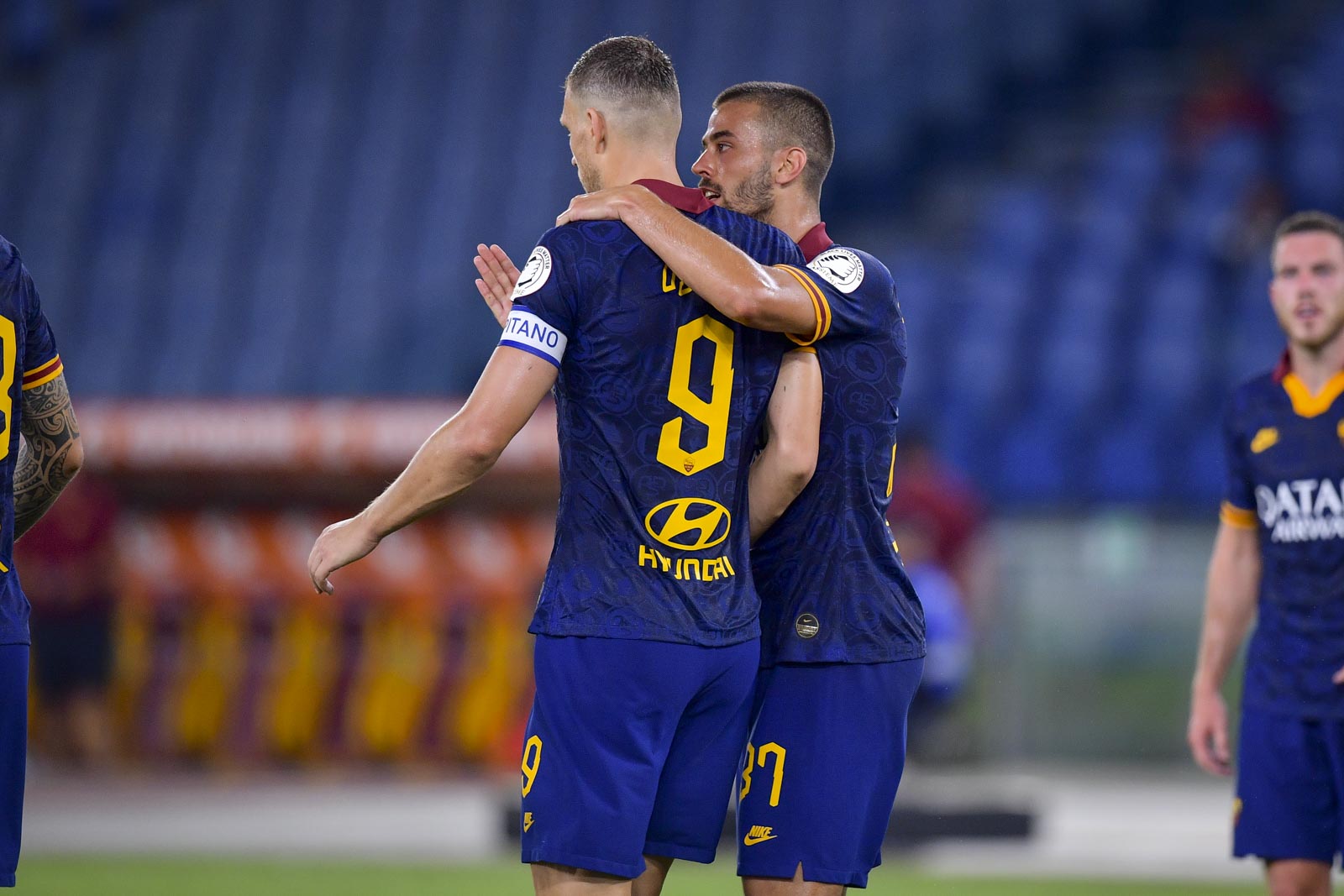 Last night Roma only continued their winning form as they start to really solidify their position for the Europa League next season. This team is operating on fumes and have been up for the most recent challenges. Following victories against Parma and breccia. Paulo Fonseca and his Roma side had an increasingly difficult test as they welcoming Italy's surprise package to the Stadio Olimpico in Rome as Hellas Verona took a shot at trying to get some points off the slightly favored Romans. Hellas Verona has been genuinely remarkable all season having been recently promoted; they have been as consistent and as good as any newly promoted team over the last couple of seasons. They have quality throughout, and even though they lost to Roma earlier in the season in Verona. It was a dicey battle in which tested them despite Roma earning a 3-1 victory. Verona is a quality team that has given some of the bigger teams trouble with getting wins against Juventus and a point against Inter Milan last week. Roma has a spotless record against newly-promoted sides, but the match had its challenges. Roma has been a completely different team since changing to the back three. There was very early drama Verona got on the counter, but the play was stopped by Rodger Ibanez cleanly connecting with the ball as the Verona Striker fell to the ground. Hellas Verona argued, but the referee maintains his position. Then on the other end, Henrikh Mkhitaryan released Lorenzo Pellegrini inside he was clipped inside the box and the referee without even thinking pointed to the Penalty spot. Less than 10 minutes into the game, there was already Mega drama. Ivan juric challenged the referee & the Verona manager was sent off with a red card after his retaliation. Jordan veretout stepped up, converting has penalty right down the middle to give Roma a 1-0 lead. It was a perfect start; however, this wasn't a match that Roma dominated or had significant superiority. Hellas Verona went from promotion to the top half of the table for a reason they have the qualities especially going forward to make a game out of this. Unfortunately for Verona, Kumbula Verona's best young player had to leave the game with an injury. Roma came forward and had some excellent opportunities throughout the first half, but there weren't a lot of high-quality chances in the first half. Gianluca Mancini and Rodger Ibanez absolutely breathtaking, making the big stops when Verona pressed. Late in the first half, In stoppage-time, Roma managed to double their lead. Hendrick Mkhitaryan picked off a ball in the Verona box before proceeding to go to the corner and send it across to edin Dzeko. The Bosnian used his size to connect with the header edin Dzeko converted as the ball flew into the back of the net To give Roma a 2-0 lead. Even though Roma had a two-goal lead, Verona had not played poorly. Verona pressed high up early in the second half, and just like that, they got themselves back into the game. A brilliant team goal as Matteo Pessina got a goal back. It was an actual battle between two strong teams in the second half. Verona continued to create opportunities; however, it was being canceled out by Roma's defensive performance. Roma still was tested by Verona. Even so, Roma had two golden chances from Hendrick Mkhitaryan and edin Dzeko that quite honestly put should have put the game away. Verona really took some momentum late on and pushed regularly trying to get their Speedy, athletic players up front, but again Rodger Ibanez was all over them; nothing was getting through. Although the late push Roma was able to hold them off in a victory of character and mental strength. It was a real battle against a fantastic team. Still, Roma kept the run going Giving them much-needed momentum ahead of their biggest match of the season on Sunday against Inter Milan, where we will be right back here at the studio Olimpico in for another battle.
Hellas Verona Best Promotion Season In a decade?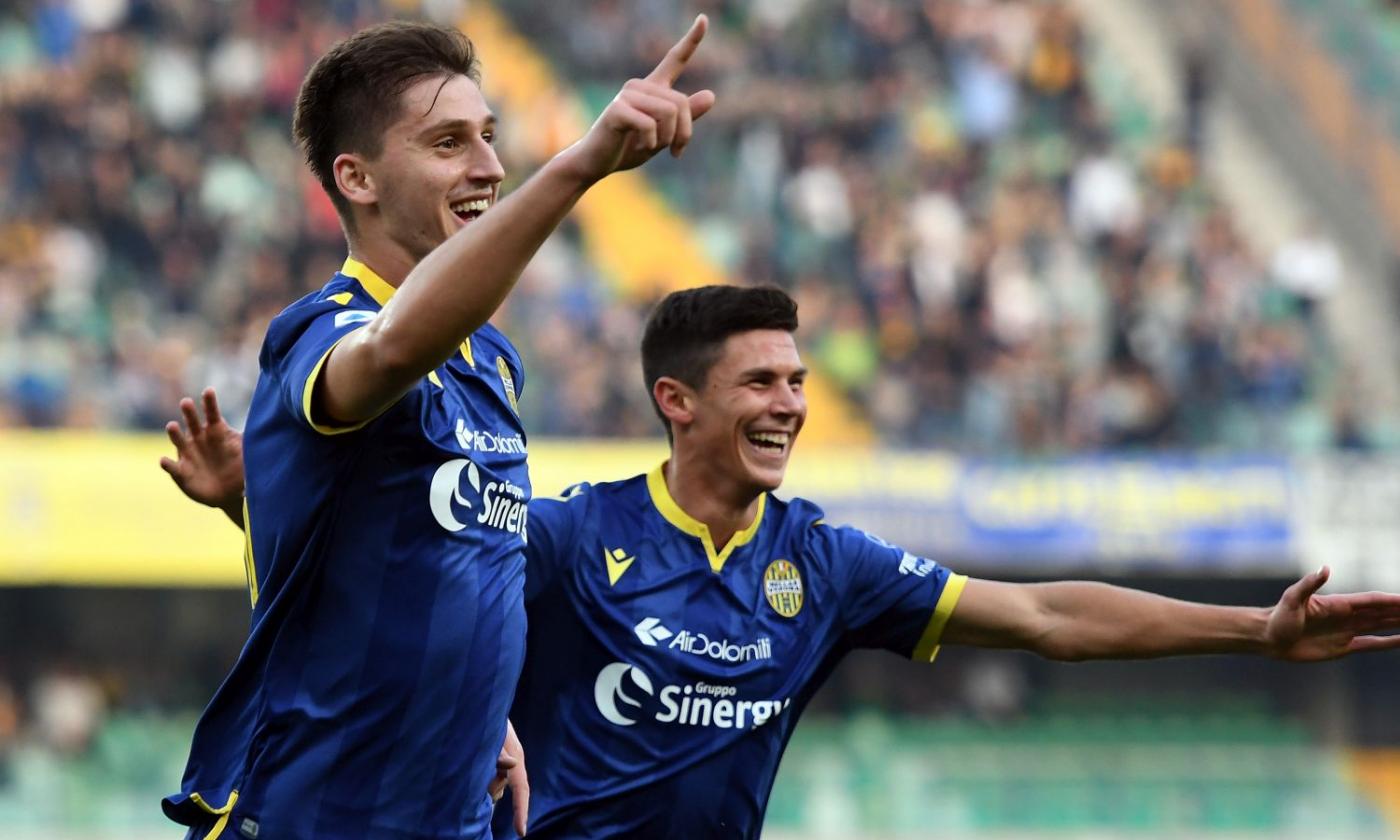 Hellas Verona may have lost last night, and they may not be playing at their best lately. All these things can be true, but they are without question; this is the feel-good story in Italian football. The League's surprise package no one saw this coming. They're so entirely different from Atalanta, who, even though massively overachieve last season getting third, we all knew that the qualities that they had. We have seen them push Europe. Hellas Verona, more or less, came out of nowhere and became the exact opposite of what anyone was expecting from them to start the season. Just based on their team coming into the season only spal and breccia player for player, we're in a worse on paper. Fortunately, the game isn't won on paper. Hellas Verona had just been promoted from the league below, having to go through a playoff to get here. We all looked at Brescia and saw they had Alfredo donnarumma, the top scorer in Serie B last season, and Sandro tonali, one of the best prospects in Italian football. There wasn't really anything about this Verona team that really could get us excited. They shocked everyone as they are going to finish in the top 10 this season. Most people thought they would be relegated everyone missed on them; they have been genuinely Sensational; you can say what you want, but this is a great team that has unbelievable quality throughout it. I certainly don't remember a better team coming from promotion into the season. They certainly made Roma work for every inch last night. In the previous five years, they are certainly one of the best teams to ever come from the second division. If they're able to keep their team in place and add just one more piece, there's no question in my mind they will be in the hunt for Europa League football If they start selling some of their best players they won't be able to maintain it two of them are already leaving they have to do whatever it takes to keep everyone together they are right there. This is the best team I have seen in the last decade to come from Serie B. What they have done this season doesn't make any sense Europa League football next season should be doable. I can't say enough about the quality of what a team they have!
Paulo Fonseca's Shows He in the Man for Roma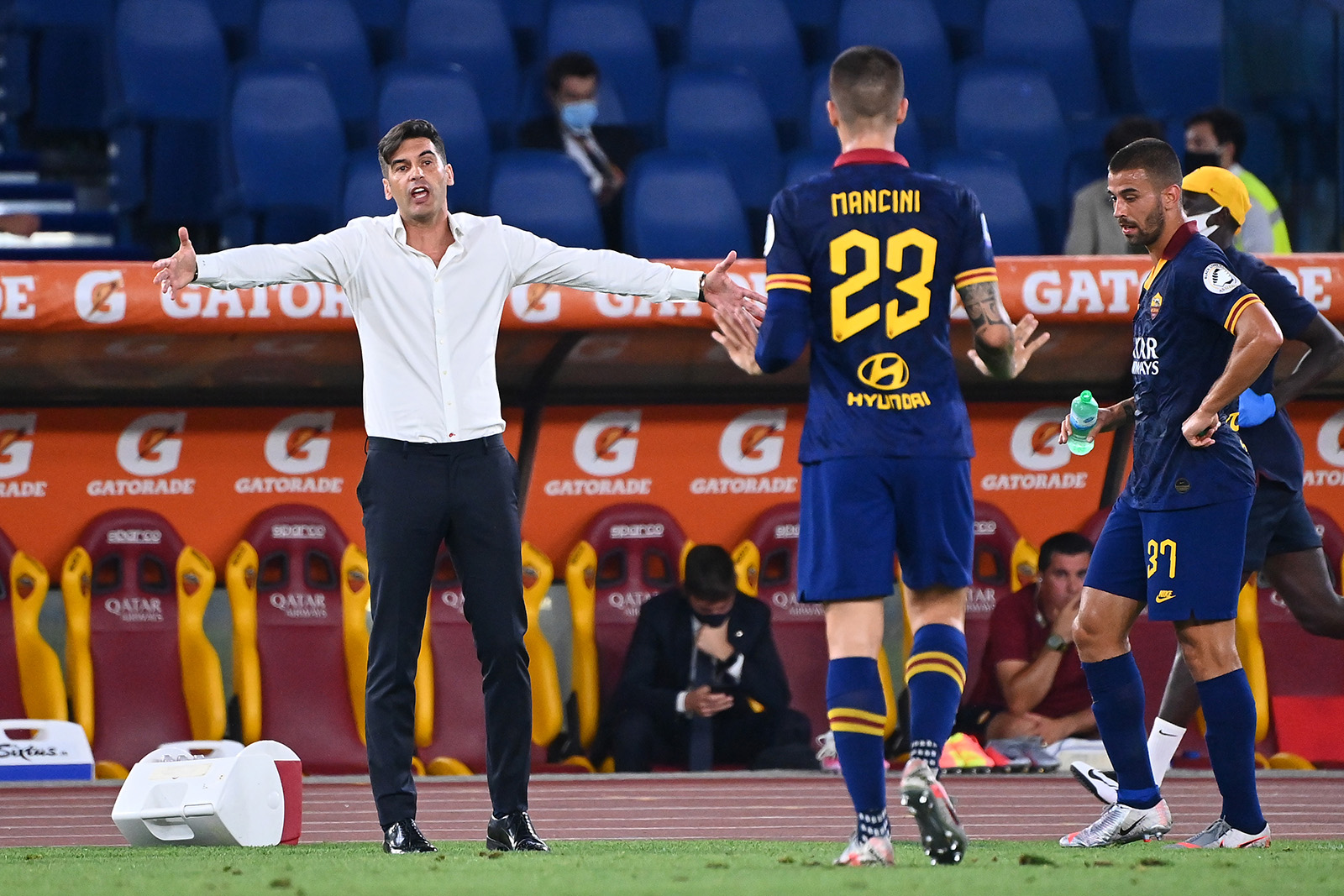 Paulo Fonseca has gone under a lot of fire at least lately. Numbers don't really matter as much, and that's the big thing that people have missed. He may have lost more games than previous Roma managers. However, that stuff only matters to a certain point. What many fail to realize he does not have the equivalent team that's capable of Champions League football at least yet. As harsh as it is to admit, Roma is a Europa League team. At this point in time, Inter Milan, Juventus, Napoli, and Atalanta are all better right now. Don't get me wrong Champions League can happen, but it's not something that people should expect. Paulo Fonseca probably doesn't have all the pieces he would like to build a real team; he needs some key pieces, but he doesn't have everything he needs quite yet. The expectations this season were unrealistic getting to the Champions League was unlikely to happen. He has changed this team, and once the defense is sorted out on a more regular basis, they could be really dangerous. Roma is building a lot of young talent and players who have certain qualities that can make a big difference. He has struggled in certain games, but I'm not sure Roma would have done better with another manager. He is driving this team in the right direction. He needs to make some improvements, but he has shown that he can play adust and adapt. He has brought attacking football back to the Stadio Olimpico, and with time we will start to see results. However, last night's game, in particular, was a prove-it game for Paulo Fonseca. With all the distractions of what's happening with the president and the sporting director. Paulo Fonseca may have found me found his identity within the team. Roma operating out of a back three has ultimately saved their season. Before that, they had issues creating high-quality chances, and the backline was collapsing so frequently. Against Verona, a strong team, It was a match of character truly brilliant performance. Roma needs to be a little better, and a little bit more clinically in front of the goal, but outside of that, the defensive issues have more or less evaporated. If Paulo Fonseca is given time at Roma, he will win trophies for this club; they just have to be patient with him. I've always seen him as the right man for the job. Still, in a robust performance against a quality team like Verona, I think the criticism will start to become quieter he has shown these qualities and has the personality to take a Roma to success. Last night was a good result and may not be the most defining thing of his time here, but it shows his ability to take control and get the results. Roma needed momentum, and they got it. He managed tactically to find the right way to penetrate them, and they got a massive three points now going into Inter Milan's game Romo might even feel optimistic that they can beat Antonio Conte's side. This could be the break-even point of the season. It's possible they could go up through the rest of the season unbeaten. Mentally they are operating at the top level and will only continue to take this momentum. Paulo Fonseca continues to drive them forward as it was proven last night.
Roger Ibanez is a Dimond 
It was a defensive master-class from Roma last night. In a big match against a team that is known for their high pressing, they fought off a hazardous team in Hellas Verona to earn all three points. The strategically just looks so much different since they've gone to a back three. They use the 4-2-3-1 formation the majority of the season, and it hasn't worked occasionally, but it has been a nightmare for them a lot of times as well. Going to the back 3 really changes the perspective and highlighted what Romo does well. Even though there are only three defenders in that setup. They have two incredible defensive Midfielders that provide protection as well as feed into the attack with Jordan veretout Diawara two of the best defensive midfielders in Italian football and without question one of the best pairings. Both players have incredible defensive abilities but also can contribute it in a multitude of ways, especially with precise passing that can often Fuel Roma going forward. The backline is also protected by the wing-backs on both sides who go forward but also come back for the support this is a true genius behind this formation. In the usual structure, they would have four defenders in that area, but without the protection coming from the outside as in the old setup, the Wingers' primary job is to get forward and to feed the striker not help the backline. Even with this formation, I feel like Dzeko is still being applied, so it's not a significant drawback in that respect either. It's just been a massive difference. In this setup, there are specific players are thriving in it. Gianluca Mancini was  \brilliant; it's not like they didn't have pressure, but switching allows them to be in more control. He has continuously made get big stops down the stretch, and we have seen that over the last three games. They still have to deal with a lot, but they're able to get into the right spaces to neutralize the attack. One player that looks to have the potential to be one of the best at this position in this setup is Rodger Ibanez. He is incredibly raw and young at only 21 years of age. He arrived in January from Atalanta and only recently started getting game time; this has proven to be such an important decision. He is all over the place he runs around covers so much ground really quick makes big tackles and really is proving to be an all-around center-back that can do it all. He is also a threat on set-pieces and Corner kicks and nearly scored a few times in the last couple of games. He was without question the best player on the pitch last night every time Verona got in dangerous positions; it was quickly eliminated by the Brazilian. He has a specific energy and motor on him that is indescribable. Roma has found a diamond in the rough with him. He didn't cost very much, and Roma is getting the very best out of him. It's only been a couple games, so I don't want to overreact, But he has been exceptional. Given the age of Gianluca Mancini, along with the experience of Chris Smalling when he returns, this could be the backline of the future for Roma. In the back 3 setups, he fits perfectly; the scary thing is he's only going to get better. He was all over the place coming through really supplying defensively making those big tackles to stop attacks from happening when he gets more game time under his belt and really start playing more regularly he's going to be an absolute monster this kid very well might be the future it certainly seemed Roma have a bright star on their hands.