Sassuolo 3 Juventus 3FT

Juventus, after being given a lifeline last week, tried to continue to ride their momentum as more pressure is going to follow in the closing weeks of the Season. Atalanta is clearly their most significant competition as Inter Milan and Lazio seem to have lost their juice at this point in the season. It became essential that the league leaders keep as much distance from that team from Bergamo as possible. However, the challenge that stood in front of them wasn't going to get any easier. They would have to face red-hot sassuolo lead by rising star Jermaine Boga and ageless Wonder Francesco Caputo. They have already surpassed their point total from the last two seasons. They have been Sensational since the restart, not counting the Verona game; they have been nearly flawless. They would possess a specific challenge to Juventus dropped points by the league leaders would keep Atalanta in the title race while a victory would continue to push them away. Things could not have started any better in this match for the league champions. Juventus took a risk, not starting the League's best player Paulo Dybala. However, even without him, they had a rapid start to this game. The league leaders scored twice in the opening 15 minutes of this game as it looked like it was going to get ugly for an ambitious sassuolo outside that was capable of just as much. In the opening minutes of the game, Danilo hit a rocket from outside the box into the top corner to give Juventus a 1-0 lead. Then not long after their opening goal, they got a second one through Gonzalo Higuain. On the counter, Juventus released Gonzalo Higuain forward before the Argentine hit a sweet strike who double the Juventus lead; they had a 2-0 lead after just 15 minutes. It seemed that they did already enough to wrap up the points, but sassuolo never gives up, and they fought their way back into it. Late in the first half, Duricic finished off a clean Strike for sassuolo. As they cut the deficit in half but still had work to do in the opening 45 minutes, Juventus had a narrow to 2-1 lead. However, that lead would evaporate. In the second half Berardi struck gold on a sensational free-kick that went through the top corner all of a sudden the two-goal lead Juventus had was gone. It got even worse for Juventus after scoring a free-kick Berardi set up another goal as Francesco Caputo reaches his strike at the far post giving Sassuolo a 3-2after being down by two goals to start the match. It was a climatic match as Juventus scored through Alex Sandro coming from a corner to equalize making at 3-3. It really was a fight between two top teams. Roberto De Zerbi's men performed admirably, especially after going down by so much to start the game. Paulo Dybala came on in the second half to try to breathe some life into the team he set up Ronaldo for multiple opportunities, but Cristiano was off the mark for his second straight game. Both sides had chances late the host's even probably should have extended the lead very late on with some opportunities. Still, it was a two battle between two teams who have ambitions for European football and the league title next season. Sassuolo is having their best season in years, and they very nearly took three points from the league leaders. In Both meetings, they got the point in each of them, showing the qualities of this team. Meanwhile, a collapsed performance from Juventus allows Atalanta to still have a chance.
Atalanta 6 Brescia 2FT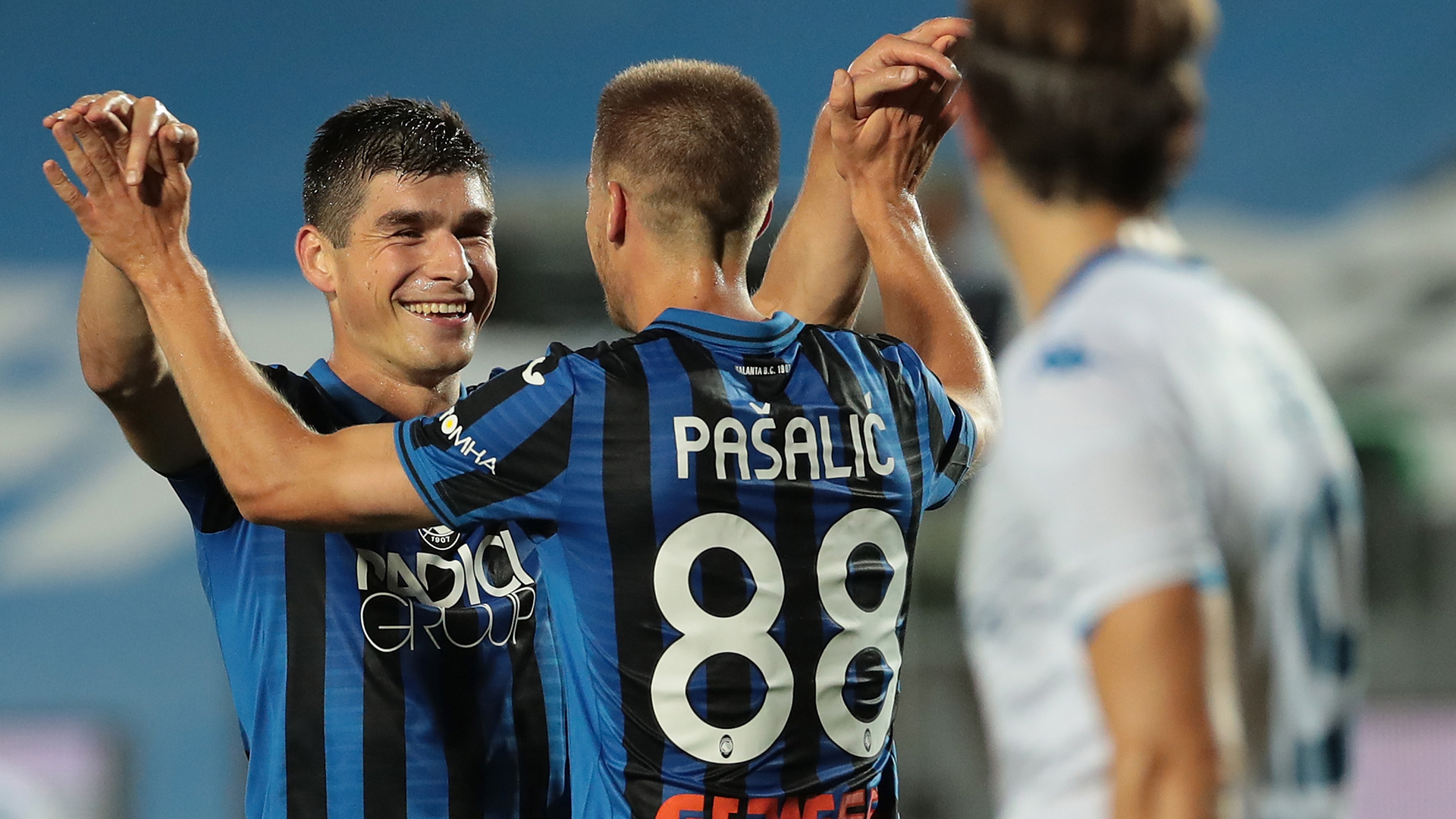 Atalanta has been one of the stories of the season once again. Despite the circumstances that occurred last week, they still find themselves on the doorstep of challenging for the league title as well as almost surely confirming Champions League football for next season. After having not been in Europe their entire history until recently, they've made a European competition in three of the last four seasons. The Gap could have closed massively in the disaster against Juventus, allowing the league leaders got two undeserving penalties that took two points away from this team from Bergamo that did everything they possibly could to win that game only to be taken away by the referee. It would have closed the gap significantly. The circumstances of the last match certainly irritated Atlanta. They even set a little bit of a fire underneath them they were frustrated on how everything went down against Juventus they took that anger and put it into energy and took it out on Brescia. Even though they have been one of the worst teams in the league this season, that doesn't lessen the annihilation that they provided on them. Atalanta came out firing and had no apologies about it. Mario Pasalic gave Atalanta the lead after 2 minutes in what was a hectic day for the Croatian. However, by surprise, Brescia did end up getting back in the game just a few minutes later, making it 1-1 after 8 minutes. However, it would be only so long before the team from Bergamo started to pull away and make this a bloodbath. They dominated the run a play; they were absolutely antagonizing on the break. They are indeed the most dynamic team in Italian football. Martin De Roon got Atalanta back in front before Duvan Zapata connected on a diving header to make it 3-1. Brescia was in this game for about 5 minutes, and then everything evaporated; they even piled it up even more so. Ruslan Malinovskiy hit a Ukrainian missile from outside the box to extend the lead even further. Atalanta was just cutting through them and only for inducing more misery on the team that was likely going to be relegated. There was just something special about this team, and the way they attack with a little better of a defense, they could do absolutely anything. As they would put more pressure on Juventus to get a result to minimize a gap that might be too big but Atalanta is going to give themselves up the best shot they can to steal the title from Juventus. The game was over after 45 minutes Atalanta ripped up them consistently and earned a 4-1 lead after 45 minutes. They were so comfortable they even made some changes giving some starters some rest after just playing half of a match. It only got worse Atalanta really took it up a notch as well. Mario pasalic scored two goals in the second half as Atalanta reached six goals this is the fourth game this season they have scored five or more really highlighting the greatness of this incredible team. Brescia did get one back and what was an ultimately A 6-2 Annihilation as the League's best attack started chasing down history. Atalanta has scored 92 goals this season if they reach a hundred before the end of the campaign they will be the first team since Juventus Inter Milan and AC Milan to score a hundred goals in a season dating all the way back to 1951 as all three of those teams did that. Was just two more goals; they would be the second highest scoring team in the history of Italian football. Unfortunately, they will never catch Grande Torino's 125 goals; it would take more than six goals a game to make that happen. However, that doesn't lessen the specialness of this Team. Atalanta gets their anger out after the controversy of the match against Juventus. Luckily enough, Juventus did drop as it is now a seven-point difference at the top. It may not happen probably won't happen, but they at least give themselves a Fighting Chance to make history.
A.S Roma 2 Hellas Verona 2FT

Last night Roma only continued their winning form as they start to really solidify their position for the Europa League next season. This team is operating on fumes and have been up for the most recent challenges. Following victories against Parma and breccia. Paulo Fonseca and his Roma side had an increasingly difficult test as they welcoming Italy's surprise package to the Stadio Olimpico in Rome as Hellas Verona took a shot at trying to get some points off the slightly favored Romans. Hellas Verona has been genuinely remarkable all season having been recently promoted; they have been as consistent and as good as any newly promoted team over the last couple of seasons. They have quality throughout, and even though they lost to Roma earlier in the season in Verona. It was a dicey battle in which tested them despite Roma earning a 3-1 victory. Verona is a quality team that has given some of the bigger teams trouble with getting wins against Juventus and a point against Inter Milan last week. Roma has a spotless record against newly-promoted sides, but the match had its challenges. Roma has been a completely different team since changing to the back three. There was very early drama Verona got on the counter, but the play was stopped by Rodger Ibanez cleanly connecting with the ball as the Verona Striker fell to the ground. Hellas Verona argued, but the referee maintains his position. Then on the other end, Henrikh Mkhitaryan released Lorenzo Pellegrini inside he was clipped inside the box and the referee without even thinking pointed to the Penalty spot. Less than 10 minutes into the game, there was already Mega drama. Ivan juric challenged the referee & the Verona manager was sent off with a red card after his retaliation. Jordan veretout stepped up, converting has penalty right down the middle to give Roma a 1-0 lead. It was a perfect start; however, this wasn't a match that Roma dominated or had significant superiority. Hellas Verona went from promotion to the top half of the table for a reason they have the qualities especially going forward to make a game out of this. Unfortunately for Verona, Kumbula Verona's best young player had to leave the game with an injury. Roma came forward and had some excellent opportunities throughout the first half, but there weren't a lot of high-quality chances in the first half. Gianluca Mancini and Rodger Ibanez absolutely breathtaking, making the big stops when Verona pressed. Late in the first half, In stoppage-time, Roma managed to double their lead. Hendrick Mkhitaryan picked off a ball in the Verona box before proceeding to go to the corner and send it across to edin Dzeko. The Bosnian used his size to connect with the header edin Dzeko converted as the ball flew into the back of the net To give Roma a 2-0 lead. Even though Roma had a two-goal lead, Verona had not played poorly. Verona pressed high up early in the second half, and just like that, they got themselves back into the game. A brilliant team goal as Matteo Pessina got a goal back. It was an actual battle between two strong teams in the second half. Verona continued to create opportunities; however, it was being canceled out by Roma's defensive performance. Roma still was tested by Verona. Even so, Roma had two golden chances from Hendrick Mkhitaryan and edin Dzeko that quite honestly put should have put the game away. Verona really took some momentum late on and pushed regularly trying to get their Speedy, athletic players up front, but again Rodger Ibanez was all over them; nothing was getting through. Although the late push Roma was able to hold them off in a victory of character and mental strength. It was a real battle against a fantastic team. Still, Roma kept the run going Giving them much-needed momentum ahead of their biggest match of the season on Sunday against Inter Milan, where we will be right back here at the studio Olimpico in for another battle.