Roma is coming into this game following a 6-1 victory over SPAL. They are in their best
form of the entire season having been unbeaten in their last five matches. Not to mention
they got good points against quality opponents like Inter Milan Parma and Hellas Verona.
Roma host Florentina this week for their second meeting of the season. They picked up a
massive three points in a very one-sided battle in Florence as Roma won that meeting 4-1.
The Romans will go into this game as the favorites with Florentina being safe from
relegation and not really pushing for Europe there isn't a lot of motivation going into it.
Despite a good point against Inter Milan Roma's Shouldn't find this too difficult. Roma look
to secure that Europa League spot after AC Milan dropped points on Friday three points
here could more or less secure themselves through the rest of the season. As they can go
four points clear of AC Milan with only matches remaining. Roma is looking to keep their
hot streak going in hopes of completing a season sweep of Florentina. Will Roma pick up
another three points against the team from Florence OR does Florentina have something
up their sleeve. We will find out all that and more when they go to battle on Sunday afternoon at the Stadio Olimpico.
A.S Roma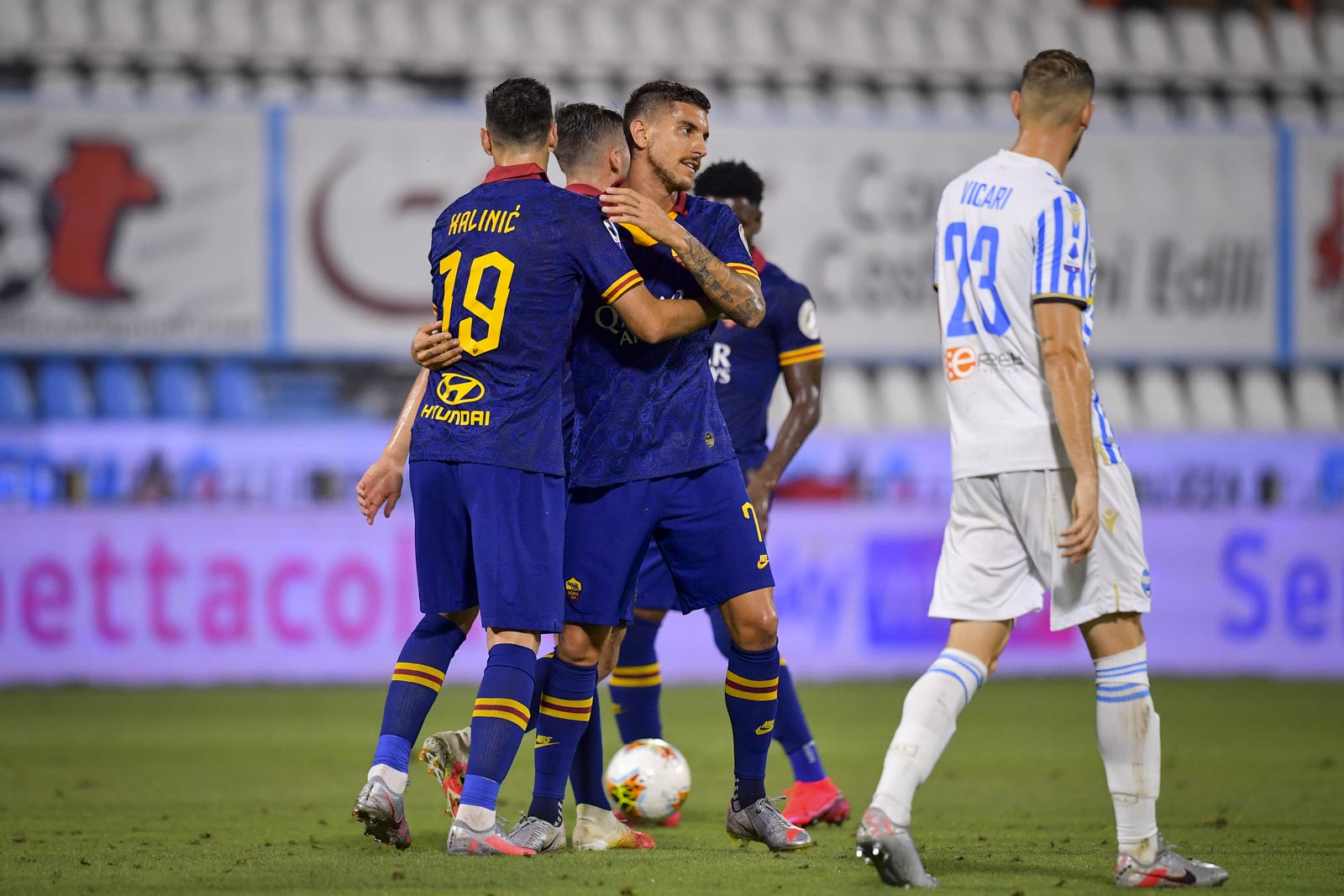 Paulo Fonseca will likely stick wasn't 3-4-2-1 formation. With how Roma have been playing
under  the new setup it's unlikely that it will be adjusted unless it seems necessary. In goal
as always will be the Spaniard Pau Lopez. The back three should be very similar to what we
saw last week. In at center-back, I suspect Chris Smalling to get another start. Beside him,
we should see Gianluca Mancini and Rodger Ibanez has the three center-backs. The wing-
backs should be as follows Alex Kolarov on one end and Bruno Peres on the other. The
defensive Midfield we should see the pair of Diawara and Jordan Veretout who was rested
in midweek so he should be fresh and ready to go. In the attacking Midfield, it is my belief
Roma should line up with henrikh Mkhitaryan who was one of four starters that did not
play a minute in the trip to spal beside him Roma should start Carles Perez once again.
Lorenzo Pellegrini, still likely to start but he is playing a lot of games in a row and after his
performance of Carles Perez in midweek it might be a good idea to give him another go.
outside of that, isn't Lorenzo Pellegrini natural position so because of that that pair, in
particular, makes more sense but Pellegrini still has a good chance to start. Then upfront
as Roma's Central Striker will be Edin Dzeko who will be refreshed after not playing on
Wednesday. As always Roma have a lot of good options Off the Bench with Zaniolo who has
scored two goals off the bench since the restart. The key player for Roma is henrikh
Mkhitaryan. The Armenian is an exceptional form right now and he just was rested so he should come into this game energetic and in fantastic form.
Florentina 
Florentina has been mixing and marching formations. A large part of this is because what
they are doing is not working. Florentina has the talent and the youth but they are having
issue scoring goals especially in important games. However, on this occasion, I think it is
important that Florentina maintain their 3-5-2 formation. A big reason why is it will give
them several defensive midfielders to operate in front of a Florentina backline that isn't
scaring anyone. As always in goal is expected to be a Dragowski who is a really young
talented goalkeeper with the ability to reach a top-level. His backline is likely to consist of
Milankovitch at right-back. Martín Cáceres at left-back and Pezzella in the center back
position. In this formation, Florentina has five midfielders in front of the backline. Two of
them will operate in an attacking position while three of them will have defensive
assignments. Right in front of the left-back should be Lirola next to him will be Erick Pulgar
who will be one of the attacking midfielders in this setup. Beside him in a defensive position
is likely to be Badelj. Beside him will be the legend Frank Ribery also in an attacking
position. Then on the opposite side sitting in front of the left-back will be Chagas Estevso.
Upfront as Florentina's attackers will be Federico Chiesa and Vlahovic. The key player for
Florentina is without question Federico Chiesa when he is at his best he is as talented and
skilled as any player at his age in all of Italian football. If Florentine and get the best out of
Federico Chiesa in this game they might have a chance otherwise it's going to be very difficult.
Bottom Line: Last Meeting 4-1 Roma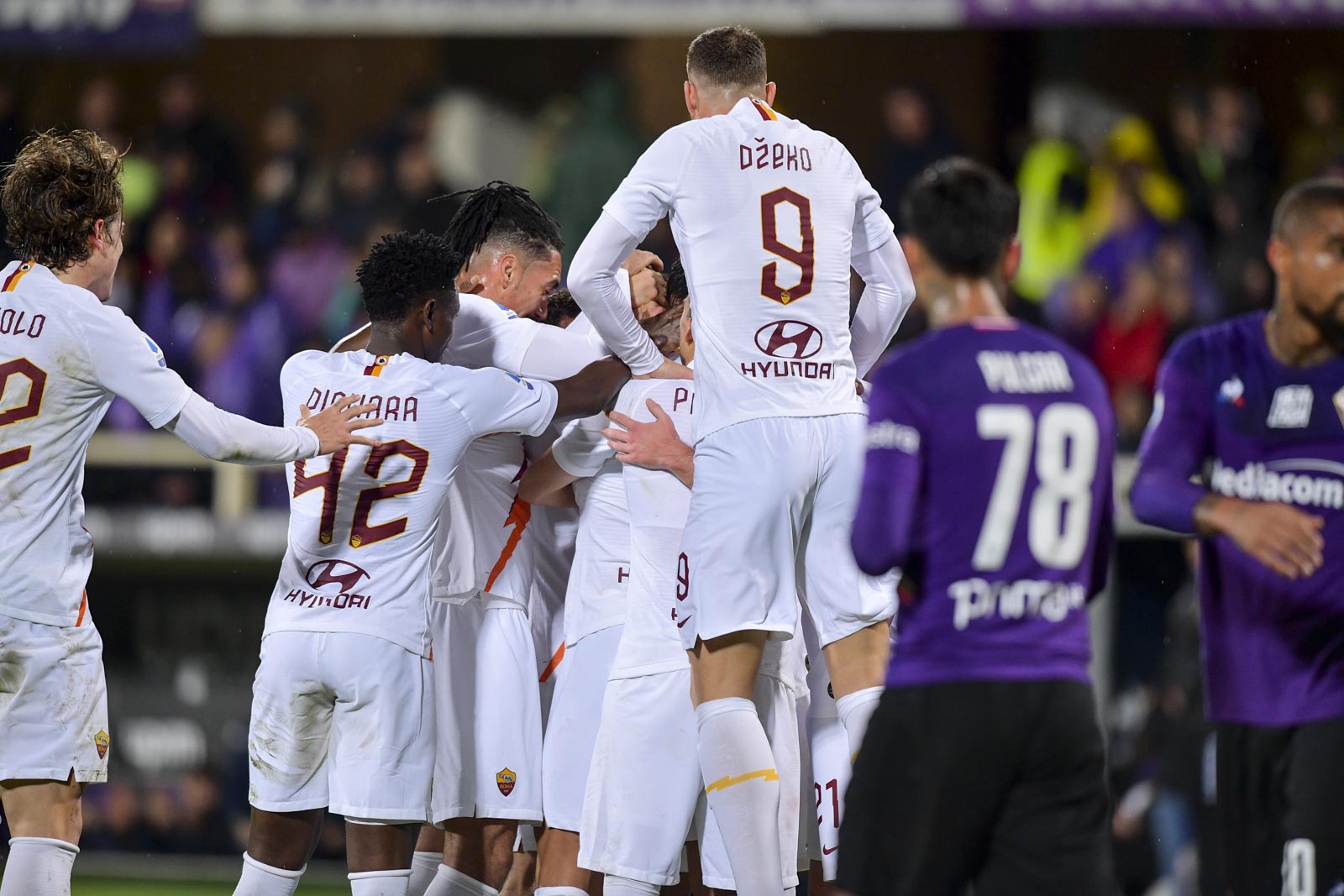 Right here right now this is the worst time to play Roma. Since Paulo Fonseca changes the
formation they are operating on a completely different level. Over the last couple of weeks,
they have been one of the most in-form teams and all of Italian football. They will have
Europa League football nearly wrapped up with a victory Roma will continue to be
motivated to get as many points as they possibly can. They have a more or less easy road to
the Finish not counting the season finale against League leaders and likely Champions
Juventus. Florentina has been an utter disappointment this season. They came in with a lot
of promise and have been unable to deliver. They aren't getting relegated but they didn't
even push Europe even for a minute. Florentina does have some really talented players
there's no denying that that will be their biggest problem trying to slow some of them
down. This isn't a game that should give Roma any problems whatsoever. While they have
the talent Florentina has one of the worst defenses in the league plus Roma can match their
talent with some of their own. While Roma has one of the best-attacking teams in the
league this will be problematic for Florentina. While I don't think it will be as lopsided as
the game on Wednesday was Roma should find it quite easy to pick up the points necessary
here. Top-to-bottom Roma is a better team that has the ability to tactically break them
down. on top of that Castrovilli picked up a yellow card in his previous game and will not
be able to play against Roma. While we all know the most dangerous part of this team is
Federico Chiesa and Vladovic a lot of the times he is the one creating in the Midfield for the
team from Florence. Don't get me wrong they have enough talented players to get a result
against Roma but at this point in time, it seems unlikely they will get a thing from this
game. But at this point in time, it seems unlikely they will get a thing from this game. Four
Roma starters were rested ahead of this one and Edin Dzeko Jordan veretout henrikh
Mkhitaryan, as well as others, they didn't play a minute in their midweek matchup. So that
means three of the best players on this team are refreshed and energized. This will make
things really difficult for Florentina who would be lucky to get away with a point. I'm not
denying their talent and ability when they click together but Roma having the better team
and getting a crucial part of their Midfield and attack back they will be able to cash
forward. The defense isn't going to cause Roma any problems the team is thriving on their
momentum and confidence. As talented as they are Florentina just doesn't provide enough
of a challenge to really genuinely get points off them. There's always a chance but the
defensive issues ultimately are what's going to stop them. Erratic defense against a team
that can break on the attack is a bad matchup. Against Inter Milan defensively especially
the goalkeeper it was Sensational however Inter Milan are misfiring at the moment they
are the polar opposite of Roma who is thriving since the change of formation there's always
a chance but realistically speaking it's just a bad matchup from Florentina even if Federico
Chiesa is at his best it probably isn't enough.
Manager: Paulo Fonseca 
Roma's Projected starting XI 4-2-3-1
GK: Pau Lopez
DEF:,Gianluca Mancini ,Chris Smalling, Roger Ibanez
DEF MID: Jordan Veretout, Adamou Diawara
ATT MID: Lorenzo Pellagrini, Henrikh Mkhitaryan
Striker: Edin Dzeko
Manager: Giuseppe Lachini 

Florentina's Projected starting XI 3-5-2
GK: Dragowski
DEF: Cáceres ,Pezzella, Milankovitch
MID: Lirola,Erick Pulgar,Badelj,Ribery,Chagas Estevso
Striker: Federico Chiesa and Vlahovic.
Federico Chiesa 
Henrik Mkhitaryan

Match Details

Date: Sunday, July 26th 
Venue: Stadio Artemio Franchi
Kickoff: 12:45AM (USA) 6:45PM (ENG), 7:45PM (ITA)
TV Broadcast: Sky Italia, ESPN+