Score: A.S Roma 2 Florentina 1FT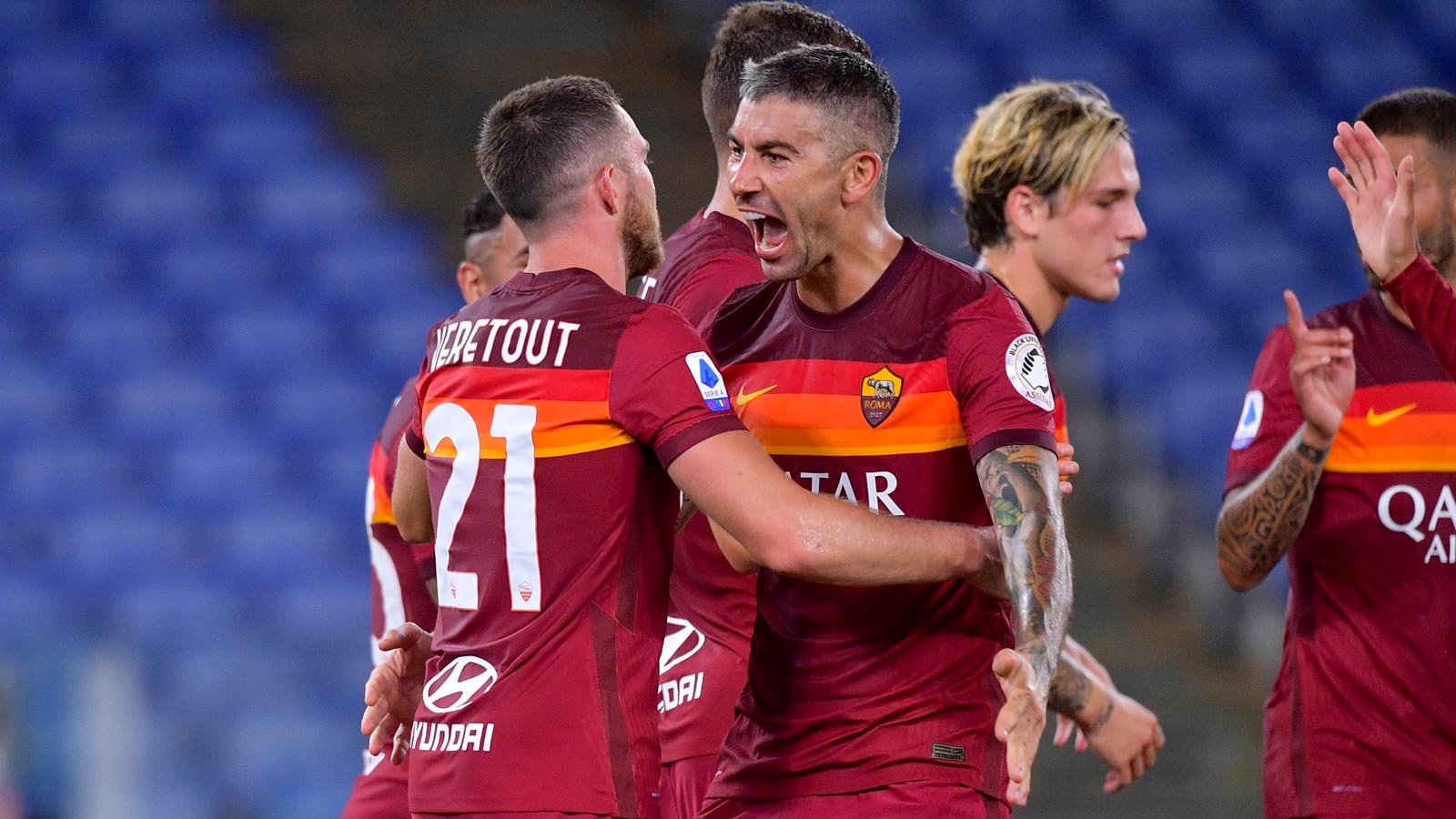 Following a big 6-1 win against already-relegated Spal. The Romans looked to keep their unbeaten streak alive. Since Roma's lost to Napoli Roma have picked up almost maximum points only dropping one point since they made the Tactical adjustments. They returned home to host Florentina at the Stadio Olimpico. Earlier in the season Roma went to Florence and pounded Florentina in what was a 4-1 victory for Roma. Roma had the opportunity to complete the season sweep. Florentina has been one of the League's most disappointing teams this season. They are not in the relegation battle or pushing for Europe. However, they made things more difficult on Roma than they should have. Roma were the better team in the first half but it was pretty evenly matched neither team was creating that many chances for themselves. Roma got forward but couldn't convert in front of goal. However, Bruno Peres was taken out inside giving Roma a penalty. Jordan veretout stepped up and converted to give Roma a 1-0 lead. As the former Florentina star scores against his former team. Early in the second half coming off a set-piece Florentina leveled the scores. It became a back-and-forth battle between two teams in fighting for maximum points. In the second half, the game opened up a lot more. Florentina at times came forward and looked dangerous but they didn't create a whole lot of chances however it was still nerve-wracking given the status of the game. Roma on the other hand came forward repeatedly really high pressed and had several opportunities to score.. Unfortunately, Lorenzo Pellegrini had to leave the game after getting crushed in the face. Roma had several opportunities to score the winner but it just didn't seem like it was going to come. Then late in the second half after several attempts were denied by The Keeper edin Dzeko was taken out in the Box in what was a controversial penalty decision. Jordan veretout stepped up again in converted another penalty giving Roma a 2-1 lead. In the final stages of the game, Roma came close on several chances they really should have scored more than they did. A late Florentina free-kick at the end of regulation signal the end of the game as Roma gets maximum points in what was an a strong performance but they Roma had their issues it was a bit uninspiring at times but nonetheless Paulo Fonseca's men are just three points away for wrapping up automatic qualification for the Europa League following their 2-1 win doing the double over Florentina.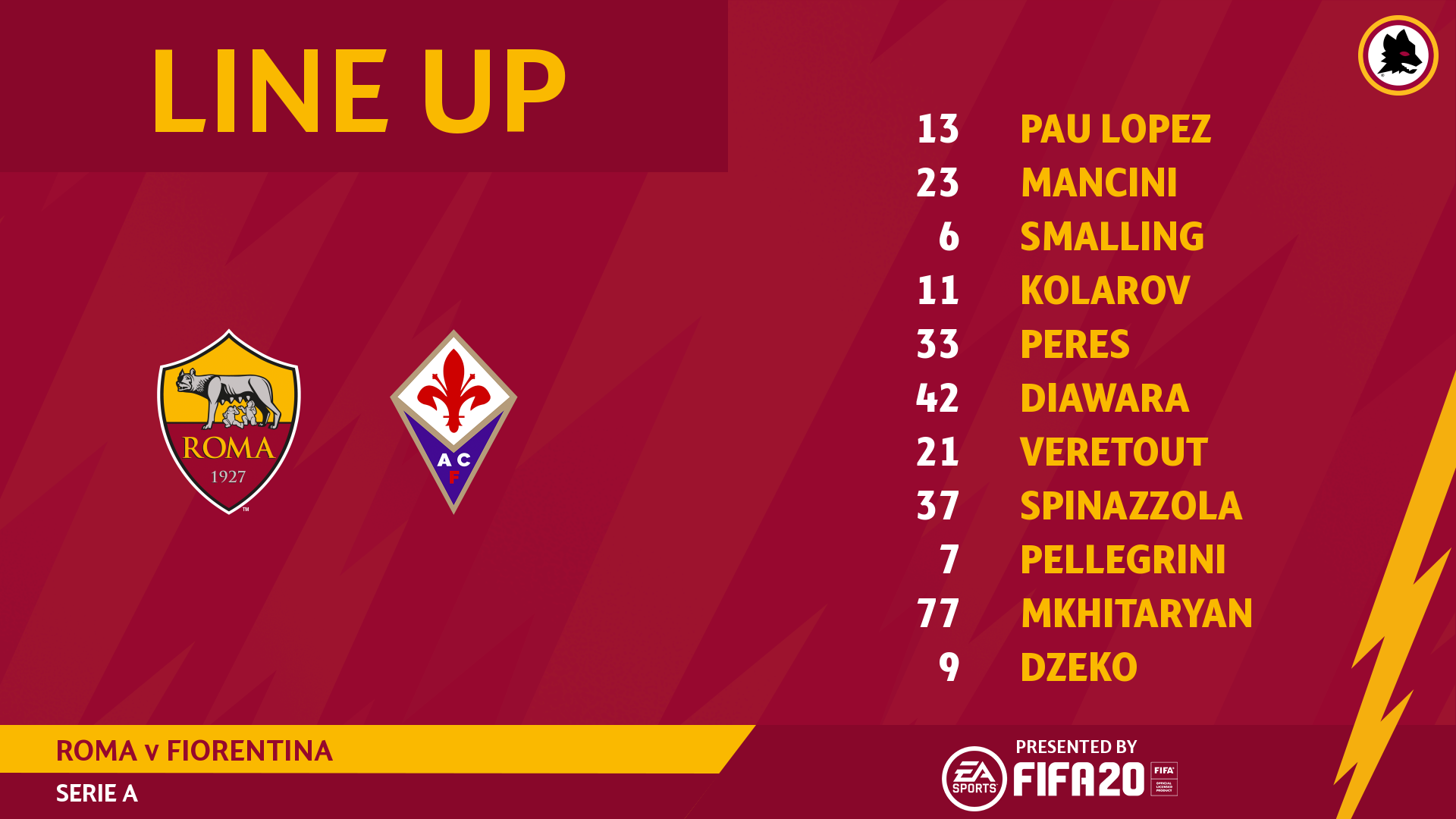 Paulo Fonseca set up his Roma team out of the 3-4-2-1 formation once again as it has been proven to be more effective playing with a back three. In goal as always would be the Spaniard Pau Lopez. The three center-backs would be Alex Kolarov off on the left Gianluca Mancini on the right and Chris Smalling centrally. Operating just in front of Alex Kolarov as Roma's left wing-back would be Leo spinazzola. On the opposite side in front of Mancini would be Bruno Peres as the right wing-back. In the defensive Midfield would be Roma's usual pairing of Jordan Veretout and Diawara. In the attacking Midfield would be Lorenzo Pellegrini on the right and Henrik Mkhitaryan on the left. Then upfront as Roma's Central Striker would be the Bosnian edin Dzeko. Roma would have quality options on the bench as well with Bryan cristante, Carlos Perez, Nicolo zaniolo, and others.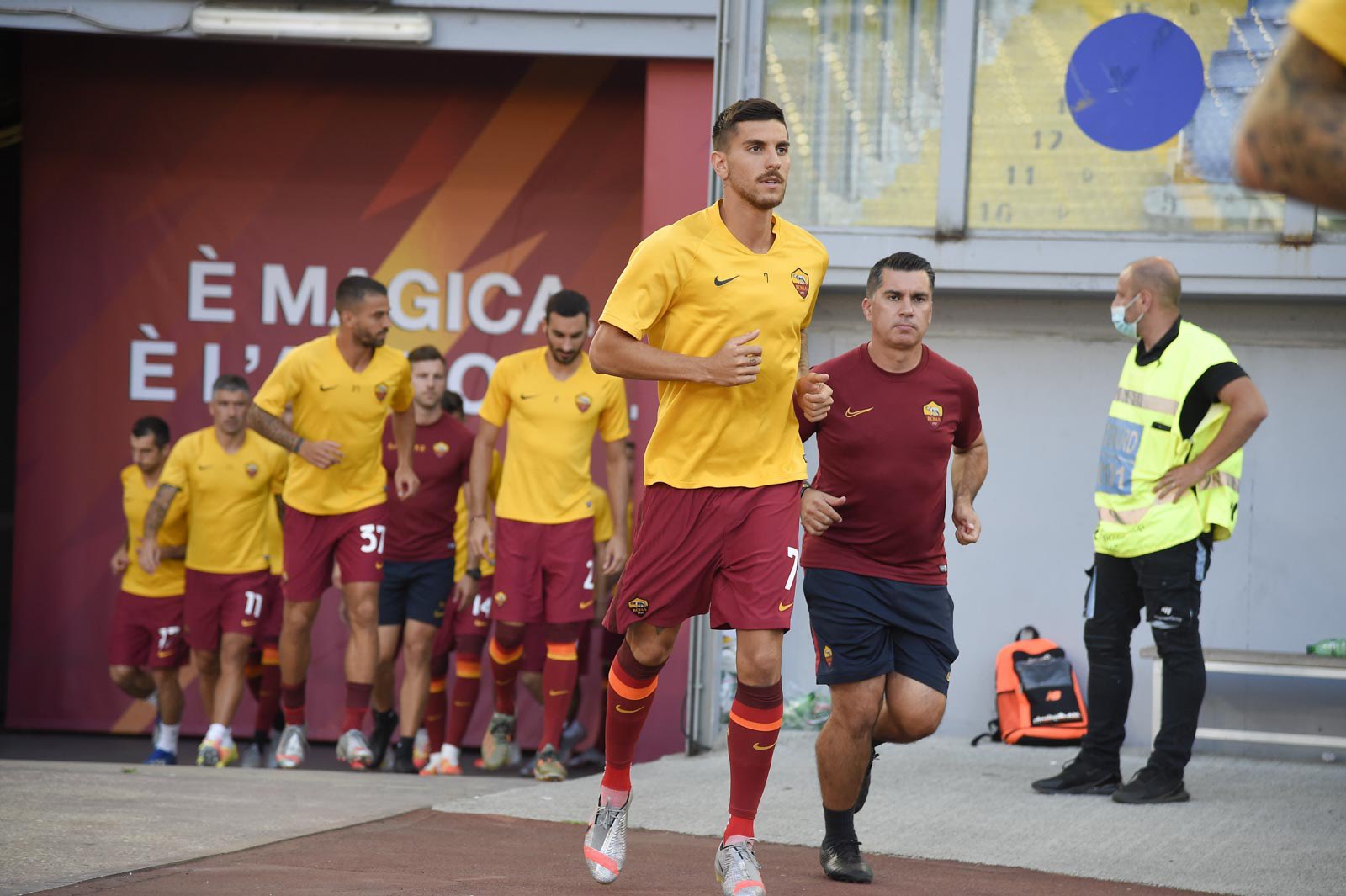 After preparations and predictions, the match got underway at the Stadio Olimpico in Rome. As Roma battle Florentina for the second time this season. It was not the most exhilarating dramatic first half of football. They were very few chances to be exchanged between the teams. A lot of possession football that didn't equate to score a lot of scoring. Roma controlled possession and did seem to be the better team in the first half but even with that, there wasn't a lot to split between them. A poor shot from Diawara and Federico Chiesa misfiring in front of goal was the only action the teams saw during the early part of the first half. The game eventually opened up a little bit more but there just wasn't a lot of attacking football to be seen. Roma came forward with good succession and looked dangerous on the ball but they found it difficult to put those things into legitimate scoring chances. Near the half-hour mark, Lorenzo Pellegrini blasted a strike from outside the box but it was dealt with. Late on edin Dzeko strike from the side of the box didn't have the touch required. Roma would have a great chance just a few minutes later when Edin Dzeko perfect header set up Gianluca Mancini but the center-back strike was hit with too much power as he was unable to keep his shot down. It looked like it was heading towards a goalless first-half however in the 45th minute Bruno Peres was taken out inside of the box in what was a foolish Tackle by Pezzella. The referee pointed the spot as Jordan veretout the former Florentina midfielder stepped up before sliding the ball into the back of the neck to give Roma a 1-0 lead. It would be the fifth goal of the season for the Frenchman. He has been Roma's designated penalty taker as he is calm as collected as usual. Florentina in stoppage time tried to hit back almost immediately. They came very near to equalizing when they hit the post. In the closing moments, Gianluca Mancini looked like he had scored Roma's second but his very impressive header was offsides as it ended the first 45 minutes with Roma holding a 1-0 lead thanks to a Jordan veretout penalty.
It was a very slow-paced first half but you could see in the back half of it that Roma the game was starting to open up for Roma. They did have the lead but it wasn't an overly impressive performance as of yet. Edin Dzeko who did so much in this game from holding up the play as well as tracking back being a key member of the attack saw his shot blocked. This was only followed by henrikh Mkhitaryan who came very close striking a complicated angle only inches away from giving Roma a second goal. However, despite the fact that Roma were out playing Florentina they found their way back into despite that  Florentina they found their way back into the game. On a corner kick Nikola Milinkovic connected on a header as the Serbian leveled things for Florentina in the 55th minute.

Nikola Milinkovic's Header gets Florentina back into the game 
Just five minutes later Lorenzo Pellegrini would have a freak accident. He was laid out having collided as his face struck the head of  Nikola Milinkovic. This causes the blood to come from his face. It was later revealed that he broke his nose he was in no condition to continue. Forcing Paulo Fonseca to go to his bench earlier then he would have liked to. Nicolo zaniolo came in to replace him. Just a few minutes after the substitution The Armenian wizard henrikh Mkhitaryan showed really impressive ball skills before striking at the goal unfortunately his shot hit the post denying what would have been the go-ahead goal. Roma was the better team and they really were showing their ability to push forward and get themselves into dangerous positions. Nicolo zaniolo saw a strike from Deep just merely missing the goal felt like it was coming for Roma. Florentina at times came forward and look a little bit dangerous but every time they came forward they were surrounded by Roman Defenders. Even though this wasn't their best performance they did a great job neutralizing the attack. Bryan cristante came in for Diawara who had another suberb performance. Edin Dzeko came close again but just didn't have the Finishing Touch in this match. Despite his all-around performance more than made up for it his tiredness did show late in the game but I thought collectively he did a lot for the Rome attack. With eight minutes to go and Roma searching for that winner. Fonseca brought on Carles Perez for some explosion as he replaced henrikh Mkhitaryan. in the 87th minute, the moment arrived for Roma. In a really crazy Exchange Edin, Dzeko had a shot blocked before Kolarov tried to hit it then Dzeko hit it again before being tripped by the goalkeeper inside the box as Roma was given another penalty. Slightly controversial as it was a soft penalty but by the nature of the law he was tripped by the goalkeeper the referee gave it. Jordan veretout stepped up once again and converted once again with just three minutes remaining the Frenchman doubled Roma's lead scoring his second penalty of the game. Nicolo Zaniolo came really close to scoring shortly after the Dzeko chance. The Bosnian was truly unlucky not to hit the back of the net in this game. Florentina tried to push at the ends but Florentina late free-kick Roma held on to secure all three points in what was a hard-fought victory as Roma is now within points of earning a spot in next year's Europa League group stage. as Nicolo Zaniolo takes their unbeaten streak to six games as Roma earned the points at the Stadio Olimpico.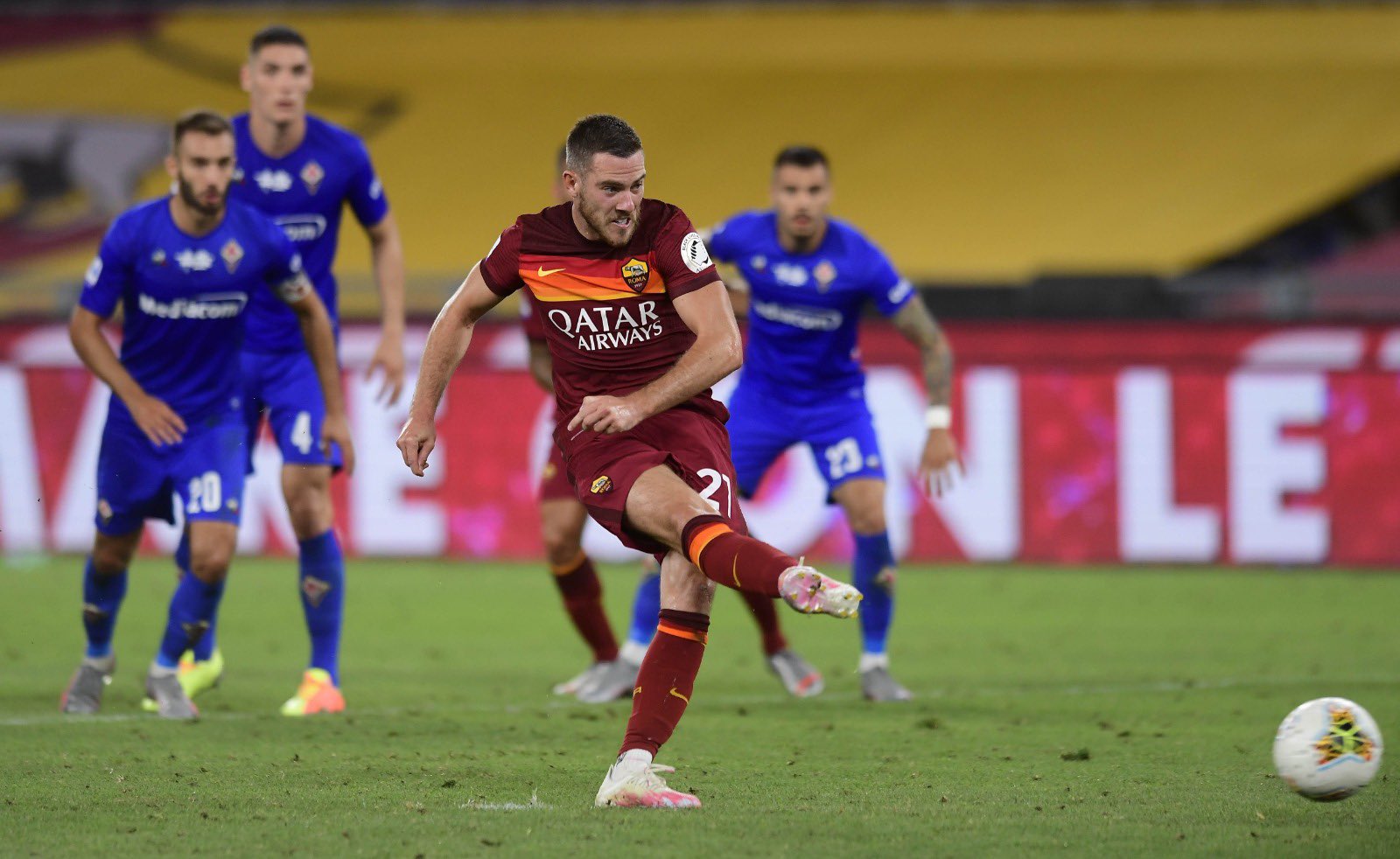 Jordan Veretout Convents another Penalty as his strike makes the difference as Roma take the points
It may not have been the most glamorous of performances that we have seen from Roma this season. It wasn't the type of game we were expecting from a Roma team taking down one of the League's most erratic defensive units. That was missing Key Parts of their team. Florentina and some ways should feel like they Justified at Point with their performance. The team from Florence didn't exactly create a lot of chances but they did a respectable job against Roma. The ripple effect of them dropping points doesn't really make a difference as they are safe from relegation and not going to push Europe but from their perspective, they felt like they should have got something especially given the fact that one of the penalties wasn't cut-and-dry but that's football Roma does not get these favorable decisions vary often maybe it wasn't a penalty but that's not their fault. Roma did deserve the points and played well together but did struggle finishing. It was a bit ugly but in the end, they get the job done. A pair of penalties from Jordan veretout was the difference as his two spot-kicks give Roma all three points. Florentina did not create nearly enough chances to justify that they deserve points but it wasn't a dominating performance from Roma either Roma still struggled didn't convert on nearly enough chances going forward. Despite the fact that they pressed High and put themselves in a position to score several goals they come out with just the two penalties. Edin Dzeko didn't have his best game tonight in terms of scoring but had a high work rate contributed in the hold-up play and had an all-round display at the end he just was out of breath at the end but still needs to be a bit better in front of goal he contributed and supported Roma going forward Diawara was excellent once again the defensive Midfield lately seems to be Roma's biggest strength. Since Jordan did get the two goals even if they were from the spot he gets tonight's man of the match not only did he score but he largely contributed in the defensive Midfield especially in the passing game where he helped Roma open up with him and Diawara worked well together they put Roma into a strong position to score goals they just need to do better going forward. There was a scary moment when the Pellegrini was smashed in the face. He had to leave the game after he was bleeding from his face. The hope is that he won't have to miss any significant time but he did break his nose. Late in the game, Nicolo zaniolo Carlos Perez and Dzeko all came close to scoring simply put they need to be a little bit better in their conviction in front of goal. it was an ugly game they got their points necessary which is a big deal with a win against Torino they will officially secure their spot in 5th place and Europa League qualification will all but be wrapped up. Romo has to keep your eye on the ball and try to improve on the things that they have struggled with but at this point in the season, the points are all that matters and Roma gets the points.
MAN OF THE MATCH: Jordan Veretout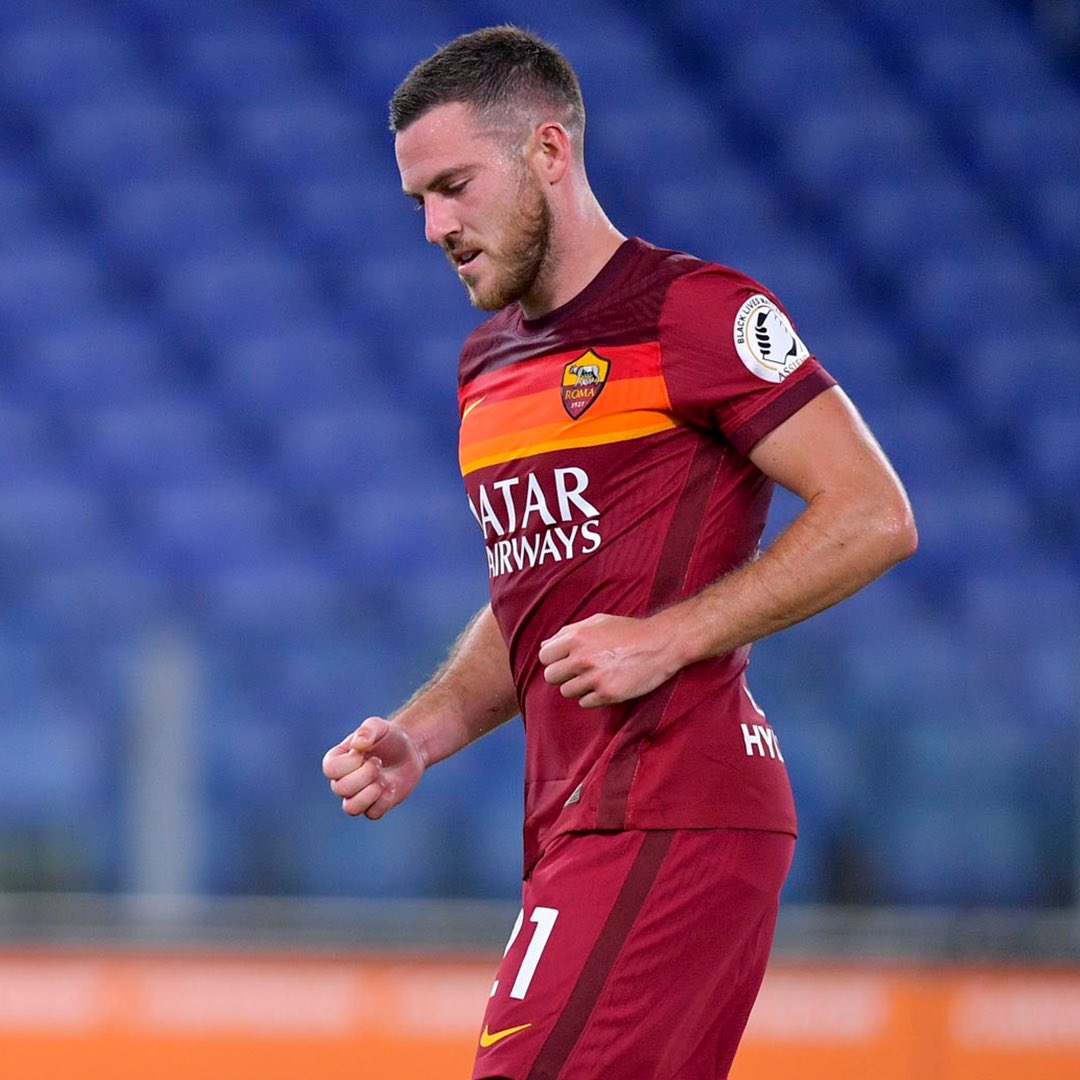 Top Of Table
1. Juventus 26-5-5 83Pts (Champions)
2. Inter Milan 22-10-4 74Pts (Champions League)
3. Atalanta 22-9-5 75Pts (Champions League)
4. Lazio 23-6-7 75Pts (Champions League)
5. Roma 19-7-10 64Pts
Bottom of Table
16. Torino 11-6-19 39Pts
17. Genoa 9-9-18 36Pts
18. Lecce 8-8-20 32Pts
19. Brescia 6-6-24 24Pts (Relegated)


20. SPAL 5-5-26 20Pts (Relegated)