Roma is coming into the last two games of the season being unbeaten In their last six matches. As they picked up an important three points against Florentina over the weekend. The Romans are just three points away from automatically securing a place in next year's Europa League. Roma is playing at their highest level of the season and they look to keep that going as they go on the road in Turin to battle Torino. Roma lost earlier in the year in what was one of the most controversial matches of the season. Roma will look to try to get that game back with a mass of 3 points at stake. With the season winding down Roma's run looks to only continue as they had into this game as big favorites. While Roma is on the verge of getting into Europe. Torino just wants to end the year on a high note they are safe from relegation but are not pushing European football either. Will we see Roma pick up another three points or does Torino have something up their sleeves and maybe they can steal one at home. We'll find out all that and more when Torino and Roma battle on Wednesday night at the Stadio Grande Torino whatever happens happens.
A.S Roma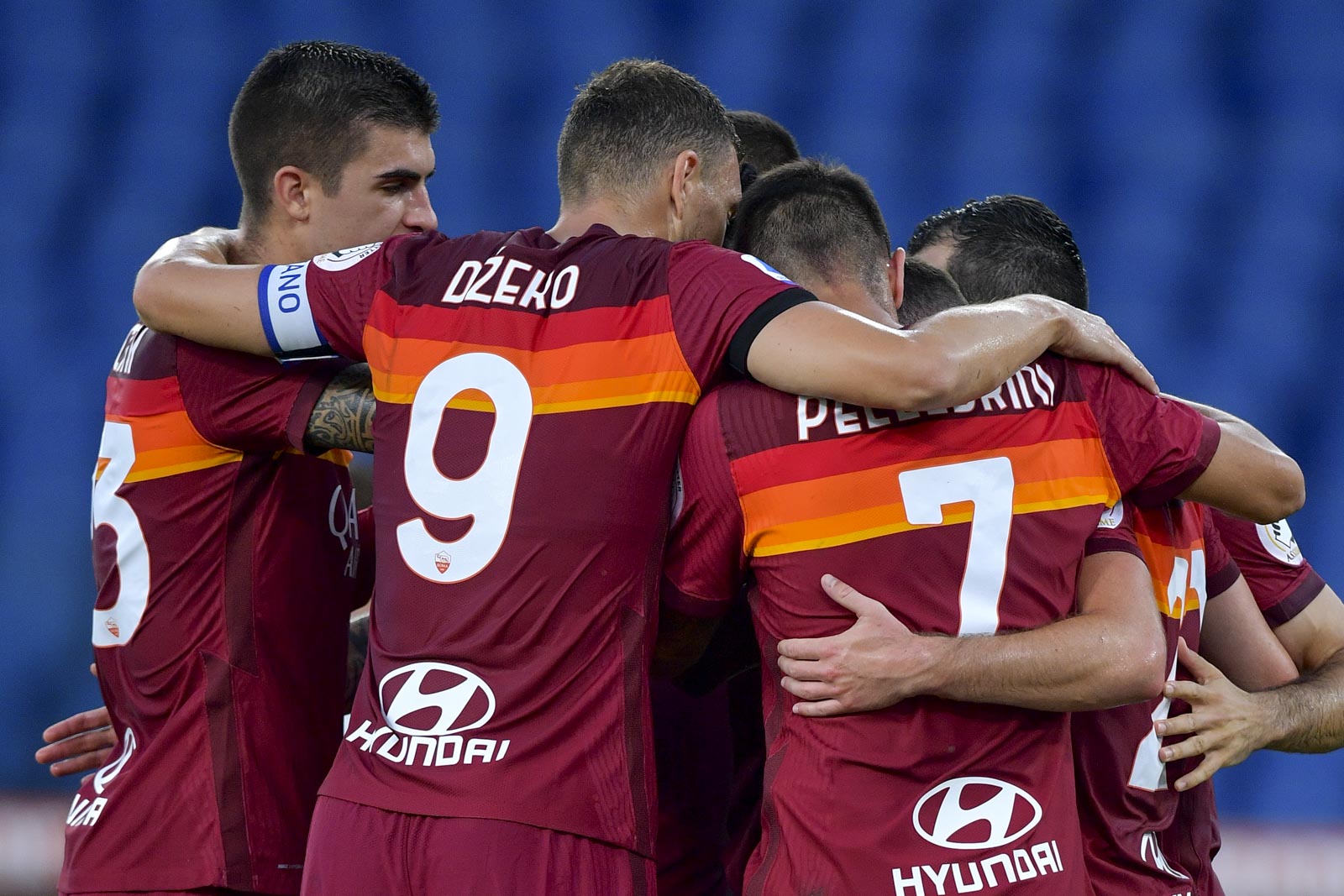 Paulo Fonseca once again in all likelihood will have his team out of the 3-4-2-1 formation. In goal for Roma will likely be the Spaniard Pau Lopez. The three center-backs will likely consist of Alex Kolarov on the left Chris Smalling centrally and Gianluca Mancini on the right. The wing-backs in all likelihood will be Leo spinazzola on one side with a Bruno Peres on the other. There should be no changes to the defensive Midfield which is arguably Roma's biggest strength right now. We will see the usual pairing of Diawara and Jordan veretout. There is likely to be a change in the attacking Midfield with Lorenzo Pellegrini's injury as he broke his nose in the victory against Florentina. It is unclear whether he will return this season but even if he is good to go Roma will likely rest him until Europa League. As one of the attacking Midfield or Wingers if you'd like to call it that will be the Armenian wizard henrikh Mkhitaryan on one side. On the other, it will either be Carles Perez or Nicolo zaniolo. Zaniolo is playing lately having scored two goals coming off the bench I still don't believe he's at full fitness and because of this, I think Carles Perez starting makes more sense. Nicolo zaniolo will be very useful Off the Bench but Roma will need him for the Europa League campaign so I believe they should resist the temptation a starting him. Although I do admit it is a strong possibility. Then upfront as Roma central Striker will likely be edin Dzeko. Roma will have options Off the Bench with Bryan cristante Gonzalo Villar and others. The key player from Roma will be Jordan veretout he has been one of the best players in the league this season and certainly Roma's best player. The way he can impact the defensive Midfield both defensively and push forward will be a huge weapon against a one-dimensional Torino team.
Torino 
Even though Torino has significantly struggled this season compared to what they did last year. They don't have the same Killer Instinct or strong defense that made them successful in the past. The last five games are split down the middle for the most part. But they have a beat in Genoa and Florentina even though I believe Florence is a better team. They are capable of getting points but as I said are not the same team anymore and have been pummeled by several teams this season. Torino typically operates out of the 3-4-2-1 formation. In goal as always arguably to Torino's most important player will surely be Sirigu. Torino's backline is likely to consist of Izzo Nkoulou and Lorenzo di Silvestri. In Torino's lineup with a four-man Midfield. Which has been almost interchangeable I would be surprised if there's an adjustment in that area. In the center, the position is likely to be Thomas Rincon and Lukic on the outside is expected to be Alina, and ansaldi who is in terrific form this season has been one of the better players for this team during this campaign. In front of the Midfield in the attacking position operating beneath the striker. It is likely to be a Verdi and Simone ZaZa. Then upfront as always Torino's main Striker should be Andrea Belotti. Torino's defense has been abysmal this season so because of this Sirigiu is the key player for Torino if he has a great game and is able to perform at a high-level Torino may be able to hang in the game longer than many expect them to.
Bottom Line: Last Meeting 2-0 Torino 
Roma is well aware of what is at stake ahead of this much important match on a Wednesday. Roma has been in a constant battle with AC Milan and Napoli since the restart of Italian football. The Europa League spot is up for grabs. While 6th Place gets you into the Europa League it only takes you into the qualifying rounds. Roma wants to maintain their spot and get automatic qualification for the group stage for next year's competition. Obviously, if Roma wins the Europa League this season they will go straight into the Champions League but Roma needs to take care of the business to at least at the very minimum get them into the Europa League for next season. This is what is on the table they just need one Victory and it's all but wrapped up. They will finish in fifth place this season if they pick up the three points in Turin on Wednesday. Despite Torino's League positioning they have been playing well lately and Andrea Belotti has had his moments this season For many years he's lacked the consistency required but he still has collectively over the season been a huge factor for the club. This is not a very strong team in the Midfield or defensively. I have so much respect and admiration for the goalkeeper and Andrea Belotti but that's about it. Torino has cracks in the foundation. Roma will remember what occurred in the first matchup and they will use this as motivation to try to pick up all the points. In the first matchup, the referee unnecessarily delayed stoppage time with no reason whatsoever to do so. Also in that game, Nicolo zaniolo was holding the ball in a counter-attack before the referee stopped the run a play to give Torino a penalty that happened a few minutes earlier nonetheless it rubbed me the wrong way. The thing is Torino only goes as long as Andrea Belotti takes them. He is a tremendous player that can be a nightmare to deal with. However, since the formation has changed Roma defensively has been on another level. Even in games where they had been pushed by the opposition's attack, it was always a Roma defender in the way. over the last couple of games, Roma hasn't beaten themselves. The key in this matchup for Roma is to neutralize Andrea Belotti without him Torino does not offer all that much. Strategically for Roma is controlling the game through the defensive midfield if they were able to do this with Jordan veretout and Diawara it will give Roma a great chance. In a game like this, it is important that Roma work on their finishing ability in front of the goal. Without Lorenzo Pellegrini Roma will have to make up their creativity in other areas which is why the defensive Midfield could potentially be so important Roma will have to make up their creativity in other areas. This smells like in edin Dzeko he has been so important in his all-round display as a striker but hasn't really had to go scoring touch I believe on Wednesday night he will get back into the swing of things and finally get that goal that he has lacked the last couple of games. This puts immense pressure not only other defensive Midfield but on henrikh Mkhitaryan and on top of that Carlos Perez or Nicolo zaniolo also play the role of a facilitator. All Things Considered, Torino do have the capabilities I'm giving Roma problems but if Roma approach this game the right way they will get revenge from the earlier Lost and get the points necessary to get the Europa League football next season they just need one result and they can get AC Milan off their back. Roma understands the situation and on top of that Revenge would be justified after the way they lost earlier in the season. Neutralize Andrea Belotti and win the game.
Manager: Paulo Fonseca 
Roma's Projected starting XI 4-2-3-1
GK: Pau Lopez
DEF:, Gianluca Mancini, Chris Smalling, Alex Kolarov
DEF MID: Jordan Veretout, Adamou Diawara
ATT MID: Carles Perez, Henrikh Mkhitaryan
Striker: Edin Dzeko
Manager: Moreno Longo
Torino's Projected starting XI 3-4-2-1
GK: Sirigu
DEF: Izzo,Nkoulou, Di Silversi
MID: Rincon,Lukic,Alina,Adsaldi
ATT: Zaza,Verdi
Striker: Belotti
Edin Dzeko 
Andrea Belotti 
Match Details

Date: Sunday, July 29th 
Venue: Stadio Grande Torino 
Kickoff: 2:45AM (USA) 8:45PM (ENG), 9:45PM (ITA)
TV Broadcast: Sky Italia, ESPN+