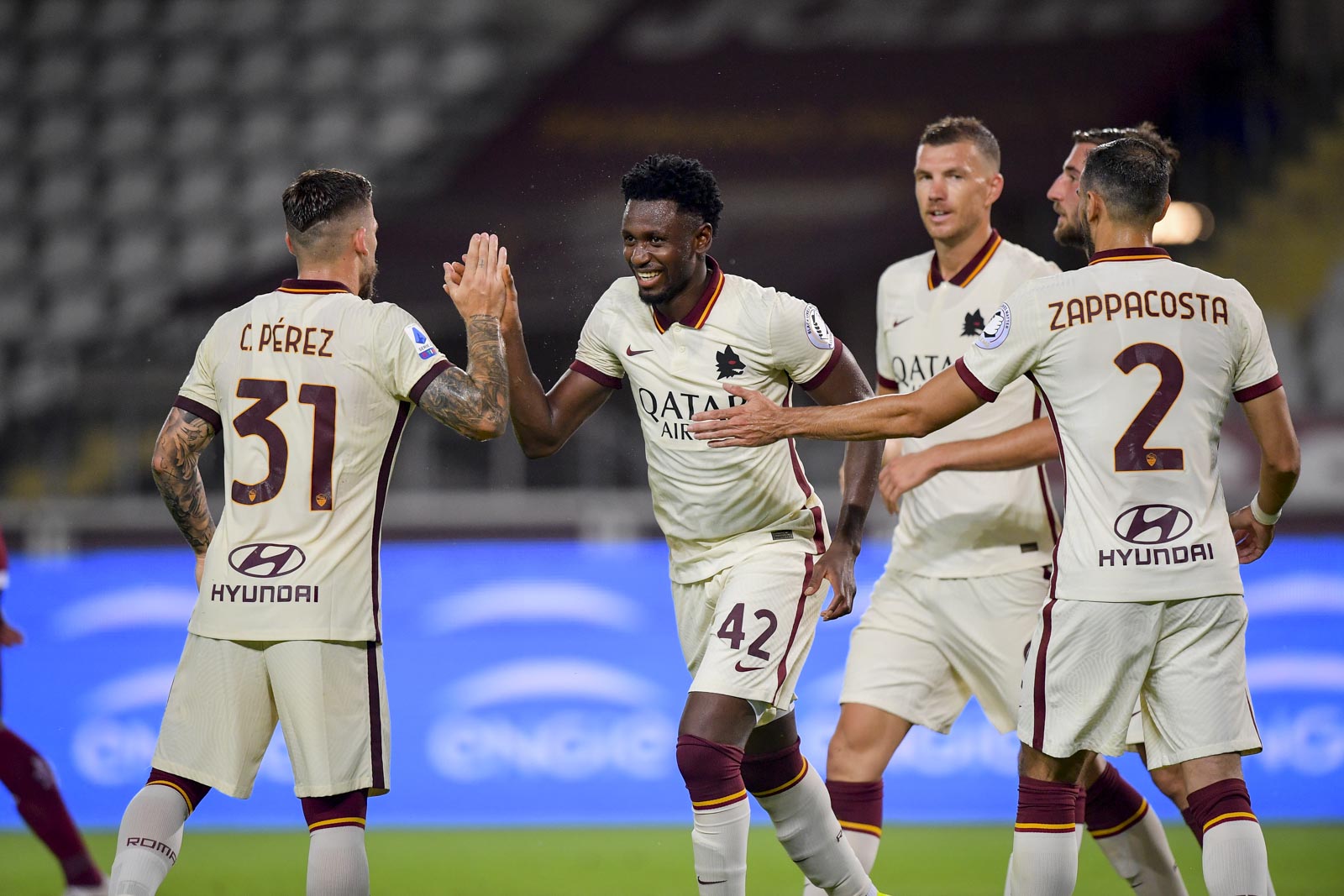 Last night Roma officially qualified for next year's Europa League group stage. The Roma's will not have to go through preliminary rounds qualifying at they get the job done against a Torino team that just confirmed safety. For the last several weeks it's been a battle between AC Milan and Roma for the automatic qualifying spot. Everything was put to rest after Roma's a 3-2 victory over Torino at the Stadio Grande Torino. Roma gets revenge for the unjustified result in the first meeting as they split the season series. Roma had a really strong first half they had control and showed their superiority. However, Torino had an early chance and took advantage of it. Torino finished off a counter-attack that left the backline out of position. Ultimately leading to the opening goal giving Torino a 1-0 lead. It was a lead that evaporated very quickly. In fact this entire game Torino no we're only winning for 2 minutes. Roma went right down on the other end and level the scores as henrikh Mkhitaryan pick out a pass inside the box for edin Dzeko who slipped the ball into the bottom corner to equalize just minutes after the conceding. It was edin Dzeko's 106th Roma goal that took up into the top four on the club's all-time scoring list. Following Roma's opening goal they retook control of the game after seeing Torino take a brief lead. Late in the first half, they found the breakthrough as Chris Smalling connected on a header coming from a Carles Perez cross as the Englishmen give Roma a 2-1 lead. in the second half Torino came out with a burst of energy as they caused some minor difficulties on Roma but for the most part, the backline was able to handle the situation. It was a much more even battle in that second half but Roma always seems to control of their own destiny. Eventually, Roma with start to pull away edin Dzeko who had a world-class performance really providing everything for Roma provided them with an opportunity to extend the lead even further. The Bosnian came forward on the counter-attack before cutting Inside the Box leaving his Defender behind him ultimately he was dropped to the ground giving Roma a penalty. edin Dzeko picked up the ball before handing it to Diawara as the Bosnian allows the defensive midfielder to score a rare goal. He stepped up and converted as Roma ran out to a 3-1 lead. However, Torino hit back 10 minutes as their youngster cut down the wing before striking at Pau Lopez. The Spanish goalkeeper did not very well with it as the strike fell through his hands into the back of the net to minimize the lead. Torino came forward late trying to get that equalizer but Roma was able to hold them off. In stoppage-time, edin Dzeko cut into the box maneuvering around Defenders before slotting a strike into the top corner it what would have been a fourth goal. However, it would not count as the referee held his flag up. It certainly was not offsides in the slightest but that didn't matter because the referee blew the whistle and the job did they came there to do. Roma gets the three points in a 3-2 victory over Torino as they get the points necessary to secure automatic qualification to the Europa League next season. They beat out AC Milan and Napoli as Roma will finish 5th this season which is an improvement from a year ago. As much as it has been an up-and-down season for Roma Paulo Fonseca has taken Roma to the next step as the team from the capital with only get better next season.
Europa League and 5th Confirmed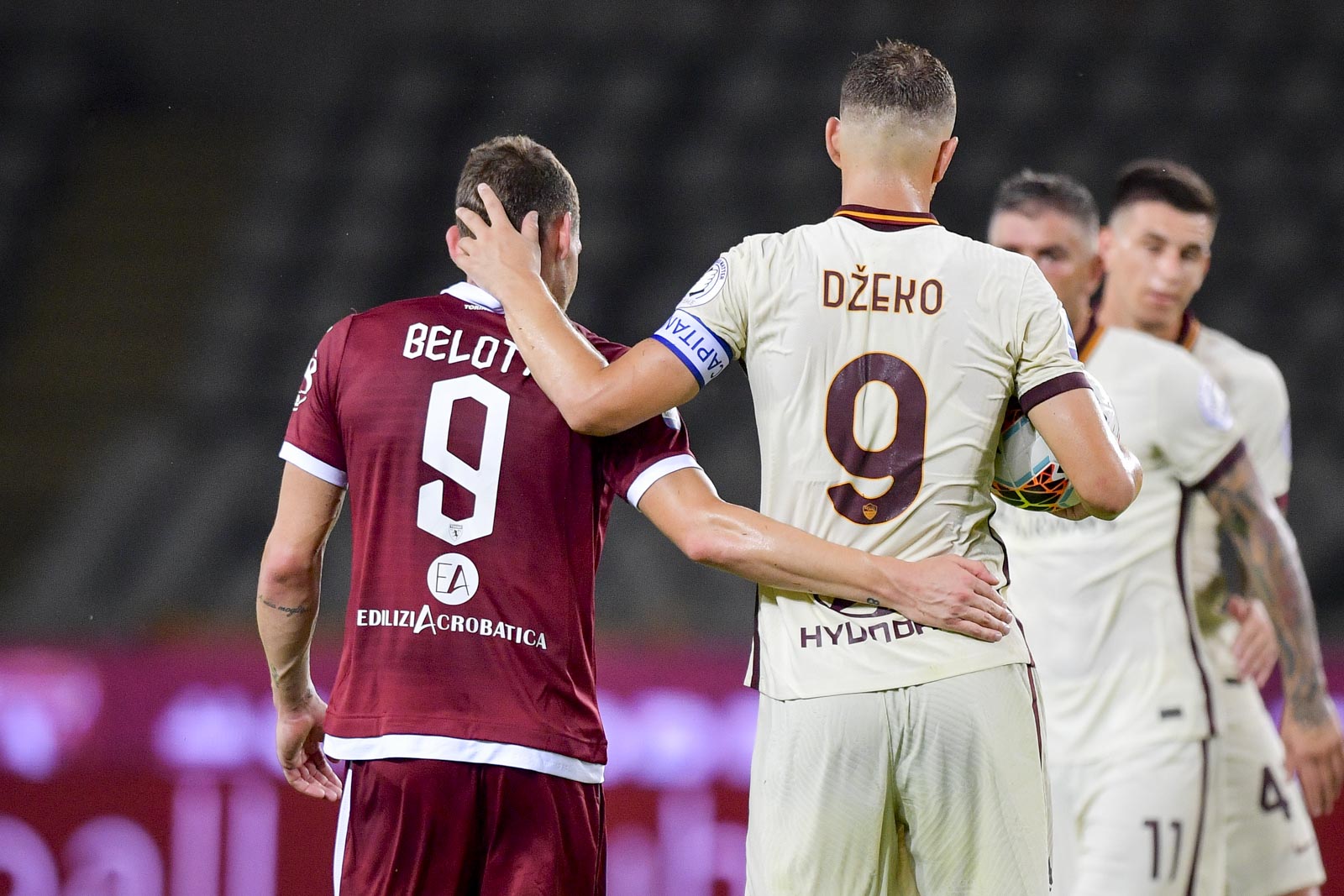 After a rejuvenated battle with both AC Milan and Napoli since the restart, Roma finally gets the job done and confirm their European football for next season. While it still is possible that they can make next year's Champions League at the very minimum they have confirmed their place in the Europa League group stage for next season's campaign. If they win the Europa League they can change that has likely or unlikely that may be. Roma was more or less in control and comfortable in their position for most of the season. Before the restart, they even had about a six-point lead on both AC Milan and Napoli. However certain circumstances allowed those teams back in the race. Napoli has had a really rough season while AC Milan yet again is a team that hasn't done enough to make the Champions League. Yesterday on the road against Torino Roma's job was simple. Get the three points and it would all but confirm their status for European football. It truly has been an up-and-down season for Roma. Even though they're only going to finish one spot above where they did last season they have made strides and so many different areas. Roma was a bad team that had poor locker room Dynamics last season with largely attributed why they took a big step backward. They went through two managers with Eusebio di Francesco and Claudio Ranieri trying to ride the ship But ultimately it was a disaster last season. This year Roma was a completely different team. Paulo Fonseca came in and re-energized attacking football into the equation at the Stadio Olimpico. The team became more Unified and Paulo Fonseca has proven to be the right man for this job. It's unclear the next time Roma wins a trophy but if he is given time Paulo Fonseca will be the manager that ends the trophy drought. Things were looking gloomy after a bad start to the new year and really didn't get on the right foot when the league restarted. They lost three of their opening four games that included losses against Napoli and AC Milan. Had Roma done the job against those two teams the Europa League place would have been confirmed much earlier. Nonetheless, when things are going poorly the Portuguese manager cracked the code. The majority of this season he operated out of the 4-2-3-1 formation a formation that really proved to be their downfall at many points. Operating out of the back 4 clearly has not worked Paulo Fonseca took his ego aside and changed it. Since Roma has operated out of the back three they are unbeaten in their last seven games collecting 19 out of a possible 21 points. If Roma give him the resources to strengthen this team should be one of the favorites and next year's competition. When this team is playing at their best they are a hard team to deal with going forward they can create real problems and when they're defending at a high level as well it makes everything is problematic for the opposition. Paulo Fonseca adjustments saved from the season. The Europa League battle became more difficult than it should have been but they have confirmed their place and next year's competition with a massive three points this weekend it's all but wrapped up they will finish this season in 5th place. When the pressure was on they delivered and they will be rewarded going into the Europa League next season automatically without having to deal with any qualifying rounds which take the pressure off. All things considered, this team has improved and seems to be in good hands with Paulo Fonseca.
Controversial Calls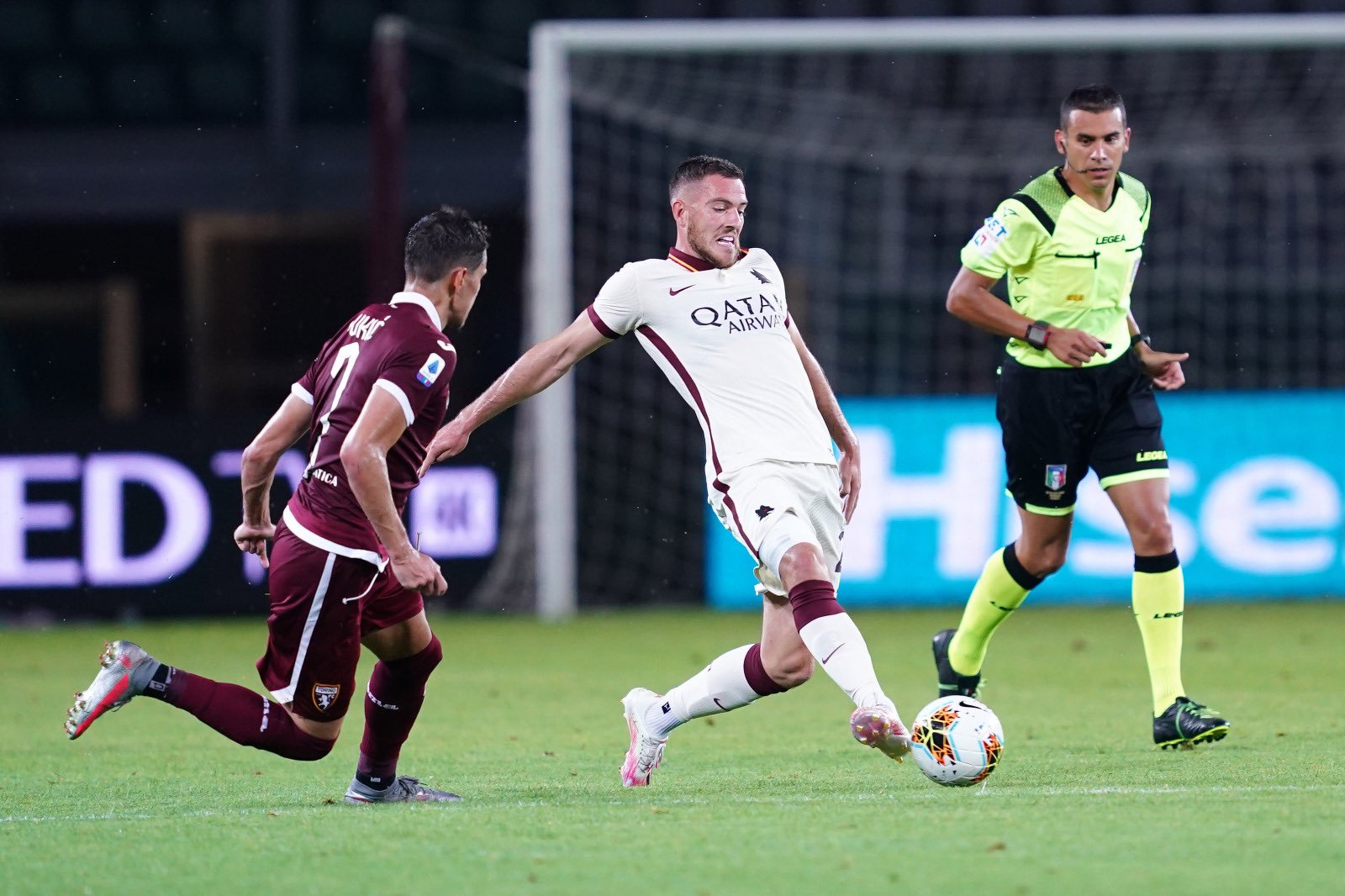 Roma were only behind in this game for 2 minutes over the 90 minutes but there were some significant controversial circumstances that may be allowed Torino to get back into the game after Roma turned it around. Now don't get me wrong it is not the fault of Torino but the officiating did end up being in their favor at many points. Torino played a great game considering the mismatch that occurred between the teams. However Torino we're incredibly lucky to have all 11 players going into the second half. In fact they probably should have had two different players sent off in the opening 45 minutes. Ansaldi had a yellow card already in the books when he clipped henrikh Mkhitaryan who was on a counter-attack. Even though the official gave Roma a free-kick. It was definitely without question a bookable offense. It should have been a second yellow which would have led to their first sending off. Late in the first half Simone Zaza pushed Chris Smalling into Pau Lopez in what was a cheap shot that ultimately lead to the Spaniard being knocked out the Roma goalkeeper was able to continue but nonetheless it is the definition of a dirty play. I understand he was trying to get a good look on the ball and trying to potentially convert in the air but with that being said to do what he did was deserving of a straight red it was an absolutely egregious decision to let him continue to play. By the law that is a red card regardless of his intention when you push someone into the goalkeeper you do not get the benefit of the doubt. Two decisions in the first half that literally could have left Torino with two players seeing red. Then in the closing moments of the game Edin Dzeko who was truly outstanding when he cut into the box around the Torino defense putting the ball into the back of the net. The goal was taken away it was completely legal and if you watch it back there was no sign that he was offside in the build-up of the play another ridiculous decision that prevented the Bosnian from getting his brace. There is no reason whatsoever to have not given him the goal.
More History of Edin Dzeko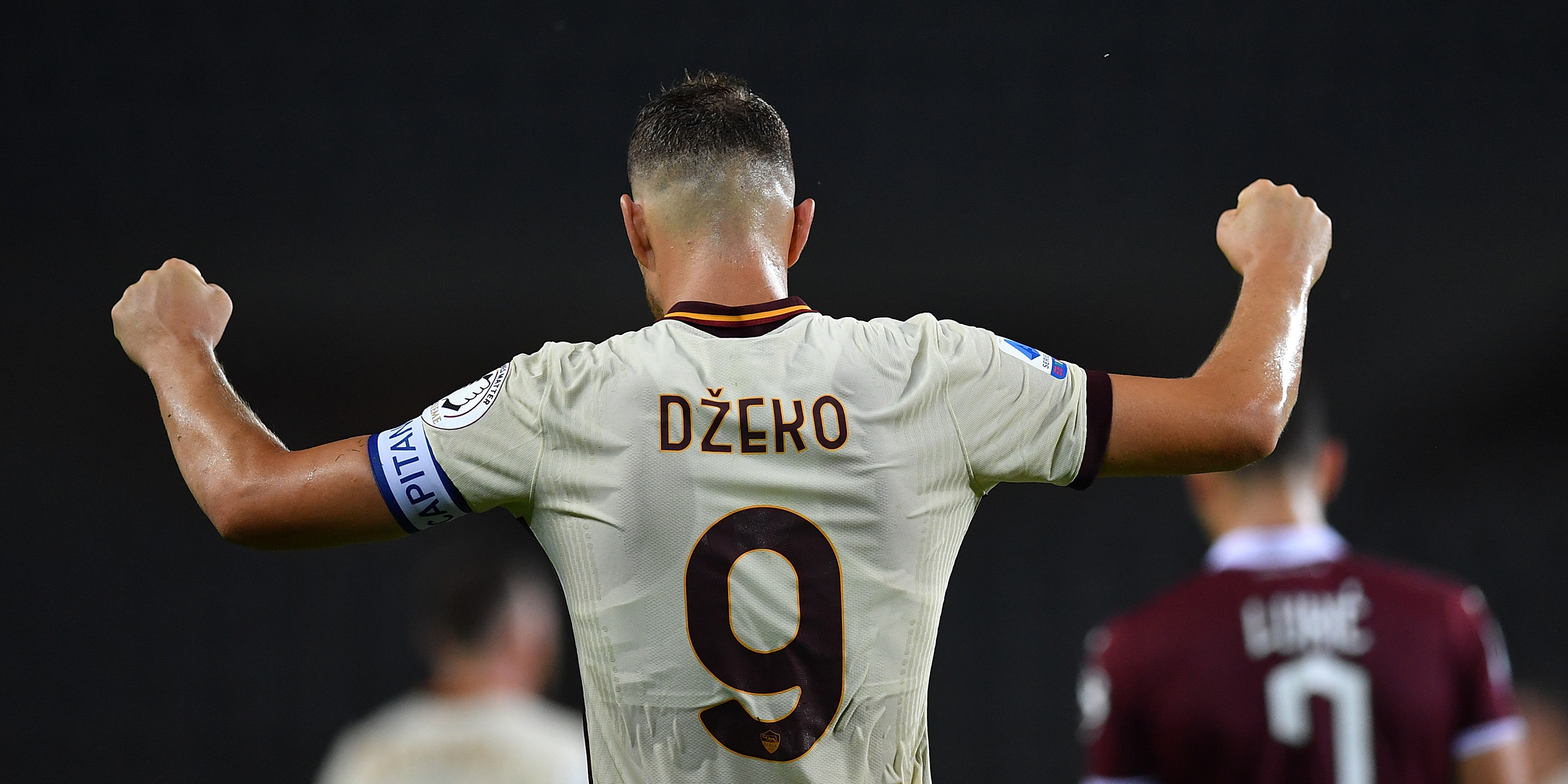 Edin Dzeko is one of the most underrated players in World football. The Bosnian captain has only been in Italian football for 5 Seasons but nonetheless has solidified himself as a Roma Legend. He continues to make history at this historic Club. Truly one of the best players in club history. Certainly one of the most prolific goalscorers they have had in recent memory. He is in a very exclusive class having scored 50 league goals in three of the top five leagues. Having done it in the Bundesliga premier league and Serie A. The only other players who have done that is Cristiano Ronaldo. Edin Dzeko continue to be even in his older age a leader and a game-changer for Roma. He may not be at the level of world-class anymore but over the last couple of years he has been in a very exclusive class and only continues to be one of the best strikers in the world. While edin Dzeko is not going to put up the scoring numbers of some of the younger players at his position he impacts the game in more ways than one. When it comes to the performance of an all-around Striker I believe he is the best in the world when it comes to this. He's not the best goal scorer there is the most dangerous player because as great as he is he misses a lot of chances at times where maybe some of his counterparts would have scored more. However with all that being said he only continues to write history in the Italian capital. He plays such a role in the team his link-up play with the attacking midfielders all the way down to the defensive area just shows an unbelievable intelligence he has Incredible intelligence Subline dribbling skills and also fights for the badge. The role of the striker isn't necessarily trying to complete tackles and take the ball off their opponent that is more of the role of a defensive midfielder. Point Blank edin Dzeko does everything well he does it all he's not the best striker in the world and their players much better his position but no one has a better well-rounded game than edin Dzeko. He's dangerous in the air he could strike from distance he can strike inside the box he does everything well against Torino he was electric one of the best games he's played this season. This year his 19 goals and 13 assists this season he truly has been one of the best players in Italian football but then again he's underrated so people don't realize that. He moved into more history last night he scored his 106th Roma goal putting him 4th on Roma's all-time scoring list. By this time next season, he will be without question into the top 3. The top two is Untouchable but none the less he has created Legacy in the Italian capital this is why it's so incredibly important that Roma get a trophy while he's here. At the end of his career is very likely that he will be remembered for what he has done in Rome more than any other club he has played for. He is Captain and a leader of men he has his down moments but overall collectively he's been such an important part of his Roma team. Without his goals over the last couple of seasons, Roma isn't doing what they have done. He has been re-energized under Paulo Fonseca and really took the Next Step even though he's getting up there in age and sometimes missing opportunities to score more. His legacy is set at Roma a trophy would only Immortalize him but given what he has done over the last decade his legacy is set in the Italian capital his value is undeniable. Edin Dzeko will never truly get the recognition that he deserves he has been the most underrated player in the last decade he's the Roma player we've always wanted hopefully by the time he's finished in Italy he will have won something to Roma because he deserves to have his greatness Justified with Glory.