Sevilla 2 A.S Roma 0FT

Following a season finale Victory against Juventus Roma ended their season with 70 points sitting in 5th place. However, Roma still had some more business to take care of. The Romans took the trip to Germany as they arrived at the MSV Arena for Europa League action against Sevilla. It was a single-game elimination. If Roma win they make the quarter-finals but if they don't they go home and the season is over. Roma came into this game with such incredible momentum on being unbeaten in their 8 with seven of those matches being victories. Italian football was significantly stronger than Spain this season. Both teams Roma ended with 70 points. It looks like a match that Roma was capable of getting through. The remaining part of the bracket wasn't all that strong with not that many challenges finding a way however you have a chance they would have to outdo Sevilla who historically has run this competition. it was not a match to remember for the Romans. Sevilla we're in complete control since the very beginning. Roma had a few early chances but outside of that, it was more or less one-way traffic. Too many mistakes for Roma allowed Sevilla to get on the break as Sergio Reguilón gave the Spanish side a 1-0 lead. just before the second half drama occurred as edin Dzeko was taken out just outside the box the referee waved It Off before Sevilla came through on a counter-attack just as they took a 2-0 lead. Roma was horrible and didn't create much of anything but none the less the officiating heavily-favored the Spanish side. In the second half, it wasn't much difference Roma really failed to create many chances and couldn't convert on the ones that they had. Simply put it became obvious about Midway through the second half that Sevilla just have the better team. Roma wasn't mistake-free but had they been spotless I'm not sure if changes what the result ended up being. Roma shot them out of the second half but didn't create enough on their own as they go out in the Round of 16 in the Europa League as Sevilla earn a 2-0 victory. They were the better team and deserve to go through. Roma has to be disappointed in the way their season ended but there were a lot of positive things to take from this year as they bow out earlier than they would have liked.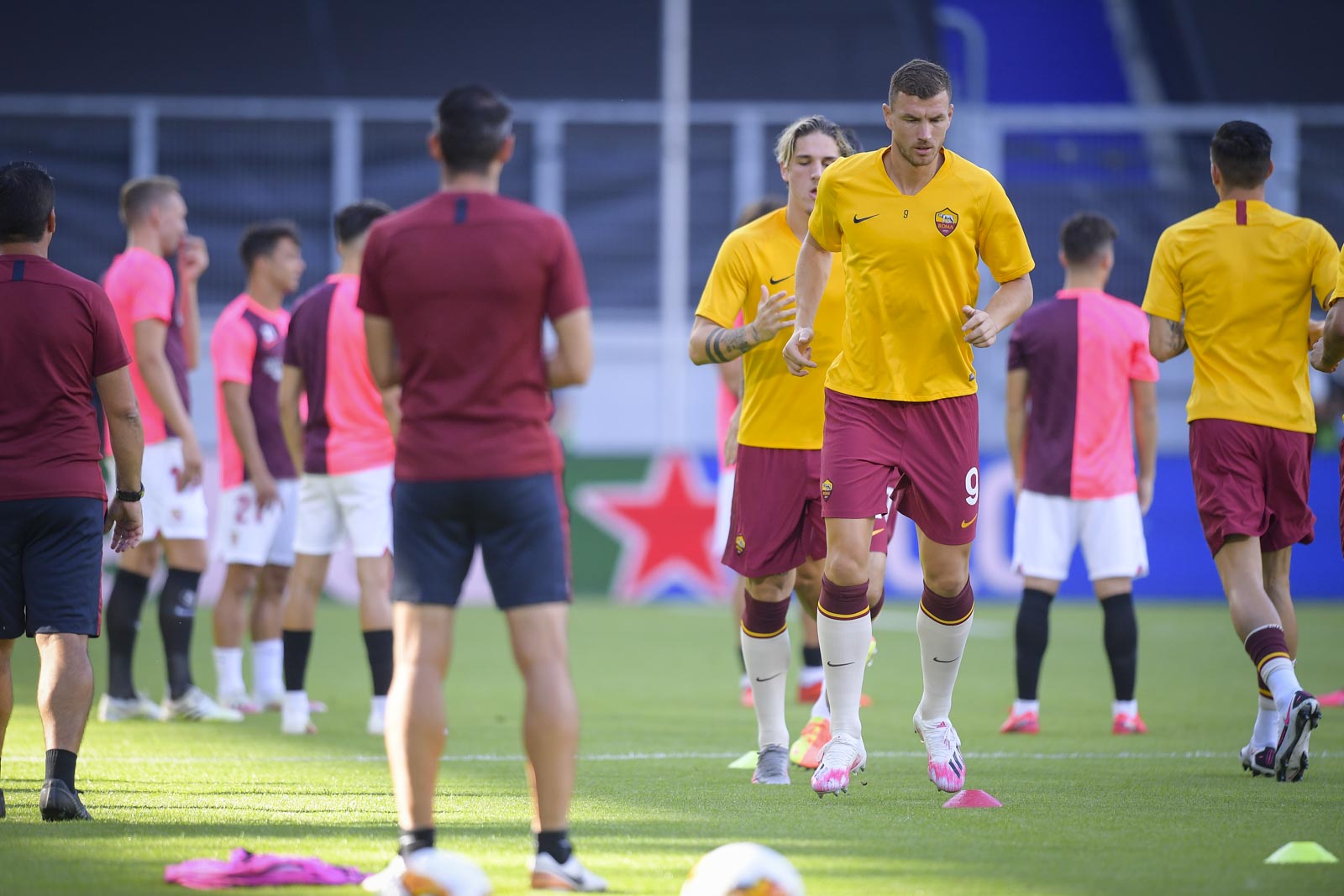 Paulo Fonseca once again operates out of the adjusted 3-4-2-1 formation. Hoping to give Sevilla as many problems as they possibly can. In goal as always would be the Spaniard Pau Lopez. The three center-backs would be more or less what you would expect. On the left would be the Serbian Alex Kolarov, with Chris Smalling being forced to return to Manchester because of their unreasonable tactics in the negotiations. Rodger Ibanez would come in and take his place operating centrally. Then on the right would be Gianluca Mancini. In front of the center-backs, we would see the same wingback that have consistently played in the setup. Operating at the left-wing back would be Leo spinazzola then on the opposite side as the right wing-back would be Bruno Peres. With Jordan veretout out with a yellow card suspension we would see the defensive Midfield Duo of Bryan cristante and Diawara. In the attacking Midfield, we would see henrikh Mkhitaryan in the left-wing role than on the right-wing we would see Nicolo zaniolo getting another start as Lorenzo Pellegrini starts on the bench after suffering a broken nose a week ago. He can still play today but we'll have to wear a mask Fonseca goes with the healthier player and set up. Then up front, as Romas Central Striker would be the Bosnian edin Dzeko who looks to add to, his 26 European goals for Roma. Roma will have good options Off the Bench if they are needed with the likes of Gonzalo Villar Lorenzo Pellegrini and Carlos Perez.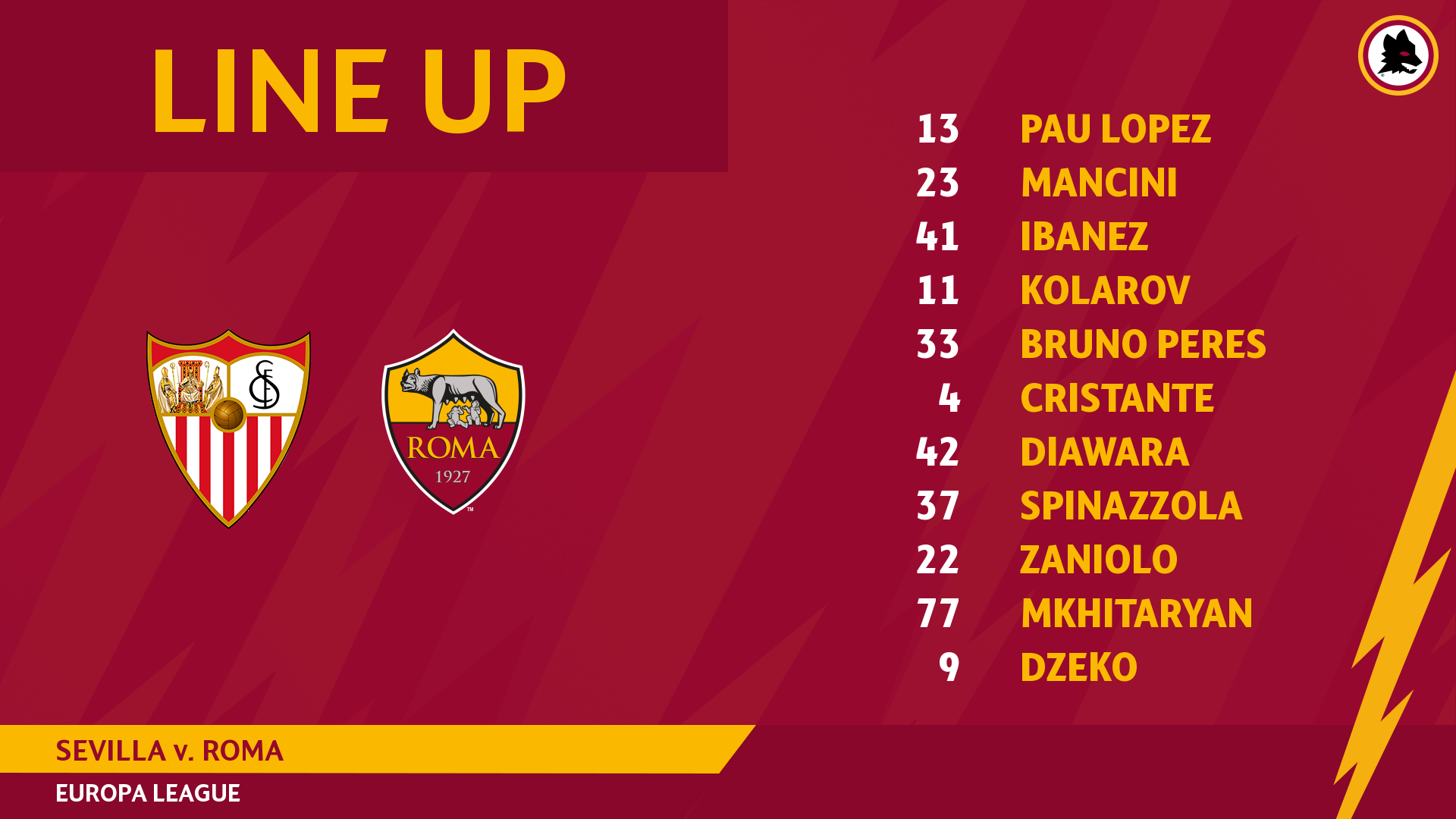 After preparations and predictions, the match got underway in Germany as Roma battled Sevilla with a chance to extend their season. A loss for either team would get them a one-way ticket back home. La Liga had finished their season a few weeks earlier. It turned out to be a huge Advantage they came out strong and energetic just lightning in a bottle. They were fresh and you could tell by the way they approach the game. Sevilla showed their superiority they had complete control of the possession as Roma barely got to touch the ball in the first half. Yusuf misfired on the opening chance the game but it only intensified the Spanish side even more as ocampos was denied by an early Chance by Pau Lopez nonetheless Roma were unprepared for the energetic mentality of the Spanish side. Even though they went into the game with the exceptional form it did not seem to carry over as they had their hands full with Sevilla. It became evident very early that Sevilla has the stronger team Roma had their opportunities but they were unable to convert on them it was always some miscommunication or a mistimed pass they came forward and had a few chances on counter-attacks but they were just let down. Repeatedly. Jewels got his head on to a Banega cross that hit the post. It became really clear how dangerous this team can be the energy was very difficult to handle. Then the moment arrived for Sevilla. Jesus Navas picked out a pass inside the box for Real Madrid loan player Sergio Reguilón who beat Pau Lopez to give Sevilla a 1-0 lead. The Spanish goalkeeper certainly should have done better. It was a great goal but it was something that Roma couldn't have prevented. It was abundantly clear that the Spanish side had momentum however the manner in which the official was calling the game did not help Roma one bit the game and the frequency of the calls was not right down the middle in most cases it favored Sevilla. They were the better team but there were several free kicks that Roma did not get as well as some yellow cards that should have been shown. The nature of the game did not change as Roma were struggling to create anything at all. Unlike their opponents, Roma is not fresh having just finished the season. The energy difference was hard to control. In the 44th minute controversy with hit Roma that may have just been a game-defining situation. Edin Dzeko was taken out just outside the box in what was a clear foul. It was ignored then Sevilla proceeded to go on a fast-break that ended up leading to yet another goal as they were put in an insurmountable hole as Sevilla took a 2-0 lead to end the half.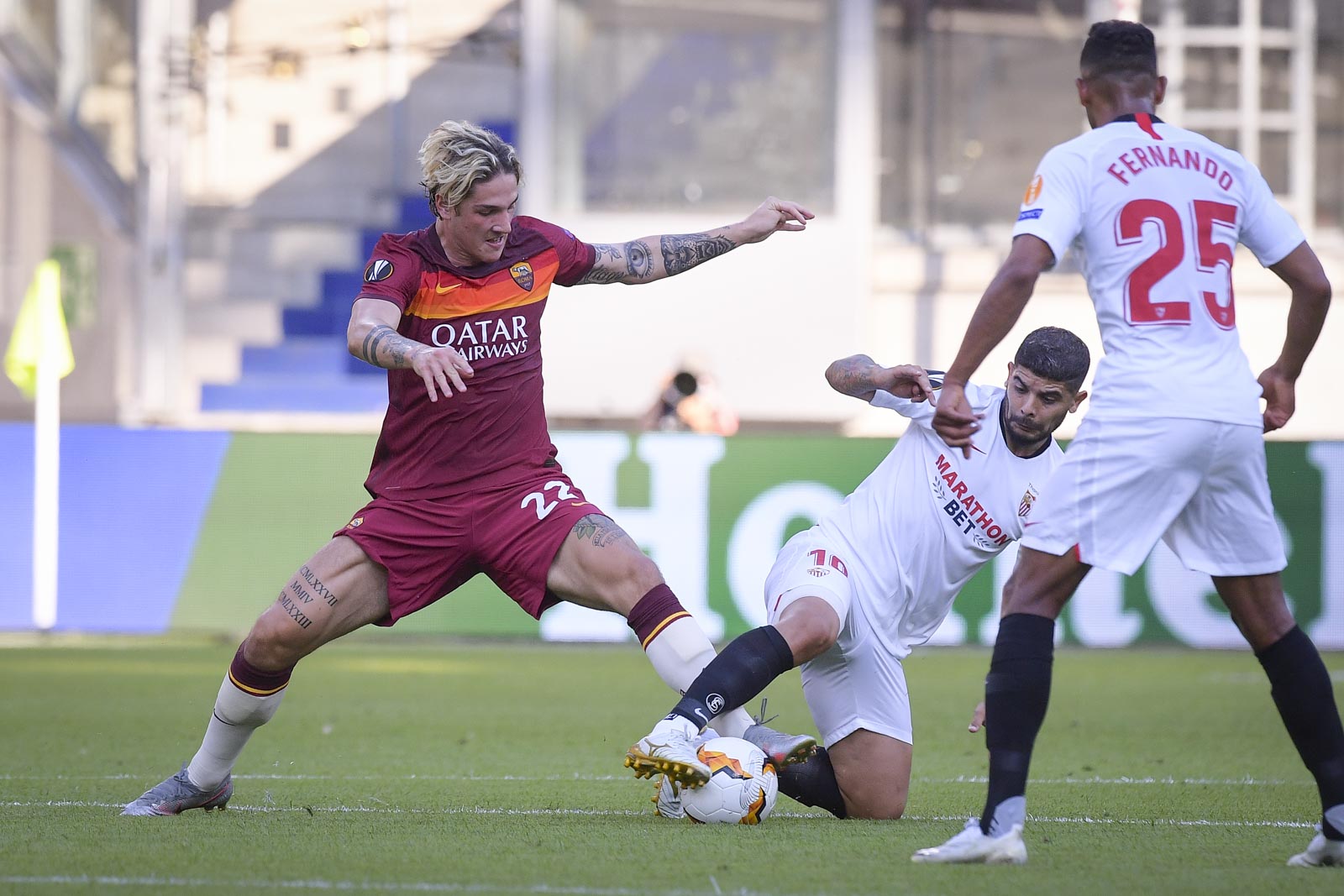 It was an absolutely miserable opening 45 minutes for Roma they were already down by two goals and probably didn't have much of a prayer to extend their Europa League campaign. They barely created anything while they seemed second-best practically across-the-board I don't think the absence of Chris Smalling necessarily led to the halftime score but he certainly could have helped. In the second half it didn't look all that much different. Sevilla continued to dominate and Roma the tried to get back into the game but ultimately looks like it just wasn't going to happen for them. Following an early miss from ocampos Roma did manage to try to orchestrate some chances but  Mkhitaryan could not find the finishing touch and Bono was able to prevent and edin Dzeko header to reach the back of the net. Even Alex Kolarov tried an ambitious strike that ultimately missed. They created nothing in the first half in the second half they were creating a little bit but lacked the killer instinct in front of goal. Roma would go to the bench. Bringing on Lorenzo Pellegrini and Carles Perez to try to give themselves a chance to at least get themselves back into the game. Despite the changes, it was the same old story while Sevilla did not attack with the same level of intensity and Roma did have a few more chances but it seemed like there was no way back into the game. Sevilla did a phenomenal job controlling Roma holding their attack as well as just overall control of the match. With about 20 minutes to go edin, Dzeko can close for my strike Inside the Box but it just didn't seem it was going to happen. With not much time remaining Gonzalo Villar was Roma's final change he provided some spark. Sevilla was able to see the game out as the competition's most successful team gets into the quarter-finals as Roma season comes to an end with a 2-0 loss to Sevilla.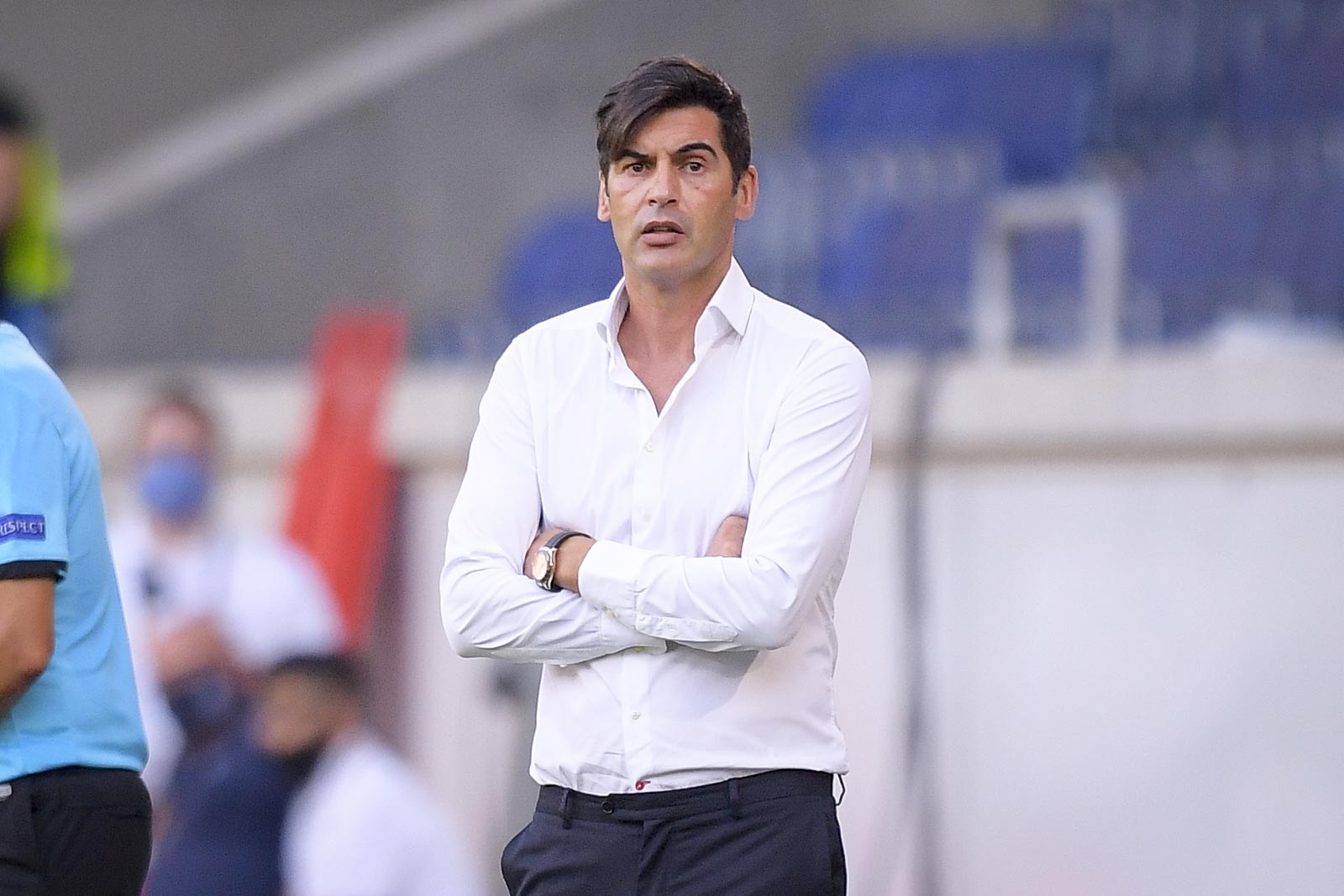 Roma came into this matchup with a lot of momentum against Sevilla. However it did not materialize in the end. There was a good reason for Roma to feel confident about the possibility of getting deep into this competition. They were coming into this with exceptional form and we're hoping to keep it going. However Sevilla despite finishing fourth in a rather weak La Liga season have a very strong team. I wouldn't necessarily say Roma underestimated them in any way but they were just surprised by the level of talent and ability they displayed against a Roma that had just finished off their season. Sevilla dominated from start to finish. They controlled possession and barely allowed Roma to even touch the ball. Eventually Sevilla broke through before scoring a second right before halftime making a comeback almost insurmountable. Having not had to deal with these situations in the past Roma we're just uninspiring and just did not have the energy or the juice to get themselves through this game. However, it must be mentioned the officiating was not right down the middle it's heavily favored the Spanish side. In the build-up of the second goal edin Dzeko was taken out it was not called Sevilla went on a break and scored. That situation could have dictated the rest of the game Roma still has a chance at one goal down having two goals to score it's just not the same situation. Roma provided very little going forward and only had a few chances throughout the game. Sevilla we're a lot better then many expected. The Spanish could even be a dark horse in this competition. It is not the fault of them not the game was officiated in the way it was but even beyond that, they deserved to win the game. I have nothing but respect for Sevilla and wish them well the rest of the competition. There's no bitterness for my end it's frustrating and certain aspects of the game angered me but in the end, they were the deserving winners. With the new ownership coming in Roma will have some difficult decisions to make however Roma have to be happy in the way they finished the season. The Europa League campaign that ended they just couldn't get the job done. Sevilla was the worthy winners tonight and I can't take anything away from them. The man of the match Roma goes to Gianluca Mancini despite the circumstances I thought he's done a really good job defensively not only in this game but this season. This La Liga side could have scored even more with the number of chances they created but all things considered, Gianluca Mancini was one of the only bright spots. Roma's season ends in disappointment but there was certainly be optimism in the way they finish the season. Paulo Fonseca and Roma and their season in the round of 16 of the Europa League it just wasn't ment to be.
MAN OF THE MATCH: Gianluca Mancini