Josip Illic vs Valencia: 5 Goals 
One of the truly best players of the champions league Round of 16 has to be Josip ilicic. He has had a truly incredible season in what has turned out to be a career year for the Sylvanian. He stepped up and delivered on a consistent basis for Atalanta while Duvan Zapata was injured. On top of that even when he returned he still kept up that consistency. Even though the Valencia match took place a long time ago prior to the coronavirus hitting the world. However, that was still the quarterfinals and it would be foolish to not recognize the greatness he has created this season. If we never see it again we should at least appreciate what he's done this season with a team that continues to make history. The striker has gone through some mental health issues will not be with the team in the rest of the campaign and is on the verge of quitting football all together. We obviously hope that doesn't happen and hope he gets all the help he needs to return to his best self. However, with everything on the table, we should appreciate what he has done this season. He made history and had a season of his life. Atalanta is not a team that plays in the Champions League in fact before he arrived they had no European experience whatsoever. That's not down to him alone Gasparini gets a lot of credit there but he has been a big part of this magical story. In two games against Valencia in the Champions League round of 16, he was the difference-maker. Scoring five goals in two games. They ended up winning the first leg in a 4-1 thrashing the Spanish side. In the second leg of this Round of 16 match up, he did something truly incredible, and even though this occurred long ago it is important to recognize what he was able to do. Atalanta ended up going through 8-4 on aggregate after a 4-3 victory at the Estadio Mestalla. A match in which the striker provided all four goals becoming one of the only players in the history of the Champions League to do such things. Atalanta have a matchup of nightmare regardless of who they play. Even though PSG is the more talented team I find it hard to believe they would have been able to deal with the size and Power of Atalanta's two Strikers. He has scored 21 goals this season in all competitions he certainly was having a season of his life. I certainly hope we get to see him play again. He was without question one of the most impressive performers of the round of 16 in the Champions League and I hope his team can take themselves to Glory for the well-being of josip ilicic it would be a storybook ending for a team that's not even supposed to be here.
Robert Lewandowski vs Chelsea: 3 goals 2 Assists

Robert Lewandowski has been driving this Bayern Munich team all season. He has a fantastic Supporting cast but that does not lessen the season he has had. Just in the general sense, he has been nothing short of Sensational. There's an argument you can make that he has been the best player in the world this season. The big criticism against him in the Champions League is his inability to deliver when it matters the most. He has defunct anybody who thinks that the Polish Striker can't show up in the big game. He has been utterly breathtaking throughout the entire campaign. He is the league leader in goals in this competition with 13 and has a possibility to break the record of 17 set by Cristiano Ronaldo. He would need only five goals. If the format was over two legs he surely would break that record. Against Chelsea, in the Round of 16 in the Champions League, his historic season only intensified. He scored a goal in Bayern Munich's 3-0 victory in the first leg of the quarterfinals. In the second leg, he was just on another level scoring twice as well as supplying two others in another simple victory for Bayern Munich they picked up a 4-1 victory as Bayern Advance 7-1 on aggregate. He is just a machine this season it has been the fifth season in a row he has scored at least 40 goals. However this season he has been extraordinarily special with 53 goals in all competitions. He continues to be the the man that delivers for the German champions. Bayern Munich have won the league title so many times in a row that's not what they want anymore their goal is to be winning the Champions League. This may be their best chance to win it they are the heavy favorites going into the quarter-final and we'll have a bloodthirsty matchup against Barcelona despite having to go up against the world's greatest player in Leo Messi Bayern has a complete team and probably has enough to win this entire thing even if Leo Messi stands in the way. Robert Lewandowski is really having a season for the ages. He has replaced  Ronaldo as the second best player in the world. He is 31 years old and it's unclear how long Messi will hold the crown when he no longer holds it the Polish Striker will take over. In the round of 16, he was as he has been all season world-class.
Leo Messi vs Napoli: 1 Goal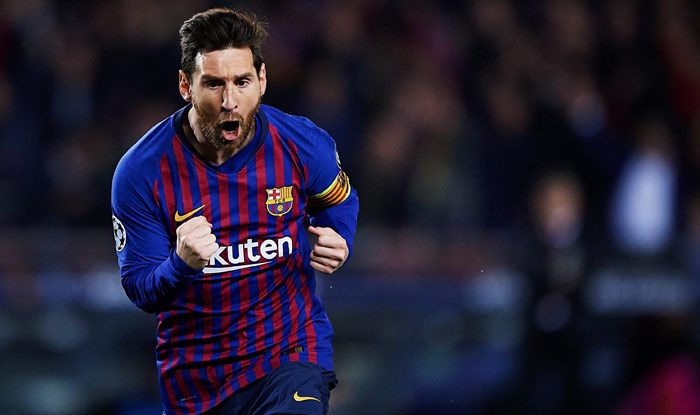 There have been moments this season that Robert Lewandowski really is starting to look like the best player in the world. A 53 goal season definitely goes into that argument. However then every once in a while when we have those thoughts we watch Lionel Messi play football on the biggest stage against and it makes us realize once again that the throne still belongs to King Leo. Leo Messi is carrying a team that has no business being in a title race or a Champions League quarter-final. It has only more highlighted the greatness of Leo Messi the greatest footballer of our time. Leo Messi is surrounded by absolutely nothing. They missed out on the league title this season but they were in it the entire time that only shows the testament of Leo Messi. The critics aren't paying attention. The Argentine had a quote on quote average season Maybe by his standards. He has scored 20 less goals than last season but that's not all that's taking into account. By the end of the Champions League, he very well could with goals and assist accumulated to 60 goals. So far this season he has a 31 goals and 25 assist 57 goals combined. That is more than anyone in World football this season. This hasn't been his best season but none the less he's come up big in the big moments. Against Napoli, he reminded us once again his absolute greatness at the top level. Napoli for at least a portion of it had some control with the amount of shots they had over the two legs. They even got a decent result against Barcelona that shows the cracks in the foundation that this team without Messi this is not a Champions League team and maybe not even a Europa League team either. In this Do or Die second leg all of the Champions League round of 16 he had moments of absolute Brilliance only justifying the fact that although Robert Lewandowski is great Leo still holds the crown. He has been without a shadow of a doubt one of the best players of the round of 16. He scored a goal that is beyond comprehension. Nearly losing the ball in the Box to striking an absolutely wonderful hit. Not only that he scored another goal that was wrongfully disallowed. He dictated the game and had complete control making the teammates around him look like something extraordinary when they are really not. Even Antoine Griezmann a player that has struggled looked very respectable against Napoli largely because of the control and unselfishness of Leo Messi. If we're being honest the team has very little chance to advance past the quarterfinals as they will face against Bayern Munich. However, I'm not sure Leo Messi will be enough to turn that around but we will see. If Leo Messi is able to get past Bayern Munich and pull it off in dramatic fashion with this team it could be his crowning achievement of his career. He was unbelievable during the round of 16 and he's going to need to be at that standard yet again if they're going to get to the semi-final. It will be a fireworks show when Bayern and Barca go head-to-head with Leo Messi and Robert Lewandowski arrived on that stage together. It's unclear what will occur but as long as they have Leo Messi they got a shot. A masterful display in the round of 16 from the greatest we are ever seen.