Juventus wrapped up their ninth consecutive title about a month ago. The club has gone through an enormous amount of changes and adjustments since then. Juventus is very unlikely to make it 10 in a row this season. They have gone in a completely different direction that will largely benefit the club in the future long-term. In terms of short-term success, Juventus would likely still be competitive at the current moment; it's about competing and keeping the tradition going forward. Juventus was an inferior side this season, led by the League's best player in Paulo Dybala, even Cristiano Ronaldo, who scored lots of goals, showed severe signs of deterioration at times, really struggled, and was way too inconsistent. In most circumstances, Juventus probably should not have won the title. However, things have changed since. The strength of the team isn't necessarily different, but the approach is starting to take shape. Maurizio sarri was sacked after their elimination from the Champions League going out to Olympic Lyon. Juventus made a shocking move in bringing in Andrea Pirlo. One of the best players in Italian football history but had not even a game of experience in management. He was recently hired as the under-23 coach but was promoted to the big job after a month; he hadn't even been in charge of one game yet. Andrea Pirlo is one of the most intelligent players in the history of Italian football. This was not a win-now appointment, but perhaps a perfect building block for the future. Even though it is incredibly unlikely that they will win the title, the team is probably still getting enough to compete and get into the Champions League. The former Juventus and AC Milan player has wasted no time trying to get things on track. He made a list of all the players he does not wish to have on his team anymore, and he is slowly getting rid of some of the Deadwood. He ended up closing the books on his first signing since taking over with Arthur and Dejan Kulusevski being signed before his hire. The new Juventus manager approached Schalke, agreeing on a deal for versatile midfielder American 22-year-old Western McKinnie. A player Andrea Pirlo is a massive fan as he vouched for him in hopes of Juventus targeting him and trying to secure his services. The deal is a loan worth 4 million with an option to buy at 20 million; if the American plays 60% of the games, it will become an obligation to purchase. Even though I criticized Juventus for the appointment, Andrea Pedro, he just pulled off one of the transfer window's best signings so far. Weston McKinnie he's a versatile player who can play for different positions; given the Midfield's stature, they have right now, he is a perfect Juventus player. He is actually the best player on the United States national team, even better than Chelsea star Christian pulisic. Given the nature of his position and his game isn't Flash, he does not get the attention. Juventus absolutely strike gold with one of the best players in the Bundesliga at a discount price.
Weston Mckinnie Help Juve Fix their Midfield
After being subjected to what they were from the Juventus Midfield last season, it's no secret how horrific their Midfield has been. Juventus mainly won the league title last season because of Paulo Dybala. The Argentina Superstar is the best player in Italian football and a top-10 player in the world. When you have a player of that standard, it can overshadow some of a team's deficiencies. On top of that, Cristiano Ronaldo, who even though he was inconsistent and had some really bad streaks of form. He got loads of penalties from the spot and got hot for several games in a row every once in a while. Then you look at the rest of the team, and there's not much to offer other than de lit and Szczesny. Their biggest problem was their Midfield filled with mediocre pieces. Federico bernardeschi, Adrien Rabiot, Aaron Ramsey, Blaise Matuidi, Miralem pjanic, and other elements described as useless. I'm not saying these are bad players, but they're just not the quality of player Juventus need to compete on all fronts at this point in their careers. Rodrigo Bentancur was the only piece of quality that Juventus had in Midfield, which now clearly highlights that this is their biggest issue, and the team needs to adapt to this. Bringing in signing like Weston McKinnie can make a huge difference. Not just in the Midfield but in multiple areas. Weston McKinnie is a high energy, really ambitious, fights for every ball, and can play any Midfield position. I'm not saying the American is going to completely fix the problems that exist in that part of their team, but it helps them immediately. There is the conception of people that believe that he will struggle early; i'd disagree with that. He is ready to start for a big club and make a big impact. He can play in the attacking role, having scored some goals with Schalke this season and drop back and be that problem in a defensive Midfield position even can play center back that can occasionally push forward; he has even spent games as a striker. He is precisely what this team needs at this moment. A young player that can provide an infusion of energy and adapt to a new league and Supply that impact. The fact that he can play so many multiple positions is exactly why fits it to this team perfectly. Andre Pirlo likes him for all he can do with his versatility; this signing will not change life or make the issues that they have nonexistent, but it's a good a building block to help Juventus progress over the next couple of years. He is one of the best midfielders in his age group in World football; he doesn't have the flashy stats; he doesn't play a sexy position, but he's a grind and grip player that can make a huge impact on a team like this. He does not completely eliminate the problem, and he part of the solution to their Midfield issues. This is a massive hit. He's absolutely remarkable from the way he plays the game to how he can affect a team he will start for Juventus and be one of their best players next season; that's how good he is.
He's The Best American Player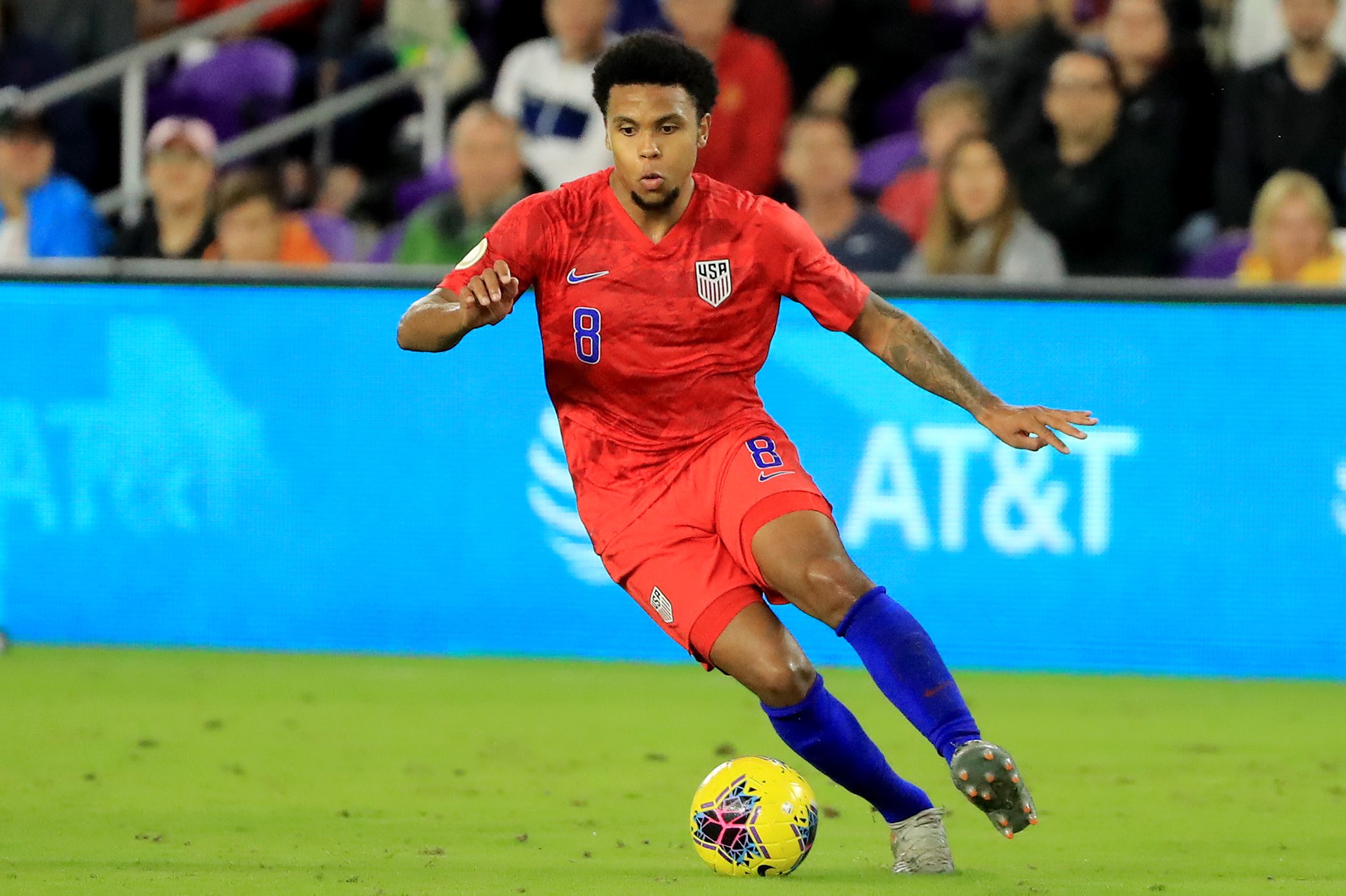 Christian pulisic is the most talented player and highest-rated Prospect that the United States has ever produced. He's extremely talented and probably has the highest ceiling of any American player. He was incredibly productive in the Bundesliga with Borussia Dortmund; he turned into a rising star in Germany and earned his expensive move to Chelsea. It has been an up-and-down season, but during the second half of the Season he absolutely exploded in what was his highest-scoring campaign with 11 goals this Season; he is an attacking, attacking midfielder with an incredibly flashy style of play when it comes to his athleticism and goal-scoring ability he has gained the trust of Frank Lampard and has been really outstanding for Chelsea at least during the second half of the Season next year he's going to be even better I just feel it. He may be the best Prospect and the most talented American. With all that being said, he still isn't the best American player. That's claim belongs to the new Juventus midfielder Weston McKinnie. The Versatile player does not have the flash the impressive stats or extreme athleticism of his fellow Countryman. The media loves Christian pulisic, and he deserves some of the press that he gets, but behind the scenes, Weston McKinnie is the better player. Don't get me wrong there are things Christian pulisic does that no other American can do. However, that's not how we judge players. Weston McKinnie has the complete game of any player on the American national team. Extreme intelligence, the right mentality, an enormous desire to win, and the motor on this kid is beyond belief. Weston McKinnie gives everything on every play, and it's able to justify his value within a team and is almost irreplaceable in what he can bring to the table. I'm not saying Christian pulisic is incapable and doesn't have those qualities. But when you talk about the most well-rounded player, it's Weston McKinnie; he has thrived in the Bundesliga, which I believe is the best league in the world, for three seasons; not only that, he has been regarded in Germany as one of the best players in the league for the majority of the time. The light doesn't shine on him because of the position that he plays. He can play all over the place, but his primary skill set is in the defensive area; he's unbelievable as a defensive midfielder; he understands the role I've been attacking midfielder as well, and he can push forward; he can do both what defensive Midfield is where he thrives and dominates. He also can play center back, and right back, he has offenses abilities in a defensive midfielder; he may not be imposing in size, but he is physically and mentally tough; without him, Schalke probably gets relegated; that's how important that he is to his team. No one's ready to have this conversation, but from a skillset standpoint and everything he brings to the game, his influence Weston McKinnie in just a better player than Christian pulisic. Don't let the flashiness confuse you; Juventus find the best American player currently going.
The Price
Juventus made real steel here. As I've stated, I believe Weston McKinnie is the best American player in Europe right now. Because of the lack of attention that he is received while bossing the Midfield in Schalke, he is not as highly regarded by the transfer market. Juventus just signed a player that will be influential in their Midfield for years to come, not to mention that he is so versatile he can play 4 different positions; you can put him anywhere you want, and he'll display those qualities. Weston McKinnie transfer value is around 45 million; that is what the last three Bundesliga seasons have shown, and a justifies that price tag with the way he performs, especially coming to his versatility and intelligence, is a complete all-around midfielder that is only going to get better. Juventus are signing him on a 3 million year loan that becomes an obligation to buy if he plays 60% of the games; the option is 20 million. Juventus just signed a player worth 45 totaling at twenty-three million, and for the most part, they don't have to pay him a lot until next Season. Andrea Pedro has robbed the bank with his first signing. I don't change my opinion on where Juventus will finish, but I have more faith and Andrea Pirlo then I did before. Give him some of the early moves he has made; he knows what he's doing. Weston McKinnie is extraordinary has the totality of skills and ability to become a superstar in Italian football even more, so I think the Style the play what favor his game and what he's capable of doing at this level. I'm personally so happy for him getting a move like this because it is well-deserved and long-overdue. When you watch him play, you see special this may go down as one of the biggest steals in club history. I'm going to go on a limb and say that right now to get this deal done at 23 million maximum is just a testament of Andrea Pirlo's intelligence.
Bundesliga Experience
The Bundesliga is the best league in the world. Even though it is a league that Bayern Munich always seems to win. The competitiveness of the champions league and Europa League spots is tremendous, not to mention the fluctuation of young Talent in this league. Timo Werner may not be a young player now, but he developed his skills in the Bundesliga. Joshua kimmich, Marcus Thurman, Dani Olmo, Boyata, Bumgarner, Kai havertz Jadon Sancho, and others. This week has a history of young Talent progressing into world-class players from the Bundesliga. Weston McKinnie has experience in this league, going against a lot of the top teams in Germany. RB Leipzig, Bayern Munich Dortmund, and so many others. This league is flooded with top teams that give their best week in and week out. Weston McKinnie ended up finding his footing early, and that only escalated as he continued to develop into a refined player. While Italian football is a big difference between the Bundesliga, German Football is the best league in the world only by little bit at edges Italy slightly, but nonetheless, it's an adamant League, and The Versatile American adapted a lot quicker than anyone would have expected especially from an American coming into the Bundesliga. By his second Season, he was already one of the best players in the league, and you could see those or qualities even at the end of his first year with Schalke. He spent three years in Germany, developing into an extraordinary Talent. The fact that he spent three years in this league is really going to help him progress at Juventus a lot faster than people might think he might be one of their best players from the start of the Season. He's already better than Arthur Weston McKinnie was a constant display of consistency in the Bundesliga. The experience that he had in Germany will allow him to grasp the Italian game very quickly; without his impact, Schalke get relegated or are at least much deeper in the table; he was one of the best players in the entire league, and he's only 22 years old that's all you need to know.