Roma fans and supporters for the longest time, have had an estranged relationship with James Pallotta, Roma's president, over the last couple of years. Even though he has brought some good in his time here, most of it has left us with a sour taste in our mouth. He has sabotaged the lofty Ambitions that Roma have always had because of his involvement, we've had to lower expectations of what we aim to achieve year-in and year-out. He has made things really murky, and for the longest time, Roma has been urging him to sell the club. After-sales of so many Fantastic players, Roman has found it very difficult to challenge for trophies. Even though Roma has consistently been in the top three over the last decade, some of the decisions that James Pallotta has made had prevented them from winning the title. When it comes to the transfer policy, the stadium that we were promised but never delivered on and his treatment of Our Heroes Francesco Totti and Daniele de Rossi. There just wasn't enough of him at the Olimpico. It's certainly been a battle over the last couple of years. Roma has taken a step back and is no longer a team challenging for League titles. Even Champions League football seems out of their grasp, something that James Pallotta has affected mainly by how he has handled his business at Roma. The day we thought would never come finally has come to fruition. American businessman Dan and Ryan Friedkin have been interested in buying the club for quite some time. The Coronavirus and the financial turmoil ended up being problematic; it looks like the deal wasn't going to go through after all. However, the Friedkin group worth 4 billion dollars remained interested and eventually secured a deal to take Roma's majority stake. The deal was completed at about 591 million as they have taken complete control of the club as James Pallotta agrees to sell the club. After years Roma is finally taking over with a new era begins with Roma. They have come in with a plan which gives the club a reason to be optimistic.
Never Delivered On Stadio Della Roma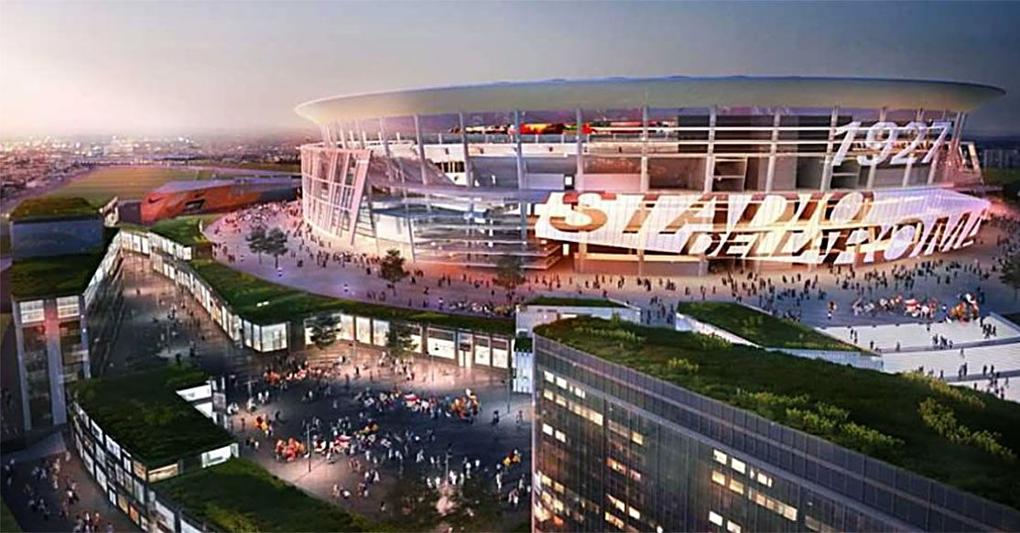 Roma and Lazio have shared the Stadio Olimpico since 1927. It has produced some incredibly enticing rivalry game, the Coppa Italia final, and even hosted the Champions League final twice. There's a lot of history attached to the Stadium; it is a historical landmark for Italian football culture. However, it is an old stadium, and Roma has been there for a long time with all that being said. Roma used to sell out the entire Stadio Olimpico; that's not the case anymore with some of the issues that the fans and the people in the city have with it. Roma has been asking for a new stadium for a long time. This is one of the things in which James Pallotta came up so short. He promised to give us a new stadium that would help with more fans going to the games and help with the financial upgrade that would come with it regarding the revenue and the media attention that would be on it. This is something the James Pallotta was trying to work out it just never materialized. There is a plan in place for Roma to open a new stadium; the idea is a very English style, so the capacity is less, but fans will be closer to the pitch, which we need more of an Italian football. It would make the game that much more exciting the stadiums that have a fan in proximity to the field really have a good atmosphere going Roma want to replicate that. The Stadium was supposed to have 55000 capacity, and the Stadium was supposed to be built in Rome nearby to train station that is no longer in operation. They got the approval, but James Pallotta just couldn't deliver on this. Roma was supposed to have the Stadium in 2019. There is no further progress on this; then, it has been the last couple of years. The Stadio Della Roma is not any closer since these conversations first took place; this is one of the things James Pallotta failed with consistently. This may not be the most important thing in the world, but it would intensify Italian football and derby. The idea was that Lazio would still play at the Stadio Olimpico, and Roma would play at the Stadio Della Roma so each Rome team would have their Stadium instead of having to share with their rival. I'm not all that sure how but the new ownership gives us the possibility of speeding up that process up and potentially moving into the stadiums in a couple of years. This is something that Roma really have been asking for for a long time. Ryan and Dan Friedkin have a plan in place to try to make this team into a winner again. James Pallotta's inability to deliver on the Stadium turn the fans against him. I'm sure Dan and Ryan are both aware this is something they should at least discuss and figure out a solution. Roma has bigger issues than that has the moment, so I wouldn't say the biggest priority, but it's something that needs to be looked at and address at least we have a plan in place of what will happen with the Stadium.
Selling of Crucial Roma Stars
Roma has been in a decade of financial trouble that is no longer going to be the case within the budget that the new owners will receive in this market. However, it'd be foolish to gloss over the fact that James Pallotta killed the opportunity to build a winning team with some of his decisions. It's important to talk about why Roma is being sold is such a fundamentally essential thing going forward. It's also important to discuss the plans that exist ahead. Still, one of the things that really needs to be highlighted in this is that James Pallotta sold a crucially important piece every season over the last couple of years. Roma had the capabilities to win the league title at the very minimum a regular in the champions league and potentially win some other trophies in the process. Gervinho and Erik Lamela, we're both sold before this became a regular thing. Roma manages to still be competitive without those two pieces; they finish in the top three for five years in a row despite some of the controversial decisions that were being made. Miralem pjanic was sold from Roma to Juventus for a measly 32 million. At the time, he was one of the best midfielders in the world and the best player in Serie A at least the season before his departure. The Following season Roma had their best every year statistically and probably should have won the league title. The next summer, they sold Mohamed Salah, who was on the cusp of becoming a world-class player and scored 42 goals his next season James Pallotta sold him for 38 million-plus bonuses. His value of that time for the lot more than that, and now it's even more extensive. Roma had an underdog display in the Champions League That season making to the semi-final, including knocking off Barcelona after being down by three goals after the first leg of a quarter-final; however, it was just the beginning. The best goalkeeper That season was Roma's Allison; he went to Liverpool as well; this followed Kevin strootman to leave, Antonio Rudiger, Kostas Manloas, Stephen El Shaarawy etc. radja nainggolan left to but that one worked out because Roma got in Nicolo zaniolo in exchange. However, the matter is every season; they sold a different piece that was important to them. They have consistently done this over the last couple of years, nearly ruining Roma's chance to compete with the title. Roma has made some excellent signings it. Still, the damage James Pallotta made was already done. Roma is now in a quick rebuild with Paulo Fonseca, who's doing a tremendous job with the rebuild. It is only necessary because of how many important players James Pallotta continued to sell. The selling era is over in Rome but look at the damage he did.
Treatment of Daniele De Rossi and Francesco Totti
James Pallotta has done an awful lot of damage to this club, the failure to deliver on the Stadium. The transfer policy selling key pieces every season significantly stunting of the growth of Roma. Some of the questionable Personnel decisions made he had good moments, I will admit that, but he did more damage than good. I will say I appreciate it his passion for the club his excitement justifying when he broke that Fountain after Roma made it into the Champions League's semi-final. You can appreciate things about him, but the misery he inflicted on the club overshadows that completely. All of those things were damaging to the club's growth, and Roma is desperately trying to break the title drought the decisions he has made that difficult. Given the fact of how often the team has changed from season to season. All that stuff is bad, but the one thing that angered the clubs' fans the most is the treatment of the club's biggest icons. Francesco Totti and Daniele de Rossi are Italian football legends their icon to this game. Especially in the city, both players were Roma boys who played for the club for over decades. Francesco Totti is the greatest player to ever play for Roma, having dedicated his life to the club for 25 years. Daniele de Rossi is the one Roma player we all can relate to because he represented us. He wasn't the most talented, but he was tough, a tireless worker, and one of our sport's most prominent leaders. We related to them; they were our identity; you can't tell the story Italian football without Francesco Totti and Daniele de Rossi. They were both treated incredibly poorly by James Pallotta. They were the biggest Legends in the club; they deserve to end their Journey at Roma the way they wanted; they should have been celebrated like royalty. Instead, they were treated like their opinion did not matter, and they did not have the freedom to end on their own terms. I'm not saying James Pallotta is a bad guy, but he treated the two most important people in the city's history incredibly poorly, which only turned him against the fans even more. Francesco Totti retired in 2018 that last season the entire media uproar was the controversy between himself and Luciano spalletti when it came about the lack of playing time that he got in games he should have been able to play Sitting on the bench our entire game against his last chance to play against AC Milan and others. James Pallotta also had a very fragile race relationship with Francesco Totti. After he retired, the Roma president offered him a director job. When he was in that position, He largely helped with the Nicolo zaniolo deal and some under-the-radar signings. But his opinion was not valued enough; he was ignored in meetings and not given a voice. The relationship with Pallotta was already on thin ice, but it escalated to his initial resignation. Francesco Totti and the Roma directors had a back-and-forth that led him to the exit. Claims that Francesco Totti was not factual with the claims he had against the board of directors. He left and then said he would never return Stadio Olimpico or the training ground until new ownership was instituted. Since this happened, the Friedkin group is interested and getting acquainted with him and potentially giving him. It's unclear what decision they will make in regards to the sporting director. Still, eventually, that job could be his they have welcome to him to return in any aspect he likes they still have to figure out a lot of stuff. Still, Totti said he would return to the club under different ownership this sale at least open that door of possibilities. It was undoubtedly worse with Francesco Totti, but Daniele de Rossi wasn't allowed to finish on his own terms. We didn't know it would be his last season with Roma until the week before the season's final match. He wanted to extend his stay for one more season but Roma decided to move on. I understand that from a business perspective but it was no way to treat the Gladiator of Rome. He wasn't asking for a lot of money even said that he would have played for free after his departure. Having to say goodbye to Heroes is an emotional situation that James Pallotta put us in. He ended up playing Boca Juniors for a couple of months before he ended up retiring. Pallotta prevented him from leaving on his own terms. Thanks a lot is not a bad guy, but he damaged the one thing that Roma fans hold dear to their hearts Francesco Totti, and Daniele de Rossi means more to the city than anyone in Italian culture. The trust was broken even more so after these events transpired. With the new ownership, Daniele de Rossi will also have a spot available when he wants it. The Franklin group made those things abundantly clear really connecting with the city by clicking with those two men. But there's no hiding around it his treatments of Totti and de Rossi Unleashed the Veneman into the relationship.