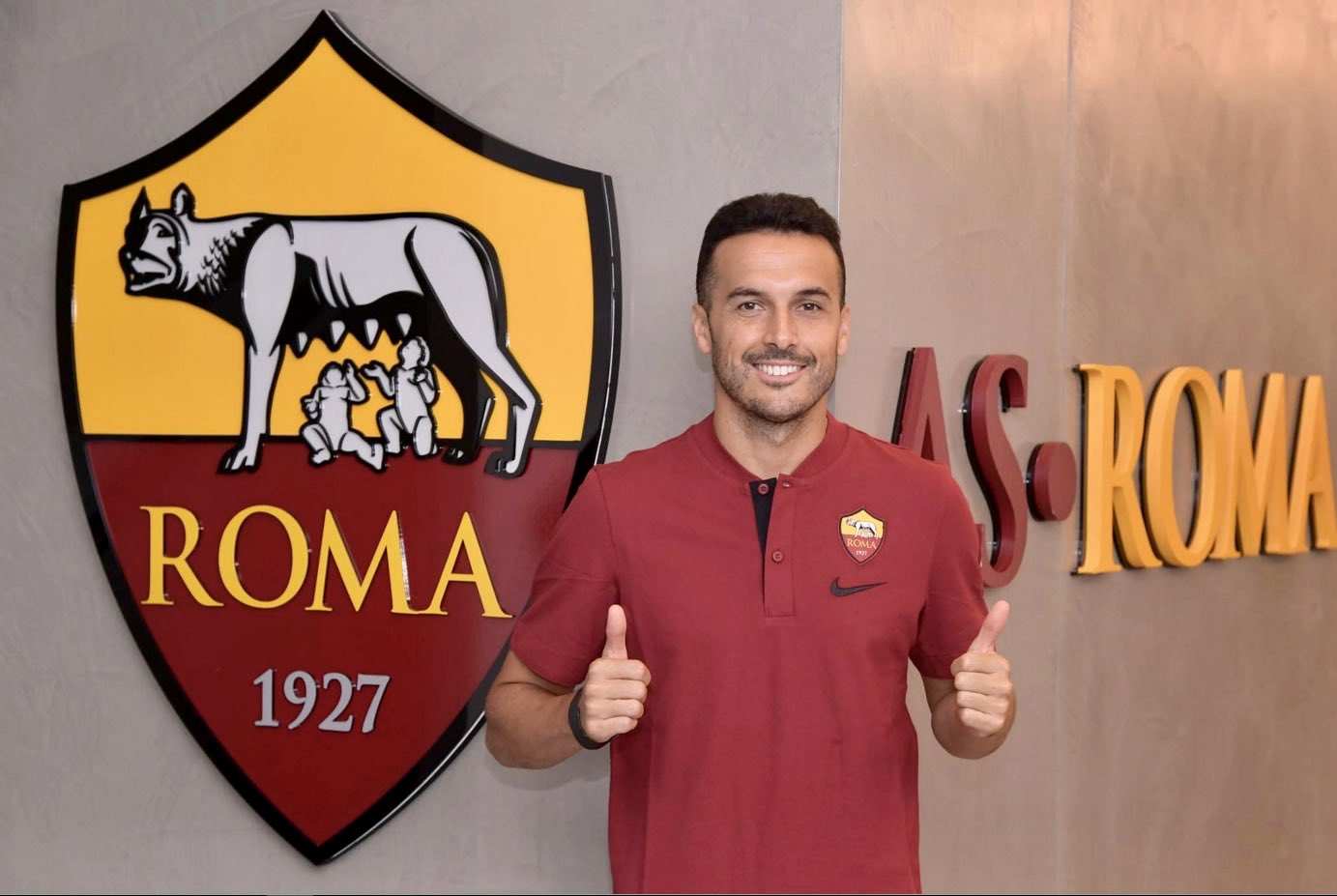 Roma ended up wrapping up their first signing of the summer just a few weeks after the season ended. It became official last week when Pedro Rodriguez joined on a free from Chelsea. Roma has been in negotiations with Pedro for several months as he was approached upon his expiring contract. The deal itself did not get wrapped up until just recently. This is the first signing of the Dan Friedklin era. The American businessman recently purchased Roma for around 700 million after the American businessman at James Pallotta, who had a fragile relationship with the fans in the city, finally, he sold the club as Roma can start to look into a New Direction. Following Chelsea sloth in the FA Cup Final, Pedro was awaiting the Takeover to fully complete to join his Roma teammates and officially signed for the club that he had been negotiating with over the last couple of months. Pedro is one of the most decorated players currently playing, having 125 trophies in his career. He brings a certain leadership work ethic and a will to win that will likely rub off on Roma's young players. Pedro spent the last five years in the Premier League with Chelsea then; prior to that, he was with one of the best Barcelona teams in history; he has won everything on every level, something that Roma wants to learn from. The 33-year-old signed a two-year deal with an option of a third-year. The former World Cup winner arrived at the airport last week before being medically cleared as he officially joined Roma. The veteran was excited about his Italian Adventure. It is unclear what his role will be within Paulo Fonseca team but he will have some significant value in a that want to get back into the Champions League.
Pedro Rodriguez apon his Arrival
"It feels really good. I am really happy to arrive at this club. I need to say thank you to everybody for this welcome: to the supporters, to the club, to the staff. I am very happy to be here.
"It is a new challenge for me, to play in Serie A, to play in a new country, and I am very happy to be here."
"Some of the players here have great potential. Like Nico [Nicolo Zaniolo] for example, he is a great player – a powerful player who is scoring goals. It's very good for the team to have players like that here.
"Carles Perez is another good winger and has great potential to do well for this team. And for me, yes I am an experienced player – but I think it is good to have this sort of mix of experience and young players to compete, fight and do well on the pitch."
Leadership
One of the biggest capacities of what Pedro Rodriguez can bring to a young Roma team is leadership. Even though he probably will not be a regular starter, I think he will be influential and lead this team from the very beginning. Roma has players with experience performing at the top level, but they do seem to lack a leader. Gianluca Mancini has all the leadership qualities you would require, but he's only 24 years old Roma lack an experienced player with great leadership abilities. Edin Dzeko's future at the club is hanging in the balance as it is, but on top of that, even though edin Dzeko still at his age is one of the best strikers in the league, he is not the leader that Roma needs right now. He might wear the armband, but that does not quantify him as being a great leader. Edin Dzeko can be a leader and certain moments, and I believe he helps the young players on the team progress, but the Romans need something a little bit more than that. Pedro has played with some of the most prominent players in the world. Leo Messi, Andreas Iniesta, Eden Hazard, Sergio Ramos, Gerard Pique, and so many more what's Spain, Chelsea, and Barcelona, including under some great managers like Pep Guardiola, Jose Mourinho, Antonio Conte Van Buskirk. He has learned leadership qualities during many title runs and has that experience that will certainly help some of the young players around him. This team is full of young talent, and quite frankly, they need a leader. Even if he's not playing week-in and week-out, even a leader Off the Bench and on the training ground will largely help Roma cope with this new season. Pedro will provide quality for the team for one of the most enticing things that he brings is a sense of leadership that Roma may not have at this moment.
A Proven Winner 
There's certainly a lot to admire about this Roma team. They have a good set-up going, and they're building for the future as they've collected young talent and experienced players to match together with the hopes at least pushing for Champions League football next season. Pedro Rodriguez is not only going to be very important for this team in terms of leadership accountability and how to be a professional, but he has experienced challenges at the top of European football that the majority of this Roma Squad cannot relate to. He brings the attitude and is a proven winner at all levels. He has won everything there is to win even though he's 33 years old, he has had one of the most impressive careers. Pedro Rodriguez has won over 20 trophies across his career. While at his boyhood club Barcelona, he won 21 trophies in six seasons. This has included winning the champions league on three different occasions, one of which is a treble. Then he moved to Chelsea, winning the Premier League FA Cup and Europa League. In addition to all that, he also is a World Cup winner and the winner of a European championship with Spain in 2008 and 2012. Roma is in the middle of massive trophy drought. The last piece of silverware was the Coppa Italia in 2009. Even though they got to a Champions League semi-final in 2017 and probably should have won the title in 2016, they still have something left to be desired when it comes to winning trophies. This is something Pedro will be able to help with now the Spanish International may not be the best player on the team, and a lot of times, it's possible he will come off the bench. Still, he's experienced in these high-level matches, and winning trophies his entire career will only be infectious on his new team. Roma will be in the Europa League this season. Last season, they struggled in the group and went out in the round of 16 to eventual Champion Sevilla; that was one of the things that Roma struggled with Pedro's inclusion that could very well change given the what he has accomplished at the highest level. The team will still have to perform and find a way to end the trophy drought, but Pedro's experience in winning everything there is to win; it will only help this team push forward. Roma now has a proven winner within the squad that will be incredibly valuable and helpful both domestically and in Europe.
How Does Pedro Fit with this Roma
Pedro Rodriguez does bring the experience, and he is a proven winner that will be infectious to the rest of the team. However, the question remains how he will fit into this team from a tactical and strategic perspective. Roma is currently running a formation without natural Wingers, which would be Pedro's most logical position. However, even with the new formation, there are ways to put him in the team to be effective. Roma currently has Carles Perez, henrikh Mkhitaryan, Lorenzo Pellegrini, and Nicolo zaniolo, all occupying that space. However, you never can have too much depth, so this signing helps them in that perspective, especially when it comes to injuries. Lorenzo Pellegrini can play the defensive midfield, and Nicolo zaniolo can play in a more central role, maybe even as a striker. There's a lot of depth that this team has this position, but Pedro Rodriguez brings a certain level of accountability leadership into the fold, which makes him very valuable on and off the pitch. He may not fit like a glove in the current formation, but Paulo Fonseca, we'll figure it out. Plus on top of that, I think it's unlikely that Roma sticks with one formation the entire season. With a back three, you can adjust the rest of the shape and many different ways. The way they set up will allow Pedro to be in a more natural position, however. Pedro is 33 years old and is still valuable to a team like this. Still, given the situation, I would say he would occasionally start in the Europa League in the Coppa Italia and sometimes in a league. But mostly, I see him as a super-sub that Roma can bring in and some really big moments to deliver. He has scored in big finals, so his ability to adapt to that type of role is something I think you'll be very comfortable with. This year, there will be a game against a big team in which he came off the bench and scores the winner; that's what he's capable of doing within this team. Paulo Fonseca will find a place for him, but this signing is more about depth. I don't think anyone expects him to score a high number of goals, but he will find a rhythm and score a reasonable amount. It's a big signing for leadership, his influence on the locker room, his will to win, and I think you'll be a lot more effective within the team on the pitch then many people expect. He has done it, and it's capable of delivering Roma will look to him in big moments, something that's never proceeded, Pedro Rodriguez. Welcome to Roma