Financial Advancement The Franklin group is worth around 4 billion dollars. The financial part is certainly helping the situation that Roma indeed find themselves in. They've been in financial turmoil for the last couple of years, so James Pallotta felt the need to sell their best players. However, that did not pan out in any way. Selling the club doesn't necessarily eliminate that problem. Roma will still have issues from a financial perspective just because of the debt the club has produced over the last couple of Seasons. These problems can be handled relatively quickly, but it doesn't mean the problem still exists. One of the most significant benefits of this is they have more money for their disposal. Roma transfer budget in the amount of spending money that they were going to have would have been significantly less had this sale not occurred. The Takeover gives the club some finances that will help them in a big way. Even so that they don't necessarily need to sell an essential piece to the puzzle to finance moves for players. According to reports, they will have a minimum of 80 million to spend in their transfer budget. Roma needs to sign a center-back another left-back a piece in the Midfield in a backup Striker. All these things can occur with the budget they have. However, most importantly, the money that they now have will give them the resources to finesse a deal Chris Smalling can join permanently from Manchester United. Man United and Roma have been in negotiation for months; they have yet to agree, but it is at its closest point at as it has been since the beginning of a negotiation. Ole Gunnar solskjaer has already signed Donny Van Beek and is interested in RB Leipzig's Dayot Upamecano and Sevilla left-back Sergio Reguilón. Man united want to sell him, and Roma wants to sign him on a permanent deal. There's still a bit of distance between the validation, but it seems to be getting closer as time progresses. Chris Smalling Relentless desire to return to the Capitol could accelerate the deal, hoping to be met before starting the new season. It's not just that though the financial resources they will have now will allow them to go after other players to fill their positions. Roma may not have an unlimited amount of funds, but the new money will help the club sign Chris Smalling, Milik and other potential targets in the coming weeks. Chris Smalling obviously the priority, but they have more flexibility in the market because of the Takeover and the financial upgrade they will give in terms of their transfer policy, but that doesn't stop man united for being childish talks, so you never know what can happen. It may not be the biggest thing in the world, but more money to spend will help this team add the pieces they need for the upcoming season.
Lorenzo Pellegrini & Nicolo Zaniolo are Untouchable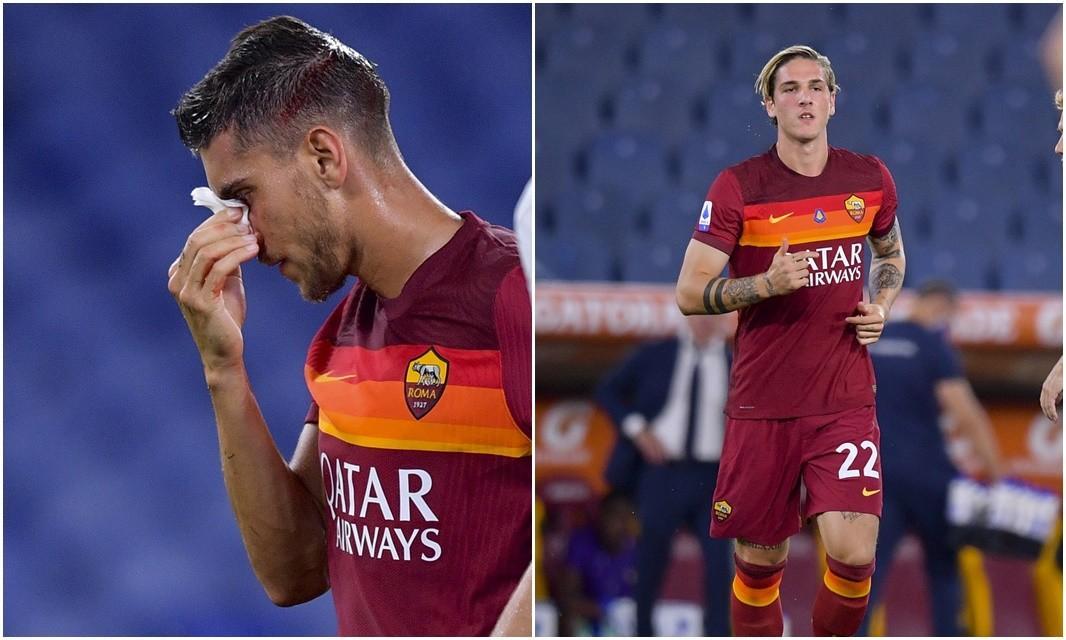 As I've already stated, one of the big issues with building a team under James Pallotta was the turn over of player's every other season. During these times, Roma's scary thing was that once a player showed some really incredible qualities, they became a sense of fear that a bigger team would come in and take them away from Roma. If you just look at the number of top players that he sold through the years, it makes it mutually impossible to build the team up into something that can potentially challenge trophies or titles. James Pallotta is not the only reason why we haven't won a title since 2001 and haven't won a trophy since 2009 but the fact that he's sold important pieces so willingly certainly contributed to that. Roma, even at times, was referred to as a selling Club. Those days appear to be over. I'm not necessarily saying that the Franklin group isn't going to sell players that are important eventually. At the moment, a problem is trying to keep a hold of Roma as young Stars that are admired across Europe. One name comes to mind, particularly one of the best young talents to be seen in Italian football in a decade, Nicolo zaniolo. We know the story he came in for 2.5 million in the swap deal featuring radja nainggolan. Roma didn't really know at the time what they were getting our hands on; he ended up winning Young Player of the Year his debut season and took the league by storm. Juventus has been following him since that and consistently have had an interest in his services. They're not the only one Liverpool, Manchester United, and Tottenham Hotspur also have had an interest in bringing him in. Lorenzo Pellegrini also is another player that has sparked the interest of abroad. Lorenzo Pellegrini might be slightly different in that perspective though he is a Roma born boy who is in line to be the next Captain of the club whenever edin Dzeko departs. He has a 30 million release clause in his contract as PSG has followed him. The Friedkin group came in and settled all the nerves that Roma fans have when it comes to two of the most important players, especially regarding building for the future. In theory, both players could give Roma a lot of money to spend, but that's beyond the point Roma wants to build the team and do things differently under the new ownership. They are not interested in selling key players every season occasionally, they will have to, but the selling Club days are over. Dan and Ryan Friedkin Pellegrini and Zaniolo are not for sale; they have tagged these two as Untouchables. One of their first orders of business is to work out an extension for the Lorenzo Pellegrini, giving the future Captain increased wages and on top of that, the New Deal would remove be 30 million release Clause that currently exists in his contract, making it very difficult on PSG and others who try to get him. They're also interested in giving Nicolo zaniolo yet another contract extension; even though he signed a new deal last summer, he is already outperformed. A new contract for the 20-year-old would only intensify his value within the team. One of the biggest takeaways from some of the first conversations they have had with the Roma media. The idea is to build around the Pellegrini and Nicolo zaniolo this protects the club to keep hold of their essential stars. At this moment, neither one is for sale; they're not even taking calls at this moment. There are essentially going to reject any deal that's coming their way; they have to start this New Era of Roma on good terms, and holding on to those two players is really important for the future. Roma has many other useful pieces in this team already, but zaniolo and Pellegrini, in particular, give the fans in the city more optimism. The importance could not be any more clearer. It would take the club backward if they lost either one of them. I'm not saying that they're going to retire with Roma, but this just gives Roma at least a couple of years to build with this team to see what they can accomplish. Breaking them up at this point would be an egregious decision. The Franklin group project involves both players at the club as much as their desired by other European clubs, it's just not possible for anyone to really really have a chance of signing them in the coming years. At some point, maybe, but this project at least gives Roma an extra couple Seasons with these players. Lorenzo Pellegrini probably isn't going to leave at any point. Nicolo zaniolo is so good that maybe it happens eventually, but it won't be for several Seasons. Lorenzo Pellegrini and Nicolo zaniolo it has been explained that they are untouchable.