New Arrival: Arek Milik (Napoli)
One of Roma, the biggest positional need this summer, was signing a striker. Different points of the summer, it was unclear whether it would be a replacement for edin Dzeko or another Striker that can contribute to edin Dzeko. The Bosnian bomber has scored 105 goals for Roma, just needing five goals this next season to move into third all-time on Roma scoring list historically. However, he is 34 years of age and even though he is still one of the best all-around Strikers in Italy. Roma needs to prepare for his departure. Edin Dzeko scores 19 goals last season along with 11 assists, but the type of Striker doesn't really fit into how Paulo Fonseca plays football. So really, the options were signing a striker that would eventually overtake edin Dzeko in the capital or signing his replacement. Unfortunately, edin Dzeko, his departure is what ultimately occurred in the last 72 hours. Roma has looked Milik from Napoli the majority of the summer. Even though he only scored 14 goals last season, he seemed like the most logical replacement for edin Dzeko. In the system that Fonseca plays, Milik would be the perfect Striker that will get Roma a high number of goals. Edin Dzeko had a great season last season, but he missed many good chances. Milik is slightly more clinical in front of goal and seems like he would somewhat fit the system. There have been conversations whether or not edin Dzeko and Milik will play together or edin Dzeko would depart. Roma eventually meets an agreement with Napoli for the signature of the polish Striker. They agree with the club, and after a couple of days, Milik agreed on personal terms with Roma completing the move. This move will send edin Dzeko to Juventus. This was ultimately the right move for the club & edin Dzeko. He became Roma's all-time leading score in European competitions and a top 5 goal scorer in five seasons. It's a really emotional moment to see him go; he is a Club Legend; there's no other way to put this. This entire situation is a rather unusual feeling as it is gauging my emotions and, ultimately, the right thing. I have no ill-will against him going to Juventus, and I hope he gets a chance to win something. Milik to Roma is a great move now that everything has been agreed; it fits this team up perfectly for the future. Given the signings they've already brought in, and the type of players Roma has in the Midfield, they will consistently feed Milik in front of the goal. Milik is a goal scorer who is lethal in front of goal, where at in Dzeko is more of an all-around Striker. The way Milik plays is a perfect fit for powerful and take us football. With Lorenzo Pellegrini and others in that material capable of passing, all the other attacking options Roma half seems to be the prototypical Striker that Roma needs. Paulo Fonseca wants the Striker to get him 20 goals this season; as I said, Napoli has a lot of other players that position Milik with Roma to become a much more efficient player and much more productive. In this team, he will be incredibly dangerous, especially considering the counter-attacking that Roma will play. He has been my number one transfer Target of the window, and I think Roma did a tremendous job getting this one over the line. Milik is 26 years old and can be Roma number one Striker for the next five seasons. Roma has enough talent and skill pieces around him to make Milik into one of the top Strikers in the league in the league. No one should expect him to replace what edin Dzeko has done with this club. Still, Milik is a striker that's big strong physical good in the air, very imposing, much like edin Dzeko with more of a scorer mentality than being a complete all-around Striker that edin Dzeko was with Roma. We are not asking him to replace the Roma Legend; however, he can score a lot of goals for this team; he will fit right in from the very beginning and scorer regularly. It's hard to see a player like edin Dzeko go giving all the greatness he is created in Rome; the move hurts my heart, but in the end, Roma made the right choice here Milik can contribute at a high level, and given his age he was a perfect replacement for Dzeko he won't be able to fill his shoes, but he could get an increase in production it was a slam dunk despite what Roma had to lose to pull this deal off if he can stay fit Roma have got exactly what he needed.
New Arrival: Marash Kumbulla (Hellas Verona)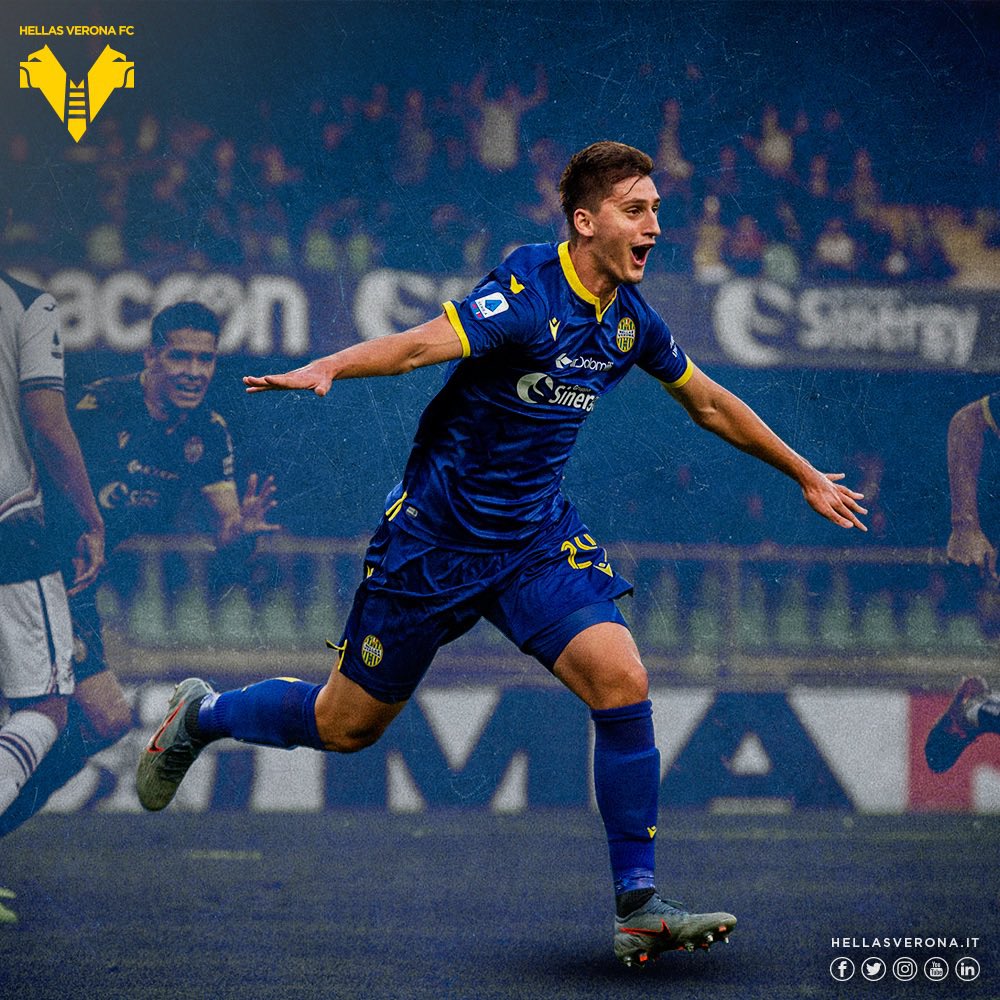 Marash Kumbulla is one of the best signings Roma have had in the last couple of year as Roma get a massive steal here. He will fit right into the system and be that monster he's capable of becoming. He's incredibly strong, defensively very physical a super athlete; there's a reason so many teams were keen on him. He is very versatile. A quite an imposing size for a Defender at six foot three, not only does he have the Athletics ability, the skill, an size, but he has the speed to go on top of that, which makes him such a complete Defender. Roma has missed on transfers like this before they're not going to miss on this one because this is a prospect that everybody's high on, not just Roma. Hellas Verona conceded the sixth-most shots in the league last season, but according to statistics, they rarely turned into anything dangerous Marash Kumbulla was the Forefront of that. They suffocated opponents as a group, but the head of that snake was 20-year-old New Roma signing Marash Kumbulla. His qualities can be infectious on any team he plays, for he has the prototypical size to be a classic long-serving Serie A Defender. Had the stature, broad shoulders, and velocity that can frustrate opposing forward, he has incredibly rare traits, and abilities for a defender of his age kumbulla is comfortable with being uncomfortable; he can be a vocal point of any black line, dig his feet in, and battle for every ball. Joining a backline that features Gianluca Mancini and Rodger Ibanez will make this team watch for years to come. The transfer business isn't over; more Defenders could come in that will only justify this transfer even further. Not only that, but he can also feed into the attack as well as his responsibilities defensively. His game's weak point is his passing ability; he can open up the game with that thing, but his accuracy isn't on par with some of the more notable names in the league. However, he is on the same team with Lorenzo Pellegrini, one of Europe's best passers. If he can improve that part of his game, they could really be creating a monster in Roma. Even with that, the collection of skill and ability that a kid of 20 years old has will only be a more drastic weapon inside of this Roma team that seems to be building an excellent project at the Stadio Olimpico. They may not be at that point where they can take the league by storm. Still, the same time they're not far away. Roma is a sleeping giant even without him with Kumbulla in this team, pretty soon people will wake up and see the qualities that this team has. The talent of Kumbulla is undeniable; he's only going to get stronger and better, which will set up a team striving for the future while also doing damage in a current-day. Kumbulla is a young player that has proven his ability, but Roma has more than just him. Carles Perez, Diawara, Justin kluivert, Lorenzo Pellegrini, Gianluca Mancini, Rodger Ibanez, and others are all under the age of 24 years old this is a team of youngsters that are being built for the future; the signing of Kumbulla only solidifies that I'd be careful underestimating this Roma team with a manager and Paulo Fonseca that plays attacking football. Kumbulla arriving in Roma only enhances that dynamic.