The day has arrived tomorrow night will be the opening matches of the 2020 2021 season. It has been a crazy couple of months, with last season having to be postponed due to the global pandemic. Juventus renamed as champions just a few months ago as teams across Italy have strengthened their teams with minimal time off as we were back once again. This has been such a strange and unusual season, but we are back in Italian football business. Florentina takes on Torino on the first match of the day. Roma takes a trip to Verona, the League's first prime-time matchup. Over the last couple of days, Roma has done a lot of transfer business, including signing Hellas Verona Center back Max kumbulla and signing Milik from Napoli. Edin Dzeko will be heading to Juventus, but we'll have an opportunity to play one last time for Roma, a club that has meant so much to him. Milik will be completing his medical today, and the move will be officially completed very soon; this is likely the last time we will see edin Dzeko in this jersey. In addition to that, Hellas Verona has a very different team, having lost some pieces after their miracle performance last season going from promotion to a top-nine finish. No fans in the stands as of yet; the Home Advantage doesn't exist, but none the less it should be an absolutely fantastic match. Under The Lights on Saturday night in Verona Roma want to start on the right foot but Verona will not make it easy for them to take home the points will find out Saturday night Serie A is back.
A.S Roma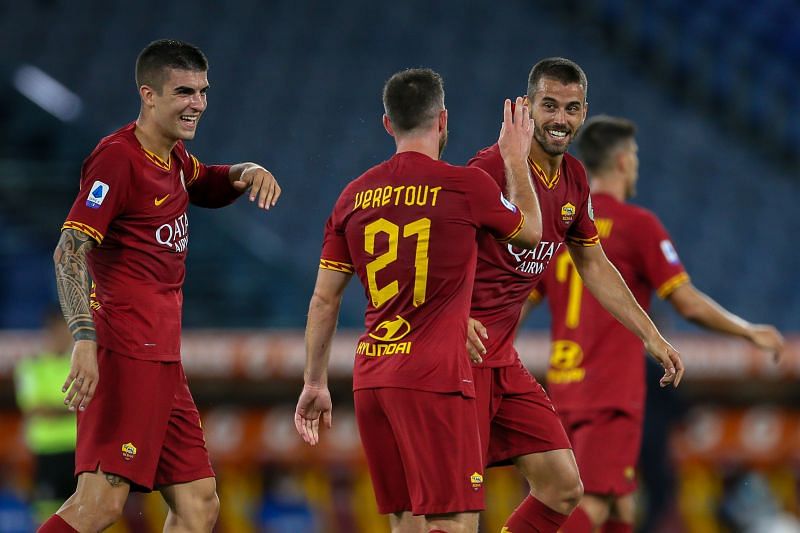 It isn't easy to predict or speculate how this team will line up. Having no previous matches, there's nothing really to go off. Paulo Fonseca, will have a decision to make. The 3-4-2-1 formation helped Roma win six of their last seven games. It is really unclear whether they will keep that formation or go with a 4-2-3-1 or maybe even a 433. However, my guess is they would keep the 3-4-2-1 this season. In goal will be the Spaniard Pau Lopez, who came in last season, replacing the mistake heavy Robin Olsen. It wasn't a bad season, but he made some mistakes down the stretch as his future is in balance. Roma has recently signed Max Kumbulla. In his press conference, Paulo Fonseca said that he could play the match but will not start the game. With that being said, the three center-backs are likely to be Gianluca Mancini centrally on the left should be Bryan cristante, someone Paulo Fonseca wants to try at center-back. Then on the left should be Rodger Ibanez. The wing-backs are suspected to be Leonardo spinazzola and Rick Karsdorp a player that wants to fight for his place in this team as he rejected a recent move to Genoa. The defensive Midfield pair should be more or less the same as Roma have the best dup in Italian football. With Diawara alongside Jordan veretout. In the attacking Midfield should be the pair of Lorenzo Pellegrini and Hendrik Mkhitaryan. Then upfront as the main Striker for the last time, one of the best center forwards in club history Club Legend edin Dzeko, who has scored 106 goals for the club. He will be wearing the armband as well that will soon be inherited by Lorenzo Pellegrini. Off the Bench, Roma will have many options with Max kumbulla, Pedro Rodriguez, Gonzolo Villar, and Carlos Perez, All available if needed.
Hellas Verona
Hellas Verona was one of the best promotion sides we've ever seen as they finished 9th and Serie A after just being promoted. They've lost some key pieces. There's no denying that but still should put out a strong enough team. I suspect they will come out of the 3-4-2-1 formation. In goal should be Marco Silvestri. Their three center-backs should consist of Faraoni Gunter and DiMarco. On the outside, the wing-backs should be Lazovic on one side Zaccagni on the other. In the defensive Midfield, the pair of Veloso & Tameze. Been upfront in the attacking Midfield should be Stepinski and Di Carmine with Tupta as the central Striker. A strong enough team but is it strong enough to beat Roma? That is the question. If you were going to pick one player from this side, it would be Silvestri this Roma team is capable of attacking power; if Silvestri is on his game, they will limit the inevitable.
Bottom Line: Last Meeting 2-1 Roma 
The wait is over. Italian football returns tomorrow. There are so many uncertainties, and it's hard to tell what you have before they hit the field. Every Club wants to start the best they can. Hellas Verona was one of the underdog stories of last season. They have lost crucial Parts their team but still have a lot of quality inside a squad that's capable of having a productive season. Meanwhile, Roma has upgraded in several areas and look to be a team watch this season. The Narrative attached to this match in particular, is the farewell of edin Dzeko, one of Roma's all-time greatest players. His proposed move to Juventus will go through Milik passes his medical to join Roma. Roma wants to win this, so edin Dzeko gets the farewell that he deserves. From a purely tactical perspective, Roma top to bottom has the better team. This team is flooded with attacking talents. Not to mention they had just signed Max kumbulla from Hellas Verona for the defense; he will not start the game but has an opportunity to make a big difference. Hellas Verona as quality players throughout the squad, but they're going to have to rely on holding off the inevitable. Roma is a very attacking-minded team and has the personnel to start this season on the right foot. Not only the returning starters from last season, but they have added some more explosive players into the team. Roma has a significantly better Squad, but Hellas Verona is no slouch, and anything can happen on matchday 1. I think this game will heavily go to Roma's favor; we should see a battle at different points. Edin Dzeko certainly will be an essential part of this game; he will want to score in his last match as Roma captain. Meanwhile, defensively Hellas Verona has the materials to make things as difficult as possible. The squad's pure quality heavily favors the Romans, and even though they're going on the road without fans in the stands, it doesn't make a lot of difference. The problem is, how are they going to dictate the passing attack that Roma can provide. Lorenzo Pellegrini being the Forefront of that along with henrikh Mkhitaryan, a strong defensive Midfield; as long as they can hold up defensively, they should have no problem getting all three points. Hellas Verona team has weakened since last season losing three starters; because of this, Roma should make light work of the last year that Cinderella Story. I'm not saying it will not be a test at many points it will. Still, Roma's advantage in the Midfield, especially with a defensive Duo of Diawara and Jordan veretout that can dictate the team both offensively and defensively, not to mention Gianluca Mancini in the defensive area to cause havoc on whatever Verona can do coming forward. In the end, Roma has a significant advantage in quality, and they will find their moments and pick up all three points in edin Dzeko's last game.
Manager: Paulo Fonseca
Roma's Projected starting XI 4-2-3-1
GK: Pau Lopez
DEF:, Gianluca Mancini, Bryan Cristante, Rober Ibanez
DEF MID: Jordan Veretout, Adamou Diawara
ATT MID: Lorenzo Pellagrini, Henrikh Mkhitaryan
Striker: Edin Dzeko
Manager: Ivan Juric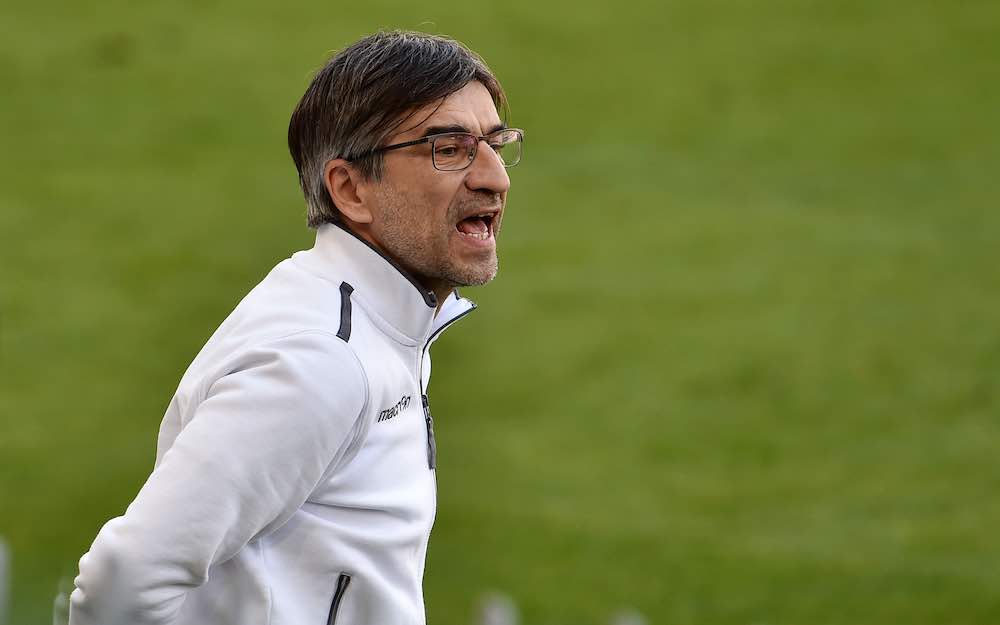 Hellas Verona Projected Starting XI
GK:Silvestri;
Back Three:Faraoni, Gunter, Dimarco;
Wingbacks:Lazovic, Veloso,
DEF MID:Tameze, Zaccagni;
ATT MID:Stepinski, Di Carmine,
ST:Tupta
Players to Watch
Roma's Edin Dzeko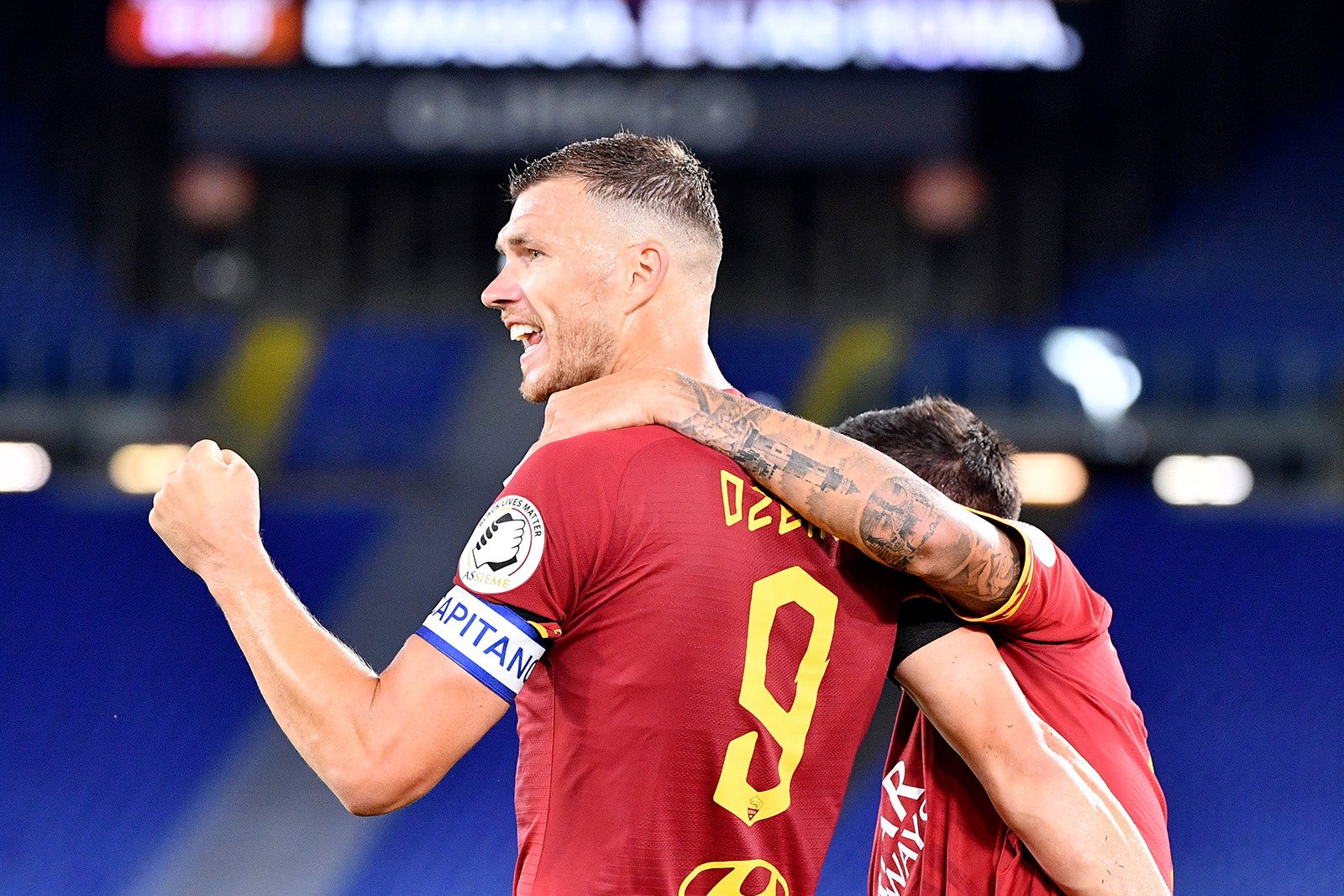 Hellas Verona's Marco Silvestri
Stadio Marc'Antonio Bentegodi, Verona
Date: Sunday December 1st
Kickoff: 1:45AM (USA) 7:45PM (ENG), 8:45PM (ITA)
TV Broadcast: Sky Italia, ESPN+