Score: A.S Roma 0 Hellas Verona 0FT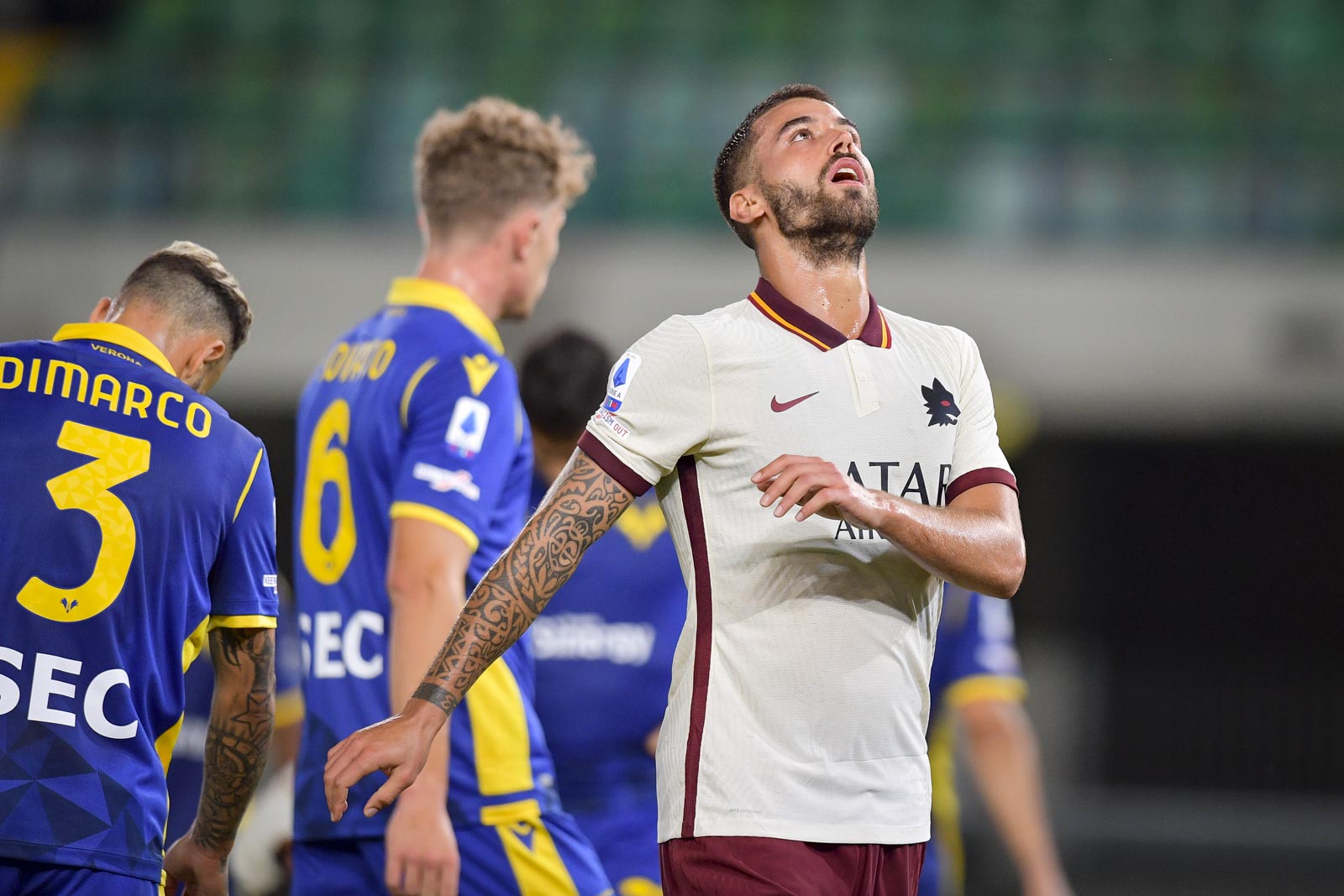 The Italian football season has kicked off this weekend on a Saturday night in Verona Roma opened up their season. They went into this game with a strange line, not having a striker available. With edin Dzeko not wanting to risk injury, the Milik deal is not quite over the line as he is undergoing physical tests before joining Roma. Last year Roma beat Hellas Verona twice as Roma has a perfect record against promotion sides. Hellas Verona was one of the season's surprises; even though they lost pieces, they would be in for a tough match. In the first half, Roma really looks like the better team. Had a lot of momentum and created a lot of chances. The problem was without a striker, they were unable to convert in front of goal. They had more or less control of the opening 45 minutes even though Hellas Verona hit the post at the end of the first half. And the second half it flipped as a Verona took control while Roma struggled. Both teams missed a fair amount of chance while Roma should have put this game away with the amount of chance creation. It was a goalless draw in Verona as it's a stalemate in the season's first match. Roma did have their limitations, so the results were not surprising; however, Roma should have done better as a disappointment highlights their Opening match.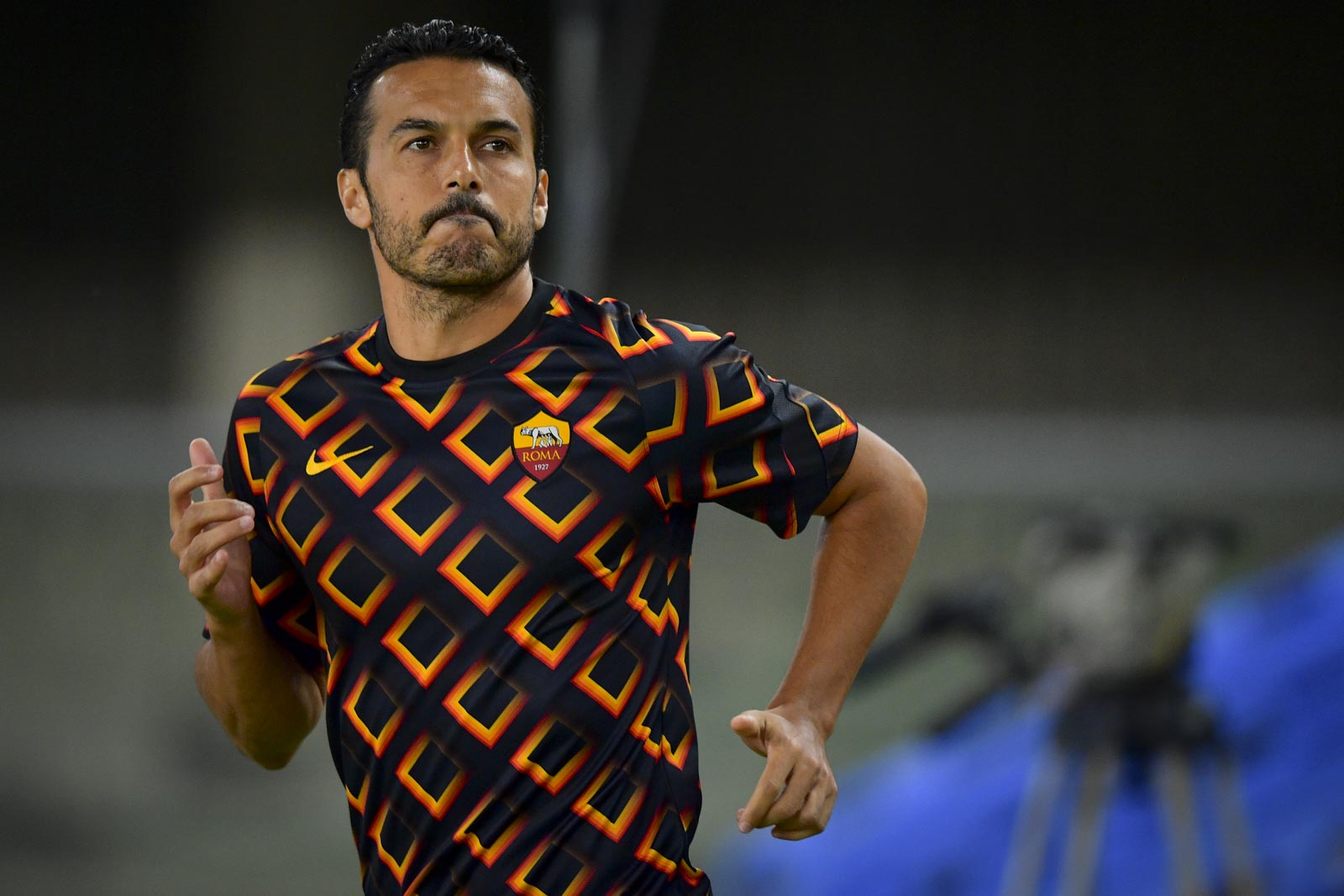 Paulo Fonseca sticks with the formation that gave him the best success late last season. As Roma lineup in their first match of the season out of the 3421 formation. In goal, Roma backup Antonio Mirante gets the start over Pau Lopez. Lopez struggled late last season, and his future at the club is in the air, but I'm a bit surprised he isn't starting the game. Roma's three center-backs would consist of, Bryan cristante centrally, Gianluca Mancini on the left, and Rodger Ibanez on the right. In front of the back three. Occupying the left wing-back position would be Rick Karsdorp. A player who signed for Roma a couple of years ago but was pounded with injuries and his future at the club was in balance this summer but he rejected a move to Genoa as the Dutchman wants to fight his way into a starting position the club instead of leaving the capital. On the opposite side, as the right wing-back would be Leonardo spinazzola, the Italian could find life inside this formation. In the defensive, Midfield would be the usual pairing of Diawara and Jordan veretout, arguably one of the best pairings in all of Italian football. Then upfront in the attacking Midfield would be on the left-wing Roma Captain Lorenzo Pellegrini. On the other side, on the right-wing, Roma's new signing, Pedro Rodriguez, started his debut after arriving from Chelsea. Then up front, occupying a striker position that moral last will appear as a false nine, is the Armenian wizard henrikh Mkhitaryan. Edin Dzeko is on the bench as a move to Juventus should be wrapped up by Monday. Despite these events, Dzeko does not want to risk an injury but will be available Off the Bench in his last match playing for the club. Roma will also have Gonzalo Villar, new signing Max kumbulla Carles Perez, and others available if needed.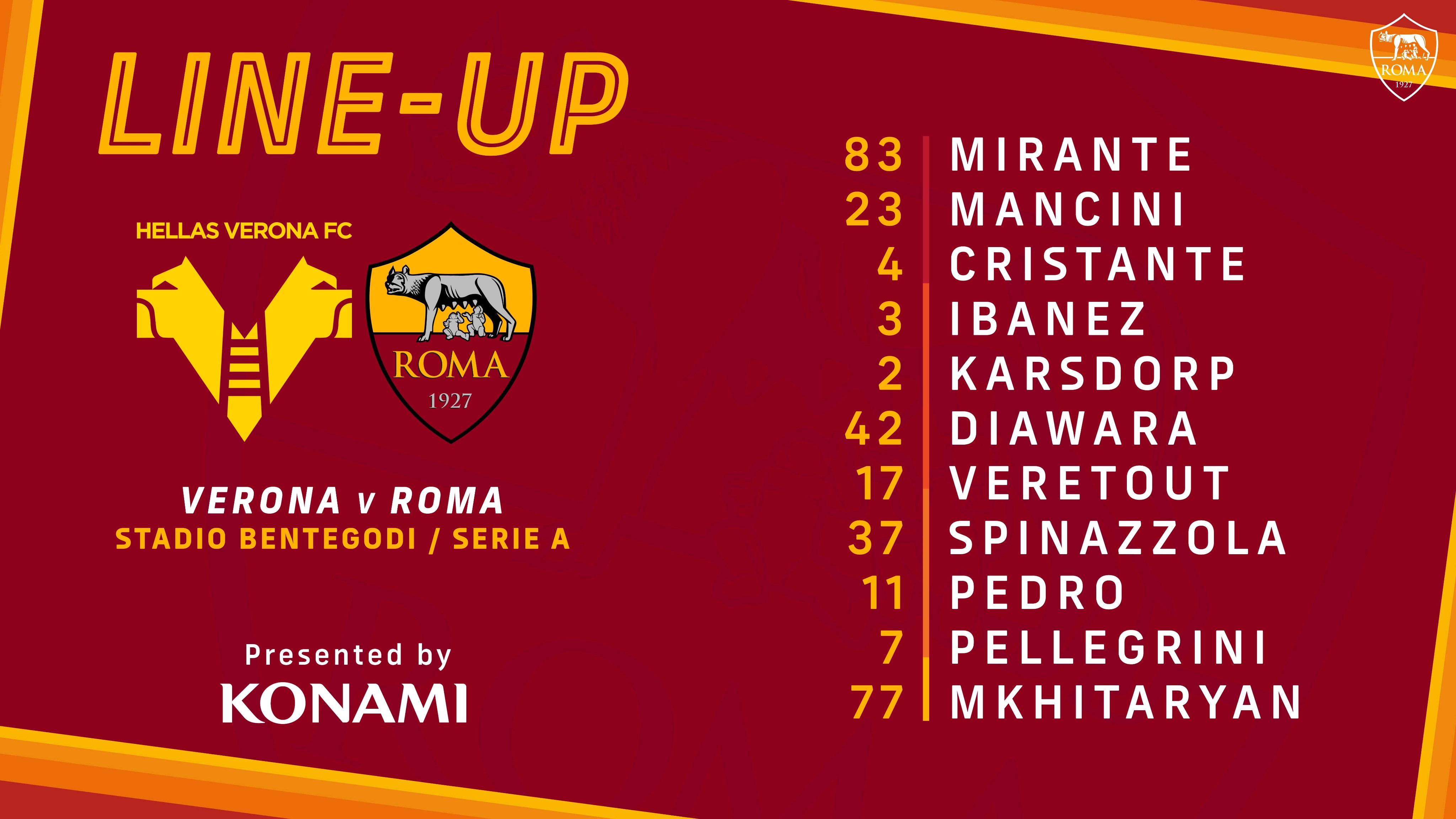 Serie A is officially back after preparations and predictions; the match was just about to get underway in Verona in the first prime-time match of the season. In the early parts of the match, Roma seems to have that superiority. It wasn't the strongest line-up given that they were playing without a striker and waiting for some of their moves in the transfer business to be completed for Roma to really see what they have. However, given the circumstances, Roma played well, especially in the early part of that game. They control the possession; they passed with confidence, and there weren't making mistakes. Very early on, you could see Pedro's influence; he cut Inside the Box beating his Defender before trying to supply a ball inside. Diawara ended up blasting it but even though they weren't able to score. You can see the impact that Pedro had making that the cut that opened up space. Pedro is 33 years old but seems to have the pace still to make a difference as you saw in the early going. Playing without a striker dictated their style of play. It was a lot of short passing feeding Mkhitaryan and Pellegrini in the middle. Verona came through and pushed forward occasional and had their moments, but collectively they just didn't look like the team Roma played a few months ago at least in the first half. Antonio Mirante didn't have much to do it wasn't limited chances already, and on top of that, Roma defended well. They were exceptional, especially using their wingbacks. Leo spinazzola was absolutely breathtaking. The communication between himself and the attacking Midfield was excellent; he got into an adequate space, found passes for teammates, and also look to be a danger. It was clear that he works well as a wingback. It was a constant of attacking football. Midway through the first half, following a Jordan veretout free-kick that missed by inches, Roma got on a Counterattack as Leo spinazzola set up Mkhitaryan from inches away from a strike just nearly missed. Every once in a while, Verona tries to push but nothing that really will scare Roma. Pedro got into space several times, firing some strike that the goalkeeper. However, even though we had the power, he lacked a little bit of placement, but there's no denying the impact he had in that first half. Late in the first half, Verona got in the counterattack their only chance on the first half. A strike from inside the Box hit the bar than on the rebound. Velesco tried to take a hit in the process kicking Gianluca Mancini in the head and erratic challenge. Even if it was not his intention, he was given a yellow card meaning the goal would not have counted anyway. Mancini was looked at by the trainers, and then the match continued in the last minute of the first half Roma got on the break again. Jordan veretout tried to strike from just outside the box as he had no other option at that moment; a strike would end the first half with a goalless draw, but it was clear based on the performance that our goal was coming from Roma.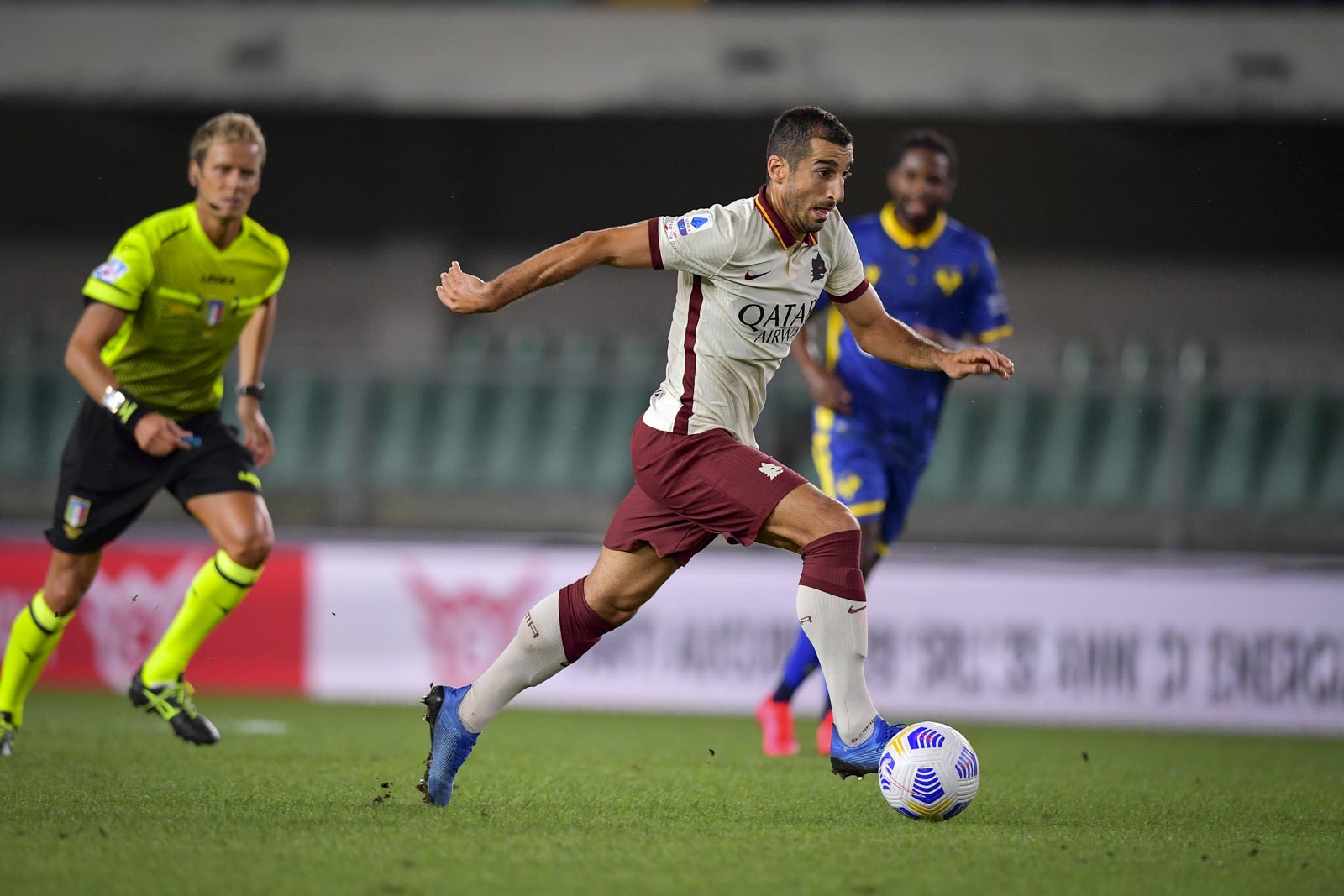 Verona provided a scare at the end of a half when they hit the bar, but overall, Roma looked very strong and controlled but couldn't finish in front of the goal. Not having a striker certainly contributed to their inability to finish their chances, but considering Roma's situation was significantly better in the first half. However, in the second half, it was a completely different game. Roma had difficulty keeping control of the ball and continued to have issues going forward in that Killer Instinct that they need; the problem was they didn't have a striker, so it was going to be difficult. Edin Dzeko was on the bench, but the reports suggested that the Bosnian did not want to risk an injury; he didn't refuse to play, but it didn't seem like the right option. Di Carmine came through and really pressurized the Roma backline even though they did a good job trying to contain him all the momentum that Roma had created was slowly going into Verona tried to strike at the Roma goal but was blocked by the backline. Even though Verona did not create many chances collectively throughout the match, they were making things difficult as they had the momentum going for them in that second half with about a half-hour to go. Pedro supplied a strike on goal, but the Spaniard misfired. It was not the constant as Verona seemed to be in control. Di Carmine had another shot blocked before a strike on goal was denied by Mirante. Rick Karsdorp had to be subbed off after a minor injury; it was made known after the match that he would not miss any time. Roma tries to find that winning goal. Lorenzo Pellegrini saw his shot saved by Silvestri. The match carried on remaining in balance when we had some late drama with not much time left. Federico DiMarco saw his strike hit the bar from deep than 2 minutes later, Leo spinazzola truck a perfectly hit ball on the Volly that misfired the game's best chance for either team. Roma created so many chances and just didn't have the Killer Instinct to finish off the game while Verona wasted their own chances and what turned out to be a goalless draw in Verona.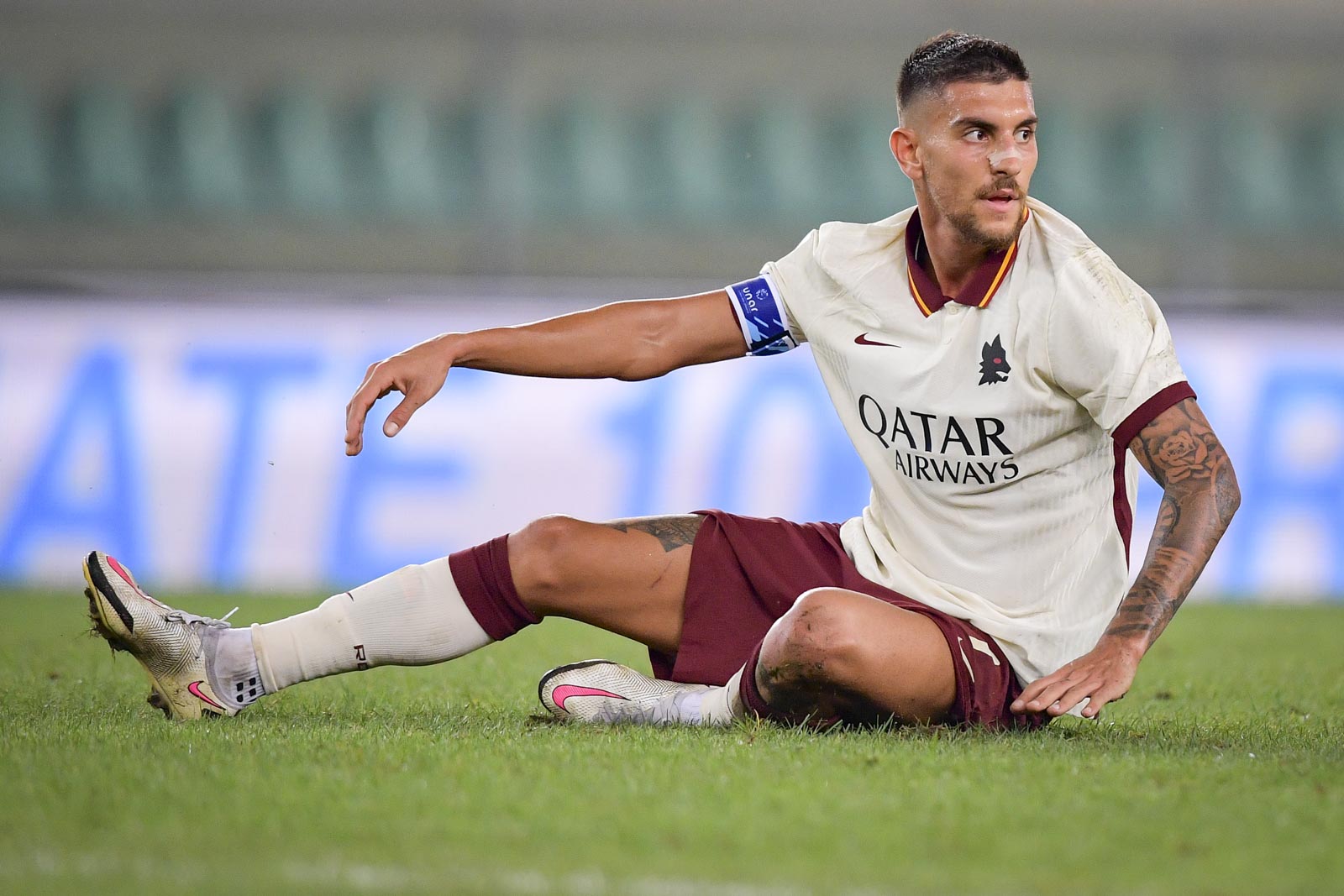 That performance wasn't precisely what Roma had in mind ahead of his new Season. However, given the circumstances, it was hard-pressed to expect anything less than what they got. The trickiness of the transfer market certainly played a part in how this match went. Roma went into this game without a striker with edin Dzeko not playing because of injury risk regarding his transfer to Juventus Roma is still waiting on Milik to arrive. It is hard to dictate a game without a center-forward. At the same time, he may not be one of the best in Italy. He is certainly capable of putting goals in the back of the neck, especially given the creative players Roma has in the Midfield that can supply chances for a striker. Roma tonight plays without a played henrikh Mkhitaryan in that position because they didn't have another option; there are clearly still some moves to be made in the transfer market that Roma needs to figure out before the start of the Season. In the worst-case scenario, Roma will be a seventh-place finisher this week; they need to deal with these situations before becoming unavoidable. In the first half of this matchup, they were in complete control. I thought they're passing efficiency was excellent and really had the majority of the chances. Roma created so much it came down to whether or not they could convert in front of the goal. Without a striker, they certainly struggled in that perspective. It was a really strong first-half Hellas Verona had their chances occasionally and even hit the crossbar at the end of the first half. Pedro looks excellent and provided something. It seems like it was only going to be a matter of time before Roma broke through. However, in the second half, the momentum that driving seemed to dip; they struggled with possession and ball control. Verona, where the better team in that second half and took Roma's power, still had chances and continue to push forward and create creating was not an issue it was converting on those. Leo spinazzola hit a perfectly timed strike that nearly went into the back of the net. But collectively, Verona shows their qualities in that second half. It ended up being a goalless draw. Given the circumstances, it was the best I could have hoped for. The man of the match goes to Leo spinazzola. I thought he was terrific; he continues to show his incredible form that he showed at the end of the last season playing at wing-back has a really resurrect himself inside the squad; once again, he was tremendous a cold a collective performance just wasn't good enough Panic isn't necessary but Roma need to do some more work in the transfer market before it closes this is a rebuilding team, but they have capable quality inside it one thing is clear Roma need a striker.
MAN OF THE MATCH: Leo Spinazzola