Serie A: Atalanta 4 Torino 2FT
Atalanta last season was one of the most impressive counter-attacking teams in World football. They're coming off a third-place finish and tried to get everything off on the right foot against a Torino that is rather one-dimensional. It turned out to be one of the matches of the weekend. A goalscoring Clinic from both teams is really highlighting some of the qualities that they have. In the opening minutes, Atalanta defensive was exposed throughout this game early Simone Zaza almost gave Torino the lead with his shot hitting the crossbar. It was a back-and-forth battle even in the early minutes. However, we did not have to wait very long to get things going. Andrea Belotti converted a strike from the side of the Box, giving Torino a 1-0 lead. It would be his 80th goal for Torino Drawing level with the Great Gabetto, one of the Grande Torino team's fallen, heroes. Their lead did not last all that long whatsoever as Papu Gomez supplied some of his magic, converting on a deep strike that ripped through the top of the net to equalize. Atalanta tried to add to their lead when Papu Gomez looked for Robin Gosen, who blasted a strike from the side of the Box Papu Gomez continually was setting up his teammates eventually, they were pushing front. A world-class cross from the center of the pitch found Luis Muriel, who had a stroke at a tough angle beating the goalkeeper as Atalanta take a 2-1 lead. Torino was still very much in this game, creating many chances, but it looks like it was going to get out of hand one Papu Gomez Hit a beautiful cross into Hans hateboer strike into the back of the net to give them the 3-1 lead. However, right before the end of the first half to Torino and get back into the game when Andrea Belotti connected on a header minimizing the deficit 3-2. With that, it was his 81st goal now Drawing level with one of the best players the game has ever seen, Valentino Mazzola, the star of the Grande Torino team, as he creates just a little bit more history. In the second half, it continued a back-and-forth battle, but Atalanta just seemed like they were going to win this game even though defensively, they struggle that many points, and Torino felt they had a chance. De Roon scored in the second half to kill off the game. In a climactic battle, Atalanta win 4-2 to get their season on the right track from their goalscoring capabilities looked as strong as ever.
Bundesliga: Hoffenheim 4 Bayern 1FT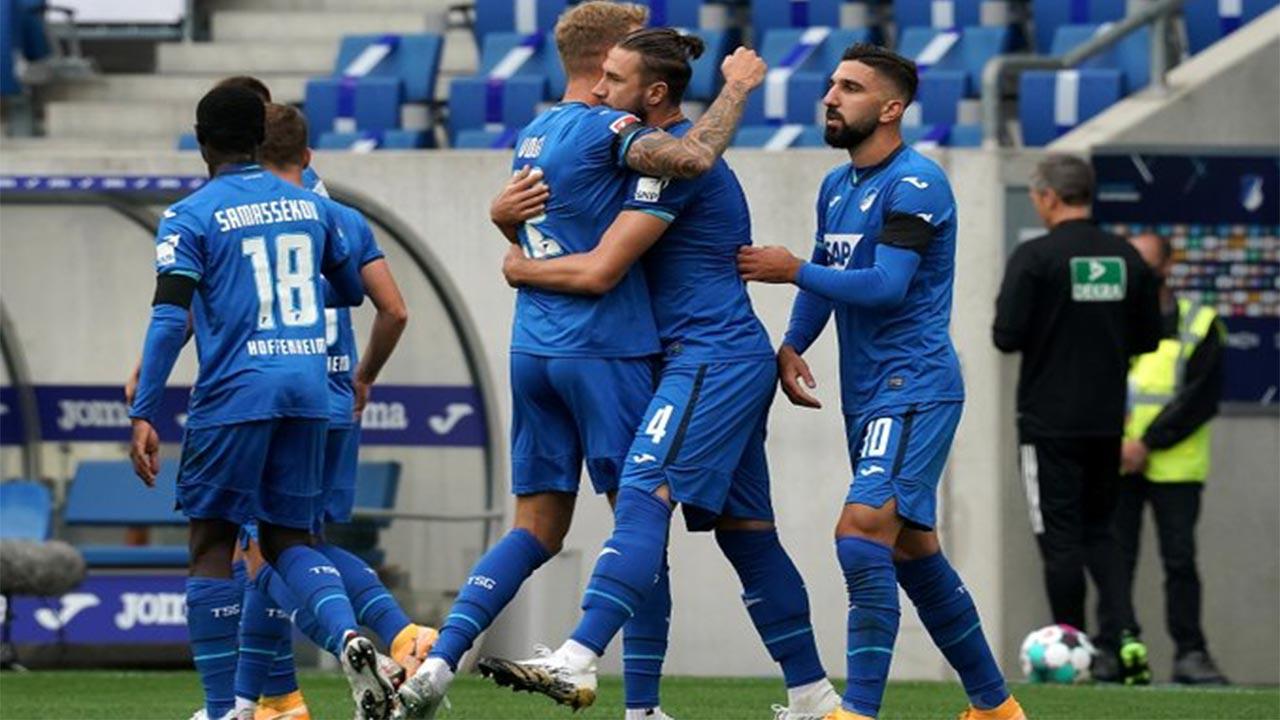 Bayern Munich is the deepest and indestructible team in European football at the moment. There were discussions about them possibly going the entire season unbeaten and potentially not dropping any points. That was quickly put to rest as they had a very serious game on their hands. Hoffenheim, we're not scared of Bayern Munich in any way. They showed it early in their game at home against the league champions just 15 minutes into the game, The Underdogs took the lead. On a free kick, any attacking area Bicakcic connected with his head as he found the back of the net to give Hoffenheim a 1-0 lead; even though Hoffenheim took the lead, it still was believed that Bayern Munich would find a way easily coached them aside as they have done with the majority of the team that has played even when they go down. Hoffenheim's looking absolutely outstanding; they came through on the break that so many opportunities. Andrej Kramaric was especially good, especially getting into those dangerous areas to try to make those moments. He didn't score in the first half but really showed what he's capable of doing. However, despite Bayern Munich coming close on a few opportunities of their own, Hoffenheim doubles their lead as Dabbur chipped Manuel Neuer on the break to give Hoffenheim a 2-0 lead. Bayern Munich eventually fought their way back into this game. When Joshua kimmich hit a world-class strike from outside the box to minimize the deficit. However, Hoffenheim wasn't going away; they pushed forward has some really good opportunities and continued to look like a team that wasn't going to put their foot off the gas. Kramaric came close yet again, but it didn't seem like he was going to get the goal he deserves. Bayern Munich continues to push through. Leroy Sane hit the bar in what was looking to be a battle. However, Hoffenheim was going to put this game away once and for all on the attack. Andrej Kramaric was given a beautiful ball from outside the box; he cut inside, controlled, and finished past Manuel Neuer give Hoffenheim a 3-1 lead. Then in the final moments of the game, Hoffenheim did it again Boyata came through on a break was tripped they cut into the box and was taken out by Manuel Neuer. The Bayern Munich goalkeeper would be given a yellow card and half, and Hoffeniem was given a late penalty, andrej kramaric stepped up and converted as Hoffenheim stun Bayern Munich with a 4-1 victory showing that the defending champions aren't unbeatable as they seem.
Serie A: Inter 4 Fiorentina 3FT 
Inter Milan had to wait for their season opener after postponing the opening game. It was a climatic battle that tested Inter Milan in multiple ways. They hosted a young and vibrant Fiorentina side that is looking to live up to the expectations after coming up short last season. With a decent chance of getting into Europe if everything goes well this season for the team from Florence. We had early drama at the San Siro as Christian Kouame broke the deadlock in the 30-minute atrocious defending bad communication by Samir handanovic as Fiorentina took the 1-0 lead. They had a few other chances down the stretch to increase their lead even further. Inter Milan had their chances but they were being played off the park by Fiorentina. They have their moments but it seemed like they were in need of momentum Fiorentina almost scored on a couple of different occasions. Franck Ribery was revolutionary in that Midfield creating a big problems for Inter Milan it seemed like it was going to be one of those games that in turn would have to fight their way back into. However at the end of the half Lataro Martinez found his moment. From outside the box ripping a curler into the back of the net in what was a world-class strike as Inter Milan drew level right before halftime. In the second half Inter try to get that momentum going back into it as Fiorentina scored an own goal after a deflection off a Martinez strike at goal but Fiorentina looks like they were going to pull off an upset when they equalized. Franck Ribery set up Castrovilli perfectly in the Box as he gave Fiorentina the lead while scoring in his second consecutive game he sure is a living up to the number seven so far. Fiorentina wasn't done as they struck with about 20 minutes to go a world-class ball from Franck Ribery as he launched a perfect through ball on the other side of the pitch to find Federico chiesa who converted the Breakaway as Samir handanovic once again was beaten the Serbian should have done much better on trying to make the save. This gave a Fiorentina a 3-2 to lead. However Inter Milan did what Champions do even though they were outplayed for the majority of the game but romelu Lukaku in stoppage time converted to equalize making  it 3-3. then at the stroke of death D'Ambrosio scored the winner as Inter Milan held on in a dramatic 4-3 Victory. In their next match inter had less trouble winning 5-2 against benevento but in the first two games this season they have shown their goalkeeping errors and defensively have cracks. However winning a game like this in the matter that did is what Champions do.