Score: A.S Roma 2 Hellas Verona 0FT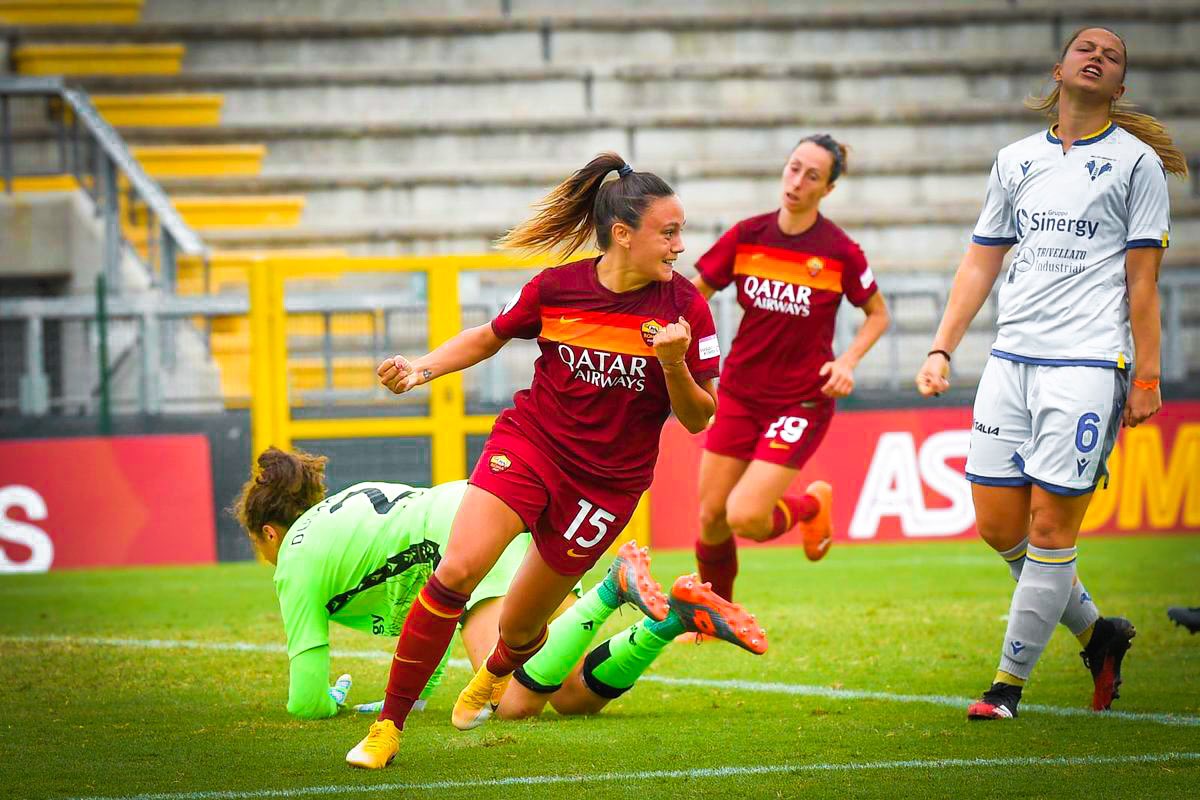 The Roma women have had a slightly inconsistent start to the new campaign. But looked to get back on the right track against Hellas Verona. Roma suffered a loss in their previous matchup against Empoli. Roma has a lot of Talent on their team but hasn't really been able to put it together and have struggled to convert in front of goal something that the girls would like to improve on. They had a platform and an opportunity to do that as they hosted Hellas Verona. It is a great chance to pick up some momentum to give the girls a little more confidence going forward through the rest of the season. Ada Hegerberg, the best center forward in World football, was in attendance to watch her sister with Roma. They made their superiority known very early in the match as they dictated the game. Hellas Verona had an early chance that the goalkeeper had dealt with, but outside of that, it was one-way traffic for the majority of the game. Roma can close off a beautiful free-kick as Andressa Alves hit a sweet cross into the box. Roma got their head to it but didn't have the Finishing Touch despite the Brazilian's great facilitation. Roma continues to push forward and show their aggression in the 20th-minute drama occurred Annamaria Serturini came through on the break with time and space as she supplies a pass into Bondfantini, who appeared to strike the ball as it went over the line and what should have been given as but no VAR in women's football, so they did not take another look. Had it been reviewed, the goal would have certainly been given as the ball crosses the line. Bonfantini indeed showed her frustration as her goal was not given. Roma was not discouraged though they continue to fly forward and threatened the Verona danger area constantly. Just prior to the half-hour, Mark Roma had a golden chance as Pamela Lazaro set up Annamaria Serturini with a beautiful through ball that led to a one-on-one. Serturini struck a powerful shot at the goalkeeper, but was denied. On the rebound, she tried to strike again as she was inches away on the rebound. Roma has to do better than that; that was a clear goal-scoring opportunity that they should have found quite simple. Both Roma teams seem to struggle in this aspect. About 10 minutes late, Annamaria Serturini sends a Swifty pass into Adrine Hegerberg, who struck on her first touch, nearly giving Roma a lead; her shot just was a little high as another potential goal-scoring opportunity wasted. Good strike on the ball but just had too much power on it. 2 minutes later, in the 40th minute, Roma finally found their opportunity. Annamaria Serturini cut through Inside the Box near a breakaway; the defense was closing down on her but simple as you like, she struck the ball into the bottom corner to give Roma a 1-0 lead. Roma should have scored of before this, but they finally get their goal. In the 45th minute, Roma would double it with time awning down in the first half bonfantni picked out a perfect pass on a through ball into Pamela Lazaro, sliding right at the far post as Lazaro watches the ball roll into the back of the Verona net to give Roma a 2-0 lead after The end of the first half. Minutes into the second half, the Avalanche of Roma chances only continued. Manuela Giuliano hit a wonderful strike from the corner of the box but the goalkeeper made the save. They came forward again another well-orchestrated cross from the wing, but miss-timed the retriever as Roma missed another chance to extend their lead even further. A minute later, Lazaro strikes from outside this area code. Very well hits, but her shot was tipped over. it was all Roma all afternoon. Roma came back again this time around and should have scored, hitting the outside post on a well-hit strike as Roma continues to dominate. Andressa Alves late on cut into the box, nearly getting remastered, but she waited too long to strike it as the goalkeeper managed to make the save at the far post. Roma really should have scored much more than they did as they struggled with their clinical finishing, but Roma dominates the match and got an easy three points thanks to Annamaria Serturini and Lazaro, who scores yet again. The woman of the match goes to Annamaria Serturini; not only did she score, but a lot of passing opened up the flanks and was such a danger going forward. Despite missed chances, Roma picks up all three points with a 2-0 victory over Hellas Verona as they try to climb the table as they bounce back with a victory.
Giada Greggi Tears ACL

Unfortunately, the Roma women now have to deal with a Nicolo zaniolo situation. The young midfielder playing with the Roma men is developing himself as one of World football's best talents and the best Prospect in Italian football. He's now undergone another knee injury and will be out until 2021, missing the entire season; the Roma women now have to deal with something very similar Roma has the best young player in the woman's a Serie A Giada Greggi is a tremendous player with such an incredibly high ceiling someone who could become one of the best midfielders in World football and a vocal point of the Italian national team much like Nicolo zaniolo. Unfortunately, the two of them now have another thing in common she tore her ACL in this matchup and will be out for the rest of the season. This team is talented enough to overpower that, but it's still a tragic thing to happen to such a young player. She is only 20 years old and was recently awarded the best young Italian football player like Nicolo zaniolo was a year ago. Nicolo zaniolo sent her a video on social media, wishing her a speedy recovery giving her encouragement to fight back together. It was lovely of him to do that; hopefully, both of these young Stars can come back stronger than ever and show everyone what they can do once again. I have faith that they'll come back stronger than ever even though it is concerning they're too talented to let this slip both Nicolo zaniolo and Giada Greggi will be Future Stars for the Italian national team; they're going through an unfortunate moment, but that will not stop them from reaching the top level once again.
Dominance and Wasted Chances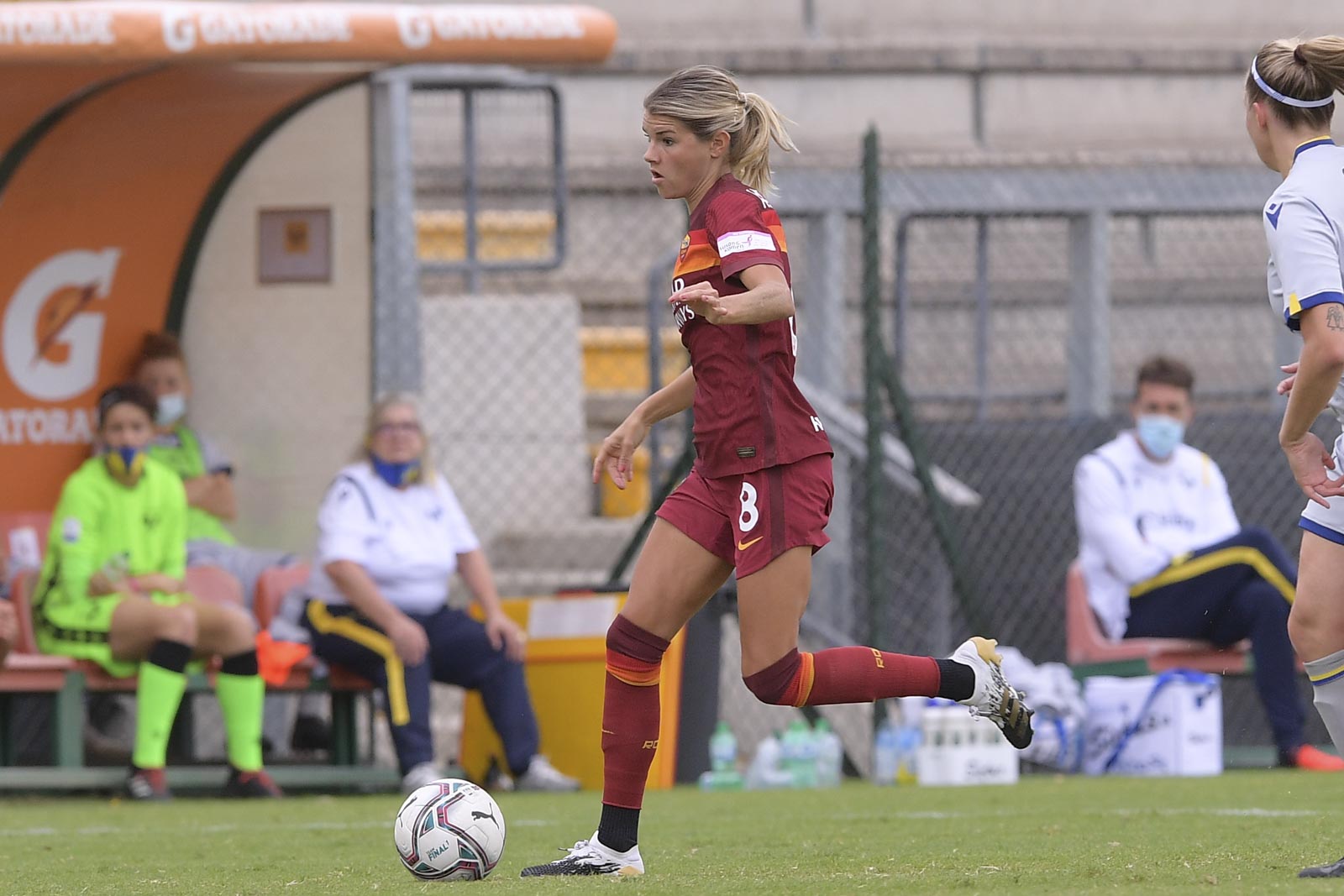 There were a lot of things to like about Roma's victory over Hellas Verona. It feels like it's a result that they needed to get their season back on the right track. It wasn't like they had a horrific start to the year, but there are many good teams in this league, and Roma must have the momentum and confidence to drive them forward. Only three points from the opening 3 games were not viewed as good enough. Roma wants to try to get into the champions league and potentially challenge for the title; they have the players and the Talent to do it there just a few things that they seem to have they find themselves in 6 places, just two points out of the top floor so there's a certain of Optimus and they can feel after picking up the point, but the reason they're in this situation is quite clear. First off, we have to give Roma a lot of credit for the way they dominated the game. Hellas Verona barely got a Sniff, and Roma came forward and attacked that backline so precisely and consistently. Roma has weapons all over the place and was able to get the result that they needed to get them back on the right track. It's a long season, and they have plenty of time to make it up, but the way they dominated the game was particularly important. Roma has to feel good about the way they performed; it was utter domination from the Romans it wasn't a particularly strong team, but the girls take the points and will be more equipped it to deal with some of the stronger teams in this league now that they have that positive reinforcement to go off of. However, the reason they're in the situation it comes down to one aspect of their game. Ironically, their most significant strengths are the same strength as the Roma men, and their weaknesses are also the same. There are many comparable factors to the way these teams play a very intriguing part of it. Roma women create chances and have many opportunities in all these games; they quite easily could have picked up three points in all four games, but they were unable to do that for one specific reason. Far too often, there are wasted chances that sabotaged them of points. I have already talked about on other articles about the frustration of Roma not having that Killer Instinct in front of the goal. It seems like the women's team has the same problem. They have a tremendous Striker and Pamela Lazaro a young woman who can be the top scorer in the league. Since her move from Florentina, she has scored in every game except one match. A great start to the season for one of the most underrated players in the game right now. Roma has that in their advantage, but the finishing in front of the goal just has to be better. It's going to be a long season if they can't finish off these chances. There are multiple times in this game we're Roma got on the break-in what should have been simple counter-attacks that they made Complicated by some decision-making. Certain came forward a few times in which he should have scored. She did get the goal eventually what she could have had a hat-trick today. Suppose Roma can just finish off their chances. In that case, they'll be one of the best teams in the league because they defend at a high-level they create better than everyone. Have the best midfielder in the league in Manuela Galliano quality Strikers upfront; they just need to work on those clinical finishing and attacking scenarios it will help them get to the next level. Roma does not want to lose points because they can't finish in front of the goal if they fix this problem, the team will start to look more like a champion. There really isn't a dominant force in this league as of yet if they can click and figure it out, they could push themselves into the title race.