Score: A.S Roma 1 Inter Milan 1FT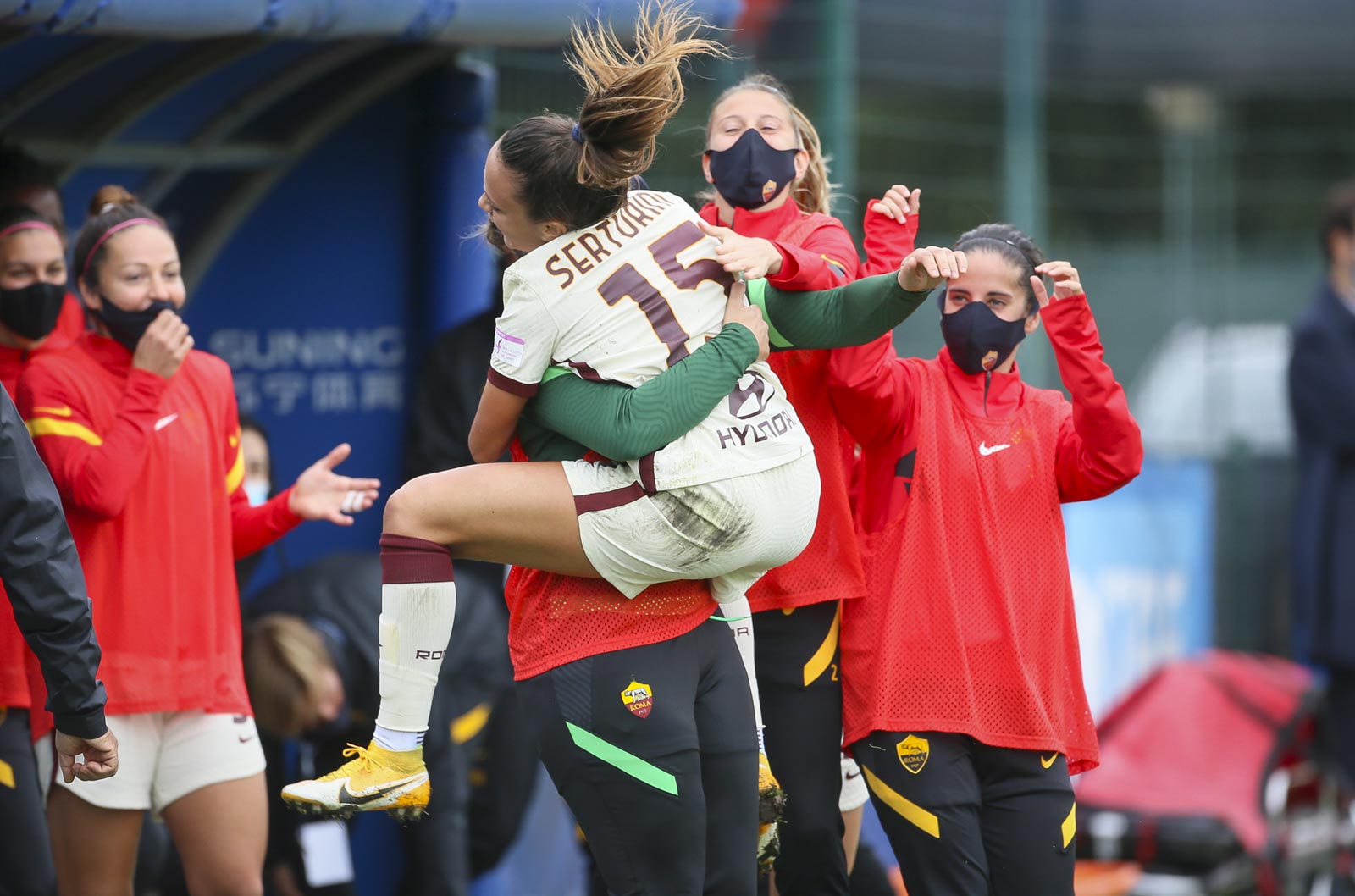 The Roma women continue to improve their season, getting them back into a potential title race. It hasn't been the most straightforward campaign this far, but a significant result against Hellas Verona, their best performance of The Campaign so far, should have given them some confidence ahead of a very winnable match against Inter Milan. However, these things are easier said than done. Roma, when it comes to chance creation, is one of the best teams in the league; when it comes to finishing in front of goal, they seem to struggle similarly to Paulo Fonseca's side; because of this, Roma has struggled at many points this season however getting the three points last weekend was crucially important in any chance of trying to build on that momentum. Annamaria Serturini and Lazaro have been at their very best this season and would pose a real threat against Inter Milan; the question would become whether or not they can finish out their chances, certainly something that would pose its challenges. Inter Milan has had a better campaign the last season but still does not have anywhere near the Roma team. It would be a match of intrigued frustration and even late controversy. Roma tried to make it two wins on the bounce for the first time this season; even though the performance was something to be proud of, the result isn't exactly what they would have wanted. Roma from the kickoff of the match had more or less control and showed their domination. Inter Milan only had a couple of chances all game as Roma seem to be in cruise control even though this match ended up being more difficult than it should have been. Very early on, Annamaria Serturini and Pamela Lazaro connected, nearly giving Roma a lead. Serturini strike hit the foot of Lazaro became inches away from an opening goal. No, less than 10 minutes later, certain look to break once again. She cut inside the box before sniping a powerful shot off her right foot; despite being in a good position and having an excellent idea, her shot lacked a little bit of accuracy going well wide. A couple of good early chances for Roma, but the match remained scoreless; a couple of ticks past the half-hour mark, Manuela Giuliano find some space cut just outside the box before striking a very well-hit ball, unfortunately, going right to the keeper. A few minutes later, Pamela Lazaro had a stunning strike from outside of this area code, nearly scoring a beauty a matter of millimeters making the difference as her shot is a little wide. At the end of the first half, Manuela Giuliano cut Inside the Box striking from a difficult angle; a goalkeeper made a minor mistake. On the rebound would be Annamaria Serturini putting the ball in the back of the net to give Roma a 1-0 lead. Before the match, she became the first Roma women's player ever they reach the half-century mark in appearances; she adds another Milestone, getting her 20th goal for Roma. As she scores in back-to-back games to end the first half, Roma has a 1-0 lead. Early in the second half, coming off a Well struck corner, Roma captain Bartoli walked away in frustration after her header nearly doubled the Roma lead. Not long after, Roma had another golden opportunity thrown to the waste side Lindsay Thomas does an outstanding job to cut just outside the box, applying a perfect cross to find Lazaro perfect header goes just wide Roma should have by this point put this game away. Still, the missed chances keep Inter Milan alive. Roma was the significantly better team Inter Milan provided next to nothing most of the afternoon, but it only takes one chance to break a game open, and Inter Milan took that chance with 20 minutes to go. A well-hit through ball from Midfield released Martinelli as she converted on a break with a brilliant strike ripping through the top corner to equalize for Inter Milan. You can't take anything away from her it was such an excellent finish at the end of a counter. Roma do have to do better of controlling that, but in this case, nothing was going to stop Martinelli from getting that goal, just a brilliant run and finish from The Inter Milan Striker. A minute later, Inter Milan was reduced to 10 men as Roma had an advantage now. Roma continued to be so close to a winner without getting one. Manuel Giuliano struck an absurd strike from outside the box, hitting the bar. In the closing moments, Roma Captain Bartoli was taken out Inside the Box a nailed on pen. As controversy floods, the end as a referee did not give the penalty that would have allowed Roma to take all three points. She was clearly taken out with a lot of contact as the Roman women robbed at the death. The woman of the match goes to Manuela Giuliano; she did so much creativity in the Midfield, but once again, the inability to finish in front of goal cost them despite dominating enter they leave without the three points having to settle for a draw after hugely controversial circumstances.
Dominates but Waste Chances Again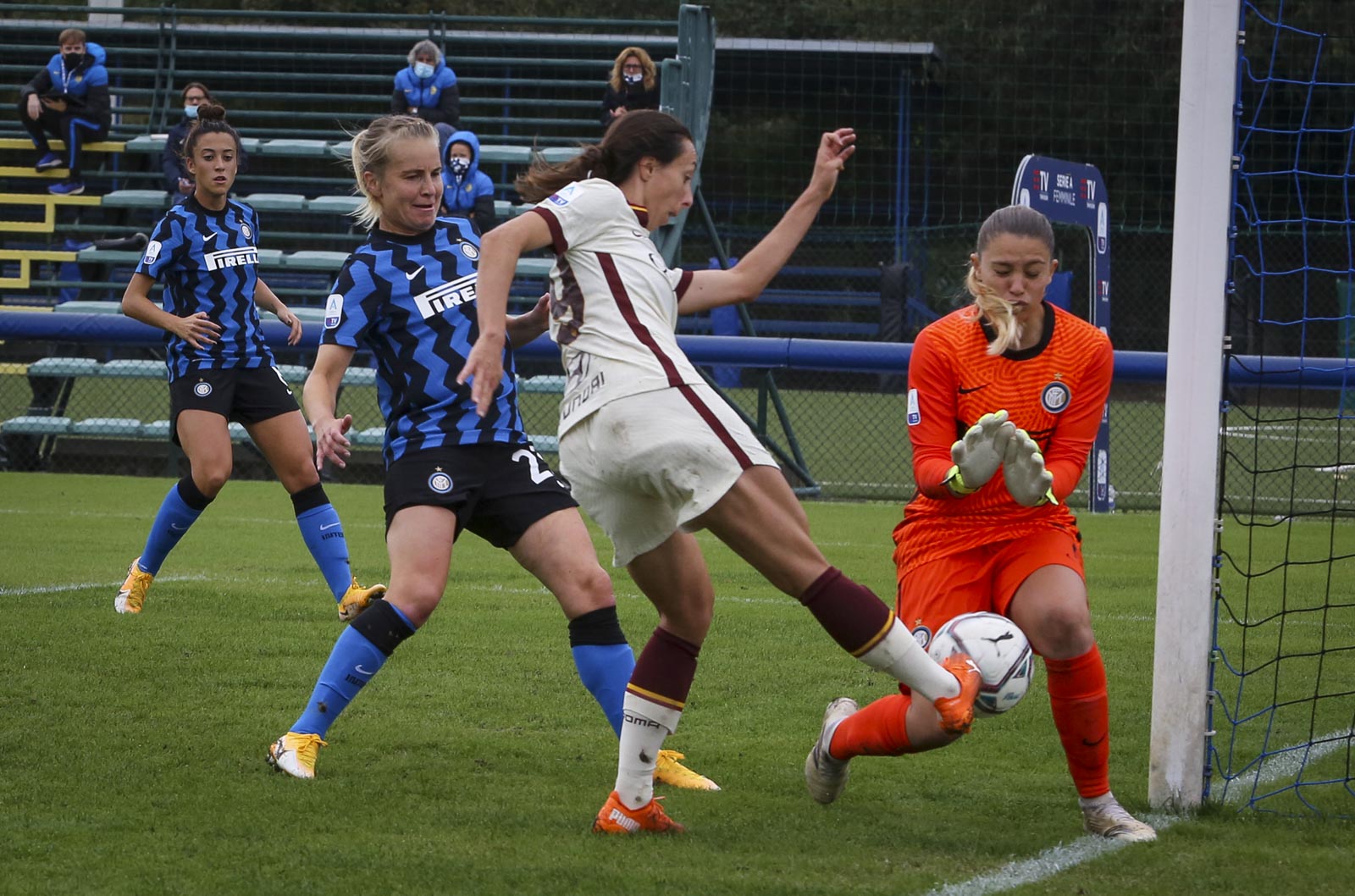 Roma put together another dominating perform a display that Roma should be proud of. Inter Milan only had three chances all game. Roma basically dictated the majority of the afternoon. Found themselves in complete control and created so many opportunities to pick up another victory potentially. However, a Counterattack by inter killed off would have been a very strong performance. Martinelli's goal is just occasionally going to happen from time to time; that's just how these types of things seem to go. Nothing was going to stop at go from happening however, Roma had so many other opportunities to put the game away before Inter Milan ever would have a chance to come back and try to steal a point. Roma continues to have that difficulty in front of goal; it is really going to be their downfall this season if they can't get it together. Roma needs to continue to work on this aspect of their game. Having a killer finishing in front of the goal really makes the difference from having maximum points and leaving points on the table every other weekend. If Roma can finish the chances or convert more of their chances, they would be in the top four. The good news is there only one point away from being in the top, for which should be a bare minimum of this season. They got a long way to go to the season has only begun this Saturday Roma battle against the bottom of the table. This is the match Roma will probably walk, but it's also a game in which Roma can improve on the things they have been struggling with. If they could only master that Killer Instinct, this Roma team would be incredibly dangerous. Roma will get there in due time; there's no question about it, but it is frustrating to see them leave points on the table like this.
Roma Robbed as Late Penalty Ignored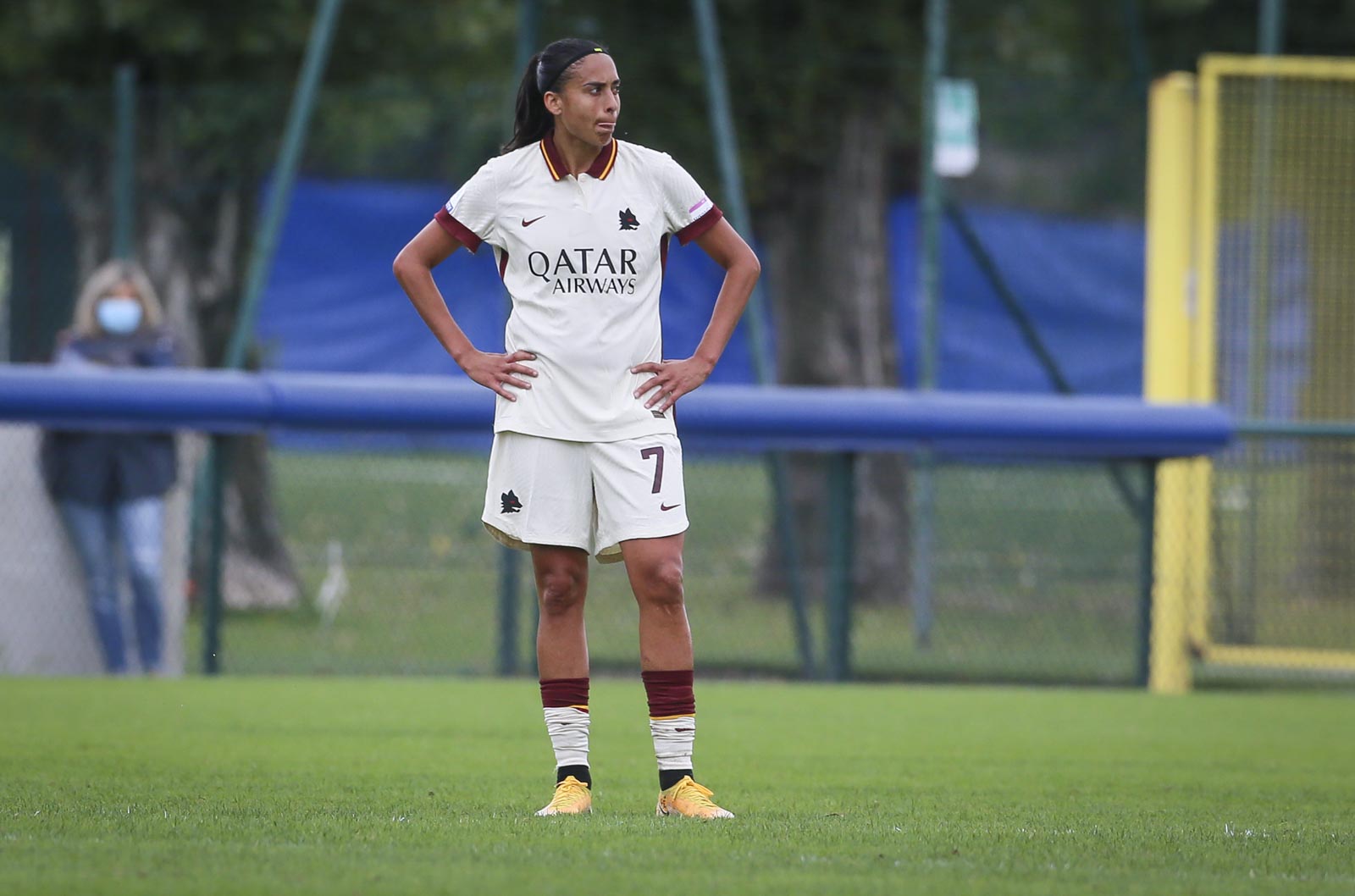 Roma wasted too many opportunities and should have put the game away long before Inter Milan got the equalizer. However, controversy at the end of the game prevented Roma from potentially getting all three points. A very egregious decision sabotaged Roma of an opportunity to get all three points coming from the penalty spot. Roma captain Bartoli was taken clean out inside the box in the 90th minute. A clear penalty it was not even a question; it wasn't even a situation where there was minimal contact, and it's hard to say. There was significant contact on the Roma captain it was a clear-cut penalty no debate about it. Had it been given, no one would have complained about it because that's how clear it was. With VAR instituted in women's football, this decision would have been reversed, and Roma was given the penalty Andressa Alves would have stepped up and converted, and Roma would have won this game. There are no two ways about this. This was as clear as a penalty can be. We need video replay in women's football. The women's game is shown on a much smaller scale than the men's game, and rightfully so. However, these women deserve respect and show that respect video replays should be included in club's matches. I'm not even suggesting the high technology that the men's game has with several people in a booth who are communicating with the referee. All I am asking is having somebody with a laptop with the game running on it with the ability to look back at a certain place and a referee also to take a look at certain things. Something like this in place would have changed the Outlook of that game potentially. This isn't High School girls soccer or even college girls soccer; this is Serie A, the highest standard a woman's Italian football; these leagues deserve to have the option to evaluate a controversial decision. You can't blame the result entirely on this, but it's just another reminder that women's football deserves to have VAR.
Annamaria Serturini Reaches 50 Appearances & 20 Goals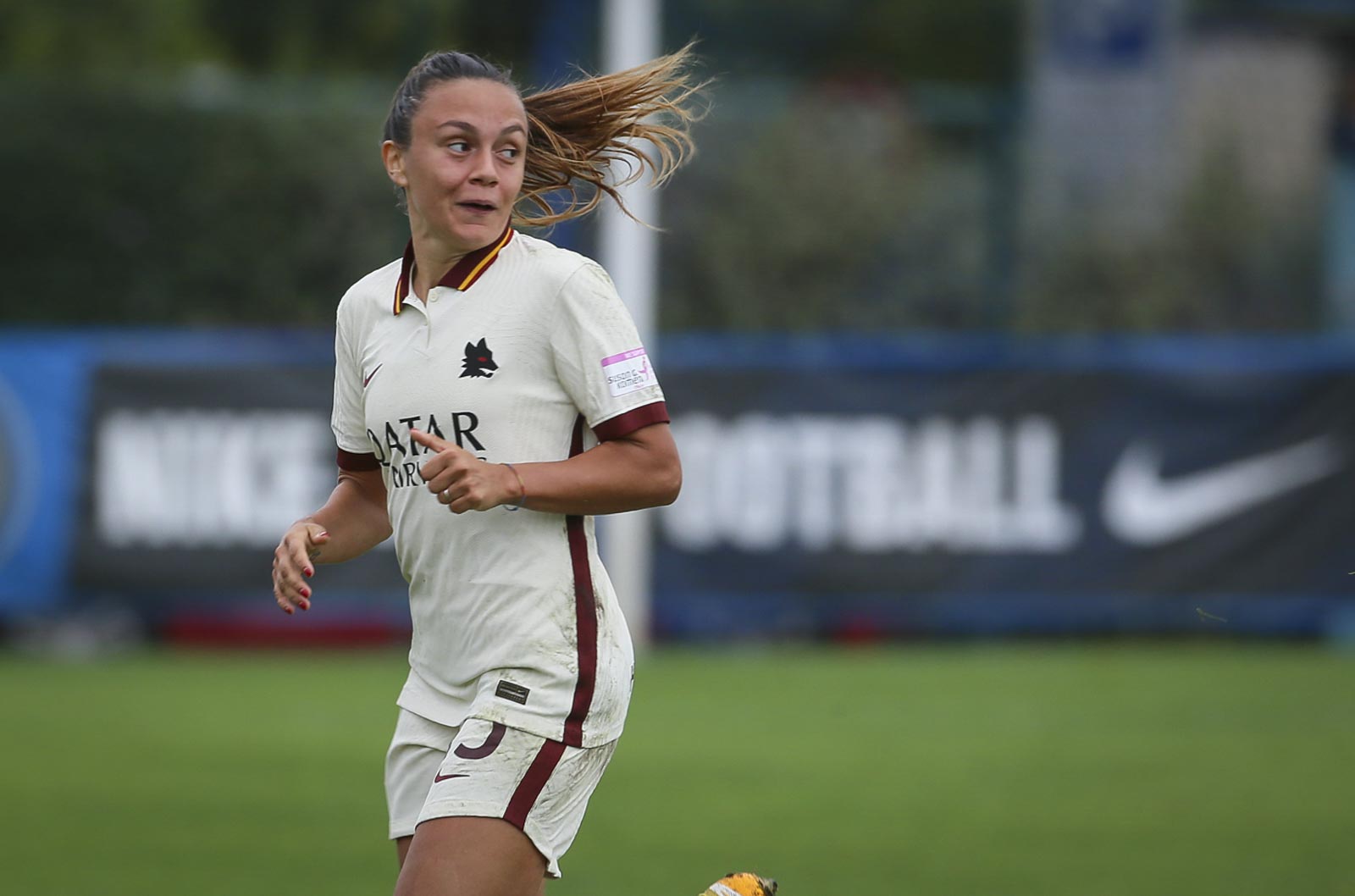 Annamaria Serturini breached two different milestones in the 1-1 draw with Inter Milan. It was a conflicting result for her just because the Milestone she conquered in this match would have been celebrated to a more significant extent had Roma picked up the points they should have. Primarily because of the penalty not given and Roma's inability to finish off chance. This Roma team has only been in existence for three seasons, at least on a professional circuit. Anna Maria becomes Roma's first-ever player to reach the half-century mark in appearances. The match against Inter Milan was her 50th game for the club. On top of that, she scored in back-to-back matches taking her career total with the club to 20 goals. She is significantly the team's best player. She has the vision, the passing, and even a certain level of finishing in front of goal, even though it's something we all would like to see her improve on. She scores and back-to-back games and makes history for the club. It is just unfortunate this happened in a match Roma failed to pick up all three points. In her third season with Roma, she is only 22 years old and seems like a future Captain. After the game, she spoke about what this has meant to her and her love for this club. She would like to make many more appearances for Roma. She was the team's leading scorer in 2018 with 13 goals, added five goals last season, and the two goals she has scored in her last two matches this season. It's going to be fun to see her develop even further, but it just would have been better in a game that Roma picked up all the points.