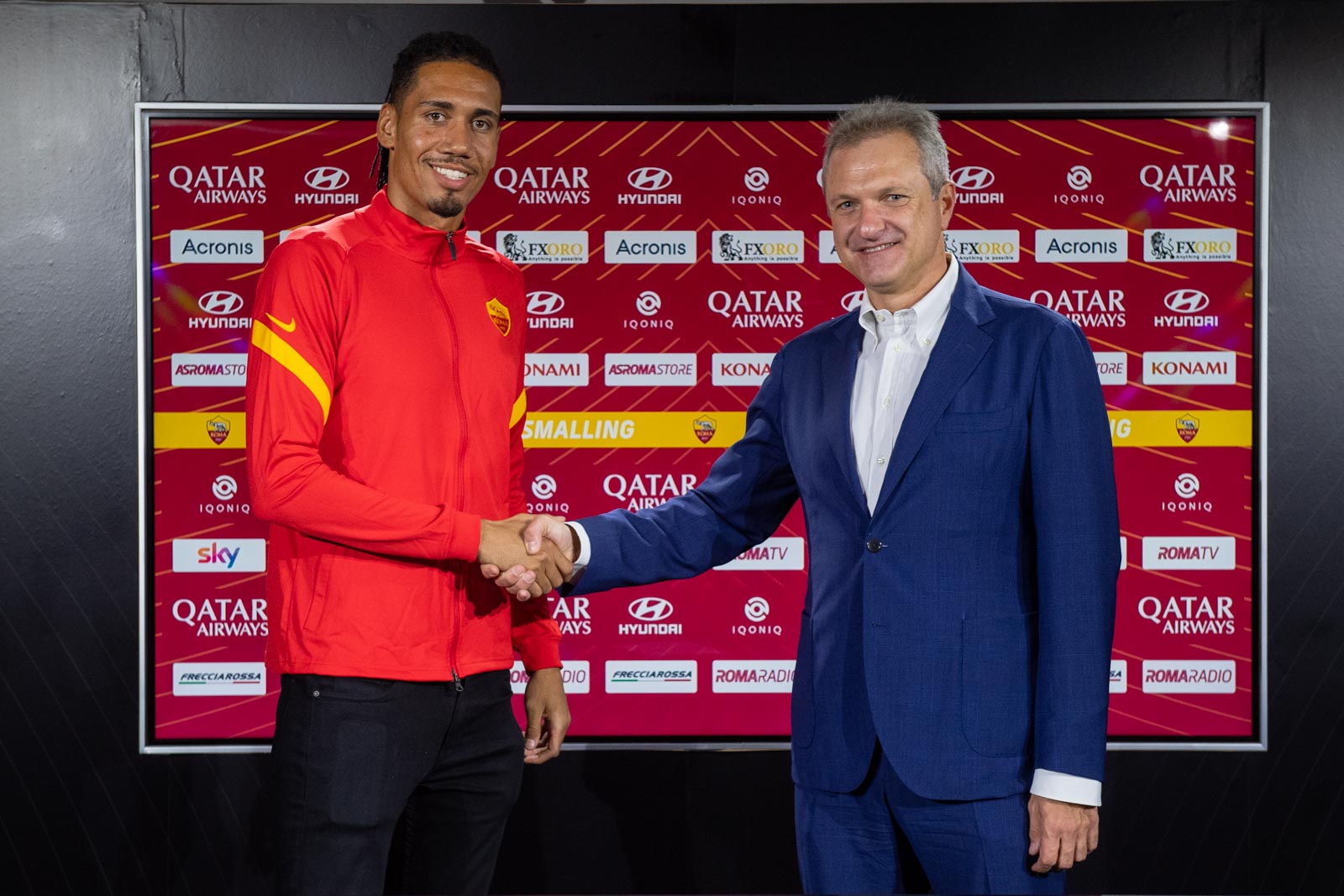 At times, this transfer window has been utter chaos with multiple teams trying to close deals deep in negotiations trying to get it over the line. The Saga that never seems to end was between Manchester United and a Roma in talks for Chris Smalling. Roma signed Chris Smalling on a dry loan deal last summer. He became one of the best center backs in Italian football last season, revitalizing his career that had gone south at Manchester United. Roma in Manchester United before the end of last season tries to renegotiate, allowing Chris Smalling to extend his stay at Roma until the Europa League campaign. It turned out not to be the case as they had a roadblock in the negotiations. Something that had been a regular occurrence between both sides. Manchester United essentially spent their entire transfer window trying to sign Jadon Sancho from Borussia Dortmund, ultimately failing to do that. The team also wanted to add a center back and left-back, even though they could sign a left-back all of the deal prevented Manchester United from making the moves they would have made had these negotiations gone more quickly. After the end of the last campaign, it seemed like a deal for Chris Smalling seemed out of the question. Roma looked to try to look for alternatives in the deal. However, Chris Smalling never wavered even when he returned to Manchester he trained alone, waiting for a deal to be struck between the two clubs. After Roma's Opening match of the Season, Paulo Fonseca pleaded to sign Chris Smalling. He needed another center-back. When Roma signed Max kumbulla, it seemed like a deal for Chris Smalling was unlikely, but the Romans were insistent and still trying to sign him. Manchester United refuse to lower their validation. Roma continues to push for a move even Chris Smalling himself went to the board of directors at Manchester United, trying to pressure them to make a move. The morning of transfer deadline day it looked like Roma we're going to pull off the deal, then Midway through the day, it looked like it would collapse. There was a meeting arranged between Roma and Manchester United involving agents and directors it looks like it was going to collapse after a Manchester United official insulted Roma as a football club. it looked dead in the water as Roma try to negotiate to bring back and Antonio Rudiger. Eventually, both clubs got back to the negotiations as time was running out on the both of them. The negotiation came back into play with just hours left with less than a minute remaining in the transfer window. Roma and Manchester United had finally agreed with a 15 million transfer to make the deal permanent with a 5 million in bonuses to get the deal Over The Line. Chris Smalling returns to Roma after agreeing on a three-year deal that he had signed months ago. He was embraced by the city's fans and returned to training shortly after the transfer window slams shut in the biggest Saga of the window. Roma finally pulled it off even though the relationship between the two clubs has been somewhat left damaged. Roma gets their man with just minutes left in the transfer window. As Romans number 6 will be returning to the Stadio Olimpico on a permanent deal.
Relationship with Manchester United Soured
Chris Smalling ended up completing his move to Roma that he is wanted since he arrived last season. The Englishman has made a permanent deal with the Italian side that took a chance on him. Chris Smalling became one of the best defenders in the league last season and seemed like a perfect signing for the Romans. Manchester United made things absolutely complicated with incredibly childish behavior regarding the negotiations. Their initial validation was twice his value. As great as Chris Smalling was last season, he is 30 years old. The price paid for him was more than fair; even some of Roma's early offers were more than reasonable, but Manchester United refused to budge on their incredibly Ludacris price tag. When these negotiations initially took off, they asked for 27 million for a player whose value, at least at this point, was around 15. Manchester United had no interest in keeping Chris Smalling at Manchester United, and they continue it delayed the transfer for whatever reason. They were trying to take advantage of Roma, and the directors and ownership at Roma weren't going to stand for it. Manchester United eventually reduced their price tag to 20 million, but it was a little above his value. This was a straightforward deal, but they eventually agreed on, but they stalled the deal and refused to comply. This deal died multiple times because of their unwillingness to negotiate on reasonable terms. Manchester United wanted to buy a new center-back, a new left-back, a new midfielder, and continue to chase Jadon Sancho. Maybe that would have happened if the business handled reasonably. They got the deal done eventually, but the relationship between Manchester United and Roma has soured. Roma had incredibly reasonable with the offers Roma through this entire process was incredibly reasonable with the offers that they put on the table. Manchester United sneaky ways even prevented Chris Smalling from playing in the Europa League round of 16 matchups against Sevilla. Manchester United easily could have extended the loan just a few more weeks, so Roma could have their center-back available for a much crucial European matchup. The way Arsenal and Roma negotiated, they were much more reasonable; they allowed henrikh Mkhitaryan to join a Roma for free, buying out the contract allowing him to continue his time at Roma passed the initial deadline day as well as joining on a free. Roma and Arsenal have negotiated several deals over the years and continue to have a good working relationship. Given their past history, they got a really good deal for both sides it allowed Arsenal to get the Armenian Winger off their books and allowed Roma to complete the deal on the free. Meanwhile, Manchester United asked for a ridiculous price tag for Chris and multiple times made this a really uncomfortable situation for Roma, who is just trying to negotiate a deal. They finally agreed, but all the things that led up to this moment damage the relationship between them. Wrecking a relationship with another great European Club What drew the line was that they were disrespectful towards Roma as a football club even when they were negotiating. The countless times they asked for a ridiculous transfer fee for the defender when they had other issues. They screwed over around my multiple times throughout this deal, not letting him play in the Europa League unreasonable asking price, and Roma was interested in a wingback that played for Manchester United in a part of the deal; in spite of this, they decided to loan him to AC Milan instead really trying to screw over Roma in the process. The important thing is Roma got the deal done, but the relationship is damaged now. For the most part, Roma will try to maintain the pieces that they have underneath this new ownership. Still, for the right price, some could depart at some point, or a player that Roma no longer is in their plans could leave and these situations if Manchester United is interested, Roma will call Liverpool will call Man City and any other team outside of Manchester United they ruin for themselves the potential of signing a highly rated Roma player in the future this relationship at least, for the time being, is poison it can be rebuilt. Still, the way Manchester United dealt with this deal does harm relations. Based on the way they handle business, I still wouldn't even comprehend why Jadon Sancho would go to a club that is run this way; in fact, I bet Jadon Sancho isn't even remotely interested anymore a once-great Club that everyone had respect for the way they did things the way they handled business it's certainly not the case anymore the way they handled this was absolutely ridiculous and may have even damaged the opportunity to do business with multiple clubs this entire negotiation was a bad look for Manchester United this deal could have been done in a week, and Roma continue to be disrespected as Manchester United was immature about this entire deal from start to finish.
Roma now has the best Defense in Serie A
Last year with Roma, Chris Smalling had an incredible campaign. His partnership with Gianluca Mancini was close to perfection. Both of them shut down a side of the field in most games and occasionally even scored on the other end. The addition of Chris Smalling ended up making a massive impact on what Roman needed to improve on. The year before his arrival Roma was horrific defensively. They had one of the worst defenses in the league regarding the top half of the table. It was absolute chaos the previous season Gianluca Mancini and Chris Smalling both arrived last summer and completely changed that. I'm not going to stand here and say that they had the best defense in the league, but I'll tell you this they improved massively in that area. A few games down the stretch for the defense kind of looks like a weakness, but only circumstances that occurred overall took Leaps and Bounds in progress when it came to the defensive display. Chris Smalling is returning to a team that has two clean sheets in three games this season. A backline that features Gianluca Mancini, a veteran leader of the backline, Rodger Ibanez, the most in-form defender in Italian football and the 3rd best under-23 defender in the league after De ligt & Kumbulla. Then on top of that, out of nowhere, they stole Verona youngster Max Kumbulla from Lazio and Inter Milan, who were both interested at some point in time. Among the best young defenders in Italian football, Roma has three of them, and now they're adding Chris Smalling back after a great debut season in Italian football. Roma has issues with this team; they clearly do; there is no denying that, however, given in light of the situation defensively, there's not going to be many problems. Roma eventually needs to find a more secure goalkeeper as Antonio Mirante, the 36-year-old veteran, has been the number one this season. Eventually, Roma will have to sign a new goalkeeper. Their problem is going to be whether or not they can finish off their chances and whether they can play mistake-free football in the Midfield. As crazy as it may sound, that will be the difference between where they finish the season; the defense is maybe their most substantial part of this team. In fact, I'm going to go a step further; they now have the best defense in the entire league. Chris Smalling is one of the best defenders in the league last season; a leader and a player can make a difference week in and week out. Rodger Ibanez an animal, a maniac, a player with an incredibly High work-rate who gives everything on makes Incredible sliding tackle, and is one of the best one-on-one defenders in the league; he made Cristiano Ronaldo look unathletic, truly an exceptional Talent who is an incredible form since he has played regularly. Then we have Gianluca Mancini who on his day is one of the best center backs in the entire league, someone who looks like a future captain and a player that has made a difference consistently since he has arrived in the capital. Then maybe the most talented young defender in Italian football, Max Kumbulla, had an incredibly efficient, tough, and impactful season with Hellas Verona last year; the Albanian is such a talent capable of taking that next step and becoming a truly world-class defender in the next couple of seasons. This backline is the best in Italian football; it's unclear what will happen Roma play with a back 3 my guess is Rodger Ibanez, and Gianluca Mancini will rotate a lot this season; as long as Roma play with the back three with a back for they would all play. Still, I feel it's unlikely that Roma goes to a formation with four in a backline; nonetheless, the depth the talent, the athleticism the discipline they have in the defensive options at Roma is absolutely outrageous. As crazy as it may sound, Roma has the best defense in Serie A, and they're only going to get better; three of the four central Defenders that Roma has at their disposal are under the age of 25; you add that with the experience of Chris Smalling that has one on every level and knows what it takes to win trophies this defense is going to be one to watch not just this season but going forward the signing of Chris Smalling makes Roma's defense the best in the league. If Roma fails to make the Champions League next season, it won't be because of their defense; it has suddenly gone from their biggest problem to their best asset.