Following the international break, league play is back and rolling as Italian football resumes. Before the break, Roma had picked up an ugly 1-0 victory over Udinese to set them up with at least some momentum going ahead of the match against Benevento. They're finishing continues to be Roma's issue, but they have only dropped a point outside of the debacle against  Verona. Benevento is a recently promoted side, which means Roma will pick up the three points against newly-promoted teams in all likelihood. Roma has a record of 22 wins, no draws, and no losses. Benevento is the best team among them this season, but Roma shouldn't have too much difficulty going into this game as big favorites. The last time and they were in Serie A, Roma won both meetings. Roma has AC Milan following this matchup, so it's essential to get all the points if possible. At home at the Stadio Olimpico, Roma will feel confident, especially Roma's new Striker Mayoral will be available to play. There's always a chance; however, in football, you never know what will happen. Will Roma handle their business against Benevento, or will somehow someway Benevento end the rugged form promotion teams against Roma.
AS Roma 
Paulo Fonseca is likely to experiment with a two Striker formation in midweek in the Europa League; however, I find it rather unlikely that he will do it now. The second Roma signed mayoral that will always be a possibility given the form of edin Dzeko. However, for the time being, Roma should line up out of their typical 3-4-1-2 formation. In goal as always Roma's number one this season 36-year-old and Antonio Mirante commanding his position in goal as he has two clean sheets in three games. The backline should consist of Roma's three center-backs, Rodger Ibanez, Gianluca Mancini, and Max Kumbulla. Chris Smalling will eventually become the regular starter he was last season, but he has picked up a minor injury, and it's unclear whether he will play the game on Sunday. The defensive Midfield should be the pairing of Lorenzo Pellegrini and Jordan veretout. On the outside as the wing-backs should be on the left player-of-the-month Leo spinazzola and then on the opposite side at least for the time being Davie Santon. In the attacking Midfield on the left-wing should be henrikh Mkhitaryan then on the opposite side on the right Pedro Rodriguez, who scored a stunner in his last game. Then upfront, as the main striker, we could see new signing bojar mayoral. Edin Dzeko is not included in my starting lineup on Sunday. I believe he should be benched given the form that he is in the needs a way to recapture it, and coming in off the bench may be a better way to do that. As always, Roma will have plenty of options on the bench; the lineup is certainly strong enough to get the points necessary.
Benevento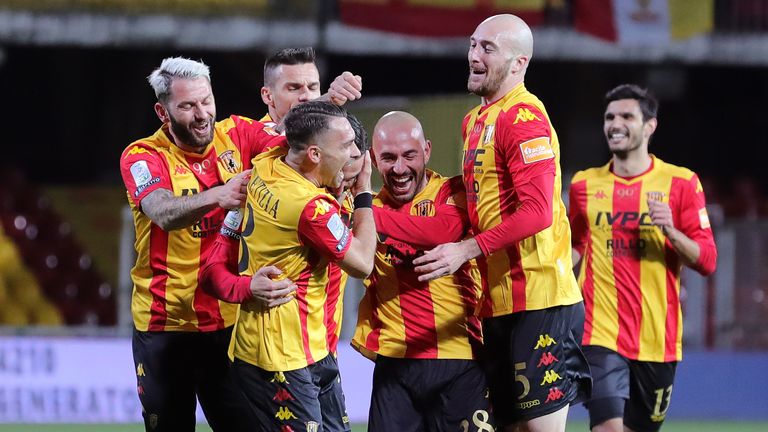 Benevento is the strongest promotion side this season. I'd have had some real examples of success; they typically operate out of the 4-2-3-1 formation. In goal for Benevento should be Montipo in front of the goalkeeper Benevento have a back for or defensive line of, At left-back should be Letizia then would be the center-back partnership of Gilk & Caldirola. Beside them in at the right-back position could be Foulon. In central Midfield is likely to be Schiattarella on the outside would be Hetemaj on one side iontia on the other. Then upfront as the Wingers would be Capari on one side and Falque on the other. Then upfront, as the central striker would be Mancini. Falque is the key as he provided the most significant goal threat.
Bottom line 
Both Roma and Benevento are coming into this with victories in their previous matchup. There's momentum driving in both of these teams at the moment. The international break is over now, and now it's back to business; whether or not that momentum that they had prior to its going to carryover is unclear at this point. Roma, even though they didn't play particularly well, picked up a massive three points against Udinese thanks to a Pedro Rodriguez strike that settled the match. Meanwhile, Benevento has been the most impressive promotion team this season, gone from two goals down to beat Sampdoria in the Opening match of the season and then against Bologna, despite being big underdogs, ended up pulling off the shocker. There's reason to believe that Benevento can make this a challenging Roma game, and as good as they have been so far this season, that seems unlikely even though they are capable of it. Whether or not history agrees with them isn't really up to debate; it's unclear if that even matters at all, but Roma has the best record of any Italian Club against promotion teams. They have picked up maximum points in the last several years. They haven't even dropped a point against a promotion side. As good as Benevento has been so far, Roma has the better team top to bottom even though they have a dilemma regarding finishing in front of goal, especially from edin Dzeko; they create a lot of chance have the best defense in the league. Edin Dzeko is possibly going to be benched for this game. It's also possible that Roma's plays two Strikers; it's unclear at this point but based on my speculations, I think mayoral will get the start against Benevento will edin Dzeko will be benched at least for this game. He has been a big reason why Roma has seen a lack of goals; he has missed some meaningful opportunities in all three matches that Roma has played so far. The key player for Roma for me is Lorenzo Pellegrini; obviously, the defense is critical, but every match this season, they have performed why standard Lorenzo Pellegrini hasn't really got things going on and if he's able to have that Rhythm and able to facilitate into the attack whether he does it through the attacking Midfield on the wing or upfront to the striker he has the world-class passing ability and even has an ability to score if he can get things going Roma can get that lead early and try to build on that throughout. Equally, Benevento their key player is Falque mostly because he is the biggest goal-scoring threat; that is important because Roma has only scored a limited amount of goals this season, shows that Roma is going behind early could mentally cause them to struggle. If Roma score first, it all plays into Roma's hand. Roma hasn't really exploded with and the performance quite yet. I think this is the match they do it. I have faith in Benevento that there going to be a team this season that drastically overachieves, but on this occasion, I think the Romans will get the points winning by a couple of goals; it's just what they do against promotion sides which will give them momentum for a big matchup against AC Milan. Benevento will do them apart and try to stay in this game, but simply Roma are more talented than and have a better squat if Roma can just finish in front of goal, they shouldn't find this match too tricky.
Manager: Paulo Fonseca
Roma's Projected starting XI 4-2-3-1
GK: Pau Lopez
DEF: Rober Ibanez, Max Kumbulla, Gianluca Mancini
Wingbacks: Leo Spinazolla, Santon
DEF MID: Jordan Veretout, Lorenzo Pellagrini
MID: Pedro, Mkhitaryan
Striker: Bojar Mayoral
Manager:Pippo Inzagi
Benevento Projected XI 4-3-2-1
GK: Montipo
DEF: Letizia,Caldirola,Gilk,Foulon
MID: Hetemaj,Schiattarella,Iointa
ATT MID/Wingers: Falque,Caprari
Striker: Moncini

Players to Watch
Roma's Lorenzo Pellagrini
Benevento's Falque
Stadio Olompico, Roma
Date: Sunday October 18th
Kickoff: 1:45AM (USA) 7:45PM (ENG), 8:45PM (ITA)
TV Broadcast: Sky Italia, ESPN+