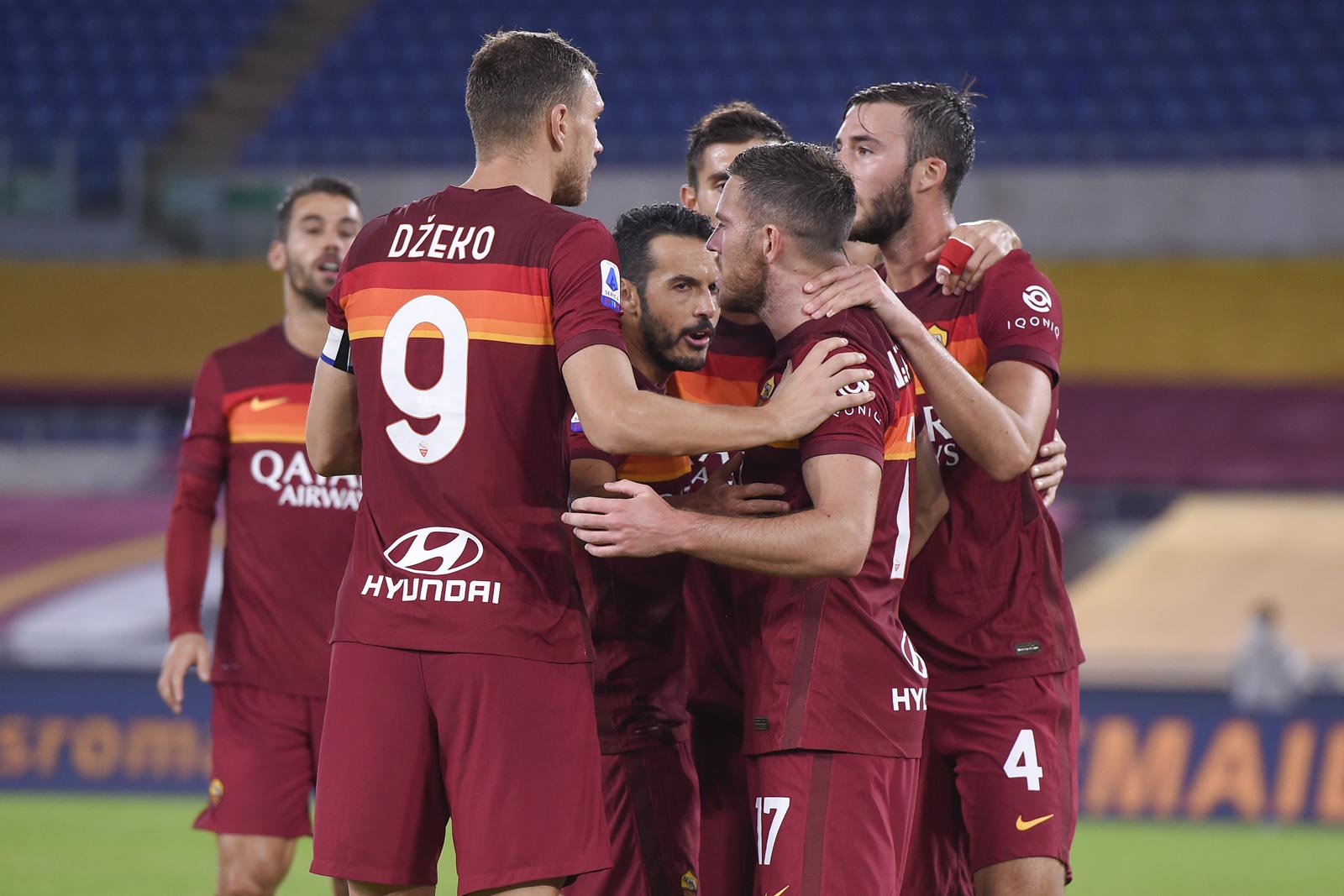 Last night Roma returned to league play after the international break. Before the break, they had picked up a scrappy 1-0 victory over Udinese with a Pedro Rodriguez strike. Roma had a very winnable match against Benevento, a team that is in the best position out of the promotion sides to get through the season. Roma has the better team, but It was an uncharacteristic start as Roma found themselves behind after 5 minutes as Benevento got a lucky bounce. Gianluca caprari struck at the Roma goal; his shot took a major deflection. Benevento would take a surprising 1-0 lead. Roma has plenty of opportunities in trying to claw it back. Roma still looked incredibly dangerous going forward, and it felt like it was only going to be a matter of time before Roma drew level. Roma would have their moment near the end of the first half. Leo spinazzola cut down the flight before releasing henrikh Mkhitaryan on the outside. The Armenian set a cross into the box to find Lorenzo Pellegrini; the Midfield struck the ball, but his initial shot was blocked; he got the rebound and laid the ball off to Pedro Rodriguez the Spaniard drop the ball getting a slight deflection but landed in the back of the net to equalize. Roma, we're not done; just minutes later, the Romans struck once again. On a well-hit kick from goalkeeper setting up a counter-attack as henrikh Mkhitaryan runs through on the break with edin Dzeko alongside The Armenian cut into the box before laying it off to edin Dzeko who makes no mistake converting in front of goal finally after a rough couple of weeks edin Dzeko is on the mark scoring his 107th Roma goal as Roma took a 2-1 lead. Then in stoppage time, it had looked like Roma had taken a 3-1 lead 1 Mkhitaryan put a Bryan cristante pass away into the back; however, VAR took the goal away and what was an absurd offside decision as Roma took their 2-1 lead into the second half. The decision that came at the end of the first half-dead came back to haunt Roma just 10 minutes into the second half. Benevento would get a penalty in another controversial decision. Jordan veretout was called for a penalty after Gianluca Lapulda was taken out in the box; however, on the replay, it shows that he had played the ball, and it was just an unfortunate situation that he got his foot stepped on; however, as much as a Frenchman tries to argue his case the penalty was ultimately given Gianluca Lapadula was denied from close range by Antonio Mirante but fortunately for Benevento he was able to convert on the rebound as Benevento equalized. After a penalty, Roma would get one on the other end Pedro was released on the counter-attack when he was taken out and inside the box, and what was an immediate penalty decision from the official Jordan veretout stepped up and converted in front of goal give Roma a 3-2 lead. Roma, we're in control of this game; despite Benevento's best efforts, the Roma started to pull away. Benevento's horrendous offside trap allowed three Romans to get on the break by themselves, Mkhitaryan leading the charge before putting it at the foot of edin Dzeko at the last second as the Bosnian got his brace to give it Roma a 4-2. Dzeko gets a double at the Stadio Olimpico. It was all, but over then in the last couple of minutes of the game, Carles Perez comes off the bench and supplies magic having a Leo Messi moment dribbles around multiple Defenders cutting just outside the box before ripping the ball into the bottom corner and give a Roma a 5-2 lead in eventual victory. It took longer than it should have, but Roma eventually got there as a dominating display against Benevento sees Paulo Fonseca side pick up the points.
Benevento are too good to go down

Benevento showed Promise signs despite the result; there's reason to be optimistic that they can survive this season. Unlike the other promoted sides in Italian football this season, they handle their business very appropriately in the transfer market. This is the second game in which they have conceded five goals, but if you look at the other games they've played, they got maximum points from other matches, and they were able to show some glimpses of quality in games against Inter and Roma. They are unlikely to be relegated. They were significantly the second-best team and didn't have anywhere near quality but were able to compete; they came forward with the confidence they played aggressive football, and outside of the horrible attempt of the offside trap that ended up with Roma going on the break and scoring, they didn't make that many mistakes. They're attacking options may not have been the best, but they attack with confidence and play aggressive football, which is going to keep them from being relegated. Their defense is strong, and they have signed a lot of players in the transfer window that are proven in the top 5 leagues. They will struggle with the big teams; that's just the reality of the situation, but I feel like they'll be able to handle themselves against the rest if you're able to pick up maximum points against the rest of league, they shouldn't be in threat relegation They may have a risky approach, but they have the right attitude it allows them to put pressure on the opposition last night they showed certain qualities Roma for the most power and control, but there were moments that Benevento looks like a threat going forward based on what I've seen from them so far this season I don't think there's a scenario where they get relegated they are too good and provide too much to be dragged down there.
Masterful Attacking Football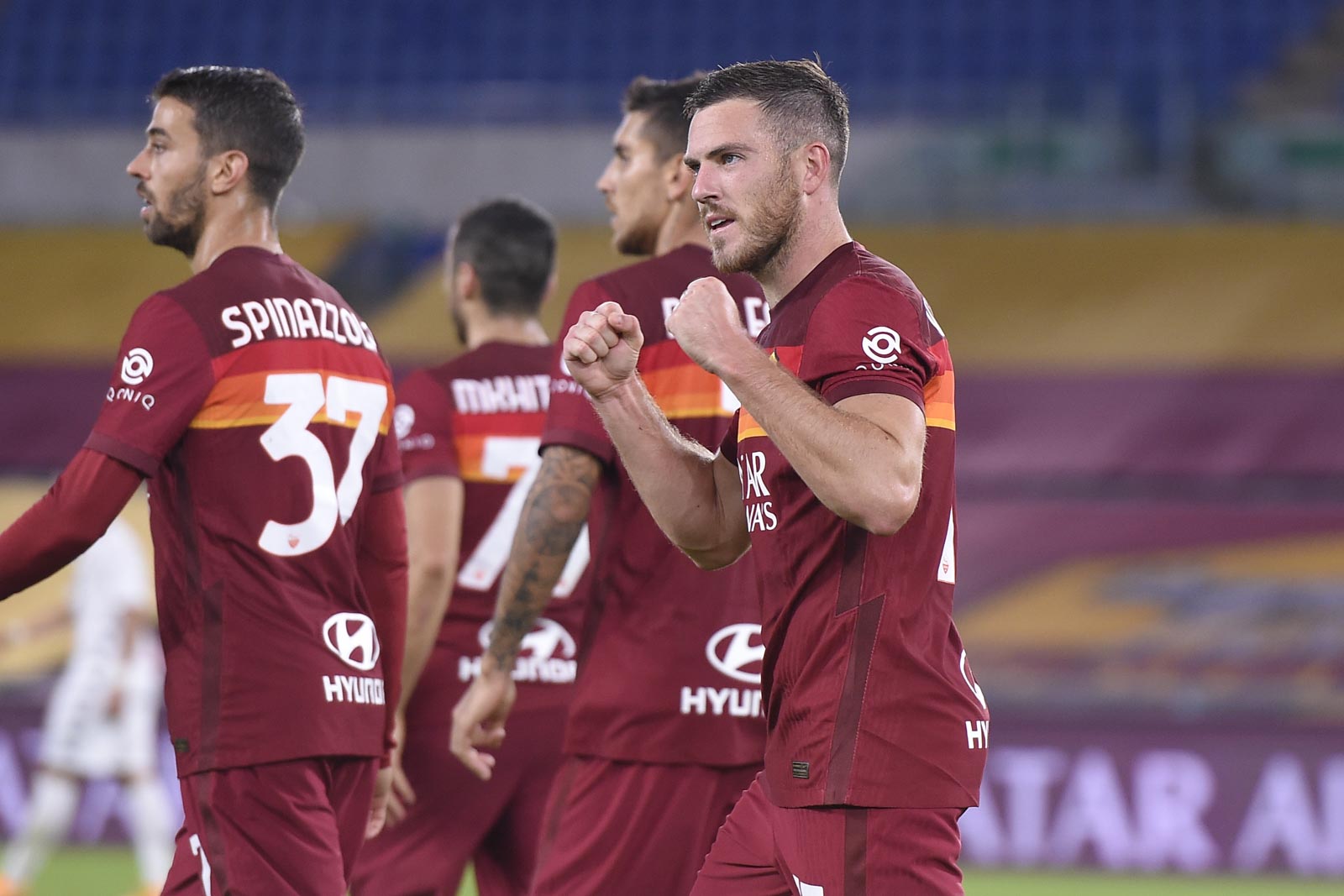 This is the part where I would discuss Roma's issues converting the front of goal. It's somewhat has been a regularity so far this season from this Roma team. Last night it was the polar opposite of what we've come to expect; there has been much frustration for a Roma team that creates so many chances. It's been their biggest issue is season is not finishing those chances. If they were able to do that, Roma would have maximum points. However, yesterday Roma saw great progress in that area. They were ruthless on the counter-attack and sent five strikes into the back of the Benevento net. Edin Dzeko was even much-improved, Pedro hit the mark again Carles Perez scored one of the best goals of the season. Another penalty converted from Veretout, all things considered, Roma has to be thrilled by the way they played attacking football last night; it wasn't just the fact they converted; they created a lot of pressure on that defense had a hard time dealing with what Roma put them forward with succession. They played that beautiful counter-attacking football that, at times, I frustrated the opposition inside and out. Really applying a lot of pressure on that backline who mutually was pinned back because of how explosive Roma wore last night; they played with the attacking approach every part of their team attack and jumped forward when they had the opportunity. The outstanding first goal by Pedro that wasn't a silly orchestrated through the counter attacked but the Left Flank was one of the easiest things to exploit Spinnazola's pace, speed, and dribbling ability to make Defenders incredibly uncomfortable they were able to cut into the pretty much on a regular basis and the large part of getting into those spaces to be effective. Edin Dzeko's first goal was a ruthless counter-attack starting from the goalkeeper to Mkhitaryan, who managed to outrun the defense, pretty much orchestrating a breakaway with edin Dzeko. They even attacked three players going forward. They did a good job of tricking Benevento, putting their offside trap causing them into that error that caused a three-on-one. It was beautifully orchestrated by attacking football. The counter-attack is what makes them such a threat. Regardless of who goes forward with the speed to have with Pedro and henrikh Mkhitaryan as well as others, not to mention Carlos Perez, who had an incredible moment through another attack, they have the speed and pace to deal with anyone the problem that they seem to have is it seems at times it is counter-attack or bust if they're able to figure out a way to become more of a complete attacking team that goes beyond the counter-attack in on all facets of their attacking play they're going to be hard to contend with last night was another example of how good this team can be when everyone's clicking and they perform collectively together that domination that we saw is exactly what you get from this Roma team the attacking football was close to perfection.
Edin Dzeko Back in Form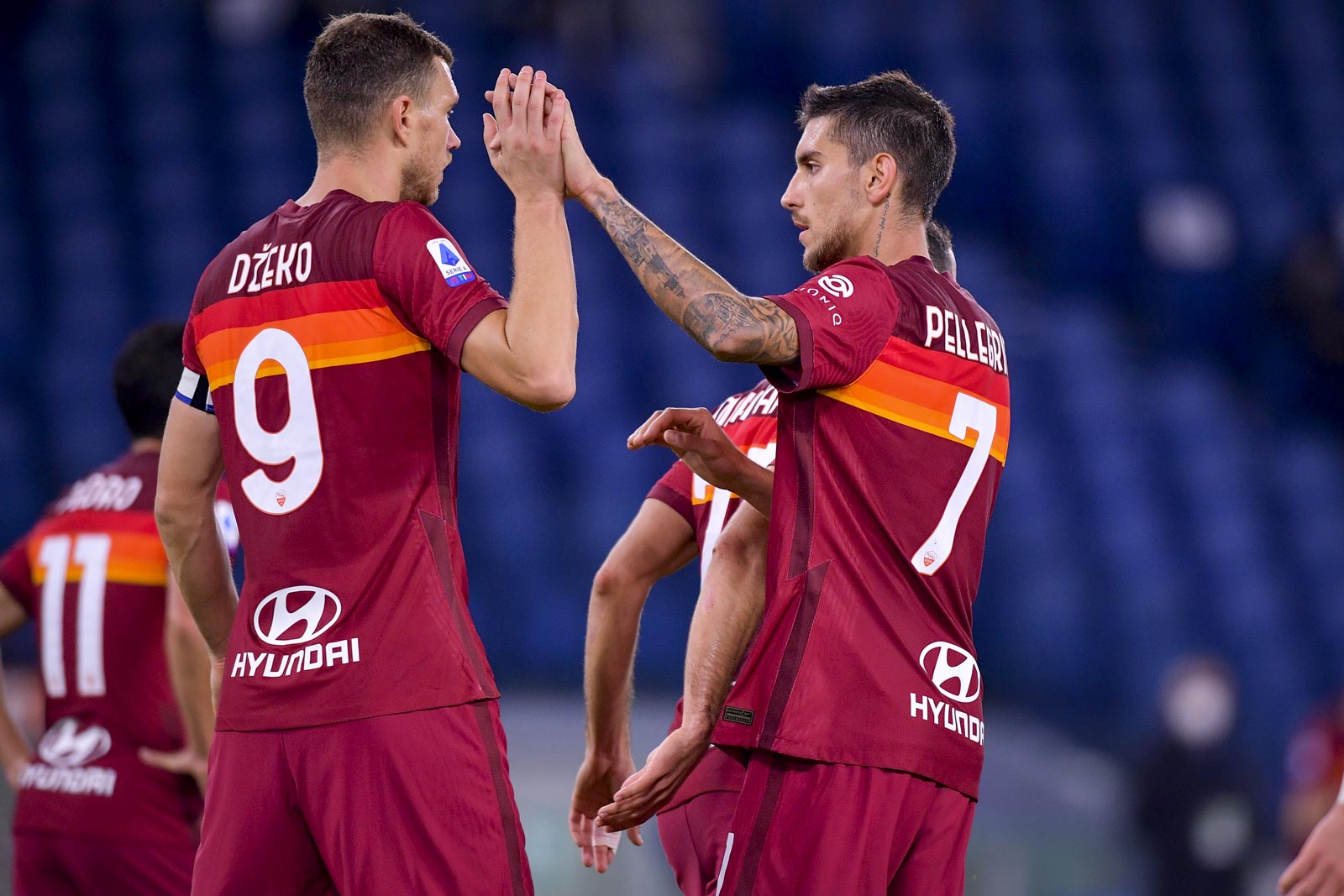 It has been a very difficult season for edin Dzeko thus far. Last season he had 19 goals and 13 assists and a much-improved season from the year prior. There was a lot of speculation about a potential moved to Juventus once it fell through. The Bosnian did seem more or less okay with it. He has been such a servant to Roma, a team captain, and a club Legend. As I said many times, he's one of the best center forward in club history. He is Roma's third all-time leading scorer, with only needing a couple of goals to reach third all time. This season has been really challenging for him; he does all the great things a striker is supposed to do, except his finishing the season hasn't been horrendous. In his season debut against Juventus, he missed golden chances that probably would have ended up with Roma winning the game. A one-on-one that he had no excuse not to convert and another shot that he should have done much better with. Then last weekend against Udinese, he had a perfect ball hit sent to him from all he needed to do is control it and put together the finishing touch horrendous finishing once again. Dzeko did start last night's game. I had suggested that the match that may bring him off the bench would have made more sense; however, edin Dzeko, who has struggled with form so far this season is back on the right track. Will he struggle in front of goal later on this season? Quite possibly. However, last night was exactly what the Bosnian needed. He needed to get back on the form with that confidence and belief to take Roma forward and finish those chances. Edin Dzeko, on a counter-attack, swiftly finish in front of the goal, and then on another Breakaway, edin Dzeko converted another one. Edin Dzeko gets his brace at the Stadio Olimpico as it was a much-improved performance to what we had seen earlier this season. It wasn't just the fact that he scored the goals; obviously, that's great to have that, it's going for him, and now he's only three away from being Roma's third all-time leading goal scorer. He might even have an outside shot at 2nd all-time if he can find that consistency we saw from last night. Did well in front of goal, didn't miss any blatant opportunities, and back to the front had a phenomenal evening. He was the man of the match last night, and it wasn't just because he scored the goals; he did all these things. Great distribution of the link-up play with the other midfielders and attackers with perfect his passing is absolutely outrageous. His movement helped Roma get on the counter-attack early and often; even though edin Dzeko is not the quickest player on the pitch, he's certainly showed those qualities in a really resurrecting performance. Edin Dzeko is world-class in every aspect of the game, not counting his ability to finish in front of goal if he can improve that or just do it at a little higher level and not leave so many opportunities on the table. Edin Dzeko can be used to prove that he can be such an important player for Roma this season; with another striker, Roma have now he won't have to carry the responsibility that he has in the past. However, he still is easily one of them is the most important player even though we all crushed him in the last couple of weeks, which was warranted. Still, when he plays well, he deserves the credit; he was absolutely outstanding; hopefully, this is more or less what we will see from the Bosnian. That's the edin Dzeko we know and love, not the one we saw first two games. The Bosnian seems to be back in business.