Chucky Lozano vs Atalanta
It seems we're finally seeing Chucky Lozano perform to the expectations that we expected from him when he made that move to Napoli last summer. There was a lot of buzz surrounding the Mexican before he arrived in Naples. One of the best and most promising young North American prospects. He was often compared to Christian pulisic that made his move to Chelsea in the same transfer window. After making a name for himself in the Mexican League, he really ripped it up when he went to PSV after incredible performances both in the league and the Champions League; his qualities alerted some of the biggest clubs in football. Many Premier League clubs, Bundesliga clubs, and Serie A clubs we're all interested in. He was the hottest Prospect to come out of Mexico since Chicharito many years ago. He was expected to be a marquee signing for Carlo Ancelotti and a Napoli side that many expected to contend. He was expected to be that missing piece that's finally Dethrone Juventus. It was not a good season for Napoli or the young Lozano. Angelotti was let go, Napoli was never in the title race, and the young Mexican really struggle to get any momentum going. When Gattuso came in, things start to change slightly. He started getting more games within the team, showing some performances but only left the season with three goals in all competitions, an utterly disappointing campaign. In the summer, many expected him to go on loan or leave Napoli permanently. However, this season he is an entirely different player and has been one of Napoli's most important pieces; this team is much more equipped for a title chase that Napoli indeed will be involved in. They have been the best team going through the opening five games, and he has been one of their best players. Through five games this season, Lozano already has four goals, the same amount of league if he had all of last season in 34 games. The Mexican international that is finally reaching his potential really showing that he indeed has a potential of a world-class Talent. This team is flooded with superstars, but the Young Lozano has proven to be very important in a massive match against Atalanta; one of the best attacking teams in World football Lozano was the match-winner. He showed his explosive his ability to facilitate and all-around performance from him. Really showing these qualities that he lacked last season. It was a collective effort by Napoli, but he scored twice in the first half, really showing that early superiority displaying skill and incredible ability on both of his goals. This is only the beginning they're certainly more to come. Still, the fact that he was able to deliver at this standard against a really strong team shows how important he can be for this team that has its eyes on the league title; he will be important not only for their campaign in the league but also the Champions League. with Mertens Insigne along with a young nucleus lead by Gattuso the Mexican international he has shown that he has still had that world-class potential that we saw from him two years ago he has finally adapted to Italian football. This kid is going to rip it up this season; only 22 years old, he's going to be a problem and potentially will be one of the best players in the league this season at this rate, he is a step away from becoming one of the league's best players he still has some stuff to improve on, but they're signs that he reaches that level. Against Atalanta, it proves he can deliver in the big games in the big moments.
Dani Olmo RB Leipzig vs Augsburg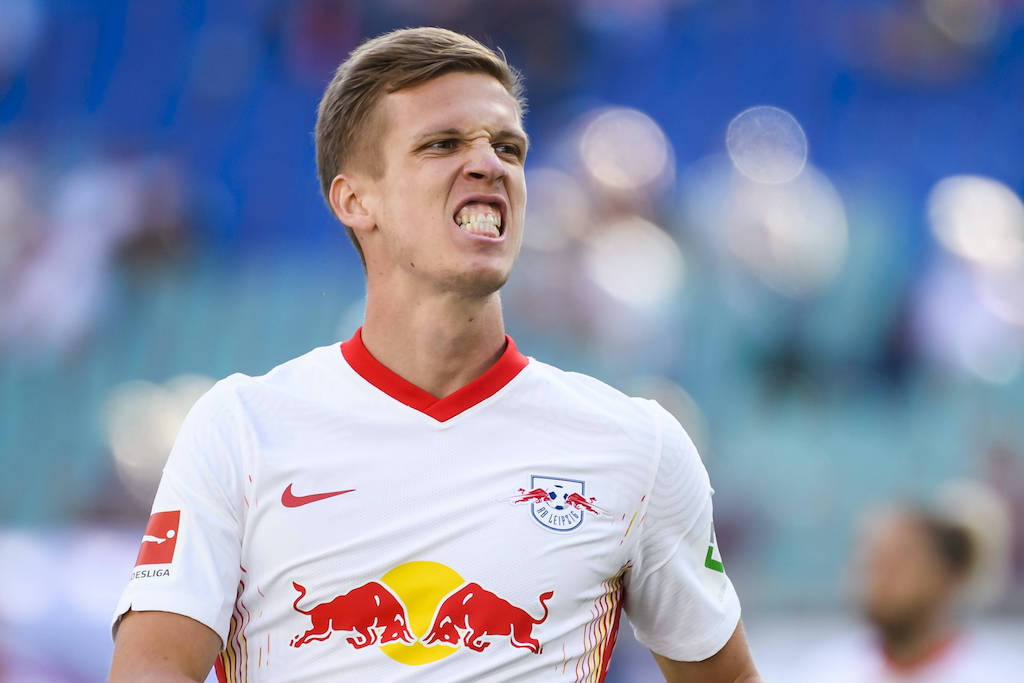 After making the Champions League semi-final last season, RB Leipzig seems to be one of the favorites to take the Bundesliga title this campaign. Bayern Munich dominates German football, but Dortmund and RB Leipzig both have an opportunistic chance to become the champions. RB Leipzig currently sit at the top of the Bundesliga and doesn't seem to miss Timo Werner whatsoever. They have looked incredibly strong this season and will be in for a battle with Bayern Munich. So far, one of their successes is a Dani Olmo the Spanish Midfield arrived last January from Dinamo Zagreb. Ever since he stepped foot in Germany, he has been one of the team's best players. Making an immediate impact from the jump, the Spaniard scored the first goal in the Champions League quarter-final against Atletico Madrid eventually, Athletico Madrid equalized and Tyler Adams scored the winner but I remember Olmo being very impressive in that matchup practically ever since he has been with the club he hasn't been that difference-maker that they have needed the last couple of years.. He continued on that route this weekend as his Bundesliga campaign only strengthen his reputation within the league. He scored five goals in all competitions last season and was instrumental in the Midfield in his short time in Germany. This season he only continues to show those qualities. Now RB Leipzig is top of the league not just because of him and only him, but he has been a big part of them able to get maximum points in the majority of their games. This weekend they went against a tough Augsburg team that managed to get three points, Borussia Dortmund, another team that will be very competitive in this title race. So Augsburg is no pushovers their strong side, but nonetheless, Dani Olmo had his moments that allowed RB Leipzig to show their sense of control in the match. In the first half, he set up the opening goal; a beautifully hit cross after cutting into the box found Angelinio at the far post at the left-back converted Dani Olmo chip perfectly supplying me an opening goal. He continued to control the Midfield and even had a few cracks that go himself he was dictating everything from back to front. Then in the second half, after Yussuf Poulsen came into the game, they connected almost immediately. Dani Olmo, after receiving a pass from the wing, hit a superb first touch on the volley before Yussuf Poulsen used his size advantage against his Defender to strike the ball out of the air as Dani Olmo gave him the ball in the exact right space as the striker hit an absolute Wonder strike into the top corner in what was an eventual 2-0 victory for RB Leipzig. Not only did he provide value within the team, helping out his teammates and even creating his own shot occasionally, but he was responsible for both goals that they scored; the goals didn't just happen out of thin air; Dani Olmo orchestrated them, allowing RB Leipzig to continue to push momentum as they maintain their place on the top of the Bundesliga.
Zlatan Ibrahimović vs Inter

latan Ibrahimovic is one of the greatest strikers in the history of the game. He is a Serial winner in every location he's played in European football; he has won a trophy; he brings that winning mentality even if they did not have it before. It is part of the charm of Ibrahimovic. He has a bit of arrogance to him, but you need it when you're operating on that level. It would be foolish to say that he is still as good now, but he seems to have broken the record for longevity. Ibrahimovic is a goal-scoring machine one of the most gifted goal scorers of all time. When he went to the MLS, people thought he would rise off in the sunset; he went to the Galaxy scored like 30+ goals a season, and then returned to AC Milan as a 38-year-old. I thought it was a horrific decision and that Milan should have got after younger players however I turned out to be very wrong about that. In just half the season, he scored 10 goals, and AC Milan, a team that was in such a bad situation, started to show some promise as they made strides in the right direction. Ibrahimovic changed culture. He has already scored five goals this season, showing that he is aging like fine wine despite his age. He's no longer a world-class player, but he has consistently performed at a high level outperforming players that are so much younger than him. Inter Milan had not lost in the Milan Derby since 2016. This weekend the Milan Derby turned red once again. Shortly after he left AC Milan all those years ago, this team had failed to win this game he returned and 18 Milan nearly beat them last season when they went up 2-0 unfortunately, Inter came back and won that game; however, this weekend, Ibrahimovic did not show any signs of age. He scored two goals in the first half with minutes apart. He won a penalty in the box saved by Samir handanovic, but Ibrahimovic had the self-awareness to get to the ball, remain focus, and put the ball into the back of the net. Not long after, Rafael leao hit a perfect cross into the box to find the big Zlatan once again. The Swedish physical specimen delivers two goals in a matter of minutes of each other to give AC Milan a big lead in the derby. We know the rest of the story Inter Milan had multiple opportunities to get the point from this game, but that does not lessen the performance of Zlatan Ibrahimovic even after the first half he provided a lot for an AC Milan team that for the first time in a long time have their eyes on Champions League football. Whether or not they will get it is hard to say, but this was a performance that they needed just because AC Milan had not played a worthy opponent to gain respect; this was a huge game against a very strong team Zlatan Ibrahimovic at 39 years old steals the show in the Milan Derby as the lion rises above the humans in one of the biggest games this season. He may not still be world-class at this age, but it was a world-class performance.