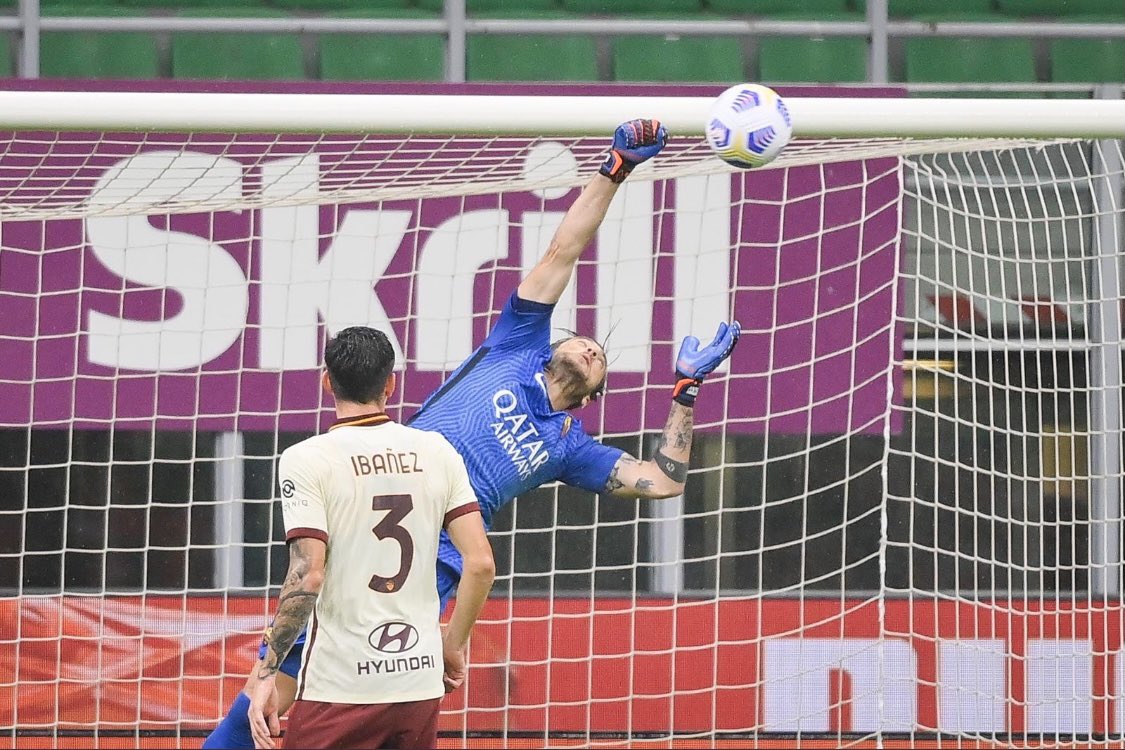 On Monday night, we saw one of the most dramatic and climactic matches of the season this far. We saw Roma make the trip to Milan to prepare for battle against top-of-the-table AC Milan at the San Siro it was expected to be an absolute Thriller, and that's exactly what it was. A match that had controversy drama aging goal scorers and goals Galore. AC Milan was top of the table with maximum points. Meanwhile, Roma has shown that they are a lot better than people expected to be close to spotless. This season has only conceded 2 non-penalties, starting to become one of the best defenses in the league, especially when Chris Smalling returns. Meanwhile, AC Milan has only conceded two goals this season and, on top of that, have a formidable defense in their own right. It was an absolute Thriller from the first kick of the ball. A possible way to make a statement in this game. Even unfortunately, Gigi donnarumma, without with covid-19 Roma were hoping to take advantage of that. However, it was Zlatan Ibrahimovic that got the match on the right foot immediately. In the opening 2 minutes, a cross being sent into the box that was mistimed by Max Kumbulla on an attempted clearance, Zlatan Ibrahimovic supplied a touch that wound up in the back of the net. AC Milan scored on their first shot of the game, taking a 1-0 lead. However, that would not last very long, it was a little back and forth but in light of that, when Roma had a legitimate opportunity, they did not miss that chance. Coming off a corner, edin Dzeko overwhelmed his defensive assignment; the goalkeeper made a minor mistake, and because of this, the Bosnian converted his header as the scorers drew level. Milan hit the post, and Antonio Mirante made an outstanding save to end a half, but it was only getting warmed up. Minutes into the second half Rafael Leao set up Alexis Salemakers; the youngster converted as Milan retook the lead. This is one controversy that started to unleash for both teams. It was already being called very poorly before this happened, but this only intensified everything. Roma received a non-penalty in what was an egregious decision to give it; in fact, the kind of looks like it was a foul the other way around. Nonetheless, Jordan veretout stepped up and converted. It was a battle between them, but then again, the referee made another egregious mistake gifting AC Milan a penalty that involved no contact whatsoever. Making up for the poor call from before Ibrahimovic stepped up and converted in front of goal, pushing AC Milan into the lead. Then with less than 10 minutes to go, Max Kumbulla rescued Roma once again. Coming off a corner, Ibrahimovic attempted an acrobatic clearance that he is done with success multiple times; however, he gave Roma a gift on this occasion. He cleared the ball into the Albanian center-back, who followed through with the strike into the net's back to level the scores once again. AC Milan had two opportunities in the closing moments to steal the win. The fingertips of Antonio Mirante denied Franck Kessie as of the 37-year-old made a world-class save. Then, in the last minute of the game, Romagnoli misfires, and a dramatic and controversial 3-3 draw come out for corner. Roma's statement in their resiliency for them to come back on three different occasions an absolutely thrilling matter football that was ruined by controversial refereeing decisions. But that does not lessen the absolute show that was on display at the San Siro.
Horrible Officiating
The officials ruined this game. This is one of the best games of the season without question; however, that's not what people will remember about this game. Unfortunately, the officiating was so horrendously bad that that is going to be the topic of discussion. It was one of the worst officiated matches I have seen in Italian football. Typically speaking, when there's bad refereeing, it's less one team individually that's being screwed by the official. This game was so different than that because both teams were being screwed. There is no doubt about anything when it pertains to this that this official ruined the way the game was played. Not one but two penalties we're giving against Roma and Milan at critical times. It almost felt like after the initial mistake on the Roma penalty that the referee intentionally gave Milan eating on penalty as well to even it out, making him not look as bad. It all comes down to circumstances; take these things one at a time. This first penalty with Bennacer and Pedro was colliding. Pedro didn't even complain he wasn't even asking for a penalty he just got up and started walking. In fact, in live-time, it looked like it would be a decision gone in the other direction as it looks like a potential foul on Pedro it stepped on his foot during the play. Not that long after, Hakan calhanoglu fell down in the box but had no contact as Mancini misses the ball, but his foot doesn't even touch the Turkish International as they both fall down. They give that penalty as well another egregious decision. These penalties allowed two teams to get back into the game, allowing Roma to draw level. Luckily for the game's state, there was a late goal by Max Kumbulla that justify the result. We can complain all we want about the decisions that took place in mismatched, but it did not really inflict a different result AC Milan are not the victims here; both teams are victims in the situation it wasn't that Milan was robbed or Roma was robbed; they both were, in the end, the decision was horrendous, but on top of all of those things the result itself was a fair at the end based on the performance of both teams the result was justified but the circumstances how we got there was egregious it was horrendous officiating and that ruined what was an outstanding match of football.
No Gigi Donnaruma for AC Milan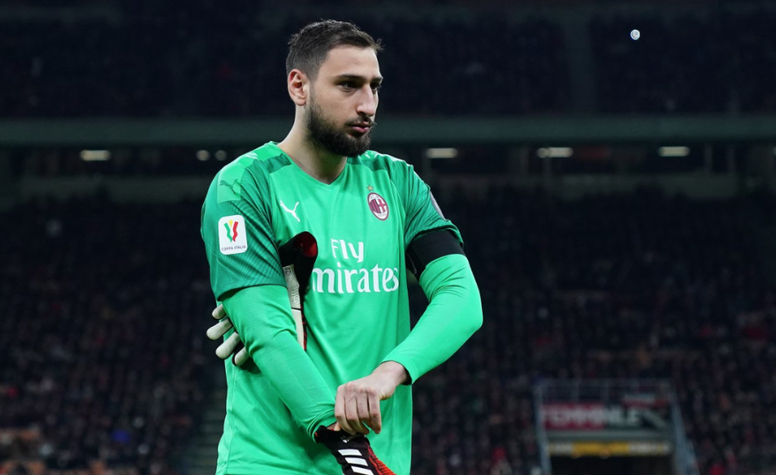 It's hard to say what would have happened definitively, but the absence of Gigi donnarumma certainly would have seen AC Milan in a much better position. With all due respect to my Countryman, he made a massive mistake on Rome was the first goal that allowed edin Dzeko to crack it open and get Roma back on terms relatively quickly. Gigi donnarumma is one of the best goalkeepers in Italian football, if not the best, the absence of his kind of in a way neutralizes AC Milan. They have a powerful team, but they just don't command the same quality level without him in goal. They certainly missed him, and the match missed him as well. I don't think it's fair to say that Roma would not have scored in this game, but with that being said, I think he would have eliminated some opportunities that Roma had. Like I said a lot of what happened in that game came down to officiating and circumstances but with donnarumma, surely AC Milan would have had a better chance to pick up all three points. I wish him a speedy recovery and hope he can be back on the field as soon as possible. It was unfortunate that he tested positive for covid-19 prior to the matchup; when you're going against a team like this, you want to beat their best Roma get the point, and I'm happy to, but it would have made a bigger statement if Roma were able to play like that against Gigi donnarumma one of the best goalkeepers in the league. It will be interesting to see how AC Milan handle not having him for at least the next game. However, this idea that AC Milan definitely would have won the game if it wasn't for that absence is ridiculous. Roma played a solid football game, and it would have been a tough battle throughout. However, donnarumma being in there would have eliminated some potential goal-scoring opportunities.
Resilient Roma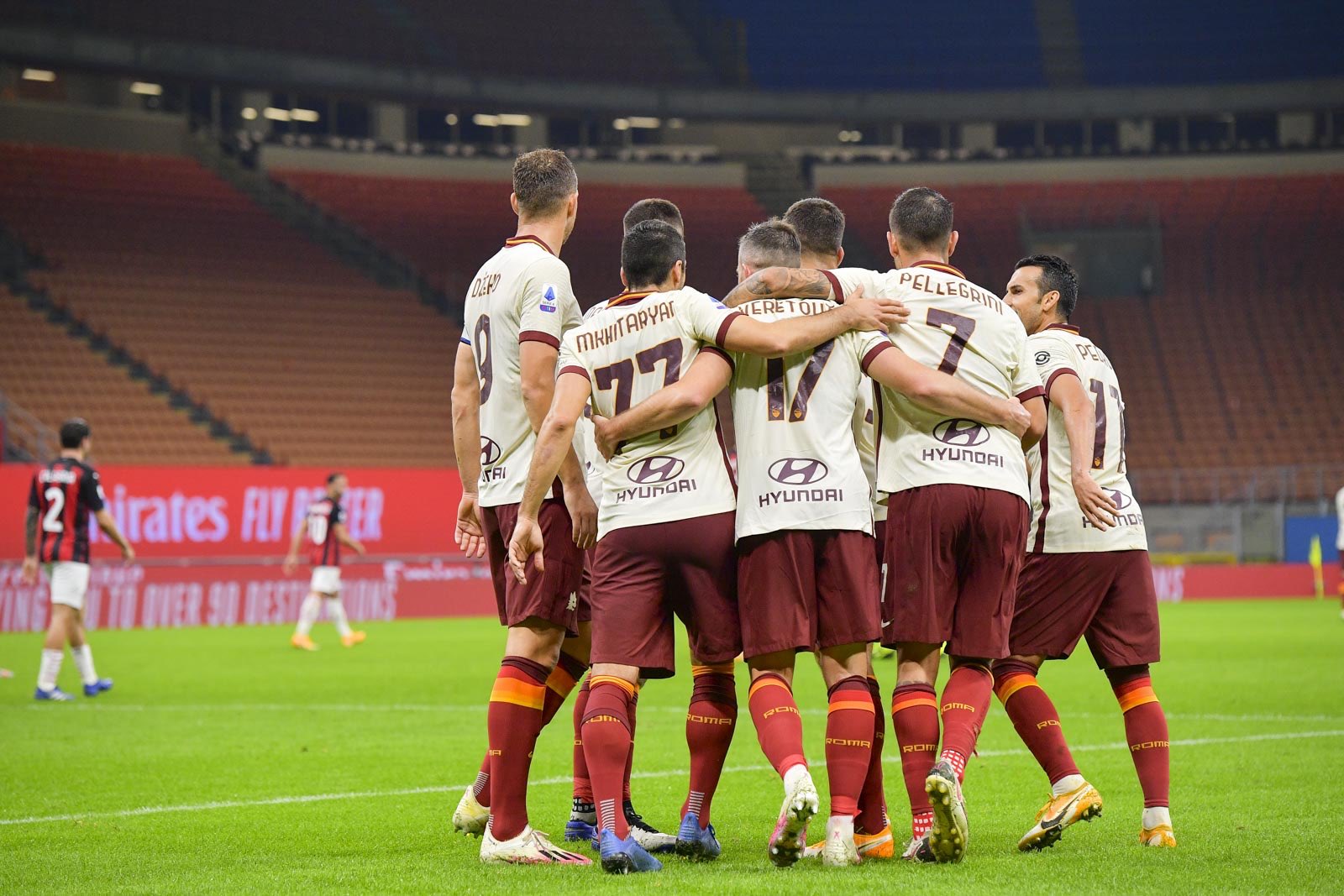 In a massive game on the big stage on a Monday night at the San Siro, Roma performed admirably. Roma fell behind within 2 1/2 minutes through Ibrahimovic and a lack of defensive clearance from the Roma backline. It was not the way Roma wanted to start this game. However, they were able to crawl it back on essentially their first shot of the game. It was only one of three different times in which Roma came back in this game. Every single time, Rome could come back into the game and find themselves with a puncher's chance to win that end. Both penalties came under controversial circumstances. There's no denying that or getting over that; however, they managed to continue to fight and get that late goal even after the penalties taking place. That was partly a mistake on Ibrahimovic, but none less with everything being said, they never back down, and they fought until the very end there. I felt Lorenzo Pellegrini did an exceptional job, especially in that midfielder. They were clogging the passing lanes with a lot of white shirts. Pellegrini not only helped out in the attack getting an assist but defensively he was outstanding as well, coming back and helping out when he was needed. Before Paulo Fonseca, Roma was not a team capable of showing resilience and coming back in these games. This game, even if it didn't directly show those qualities that this Roma team is a lot better than people think. Roma probably isn't making the Champions League this season, but they only conceded a few goals outside of yesterday. They're strong in the Midfield; they have qualities, and even going forward, when they're firing a front of goal, they can be quite a dangerous top to bottom; this Roma team has many qualities inside it. They could have wavered many times in this game; they had to come from behind throughout this entire game and still managed to go into the San Siro and leave for the point. You can say what you want about the officiating, but Roma is the first team to take a point out of AC Milan this season. Even If you eliminate the official mistakes that did not prevent them from doing this, Roma got right back into it after AC Milan had taken the lead. Antonio Mirante had some heroics at the end of the game who really solidified it, but it was a hard, tough battle that Roman never quit and gave everything until the final whistle.