Score: Sampdoria 3 Atalanta 1FT
Sampdoria ended up pulling off yet another shocker. They are a team managed by Claudio Ranieri, a manager that is capable of getting big results against some of the better teams in the League. His Sampdoria side ripped apart Lazio last week in what was a 3-0 Victory. They would have another challenge in front of them. One of the best-attacking teams in European football Atalanta. They were coming off an outstanding performance in the Champions League, but in their previous game, they got ripped apart from Napoli; it was their opportunity to try to turn things around. Atalanta came in as big favorites yet again, and after scoring like crazy in the opening matches of the season, they struggled, and unfortunately, they would be stunned once again. Atalanta did have an early chance following a mistake by Sampdoria defensively. However, very early in this game, Sampdoria. On a counter-attack releasing Fabio Quagliarella down the left side, Thorsby applied a through ball two of the Aging Italian he took a step over before sending a rocket into the top of the net to give Sampdoria a shocking 1-0 lead. It nearly got even worse for Atalanta as Sampdoria was given a penalty right before the break. Fortunate sportiello denied Fabio Quagliarellafrom the spot. However, despite Atalanta's efforts to get some Rhythm, it just never happened. In the second half, after a beautifully orchestrated sequence between Sampdoria, a cross from outside the box found ahead of Thorsby, he made a diving header that ended up with Atalanta having to pick the ball out of the net yet again Sampdoria ran out to a 2-0 lead. Atalanta did end up getting themselves back into the game through a Duvan Zapata penalty as the Columbian continues to show incredible abilities. Atalanta has the team turn it around, but Sampdoria's momentum drove them and kept them at arm's length. Despite the qualities, they got stunned once again at the hands of Sampdoria. Atlanta drops their second game in a row; they desperately need to get back on track if they really want to be a feature in the title race. Sampdoria isn't a team that should be challenging any European spots the season; however, in two matches in a row, a taken down Atalanta and Lazio. Regardless of what's going on, this is a team that might even be able to fight their way into the top half of the table it's early going, but if they can perform like that against teams of that quality, it's going to be difficult to underestimate them. A shocking result as Sampdoria handles Atlanta.
Dortmund 3 Schalke 0FT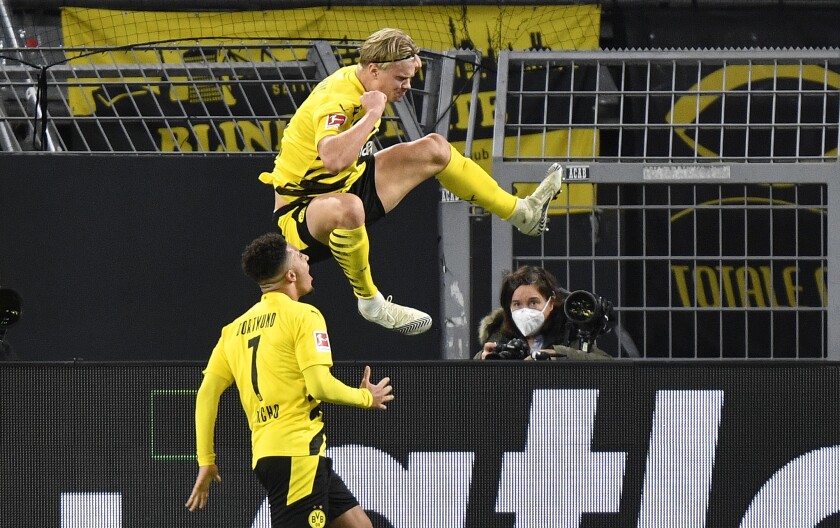 In Germany, it was the Derby between Dortmund and Schalke. Two teams on opposite sides of table one of the last opportunities for us to watch this match up at least for the next year. With Schalke looking like one of the favorites to be relegated in what has been a disastrous campaign so far. Meanwhile, Dortmund, outside of a slip up again, Ausburg really shows their qualities and how they attacked the League this season. Bayern Munich and RB Leipzig are going to be tough to beat, but with Erling Haaland in incredible form and his link-up play with the Midfield, Dortmund are very much alive in the title race if they can handle it throughout the entire season that's yet to be determined, but this is certainly one of the favorites to win the whole thing. As expected, Dortmund dominated, Schalke was out of their depths dealing with the attackers that Dortmund has their disposal they exploited them as much as possible. Erling Haaland had an early opportunity inside the box, but the defense able to manage it. It would be one of the only things they would be able to do against an attack like this. They continued to have control and dominate and battered Schalke with chances. Daoud found space from outside the area code and nearly scored one of the season goals, but his shot hit the crossbar. Just a few minutes later, a well-hit cross from outside the box came in to find the Reyna, who did everything he could to get his head on it but ultimately went wide. Finally, the moment that was coming for Dortmund arrived on a corner, taken short Perfect Chemistry, and link up as Dortmund got themselves Inside the Box a strike of the goalkeeper that fell to the foot of Akanji is an outstanding team goal by Dortmund. Catching Schalke sleeping quick passing out of the box and being in there the right time for the rebound as they took it into the back of the net, showing their superiority taking the 1-0 lead. Dortmund pushed them and toy with them as much as possible. They're constant chances coming from the Dortmund side of things. In fairness to Schalke, their goalkeeper did a tremendous job limiting the number of goals Dortmund probably could have scored. Erling Haaland found his moment in what was an absolutely outrageous goal. After the referee waved off a foul, Haaland did a great job dribbling around multiple Defenders before spreading it out eventually hitting it back to Sancho as Dortmund went forward; Sancho picked out an excellent through ball inside the box Haaland cut inside before chipping the goalkeeper in what was an outrageous goal by the Norwegian Striker as Dortmund take a 2-0 lead. This was the story of the game; it was more of the same and then on the corner that cut inside, Matt Hummels connected on a header into the top corner to give Dortmund a 3-0 victory; it was complete cruise control as they administer even more punishment on the rivals. Erling Haaland & Company lead Dortmund to another three points as they are rolling as they continue to chase down RB Leipzig and Bayern Munich for the Bundesliga with an outstanding performance in a derby brushing off their Rivals as they clamp down on their throat's showing their superiority.
Score: A.C Milan 3 A.S Roma 3Ft
On Monday night, we saw one of the most dramatic and climactic matches of the season this far. We saw Roma make the trip to Milan to prepare for battle against top-of-the-table AC Milan at the San Siro it was expected to be an absolute Thriller, and that's exactly what it was. A match that had controversy drama aging goal scorers and goals Galore. AC Milan was top of the table with maximum points. Meanwhile, Roma has shown that they are a lot better than people expected to be close to spotless. This season has only conceded 2 non-penalties, starting to become one of the best defenses in the league, especially when Chris Smalling returns. Meanwhile, AC Milan has only conceded two goals this season and, on top of that, have a formidable defense in their own right. It was an absolute Thriller from the first kick of the ball. A possible way to make a statement in this game. Even unfortunately, Gigi donnarumma, without with covid-19 Roma were hoping to take advantage of that. However, it was Zlatan Ibrahimovic that got the match on the right foot immediately. In the opening 2 minutes, a cross being sent into the box that was mistimed by Max Kumbulla on an attempted clearance, Zlatan Ibrahimovic supplied a touch that wound up in the back of the net. AC Milan scored on their first shot of the game, taking a 1-0 lead. However, that would not last very long, it was a little back and forth but in light of that, when Roma had a legitimate opportunity, they did not miss that chance. Coming off a corner, edin Dzeko overwhelmed his defensive assignment; the goalkeeper made a minor mistake, and because of this, the Bosnian converted his header as the scorers drew level. Milan hit the post, and Antonio Mirante made an outstanding save to end a half, but it was only getting warmed up. Minutes into the second half Rafael Leao set up Alexis Salemakers; the youngster converted as Milan retook the lead. This is one controversy that started to unleash for both teams. It was already being called very poorly before this happened, but this only intensified everything. Roma received a non-penalty in what was an egregious decision to give it; in fact, the kind of looks like it was a foul the other way around. Nonetheless, Jordan veretout stepped up and converted. It was a battle between them, but then again, the referee made another egregious mistake gifting AC Milan a penalty that involved no contact whatsoever. Making up for the poor call from before Ibrahimovic stepped up and converted in front of goal, pushing AC Milan into the lead. Then with less than 10 minutes to go, Max Kumbulla rescued Roma once again. Coming off a corner, Ibrahimovic attempted an acrobatic clearance that he is done with success multiple times; however, he gave Roma a gift on this occasion. He cleared the ball into the Albanian center-back, who followed through with the strike into the net's back to level the scores once again. AC Milan had two opportunities in the closing moments to steal the win. The fingertips of Antonio Mirante denied Franck Kessie as of the 37-year-old made a world-class save. Then, in the last minute of the game, Romagnoli misfires, and a dramatic and controversial 3-3 draw come out for corner. Roma's statement in their resiliency for them to come back on three different occasions an absolutely thrilling matter football that was ruined by controversial refereeing decisions. But that does not lessen the absolute show that was on display at the San Siro.