Score: A.S Roma 2 Fiorentina 0FT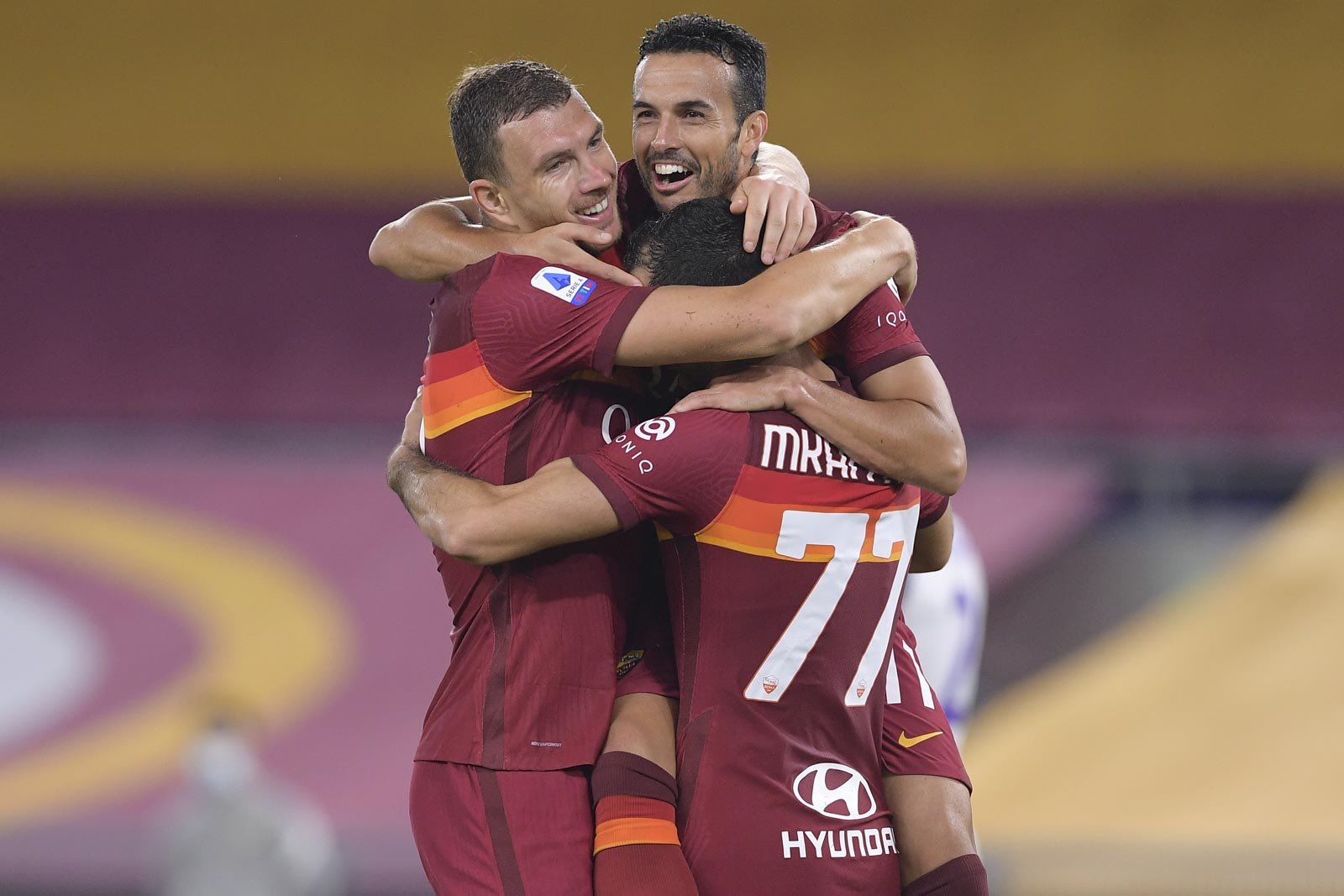 Following a 0-0 draw in the Europa League in midweek against cska, Sofia Roma stayed home at the Stadio Olimpico to host to Fiorentina. Roma swept the season series of the team from Florence last season, and we were expected to see more of the same. Despite the hype surrounding Fiorentina for yet another season, they have failed to impress a match like this was an opportunity for them to show their qualities if they are what people say. Thursday was one of the worst season performances on Sunday afternoon; it was quite the opposite. Other than an early chance from Gaetano castrovilli, Roma was in complete control of this game and dominated from the very beginning. Fiorentina had some early momentum, but it was soon crushed as Roma went on the counter-attack, and a Leo spinazzola converted in front of the goal to give Roma a 1-0 lead. Fiorentina did not pressurize or threaten Roma during that first there were quite fortunate it wasn't even worse. Roma had some outstanding opportunities in that first 45 minutes, but the qualities of this Fiorentina goalkeeper prevented them from putting the game away in the first half. It was more of the same in the second half, even though Fiorentina did occasionally get into Roma's danger area. It was a tremendous defensive display as they were not really allowed to do anything. Roma continues to go forward and put themselves in a great position who scored more goals. It took a while, but eventually, they found that goal that solidified the result on a beautifully orchestrated counter-attack. Jordan veretout, edin Dzeko, henrikh Mkhitaryan, and Pedro Rodriguez all connected on a counter-attack from one side of the pitch to the other, ending up with Pedro Rodriguez scoring a tap-in at the far post to give Roma a 2-0 lead. Fiorentina couldn't ever reply as Roma suffocated them. The latter played an almost perfect game in Flawless team performance. Roma picks up the three points as I continued to shoot at the table, looking like a really strong team this season as they were close to Flawless, which gives them momentum heading into the international break.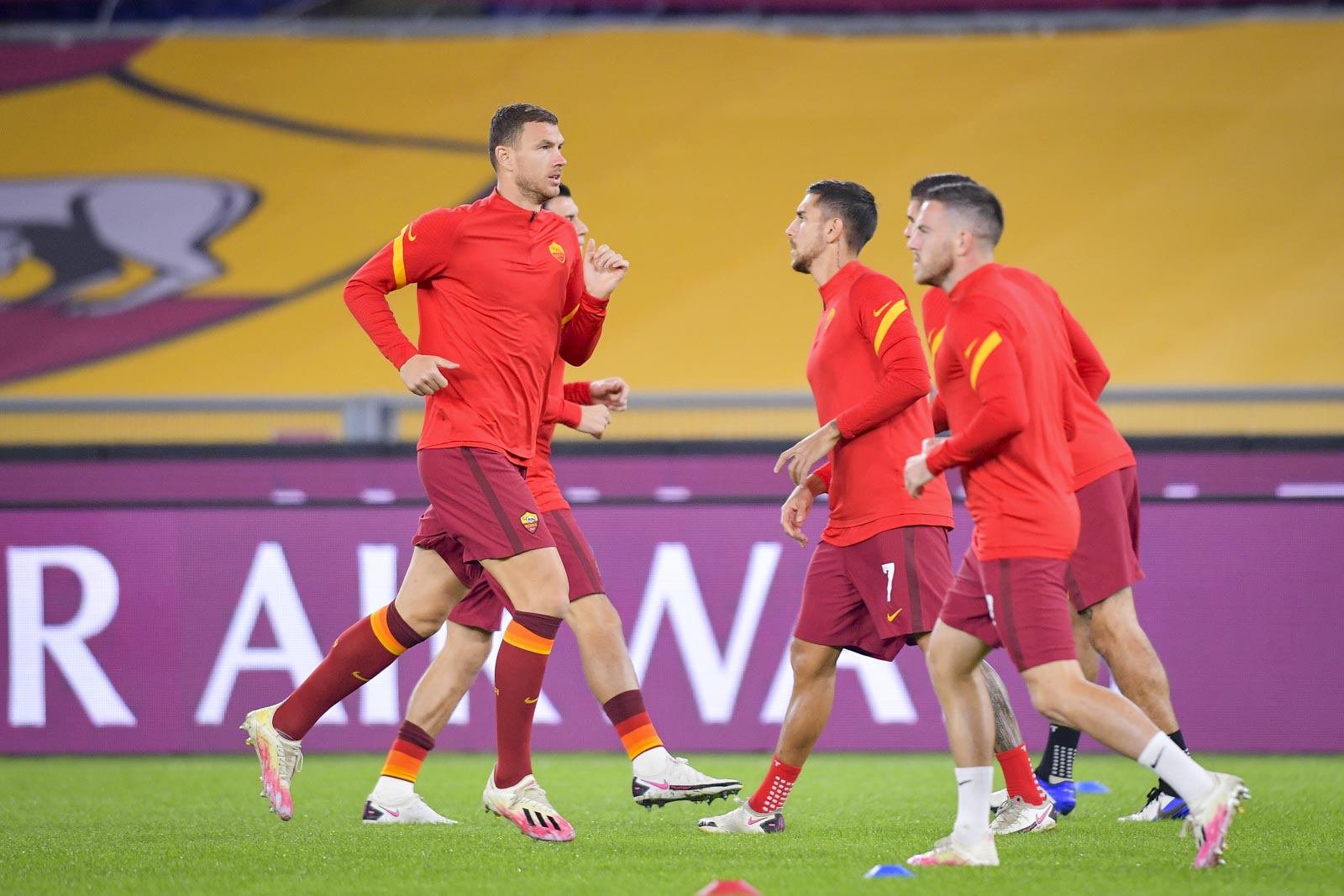 Paulo Fonseca would have his team shoot out of the usual 3-4-2-1 formation. In goal as always would be 37 year old Antonio Mirante. There would be one change in the backline. The three center-backs would be centrally. Chris Smalling makes his official Serie A debut since making his move permanent this summer. To his left will be Rodger Ibanez, and then to his right would be Gianluca Mancini. The last two wing-backs would be Leo spinazzola on the opposite side as the right wing-back would be Rick karsdorp. In the defensive Midfield, we would see the pair of Lorenzo Pellegrini and Jordan veretout. Then in the attacking Midfield on the left-wing would be Hendrik Mkhitaryan on the right-wing would be Pedro Rodriguez then upfront as Roma's Central Striker will be edin Dzeko. As always, Roma would have options Off the Bench with the likes of Max kumbulla Carlos Perez an among others.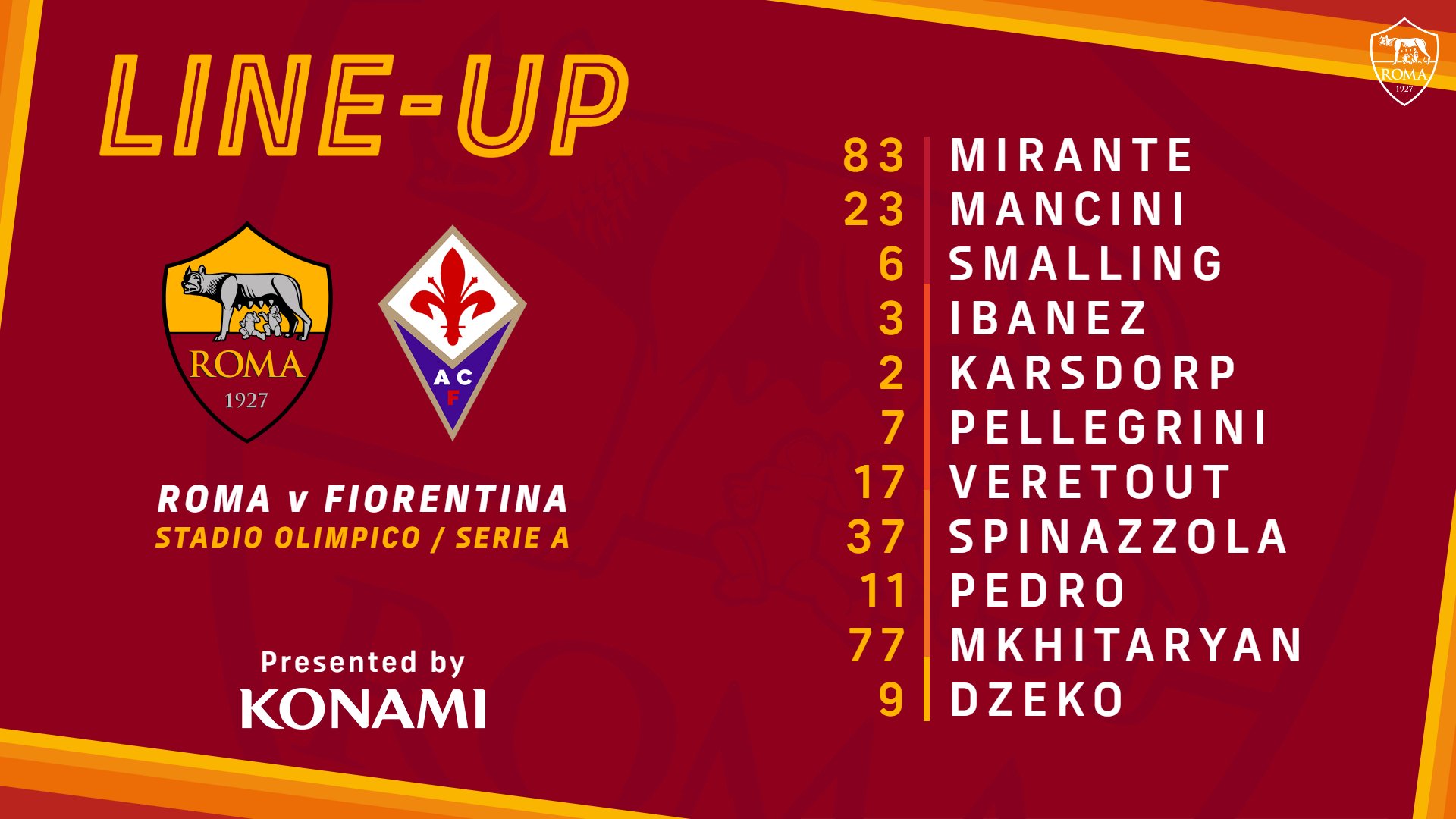 After preparations and predictions, the match was just about to get underway at the Stadio Olimpico in Rome. Fiorentina had some early momentum, but it didn't last all that long. In the opening minute, Gaetano castrovilli came close from a strike coming outside the box but misfires. In the first 5-10 minutes of the game, Fiorentina actually looked very comfortable and came forward with some success despite a very limited number of chances. However, shortly after Roma with steel that momentum after looking dangerous a few times, Roma broke through in the 12th minute. Antonio Mirante blasted a ball from his own box, traveling almost the length of the pitch to set up an attack as it landed at the feet of Leo spinazzola as a poor Fiorentina defense saw the wing-back cut through on the break, he made one cut as Pedro was alongside him a slight deflection that landed back on his foot before sliding a ball at the near post into the bottom corner to give Roma a 1-0 lead. Roma Completely found their momentum in the game and had control over Fiorentina. After coming close a few minutes later. On a corner shortly after edin, Dzeko connected, but it was just a little too high. Even though he missed Roma, we're coming forward with Incredible succession. Had complete control of the possession and had the majority of the changes in the first half. Getting that early goal completely flipped the game as Roma were riding on their momentum. A few minutes later, Pedro Rodriguez came within inches after edin Dzeko laid the ball off to the Spaniard; he struck a curler that just glided over. Fiorentina was losing, adding to the confident play. If it wasn't for their goalkeeper, it could have even been a lot more ugly. Just passed the 20th-minute mark edin Dzeko put his head through a Lorenzo Pellegrini cross, but Drągowski made the save on the bounce. Late in the first half, Drągowski showed world-class abilities in what could have been and should have been a second Roma goal. edin Dzeko provided a headed pass on the corner of the box to Rick karsdorp, who blasted a malicious strike that was denied; then on the rebound, henrikh Mkhitaryan struck the ball on the rebound, but yet again, Drągowski made an unbelievable save in what could have been much worse for Fiorentina. The first half ended with Roma securing a 1-0 lead thanks to Leo spinazzola.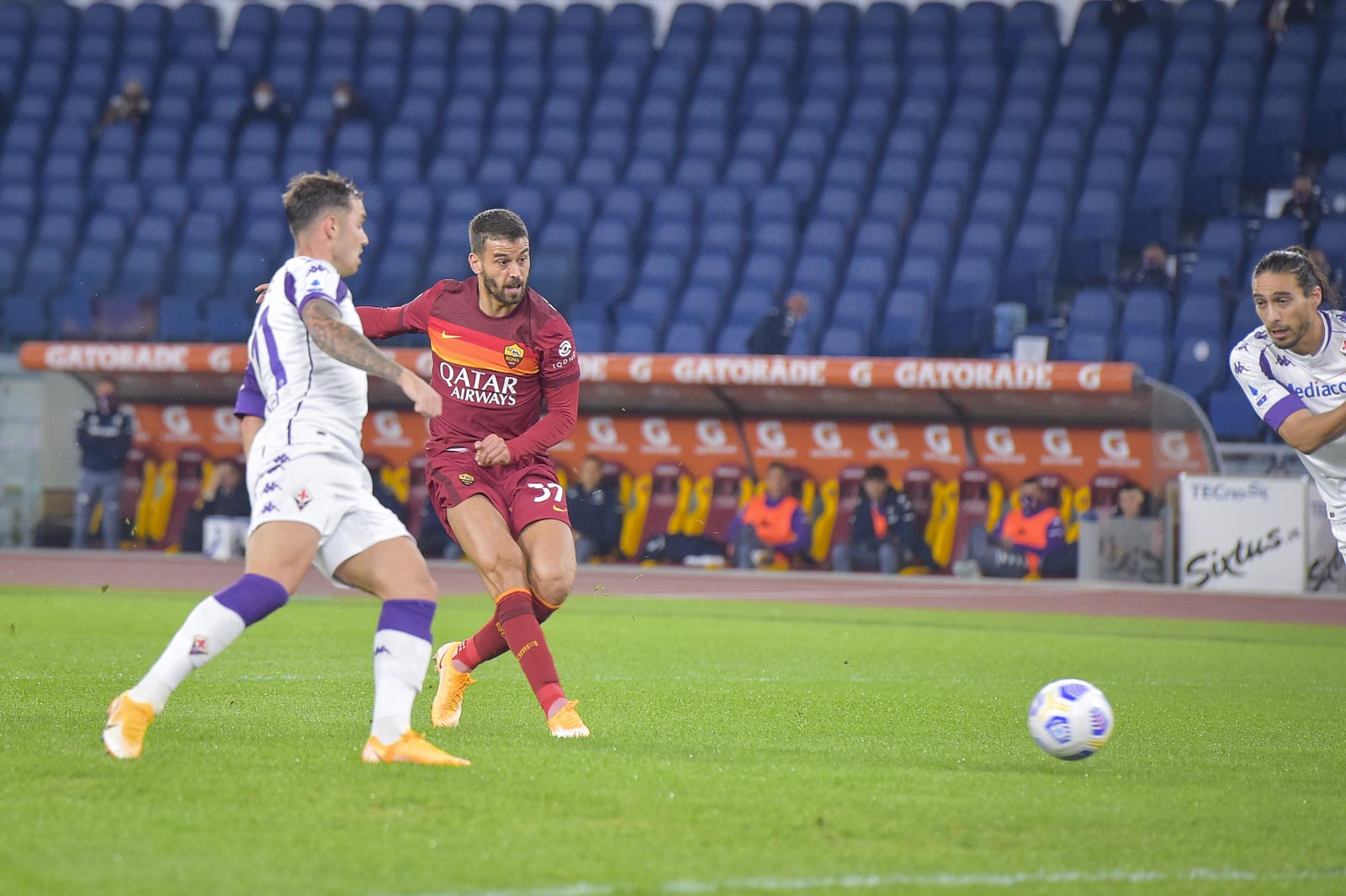 Leo Spinazzola beats Fiorentina on the Break as they take a lead 
Roma had complete control of Fiorentina in that first half; in fact, the Romans have to be frustrated not to have scored more in the opening 45 minutes. Wild Fiorentina only registered one shot in the first half. Roma was playing with momentum and confidence; the thought was that it would only intensify in the second half. In the second half, at least in the early part of it, it was more of the same. Roma had control, and they were just searching for that second goal that could take them over the line in the game. You never know what can happen in different types of situations, but a two-goal cushion against this team would indeed have been enough. In the early moments of the second half, Jordan veretout came close as he was set up by henrikh Mkhitaryan the Frenchman struck from point-blank range very close to giving Roma a second. The nature of the game didn't change all that much. Even though Fiorentina did push and try to get into those dangerous spaces, they didn't come across as very threatening. Roma did a great job defensively on them even though their limited opportunities they were hovering around the box quite often in the second half. The backline did a good job dealing with that. Pedro Rodriguez and others do a fantastic job on the attack. A lot of activity from the wing inside the box. Edin Dzeko was excellent in this game; there were a few changes in that second half where a cross came into the box that just didn't have the spin on it to get to edin Dzeko, who put himself in a good position regularly. His game is more about the collective than goals, but I thought he did a good job overall, although there were many opportunities not just for Dzeko but for players inside the box. They kept pushing and putting that defense in an uncomfortable position, trying to make them make a mistake. They cut into the box pretty regularly, especially through the Midfield. Manny counter-attacks being fueled just outside the box, they did an outstanding job orchestrating chances for one another; they quite honestly could have scored multiple times in the second half. Super passing from the Midfield and the wing to get Roma into those dangerous areas. There was a sense that the goal was coming. In the 70th minute, Roma put the game on ice. Intercepted a pass while Fiorentina was trying to pressurize. The backline supplied a deep ball into Jordan veretout, who took the ball from Midfield and just was dribbling the pitch's length as Roma was on a great counter-attack with Mkhitaryan edin Dzeko on one side Pedro Rodriguez on the other. Jordan veretout Supplied the pass inside the box to Dzeko, who supplied it to henrikh Mkhitaryan, who found Pedro, who followed by converting the tap-in a beautifully orchestrated attack Roma going from one end of the pics to the other as the Romans took a 2-0 lead. It would be Pedro Rodriguez's third goal of the season; he is turning out to be some signing. Carles Perez and Bruno Peres came in for Rick karsdorp and Pedro Rodriguez. Fiorentina really didn't have much of a lick in the second half until shortly after the goal as vladovic saw his strike missed the target. Bryan cristante came in for Lorenzo Pellegrini for Roma. Shortly after, Kouame supplied one of the only shots on target the entire game as he connected on a header inside the box, but Mirante made the save with no trouble. In the 88th minute, Fiorentina saw red when Lucas Martinez was sent off after converting a very dangerous slide tackle on edin Dzeko; based on the replay, he slid with his foot up very nearly could have broken his leg; fortunately, edin Dzeko seems to be fine. Max kumbulla came in at the end to try to see the game out. One last edin Dzeko strike in stoppage time would signify the game's last scoring chance as the referee blew its whistle as Roma win 2-0 as the giallorossi pick up all three points in a dominating display against Fiorentina.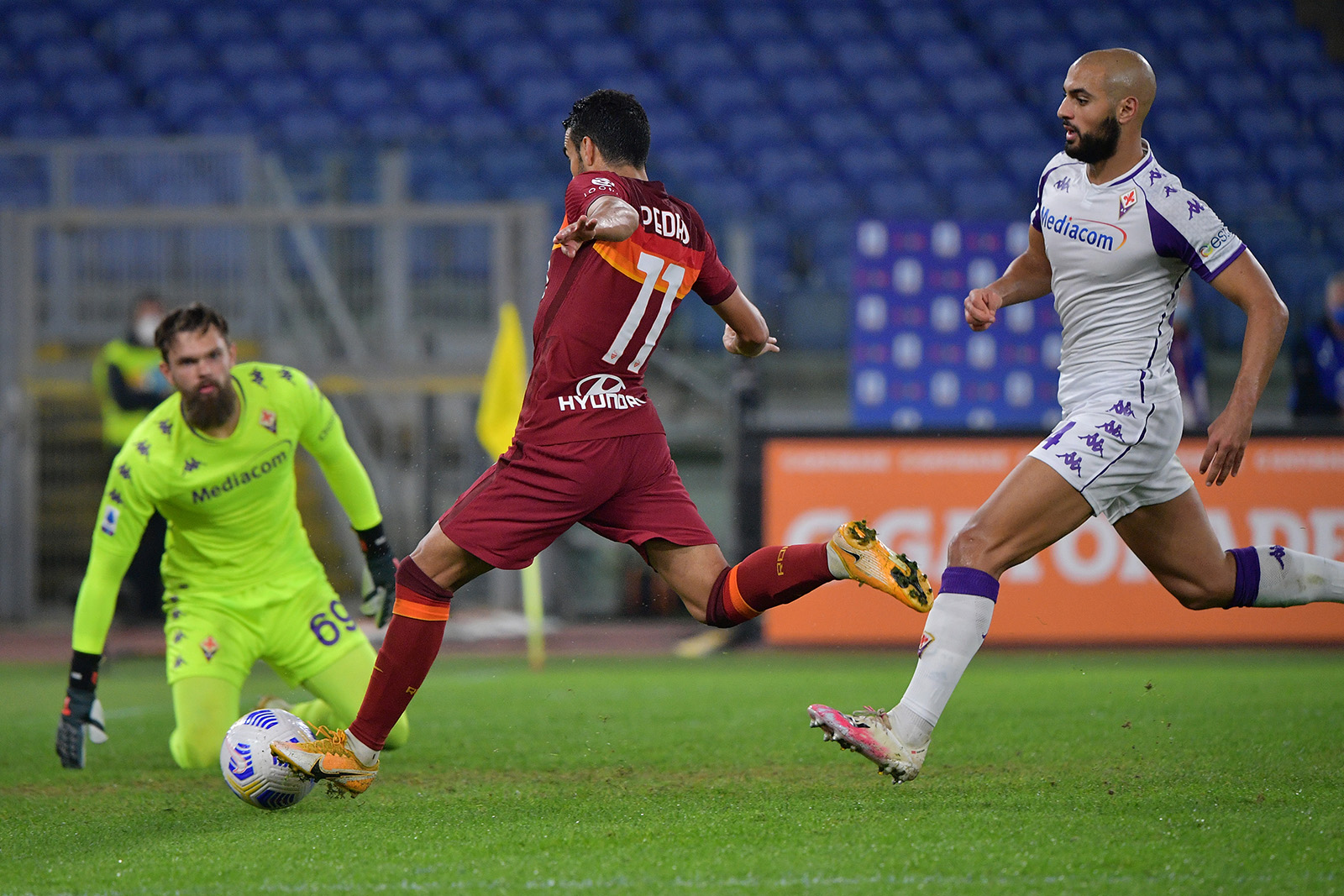 Pedro puts game on his ice follow beautiful team goal from Roma to give Roma 2-0 victory  
Roma gets the three points in what was an outstanding performance from the hosts. They take care of business, brushing aside Fiorentina 2-0 at the Stadio Olimpico in Rome. Roma needed a bounce-back performance after failing to live up to expectations again, csak Sophia in the Europa League. It was one of the lowest points they've had this season and needed a performance to overshadow that. Roma wanted to go into this with as much momentum and confidence as possible. Overall, Roma has played great football this season and has yet to lose this season on the pitch. They were able to secure a point against both Juventus and AC Milan last weekend. Roma came from behind three different times showing their unbelievable qualities. This afternoon was probably their best performance of the season. Everyone seems to rate Fiorentina for some reason. They have never shown me anything in the last three seasons, suggesting that there a team can push up the table and make European football. They got some win against the bottom of the table; this was going to be the real test. Roma suffocated them the entire game. Other than maybe an early chance, Roma was in complete control, had possession on their side, created a whole bunch of chances, and scored enough to win the game. Fiorentina couldn't do anything against this Roma defense that bullied them. They cut into the box quite a bit but could not do anything with it because no matter where they looked, you either saw Gianluca Mancini Rodger Ibanez or Chris Smalling. Max Kumbulla is one of the best young defenders in Italy, and even with him not in the lineup for most of the game, they managed to manhandle Fiorentina. Callejon, Franck Ribery, and Castrovilli are all fantastic footballers with Incredible abilities; they weren't able to do anything. They didn't even Supply a shot on goal until the last 10 minutes of the game. Roma hit on the breakthrough Leo spinazzola and get a great team goal from Pedro Rodriguez; Roma had the advantages across the board it was literally flawless. The exceptional defensive display they were unbelievable in the Midfield, creating chances through Lorenzo Pellegrini, Jordan veretout through the Midfield through the attack they created chances from every spot. Roma's second goal was absolutely outstanding, considering how many people were involved in that attack going from one side of the pitch to the other and getting that reassurance. It was their best performance of the season; they were in control the entire game, and there was never even the threat of Fiorentina finding an equalizer. Fiorentina was not right in this game, but this is more about Roma; they struggled because of how they played and how they shot them down. Roma played mistake-free football that had creation throughout the team; if they could play like this or somewhere similar to this the rest of the season, they have an outside chance of Champions League football. Outside of the Europa League Shocker on Thursday, Roma has been one of the most impressive team so far this season there are a lot better than people give him credit, for their going to be in a race for Champions League football this season whether or not they will get it is unclear. Still, they played at such a level today really making a statement that they are just as good as everyone else. The man of the match could go to anyone today. Still, on this occasion, the man-of-the-match goes to Gianluca Mancini, the reason being he neutralized that Fiorentina attack. Flawless football tonight with two very winnable games before we hit International break Roma has to feel good and are riding on fumes in what was a performance of near perfection.
MAN OF THE MATCH: Gianluca Mancini