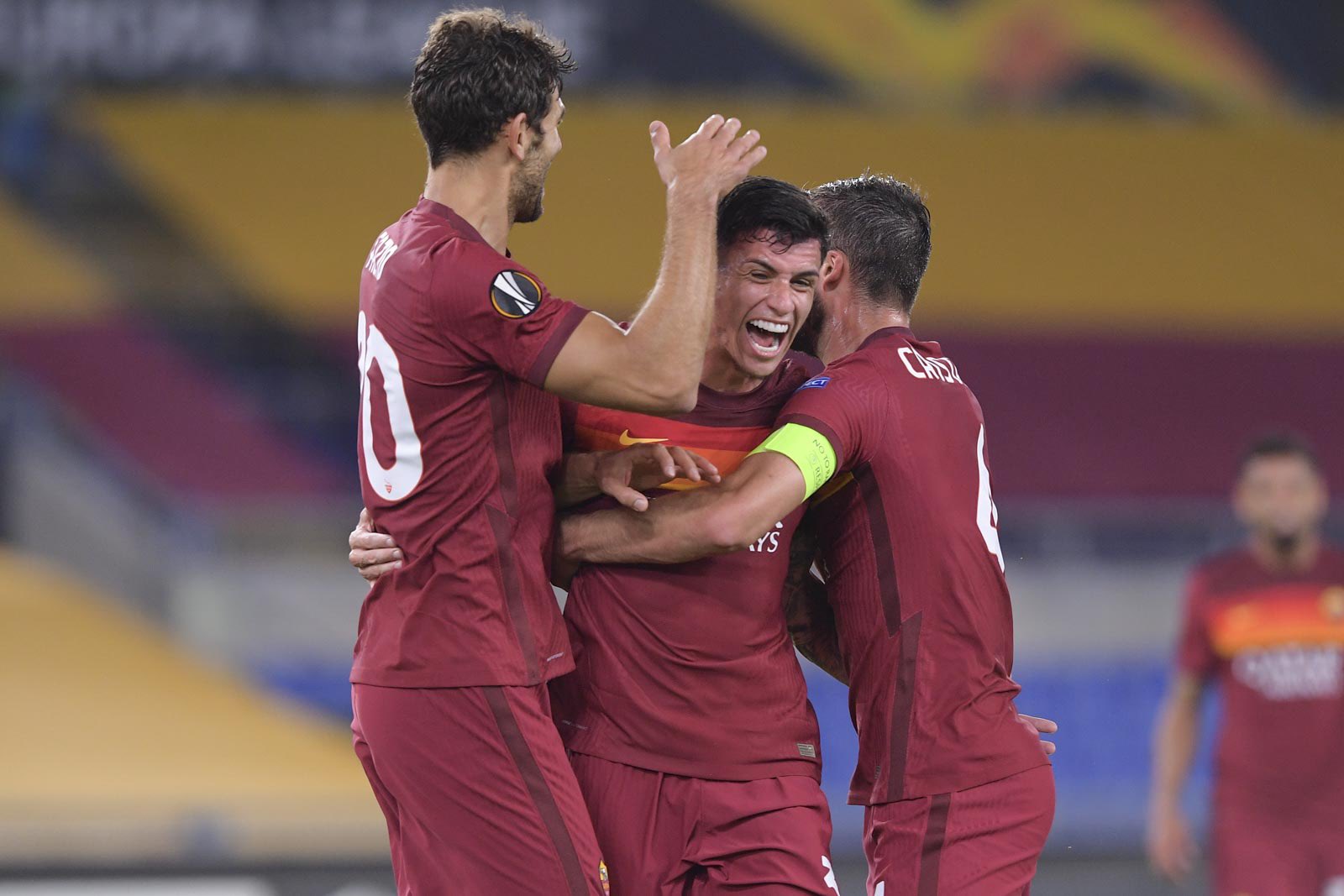 Roma was coming off one of their best performances against a talented Fiorentina team at the Stadio Olimpico. For the most part, Roma has overachieved the limited expectations that were on them going into the season; as I said the last couple of weeks, the team is a lot better than people think. However, in the Europa League, they have not looked all that strong or convincing. They have used most of their rotation Squad, but there's certainly room for improvement if Roma wants to win this competition. Thursday night, they hosted Romanian champions CFR Cluj who going into the game with top of their group. This was an opportunity for Roma to re-establish themselves as one of the favorites in this competition. Roma wasted no time pushing themselves in front in the opening minute of the game on a mutually the game's first attack Leo spinazzola picked out a cross for henrikh Mkhitaryan The Armenian connected on a header to give Roma a very early 1-0 lead. Roma showed their dominance early as they were in cruise control the majority of the game. CFR had a chance every once in a while, but they just were severely outplayed by a much more talented team. Before not too long, Roma would get their second coming off a corner kick Rodger Ibanez connected on a header that gave Roma a 2-0 lead. It would provide even worse from there for the Romanians. Late in the first half, Roma's new Striker bojar mayoral struck a headed pass in front of the box into the back of the net as Roma had a 3-0 lead after 45 minutes. CFR Cluj tries to get themselves back in the game or at least make it look a little bit more respectable they had their opportunities and even a penalty that was not given. However, it was evident from the very beginning that CFR could not contend with Roma's talent. In the final 10 minutes of the game, bojar mayoral got his brace. Pedro Rodriguez added a fifth as Roma ran away with a 5-0 victory taking themselves to the top of the group after a shaky opening two games. Roma get a dominating performance without having to play edin Dzeko, which is the icing on the cake. Roma get the job done at home as they had the top of the group.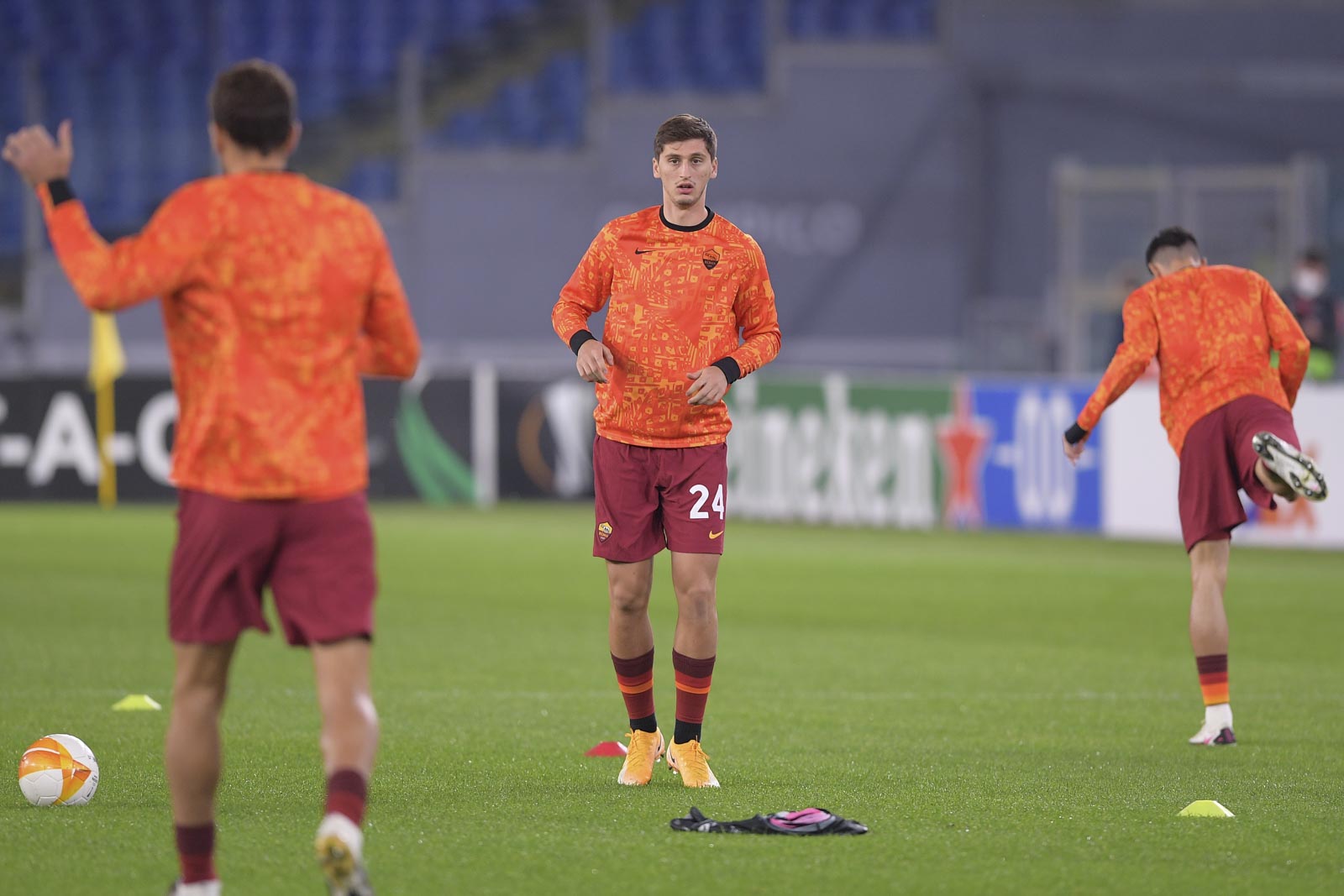 Paulo Fonseca set his Roma teen out of the 3-4-2-1 formation. It is a mix of some starters and some rotation players tonight. In goal is Pau Lopez as he has been during that Europa League. The three center-backs would be Rodger Ibanez centrally Max kumbulla on the right, and Federico Fazio on the left. The left wing-back would be Leo spinazola on the opposite side as the right wing-back would be Bruno Peres. In the defensive Midfield, we would see the pairing of Bryan cristante and Jordan veretout. Upfront on the left-wing would be Mkhitaryan, then on the right-wing would be Gonzalo Villar, who plays a little higher up tonight then upfront as the central Striker is bojar mayoral. The bench would be filled with quality with the likes of edin Dzeko, Lorenzo Pellegrini, Pedro Rodriguez and others.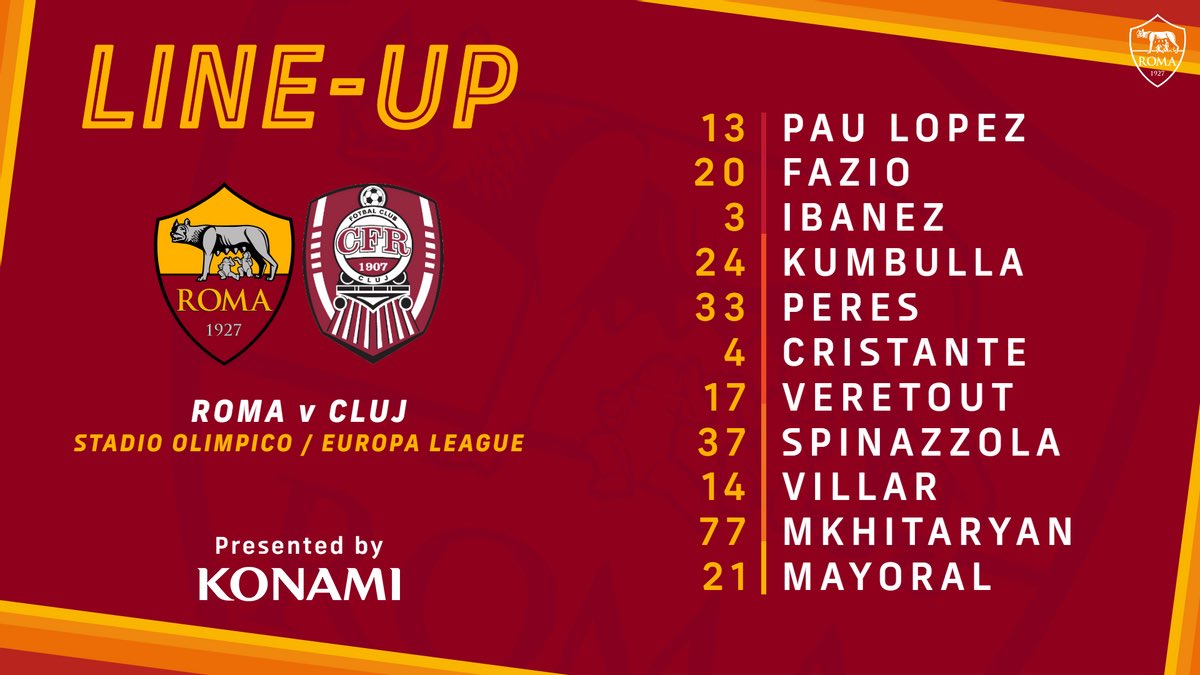 After preparation and predictions, the match got underway at the Stadio Olimpico in Rome in the Europa League matchday three against CFR Cluj. Roma wasted no time stamping their authority on the game. in the first minute, Leo spinazzola hit a cross into the box found Mkhitaryan's head as the Armenians powerful header beats the Romanian keeper to give Roma a 1-0 lead. They caught CFR Cluj sleeping as the Italians looked to be in control even in the early moments. A few minutes later, the Romanian side tried to respond, but in the attempted strike was dealt with by Lopez. Roma was in cruise control most of the time; they were cutting into the dangerous area; even though the Romanian side had a couple of moments in which they could have got themselves back in the game, it was all the Roma. Roma doubled their advantage in the 24th minute on a corner kick hit by Jordan veretout found the head of Rodger Ibanez as the center back extended the lead converting from close range as Roma took a 2-0 lead. It got even worse in the 34th minute Roma was in again Jordan veretout saw a strike saved which was picked up by Roma as a Bruno Peres completed a headed pass into bojar mayoral who followed through ripping through the back of the net to give Roma a 3-0 lead scoring his first goal since his move from Real Madrid. There were a few late chances, but it was a 3-0 in favor of the Italians thanks to Mkhitaryan, Rodger Ibanez, and mayoral after the first half.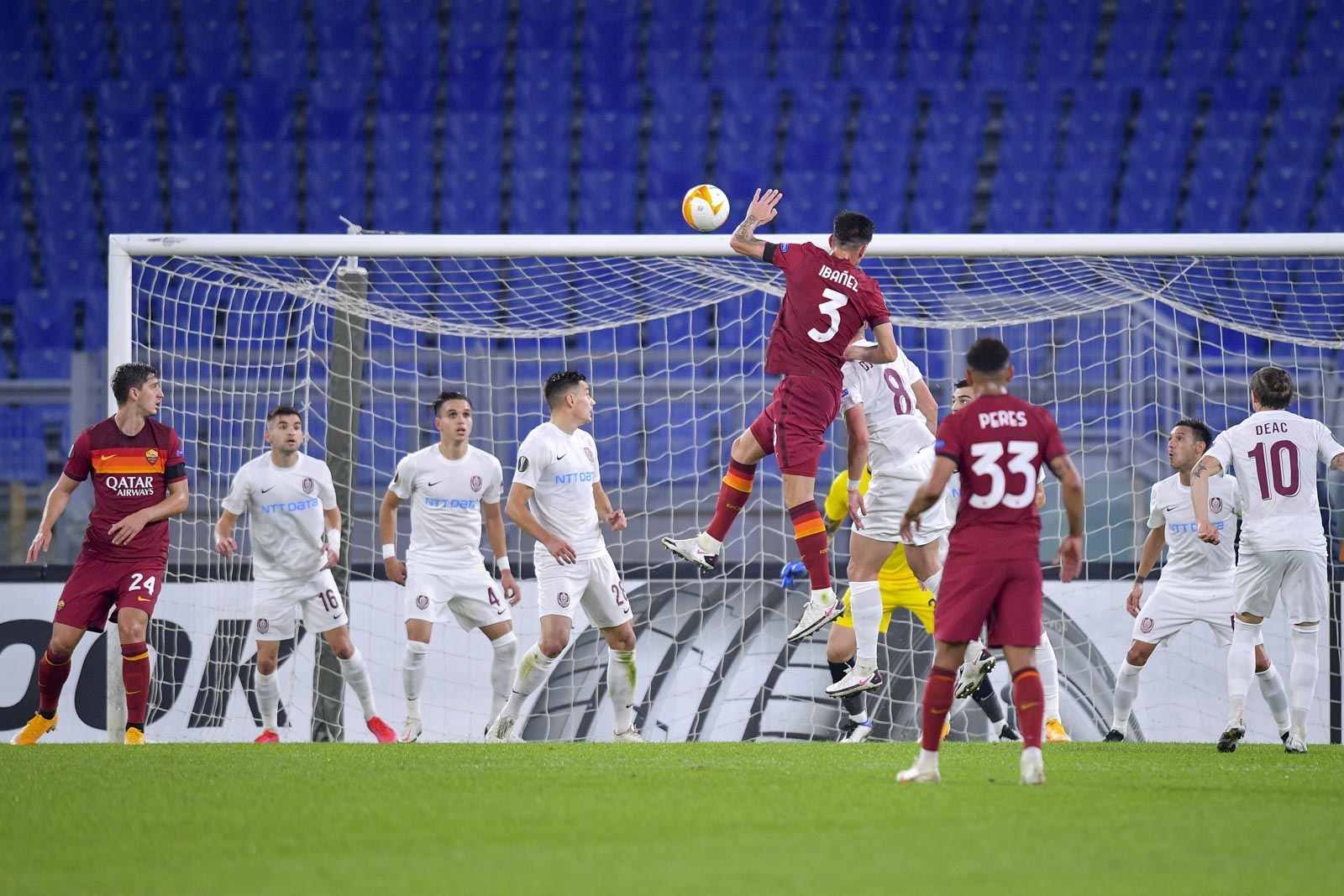 A first-half completely dominated by the Italians, allowing Roma to go to the bench at halftime, giving rest to some of their starters such as Jordan veretout, Mkhitaryan, and Leo spinazzola. All three were taken off at halftime as Lorenzo Pellegrini, Juan Jesus, and Pedro Rodriguez entered the fold. It was more or less the same as what we saw in the first 45 minutes. Roma dominates the game with a couple of chances from the opposition, but for the most part, we're in complete control, allowing them to take their foot off the gas. After a Pellegrini miss a minute into the second half, Roma brought on Chris Smalling. a couple of minutes late bojar mayoral came close on three opportunities within minutes of each other but each time just lacking a little something else to finish off the chance. It was relatively uneventful for most of the second half. CFR had a pair of opportunities and even a penalty claim that was not given that probably should have been. With about 15 minutes left, Roma brought on a youngster Tommaso Milanese as he made his debut. 3 minutes into it, he came close from inside the box. But then in the 84th minute, he assisted bojar mayoral as he scored his second goal of the game. In the 89th minute, Pedro Rodriguez scores from inside as Roma ran out to a 5-0 lead time ran out on the game as Roma pick up a massive three points putting themselves in pole position in the group a of the Europa League after some underwhelming performances in their last two games in this competition their back and rolling and look like one of the favorites to win it once again. A fantastic performance, but most importantly, they get points that put them at the top of the group, which will give them momentum going into this weekend as they face Genoa before the International break.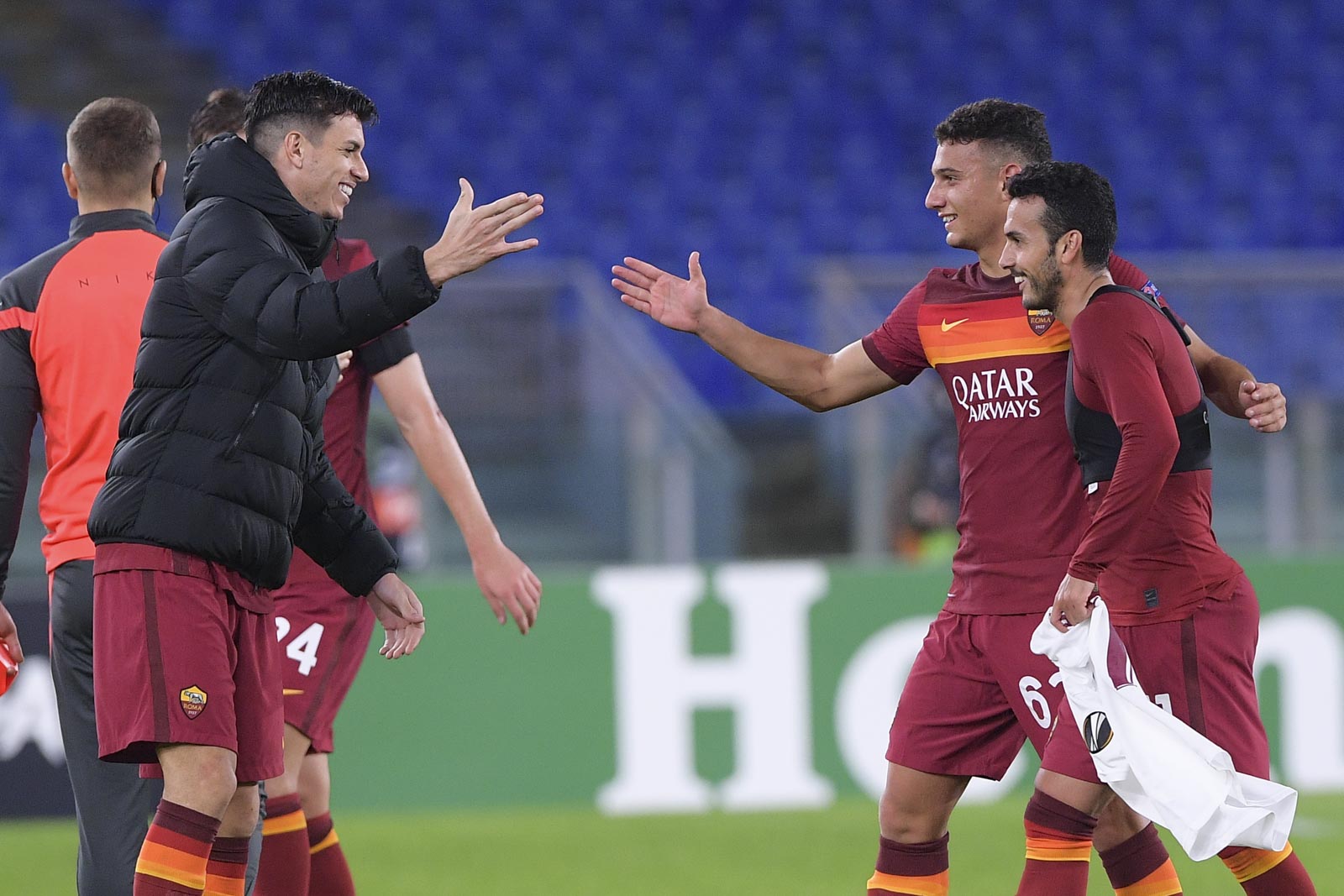 Roma has struggled in the Europa League so far this season with their second team. Even though they were missing some components and a few starters got the nod tonight, that's over. It was complete and utter domination from Roma. The Romanian Champions did not stand a chance as they were already losing after the first minute. They scored two more times before the second half, and added another to their putting five past CFR Cluj. It was a performance of pure control. They were in control of the game all the way through. In fairness to CFR, they did create some chances and had a penalty call that wasn't given. Not only did Roma brush them aside, but on top of that, they now have full control in the group. If they go to Romania and beat CFR on the road, they will pretty much of wrapped up the group. It was an uneasy start, but they've got things back under control not only in the league but in Europa League now, the team is playing in great form and did an excellent job of mixing starters with reserved for this matchup. On top of that, Paulo Fonseca took three starters off at halftime, allowing them to refresh for the game on Sunday. The best part of this game with edin Dzeko did not have to play a minute. The Bosnian is so vital to Roma, and even though he has so many qualities, he is 34 years old, and it's good that he was allowed to refresh. There's not much else to say; it was a pretty routine Victory dominated and outstanding performance. A Roma youngster made his debut and assisted the final goal of some young talent coming through the ranks. bojar mayoral secured a brace as he scored twice after underwhelming performances in their opening two games of the group stage. He still an unfinished product, and Roma don't quite know what they have with him yet but based on what we saw tonight, can someone that can make it impact on this team if he's able to keep it up and continue to improve he is Roma's mathematics tonight thoroughly deserving in what was a rebound performance after two mediocre games for the Spaniard as of Roma were convincing all the way through.
MAN OF THE MATCH: Bojar Mayoral