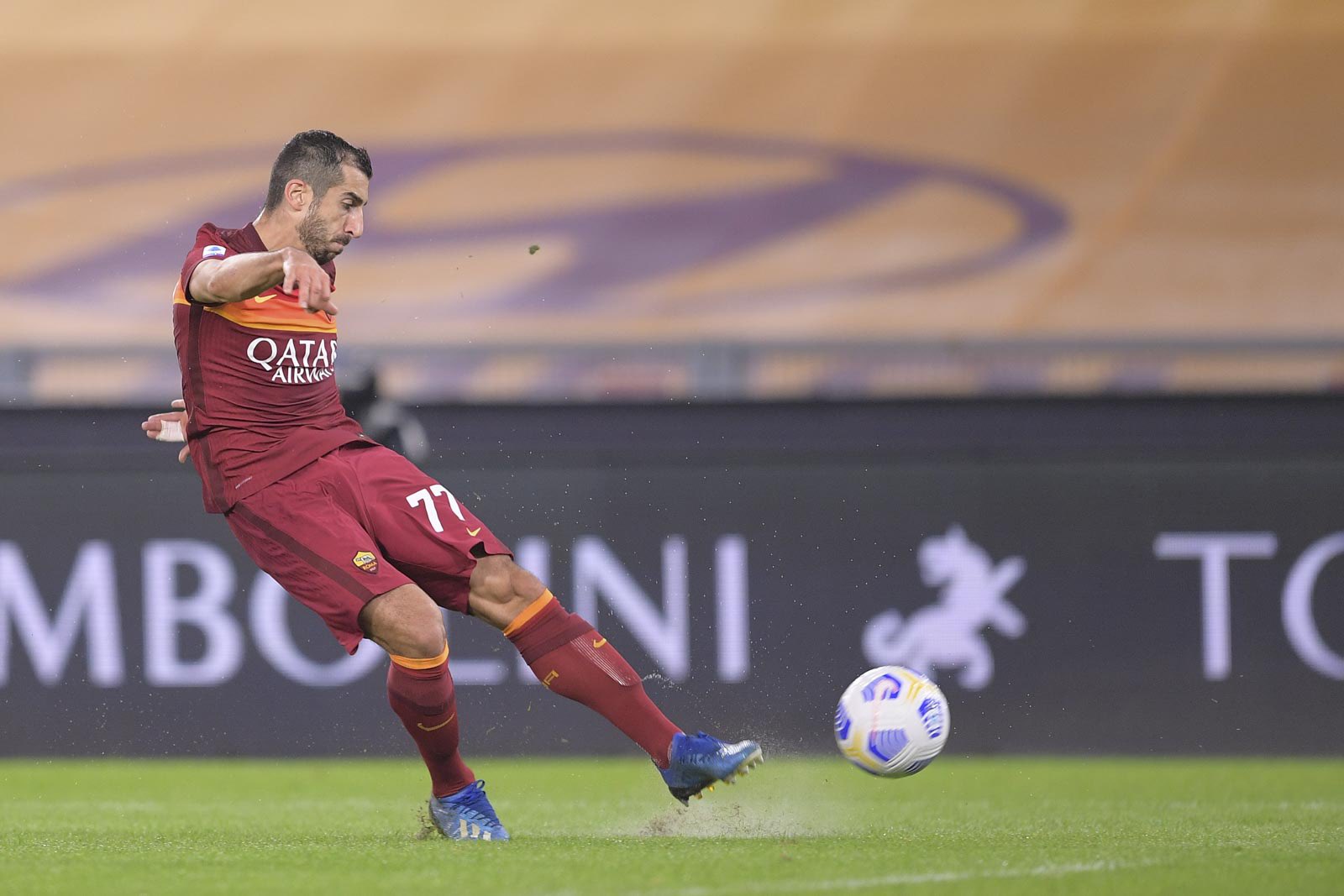 Roma ended the month of October in excellent form. There have been a few games in November already, but we're just going to focus on what this team did in October as we reward the player of the month. Their final game in September was a 2-2 draw against Juventus. A match and a game that Roma should have won this only push Roma through October, dropping just one point. This team started to look like a Champions League standard in October, and November is starting to look like potential contenders, but it all started with a string of games from October 3rd to November 1st. They kicked off the month with a 1-0 victory over Udinese. It wasn't the best performance, but Roma got the goal needed to put away a team that will be fighting for their lives this season. Pedro Rodriguez scored his first goal in Roma colors to collect all three points. The Romans follow that up against Benevento. Roma's form against newly promotion sides is well-documented; they are literally spotless. Against Benevento, a deflected goal saw them go behind early but that was mutually the only damage Done against them. Henrikh Mkhitaryan put on a clinic supplying two assists as edin Dzeko got back on form with two goals in a 5-2 victory for Roma. They had some trouble in the Europa League after going down early against young boys. Fonseca brought on some starters in the second half, and Roma scored late twice through Bruno Peres and Max kumbulla to see Roma beat young boys in Switzerland 2-1. One of the most exciting matches of the month followed up that performance against AC Milan office on zero. It was a controversial game based on the penalties given to both teams but a truly outrageous football match. Ibrahimovic scored, Dzeko responded AC Milan score immediately out of the second half two controversial penalties, and then Max kumbulla rescue drama in what was a fantastic 3-3 draw. In the Europa League against cska Sofia, it was an unenergetic unenthusiastic 0-0 draw against the competition's lowest-ranked team. However, the first of November made up for it in a completely controlled and dominated the match against Fiorentina with Leo spinazzola and Pedro Rodriguez, the goal scorers in a 2-0 victory. The three nominees for this month are edin Dzeko, henrikh Mkhitaryan, and Pedro Rodriguez. But I want to commend Roma's entire defense; even though they do not make it on the list, they have been phenomenal.
3rd: Edin Dzeko : 3 Goals 1 Assist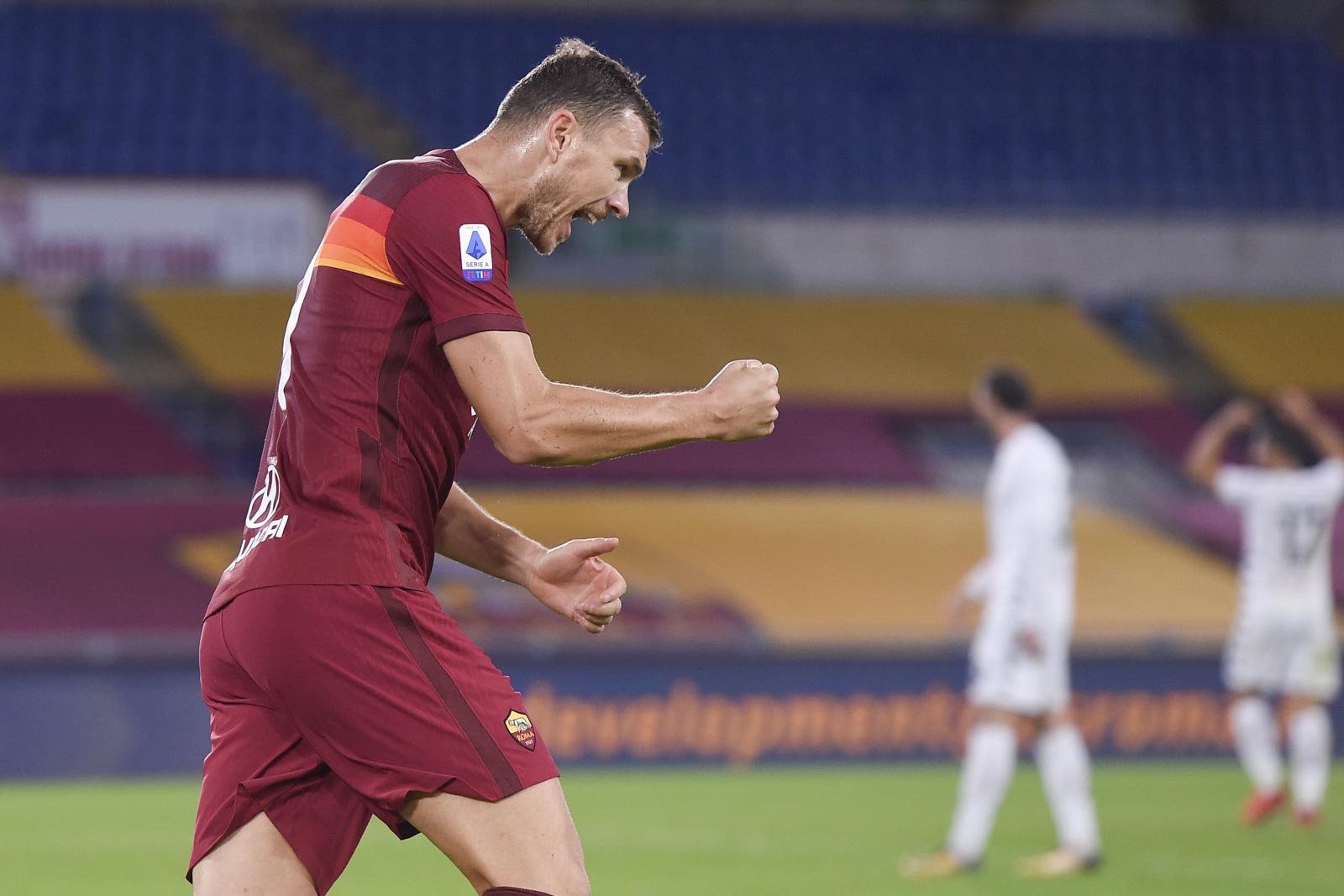 Edin Dzeko completely rebounded and showed resilience after a really poor month of September. I mentioned this a lot, but edin Dzeko is one of my favorite players ever to wear the shirt and is one of the best center-forwards in club history. However, he was erratic and very inconsistent in September. He missed two golden chances against Juventus that would have won them the game and missed an easy scoring opportunity against Udinese, who would have put the game away a lot sooner. The rush to sign bojar mayoral intensified because Roma felt they needed another Striker based on the age and then form of the Bosnian. I even suggested that maybe benching him against Benevento. As it turned out, it was exactly what he needed. He was superb in front of the goal did all the other things edin Dzeko does so well from the link-up play between himself and the players around him from the passing ability and ball control I'll say it once, and I'll repeat it he is the most complete Striker the issue we have had with him is his wasted chances in front of goal. Against youngboys, he came off the bench and instantly changed the game and was a big reason why Roma could come from behind and when. In the crazy 3-3 Thriller against AC Milan, Ibrahimovic gave Milan the lead in the opening 2 minutes, then the game leveled by edin Dzeko on a corner kick. Roma right back in the game and overall throughout was excellent. he didn't make much of an impact against cska Sofia mostly because he was kept on the bench for the majority of the game. Against Fiorentina on November 1st, even though he did not score, it was another superb performance. He is really turned it around a really problematic start to the season and now looks like he could be an essential piece; maybe he doesn't get the 19 goals he scored last season, but he is good enough, and there will be enough chances there to score something at close to that. Three goals and one assist over this stretch show his qualities; he was really outstanding this month just didn't do quite enough to win the award on this occasion.
Runners Up: Pedro: 3 Goals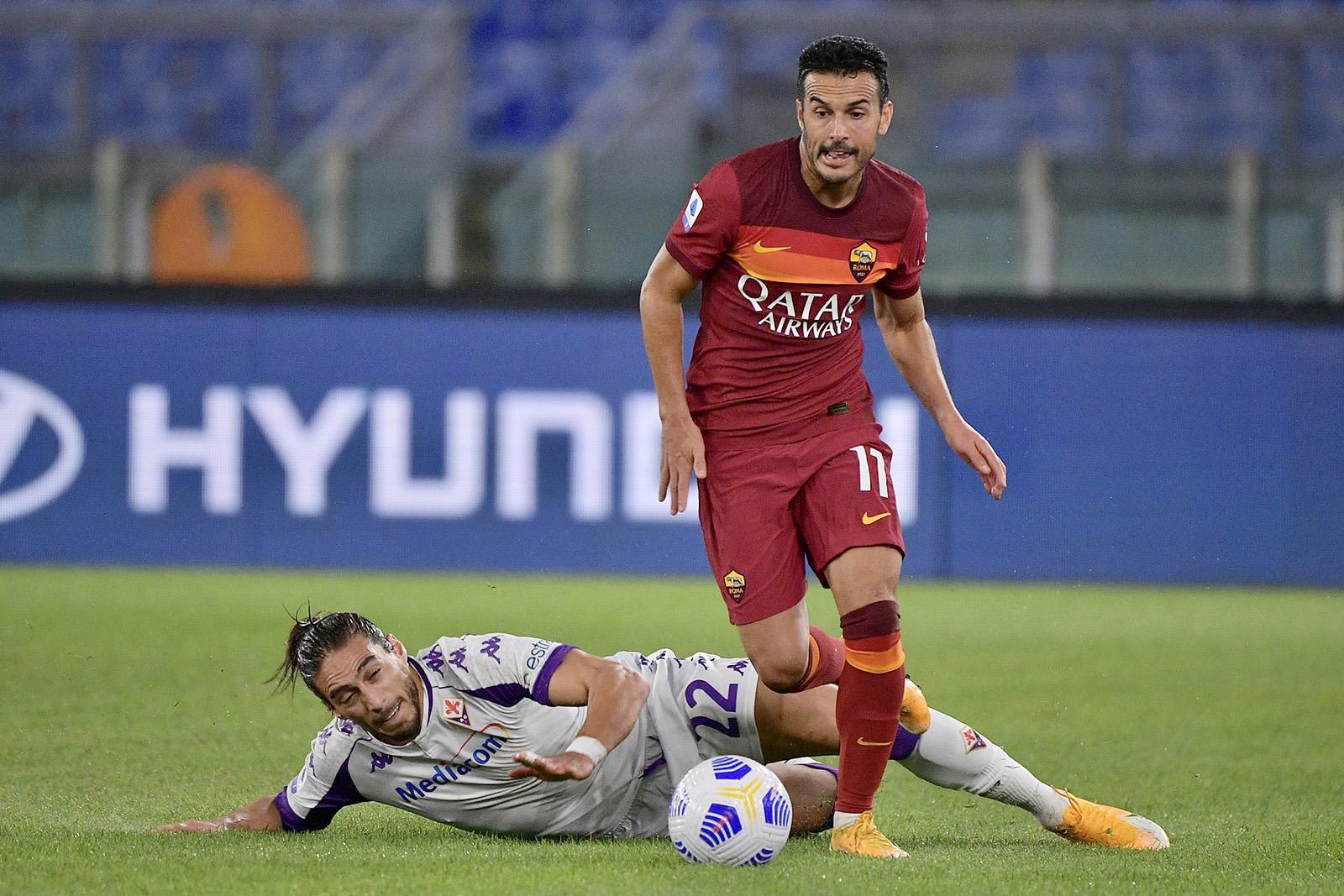 The runner-up for this year's player of the month goes to Pedro Rodriguez. He has been another player that has been instrumental to Roma's early success this season. At 33 years old, he's still one of the best-attacking midfielders in Italian football. Haven't won trophies with Chelsea and Barcelona Roma were able to get him for free, which now seems like a crazy proposition since the first game of the season has been one of the more impressive attacking players. With the absence of Nicolo zaniolo, the Spaniard has gone into that role and thrived. As it stands, he is Roma's leading goal scorer in all competitions along with henrikh Mkhitaryan. It has given Roma a different dimension and why they're consistently dangerous on the counter-attack. It is a team with pace, and even though he is 33 years old, he had all the qualities to continue to do this. The month of October was indeed a very productive one for the new Roma man. In the first match of the month against Udinese, Pedro hit a rocket from well outside the box after stealing the ball from a Defender in what was one of them was the best goal this season. It was a vital goal in a 1-0 victory against Udinese. it was a benchmark Roma picking up that momentum. In Roma's 5-2 victory against Benevento, the Winger came to the occasion again, getting Roma back into that game before they're rolled over Benevento. He was also a big part of Roma coming from behind against young boys in the Europa League after a less than the productive first half. He got Roma into position several times before their dominance eventually took over. Then in the final game of this time frame against Fiorentina, which was arguably their best performance of the season in another 2-0 Victory, Roma only dropped one point, and he shows qualities against AC Milan as well; he is really proving to be a weapon that Roma didn't know they had. He scored three goals, and early in November, he got another goal in the Europa League. He's got four goals this season already, which is more than he had with Chelsea all of last season. Nicolo zaniolo being out hurts, but having a weapon like Pedro but not only is explosive and can score goals but can do a lot of other things is ball movement the way you can get into tight spaces and make those runs using his speed even at his age he is proven to be superb. This month was only the beginning, very worthy of the player of the month seeing him as a runner-up in October.
Winner: Henrikh Mkhitaryan: 4 Assists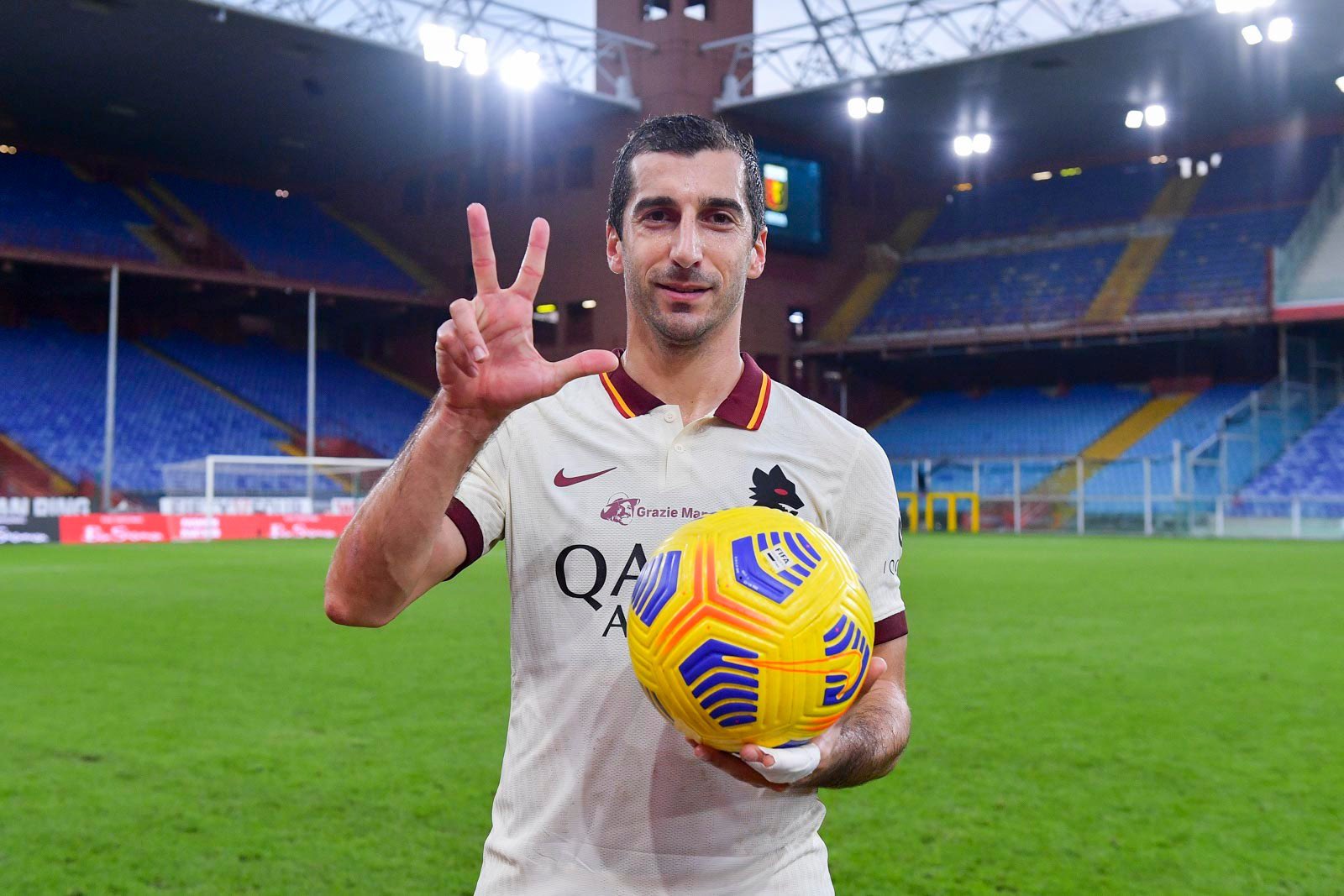 The player of the month this month goes to henrikh Mkhitaryan. He is another player that joined Roma for free this summer. After spending last season on loan Roma and Arsenal agreed as the London-based Club did Roma a favor. They have had a working relationship for many years with players having gone in both directions. They allowed henrikh Mkhitaryan to leave for free. Last season the Armenian was one of the best players at his position last year; the problem was in the last campaign, he suffered injuries too far too frequently but still ended up with seven goals and six assists in all competitions; those numbers would have been significantly higher had he stayed healthy all the way through. No injuries this season so far, and he continues to add to the run of form that we saw from him last season. He has been one of their best players this year, and it's a big reason why Roma are on the verge of a title race potentially. In the month of October and the first day of November, he had four assists across those games at that time. Udinese was not an excellent game for any Roma player outside of Antonio Mirante and Pedro Rodriguez, making the month he ended up happening even more impressive. The Armenian had two assists in the 5-2 victory against Benevento, not to mention he had a wrongly ruled out goal. Not only that Beyond selfishness he showed on the counter-attack in that game setting up edin Dzeko for two goals a player that needed the confidence instead of trying to score those goals and self which he quickly could have done he set up perfectly the Bosnian allowing him to score twice after having a less than productive September. In addition to that henrikh, Mkhitaryan has been crucial in so many different ways not only his ability to score goals and facilitate for opportunities but how dangerous he can be with his speed and athleticism on a Counter-attack; this is one of the best counter-attacking teams in Europe, and a big reason why is Paulo Fonseca obviously but also the Armenians role in Roma getting on the break. Pedro Rodriguez and Hendrik have been a class above everyone else during this month. They have communicated on many goalscoring opportunities and seem to be on the same page an awful lot of the time. They have never played together until this season, but the chemistry is undeniable. Early November on top of what he's already done, and I'm not judging this on what we've seen from him so far. Still, he clearly has been the best player for Roma this season, but this November, he has four goals in his last two games, including a hat-trick against Genoa, which was the first Roma hat-trick in the league since 2016; he continues to show His Brilliant this month he was world-class not because of the numbers because they don't tell the whole story what the impact he has in the counter-attacking football the Roma have been playing this season he has been responsible for a lot of that success. Roma dropped just one point outside of the Opening match of October henrikh Mkhitaryan has been flawless even in matches he did not score like the AC Milan game. He showed explosive mentality, an extreme football intelligence productive of a month that you can have. Based on how the month has started, it's highly likely that he will be player-of-the-month once again based on how he is playing. There are very few players in the league this season that has had a better return than henrikh Mkhitaryan. Roma collectively has been excellent, but on this occasion, The Armenian gets the honors.