Atalanta 2 Liverpool 0FT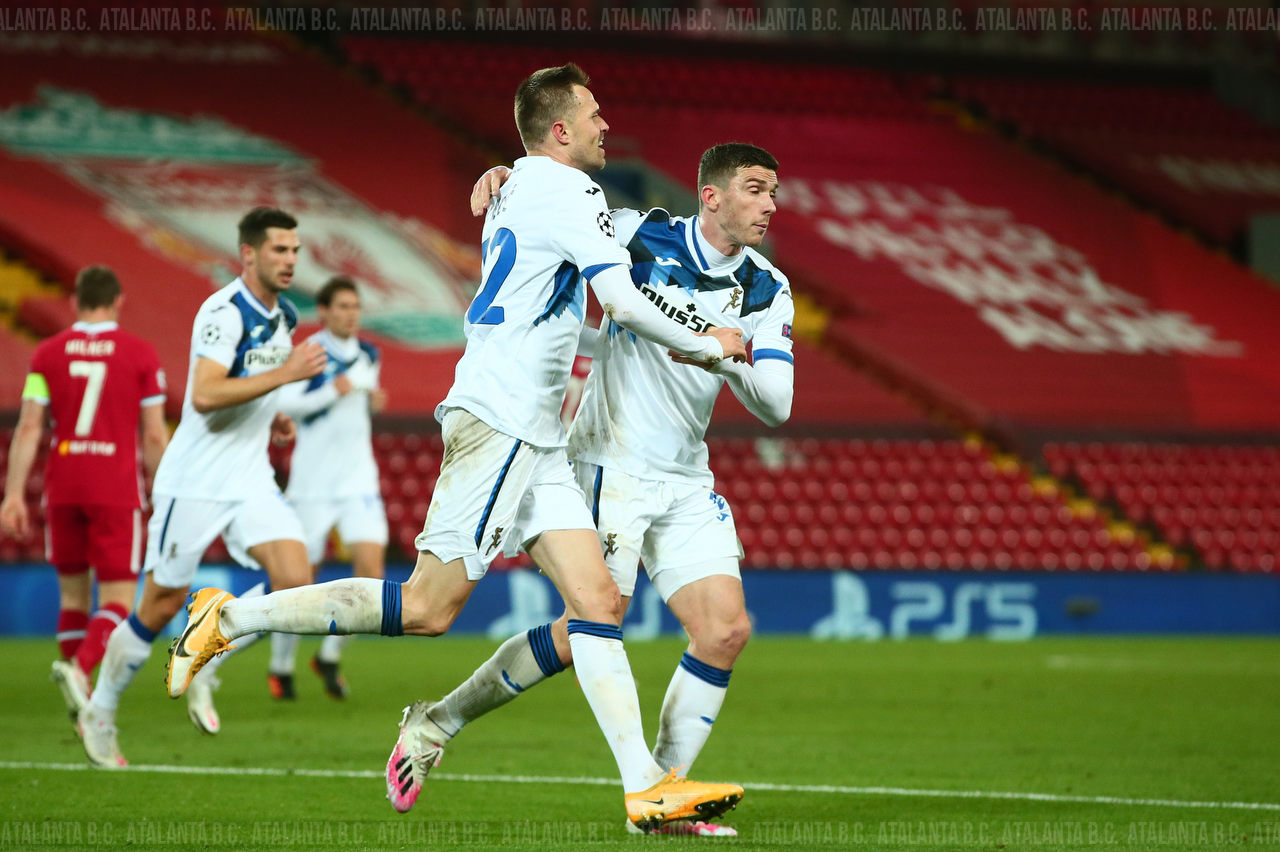 In the Champions League, we saw two of the best-attacking teams over the last couple of years go head-to-head in a very competitive Champions League group that does not seem to have a definitive winner. Atalanta and Liverpool went to battle for the second time in this group. In the reverse fixture, it wasn't even close. Liverpool ripped apart Atalanta in Bergamo. In what was 5-0 Annihilation following a Diego Jota hat-trick. Atalanta couldn't do very much of anything in that first game outside of a few chances from Papu Gomez and duvan Zapata it was a miserable night as Gasparini's team we're completely overwhelmed at home. The thought was it would even be more difficult at Anfield. Even if there are no fans in the stands, it is a place that has its difficulties because of how consistent Jurgen Klopp Liverpool is in their home stadium. The Reds have not lost a match at Anfield since Chelsea beat them in 2018 two years ago. Regardless it was going to be An Almighty challenge for the team from Bergamo. Liverpool remains likely to retain the Premier League title. Still, the league has not been that strong this season; meanwhile, Atalanta has not played well at all as of late despite their hot start. Papu Gomez continued to be absolutely world-class; they really haven't had a great performance in several weeks; this felt like it would be a little too big for them once again; however, the exact opposite occurred. Liverpool, we're not playing a full-strength team but on paper still were Miles Ahead of what Atlanta had to offer. From the first kick the ball in the first half completely and dictated the match, Atlanta came in very early with an opportunity to see themselves going front. Josip ilicic in space using his size and body, getting just outside the box, but his strike was a little off. However, the form of Atalanta completely changed; they were the better team early really controlled Gomez was really excellent trying to facilitate opportunities for his teammates. They had multitudes a chance to push themselves in front. Robin Gosen very nearly gave themselves the lead with a strike from the side of the box at Allison Papu Gomez came close and a few others while Liverpool really was falling out of the game other than a Mohamed Salah strike Liverpool didn't really create that much of anything. Atalanta had the momentum, but after 45 minutes, it was a 0-0 draw; however, it seemed like an evitable that the Italian side was going to breakthrough. Liverpool is close to unbeaten at Anfield and had gone 64 games in the Premier League without a loss based on how Atalanta was playing that seems to be very much up in the air. In the second half, it was more of the same although Jurgen Klopp made some adjustments, Atalanta still had all the momentum driving them. Papu Gomez was brilliant in the second half, trying to outstretch Liverpool with a curler from outside the box, a very well had a strike but went straight to the goalkeeper. However, the brilliance of Papu Gomez was controlling the pace. Sometimes just a little small touch to open up space, control the ball, and use Vision when he was off the ball, he evaluated his options around him, so when the ball returned, he would hit it right in the right spot. After Papa Gomez completed a pass back to the Midfield, Josip ilicic made a run into the box Papu Gomez retrieve the ball, hitting it perfectly inside as in time find the Slovenian as Josip Illic beats Allison, uses his size to get through and putting Atalanta in front as the Italians took a 1-0 lead. Jurgen Klopp immediately made a substitution bringing on Roberto firmino and Diego jota. However, those changes made no difference. It was Atalanta's night in Enfield. Once again, Papa Gomez created opportunities, another deep cross from outside the box that reached Hans hateboer, who set up Robin Gosen smashing a strike into the bottom corner as Atalanta took a 2-0 lead. Liverpool tried to get themselves back in it, but they had a miserable time as Atalanta's backline didn't have much to do all game; they didn't have a sniff in the game after the full-time whistle. Atalanta has done it, getting a much-needed boost to confidence with a big win at Anfield, keeping them alive in the group with a possibility to qualify. Gasparini goes into the field against Jurgen Klopp Liverpool and leaves with the points. Atalanta get a much-needed victory as Liverpool fall on their face at home as the side from Bergamo who has one of the smallest wage bills in World football, become the first team to beat Liverpool at Anfield since 2018 has Gasparini shows that this team has a little magic left in a massive victory that sets up an opportunity for them to qualify if all things go according to plan against Ajax.
Real Madrid 2 Inter Milan 0FT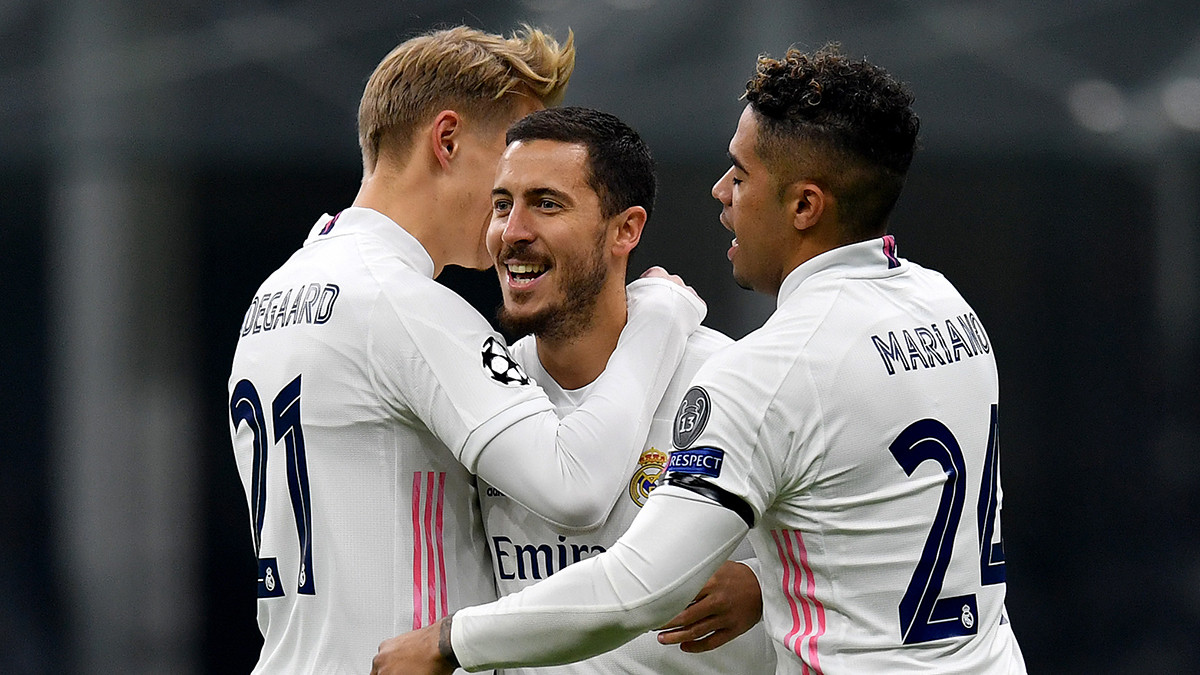 In the most vital Champions League match of the week, we saw Inter Milan host Real Madrid at the San Siro. The entire state of the group hangs in the balance based on this match. Borussia Monchengladbach remains in control after another Victory against Shakhtar Donetsk, putting them in the driver seat to finish top of the group. Meanwhile, the runner-up is still up for grabs with the Ukrainians and Real Madrid at four points with inter with just two going into this game. The result of this game could have determined so much in the group. If inter were to win, they would put themselves in a position to qualify, while A lost would minimize practically any opportunity for them to qualify. This would make or break for Inter Milan. Possibly the job of an Antonio Conte was hanging in the balance. Real Madrid was without Sergio Ramos and Karim Benzema; everything was in play for Inter Milan to get through against a less-than-impressive Real Madrid team. However, how the match started proved that Inter Milan have a mental problem. In the opening couple minutes of the game, Eden Hazard outclassed a defender from the side send the ball inside to Lucas Vazquez what was taken out in the Box by Nicolo Barella, who made an absurd tackle from behind, Bringing Down the Spaniard as a referee made no hesitation as he pointed to the Penalty spot. Eden Hazard stepped up and converted, feeding Samir handanovic giving Real Madrid a 1-0 lead after only a couple of minutes. This was the match Inter Milan was supposed to take control, and the exact opposite was happening very few opportunities for Inter Milan. The Italian Club was quite fortunate not to have gone down by two goats. From outside the box, Lucas Vazquez hit the post, denying what could have been a second goal. Then a little later, Ferland Mendy made a run inside the box; instead of taking the shot for whatever reason, he tried to convert a pass and what could have been a third goal if he made a better decision. Then it all kicked off as drama ensued that resulted in an Arturo Vidal losing his cool. After a potential penalty call was not given against Inter Milan, the Chilean Midfield exploded with rage. He was given a yellow card for protesting, then he got in the referee's face and bumped him as the referee then reached for another Yellow Card as the Chilean midfielder was sent off. Then at the very end of the first half, Luka Modric tried to strike from a distance but was a little offending the first half as Real Madrid had a 1-0 lead. Real Madrid was without two of their most important players and; they were outclassing Inter Milan in the second half, and Antonio Conte was forced to make a knee-jerk reaction when he brought on D Ambrosio and Ivan perisic, taking a Martinez and bastoni out a risk. However, Real Madrid picked up right where they left off in the first half continued to completely dominate inter into really didn't have much of an impact in this game whatsoever, and just we're looking for that goal to really set them apart. Hazard, Lucas Vasquez, and Toni Kroos all had opportunities for that second goal; it was just going to be a matter of time. Then it happened just like it did in the previous matchup in Madrid. Rodrygo entered the game within minutes, Real Madrid all but ended the Inter Milan Champions League campaign across from Lucas Vazquez found the foot of Rodrygo who smashed a goal into the net's back Real Madrid a 2-0 lead. Even after the goal, Real Madrid was in control. Inter Milan had a few chances at the end of the game from Ivan perisic, who was within inches of getting into a goal back and a ball that went into the box. Still, Courtois save, nearly clearing it into Lukaku, but no cigar as Real Madrid cleared the ball out enter try to find themselves back into the game. Still, it just wasn't happening as Real Madrid slow down the pace and controlled through as the Spanish Giants picked up all three points as Real Madrid are within a distance of qualifying for The Knockout rounds. Meanwhile, Inter Milan now has mutually no chance of qualifying, and on top of that, it is possible that they could finish bottom. They could not beat Real Madrid without Sergio Ramos and Karim Benzema, meaning it should be game over for Antonio Conte as their Champions League Dreams are crushed against a shortened Real Madrid team that they should have beaten they do not have the mental capacity to compete with Arturo Vidal getting sent off is a mental thing struggling against some of the Lesser teams in Italy is a mental thing they need a change of Direction and this match was an example of why.