Antione Griezmann vs Osasuna
Antoine Griezmann has lost his way of Barcelona. It has been devastating to see, considering how great he was Athletico Madrid. When Antoine Griezmann was at Athletico Madrid, he was one of the five best players in the world. He was the crowning Jewel in Diego Simeone's side that made a Champions League final. He was in large part, but the player that took him there he scored in the semi-final and the quarter-final of their run to the Champions League final in which they lost to Madrid on penalties. As devastating as it might have been, he was the player that took him there, a true difference-maker not only in La Liga but in European football as well as with the national team. He seemed to be the player that could take Barcelona to the next level. Now while the move to Barcelona was questionable considering it didn't make sense from Barcelona's point of view. Antoine Griezmann did seem like a player capable of thriving under those pressurized circumstances. He was everything to Athletico Madrid, one of the best players in the world. He ended up winning the Europa League with Athletico Madrid in his departure. The demise we have seen at Barcelona isn't entirely his fault; the building was split on the signing itself, and ultimately it has failed. However, he has had some performances the make you think that Antoine Griezmann can be a vital piece. Barcelona right now is in chaos, but if they can get the best of Antoine Griezmann, maybe Barcelona can start to look more respectable. He was a problem when he was Athletico Madrid; he hasn't quite recreated that. He had games last season against Dortmund and Napoli in the Champions League when he was absolutely superb with the player that we saw Atletico Madrid hasn't shown up yet. He had a 15 Goal season, not horrible but not good enough considering the price and standard he held up. However, it seems we are seeing a Changing of the Guard; the Atletico Madrid Antoine Griezmann that we found love with may not be dead yet. We have seen a resurrection of that footballer that was a problem for everyone. Barcelona beat Osasuna, a team in the middle of the table 4-0 over the weekend. The reason was Antoine Griezmann. It was nothing short of Sensational. He had a goal and an assist, but he did so much more than that; it was really a complete performance even looked like he turned back the clock; it seemed like we were watching Atletico Madrid Antoine Griezmann perform in the Barcelona jersey. He scored an absolute scorcher out of the air into the back of the net from Deep, one of the best goals seen this weekend. Then he facilitated, and another one he was inside the box; as the goalkeeper was in a vulnerable position, he could have easily scored another but made be selfless play into Philippe Coutinho. However, it wasn't just that his ball distribution was world-class exceptional dribbling and control; he got himself in dangerous positions almost constantly could have scored a few more goals even. Threatened in pretty much every aspect of the game and switching the field with crosses from one end to another, he showed intelligence. He showed grit, he showed goal-scoring ability and showed self-awareness to have a world-class day. If he can maintain something similar to what he did against Osasuna, he will be right on track to being that player we once loved. In the Champions League, he scored again in another very productive performance; he was one of the best performance of the week, and he justified it with his performance; his movement is spacing and execution set him apart from everyone Lionel Messi may have scored in the game against Osasuna, but the reason they dominated and ran away with it was because of Antoine Griezmann.
Romelu Lukaku vs Gladbach

Inter Milan has drastically underachieved this season, especially in the Champions League in a group they were expected to be at worst second in a group. Things have gone haywire, and this last week they were on the verge of being knocked out of the Champions League. They still have a minimal chance of qualifying, but they gave themselves a fighting chance with a result behind romelu Lukaku. They had not picked up a victory and the Champions League yet, and they were hanging onto two points they had to play at the top of the group. If they even drop the point, they would be out of the competition. Inter Milan ended up scoring first, but then the German side equalized. Romelu Lukaku has been so Reliant on Inter Milan. He has scored 11 goals in 12 games this season and is a big reason why they still find themselves within Striking Distance in the league and the Champions League. Inter Milan are now in second place in Serie A primarily because of the impact of romelu Lukaku. The Belgian striker scored 34 goals last season, was one of the top scorers in the league, and took this Inter Milan team into the Europa League final; they ended up losing to Sevilla, for one thing, is clear they found the ideal replacement for Mauro icardi a player that scored 121 goals for Inter Milan one of the highest-scoring players in league history especially given the time of the frame. Lukaku rejuvenized Inter Milan and became an absolute baller, one of the best strikers in the league, and honestly, outside of Robert Levandowski and erling Haaland, he might be a top-three striker in the world. With the pressure on Inter Milan and Antonio Conte, they needed to get through; they may not make the Round of 16, but they absolutely must finish third in their Champions League group at least giving them a shot in the Europa League. He scored twice against Borussia Monchengladbach. Showing Incredible strength on a counter-attack, pushing off a defender trying to Mark him inside the box then in the same motion converted a strike into the bottom corner past one of the world's best goalkeepers. Then he found another one being in the right place at the right time, making a fantastic run into the box before converting yet another one romelu Lukaku scored two goals in their biggest match of the season so far. He was absolutely Sensational to justify how important he is to Inter Milan. Now I want to be respectful; they have Martinez and Nicolo Barella, who have qualities, but romelu Lukaku is what makes this team tick. With champions league elimination on the line, romelu Lukaku Rose to the occasion as they fight another day in the Champions League. It is quite possible they still do not qualify for the Round of 16, but a performance of world-class ability gives them a chance because romelu Lukaku put his team on his back and delivered. Can this team win this way? Probably not romelu Lukaku has to carry this team on his back ultimately; it is necessary but also at times making the striker do too much. It is clear he is capable of it. He has become an instant impactful player in this Inter Milan team that was lacking a sense of direction romelu Lukaku provided it as he had another outstanding performance in the Champions League that keeps them in the running for qualification; it's going to be a fight to the end but if romelu Lukaku can play at the same standard as he played this weekend in the Champions League then Inter Milan and may actually still have a chance to qualify this week he was outstanding. There's no other way to put it if he keeps us going. Maybe Inter Milan get in that title race and even still qualify for the Round of 16.
Andre Silva vs Union Berlin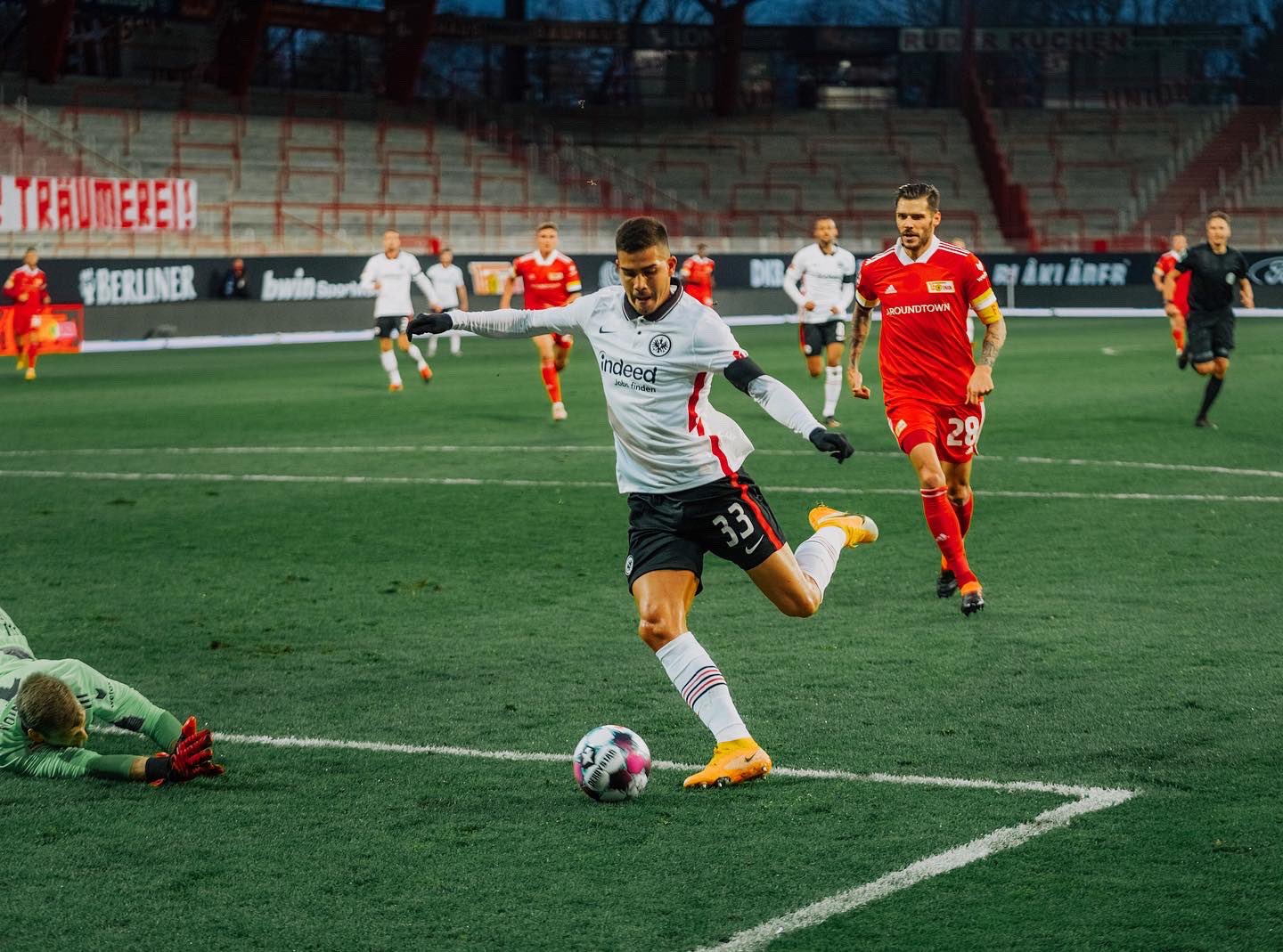 Another player that deserves recognition is Andre Silva. He was Sensational in the draw with Union Berlin. He has someone else that also has had to recapture his reputation. He was the hottest thing going when he was at FC Porto. After his big-money move to Milan, things kind of collapsed a little bit for him. Since then, he's never had a season that he significantly struggled, but AC Milan's season created a wrong narrative about his qualities as a player. He only scored two goals in league with AC Milan. However, the AC Milan team that was in place was not very good regardless of whether I don't think it's fair to blame him for that situation. He did score 8 goals in the Europa League, but that never seems to matter; he was looked at as a flop, and slowly but surely, he has shown those types of qualities that he is someone who can be very valuable and vital to a strong team. He went on loan to Sevilla, scored 11 goals, and then last season he joined Frankfurt finally found that home. He was by far one of the best players in the Bundesliga since the restart scoring regularly. He bagged 16 goals last season before making his move to Frankfurt permanent. While Frankfurt may not be in the best moment, he was a perfect replacement for Luka Jovic, who fled to Real Madrid. Andre Silva this season again has shown qualities; he is their top scorer and one of the top goal scorers in the Bundesliga this season. He's finally proven that he is a valuable asset to a team that can challenge European football. Frankfurt may still not be at that level yet, but they're in the top 10 and can push towards the top of the table. There's probably a Europa League team at best, but even though Frankfurt may have some work to do in the market, they have nothing to worry about in the striker position. Andre Silva has been exactly what they had hoped. This weekend was another example of that against a strong Union Berlin team. Frankfurt fought in a 3-3 draw after going down by two goals in the opening 15 minutes. Andre Silva helped claw it back. A sensational run into the box having to go around the goalkeeper before striking from the side with the goalkeeper out of position, scoring his first strike of the day. It was an impressive run and finish, but his crowning moment would come later. The Equalizer that he scored was absolutely world-class. On a free kick, Andre Silva scored a perfectly-placed header using the back of his head to finish getting his brace. As I mentioned, the match finished in a 3-3 draw thanks to a Wonder strike from Union Berlin at the end, but Andre Silva not only scored a brace but his overall play was sensational. He acted as that goal poacher and showed his ability to be a distributor; the link-up play with Kamada and Dost really helped Frankfurt fight back after being down early. He displayed outstanding vision, passing ability control, and yes, he scored twice. He seems to be climbing under-the-radar yet again this season; he is one of the strikers to watch in the Bundesliga. Finally, justifying his performance with validation as I recognize them as one of the players of the week; he has been climbing under the radar for a long time regardless of how Frankfurt do he is one of the most exciting players to watch in the league because he has a unique combination of a goal poacher and a complete Striker if he can improve his technique and continue to play with the consistency and confidence he is right now there's no saying that this Frankfurt team can get into Europe again they have an excellent team, but his production is driving this team they will go as far as he can take them.