Union Berlin 3 Frankfurt 3FT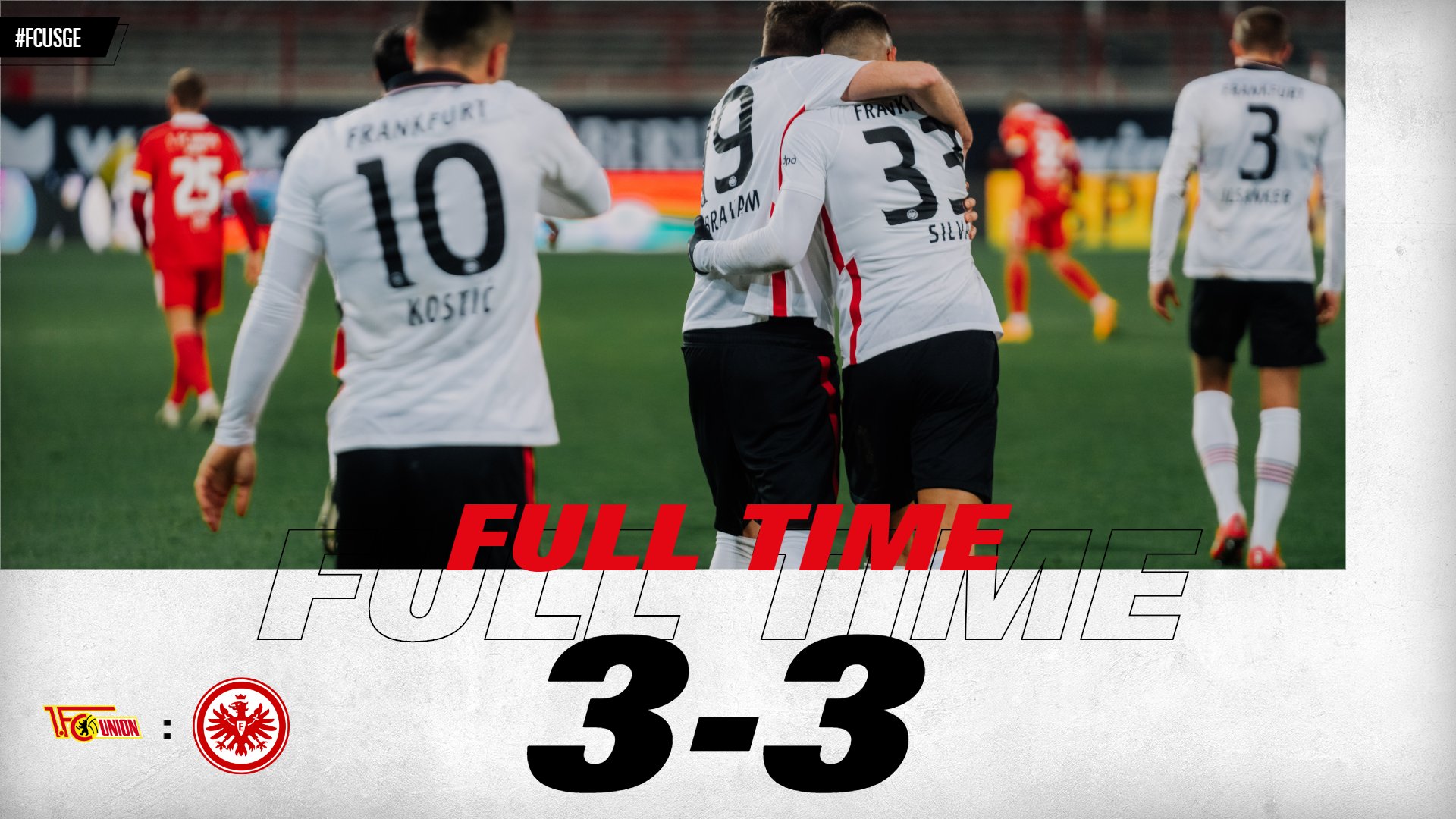 We saw an absolute show in the Bundesliga this weekend. In a match between Union Berlin and Frankfurt. Union Berlin has been a surprise this season as a currently sit in the Europa League Spot while Frankfurt has heavily relied on their Star Andre Silva and Kamada; however, they're not that far from European places; this was going to be a game that tested both teams. It could not have started worse for Frankfurt; a horrible Mistake by Kevin Trapp in the opening minute allowed Union Berlin to intercept the ball before calmly putting it in the back of the net to give Union Berlin a 1-0 lead as the ball went through Kevin Trapp hands. A minute later, Union Berlin drew a penalty Inside the Box and converted, with less than 5 minutes gone. Union Berlin had a 2-0 lead. Frankfurt certainly looked dead in the water. After Max Cruse converted the penalty. Not long after, Union nearly got a third, but Kevin Trapp came up with the big save; then Union came on the counter again, and Kevin Trapp made a double save. Union Berlin was all over them. However, eventually, the tide turned. Kamata send a perfect ball into Andre Silva for Frankfort; the Portuguese made a perfect run as a goalkeeper came out and tried to deal with the situation, but he struck in the back of the net to minimize the deficit. Suddenly, the scores of Frankfurt's levels a perfect free-kick into the Box found the head of Andre Silva in what was an absolutely world-class finish as a Portuguese Striker used the back of his head in a very awkward position to draw the game at a level. A perfect ball from Filip Kostic really made the difference, but Silva's header was out of this world; from 2-0 down, Frankfurt was back in the game. On a counter attack started By Andre Silva that ended up at the feet of Kamada before finding a perfect through past into dust with 12 minutes to go, Frankfurt pushes themselves in front as they took a 3-2 lead as the comeback was complete. However, Union found that moment as Max Cruse had an absolutely stunning strike from outside the Box just minutes after Frankfurt scored. In what ended up being a wild and intense 3-3 draw, Union Berlin take a 2-0 lead inside of 3 minutes, Frankfurt clawed back and even push themselves in front, scoring with not much time left, and then Union Berlin strike again at the end with an outrageous screamer strike. The most thrilling match seen this week, the Bundesliga, truly is magical.
Inter Milan 3 Gladbach 2FT
Inter Milan in the Champions League this week we're in a desperate situation; they basically needed all three points, or it was Goodnight Irene. They were playing the top of the group Gladbach, a team that has looked almost flawless in the Champions League so far this season. Without question, it will get the points necessary to advance through to The Knockout stage and, in all likelihood, will win the group. All they needed was a point to knock out Inter Milan and wrap up the group it was going to be easier said than done. Even though the Germans were in control, the Italians just had to get the result. It turned out to be a climatic traumatic Thriller in Germany. With a little bit of controversy at the end to go on top of it. Inter Milan looks dangerous from the early parts of the game; tell that Inter really could have made a difference early. Martinez's strike from the side of the Box hit the side netting. I need a few other changes; on top of that, Lukaku came close and overall, Inter Milan had that momentum early; eventually, they would push themselves in front. A ball will swing into darmian, who was mutually unguarded; the Italian Defender hit the strike with such power Yann Sommer was still in a great position to make the save, but the shot's power could not be stopped as Inter Milan took a 1-0 lead. However, all of a sudden Gladbach became much more alive in the game. They came forward looks really dangerous on the attack. Marcus Thurman came really close on a strike that Samir handanovic could get his hands on, along with Alexander plea, who came close on several opportunities. It was eventually going to happen for them; they'd regain control from Inter Milan, and then the moment arrived. A great cross from Valentino Lazaro found the striker unmarked in the Box as Plea connected on a header putting the ball into the back of the net. At this point in the game, it would have meant Inter Milan we're going out. However, in came romelu Lukaku after Martinez hit the post. Yann Sommer continues to come through with some big saves; the Belgium Striker stole the show lifted Inter Milan on his back with an opportunity to keep them alive. On a Counterattack, Lukaku had a Defender all over them can use his power and strength to find enough space to drill a strike into the bottom corner as Inter Milan took a 2-1 lead not long after Lukaku was in the right place at the right time as he scored another from close range as inter extended lead even more as Inter Milan had a 3-1 lead. However, here came Gladbach Alexander Plea took advantage of an Alexis Sanchez mistake on a one-on-one, beating Samir handanovic to minimize the deficit; then with less than 10 minutes to go, it would be Alexander Plea completed his hattrick or it at least looked that way. Finding the back of the net on a deep strike, however, this is where controversy kicked in. it would require a VAR check; there was a question of whether or not Brell Embolo was in an offside position. They made a mistake on this play; they looked at the VAR and reversed it. Breel embolo may have been an offside position; however, he was not interacting with the play at all; the ball did not even touch him in what could have been a wild 3-3 draw that could have taken the Germans through. The Italians get a big break following an incorrect video review. Still, Lukaku did what he needed as Inter Milan fight to live another day in the Champions League. Next week, a victory against Shakhtar Donetsk, and if the Germans managed to hold Real Madrid, then Inter Milan against-the-odds could end up still qualify. If this is going to happen, it's going to be on the back of romelu Lukaku, as it showed in a wild game.
Napoli 4 A.S Roma 2FT
Roma saw their 21-game unbeaten run come to an end. It was what felt like a match of Destiny from Napoli. Napoli icon Diego Maradona passed away this week; this was their first real game since his death. It was always going to be difficult for Roma to really stand a chance to get the points against a Napoli team fueled by emotional energy. It turned out to be incredibly one-sided. Roma did not play very well from a positional standpoint; they struggled; they didn't press enough, and in the end, Napoli kicks them in the mouth. However, Napoli probably would have been dominant against any team in the world last night; they were on a mission; they wanted to Tribute Diego Maradona with a dominating display, and that's what they did. Certain circumstances affected the scoreline, and in all honesty, Napoli really didn't pull away until the very end; the game wasn't called evenly at all; however, Napoli deserved the win. In the first half, Napoli took the lead through a Lorenzo insigne, a free-kick. There was offside in the build-up before that occurred, but while Hendrick Mkhitaryan was called outside in an on-site situation that could have given Roma the lead, so there was some underlying controversy in the different parts of the match. At the end of the first half, the game was cooked not because of the scoreline; it was only 1-0 at the time, but both Gianluca Mancini and Jordan veretout came off injured. Meaning Roma had limited defensive options, Juan Jesus had to start in a back 3. The second half was only going to go one way after that. Roma's form in this game didn't improve; it was a bad performance all around. Fabian Ruiz gave Napoli a second as they ran out to a 2-0 lead. Napoli did on. Scoring two more goals in the final 15-20 minutes, ultimately winning 4-0. However, just because Roma lost his game doesn't mean they are not a quality team that will challenge for the league title of the season. The truth is the injuries and the offside call really went against Roma; under different circumstances, the score would have been less lopsided. Napoli would never lose that game; it was a horrible performance, but Roma will bounce back. Napoli tributes Diego Maradona in their victory.