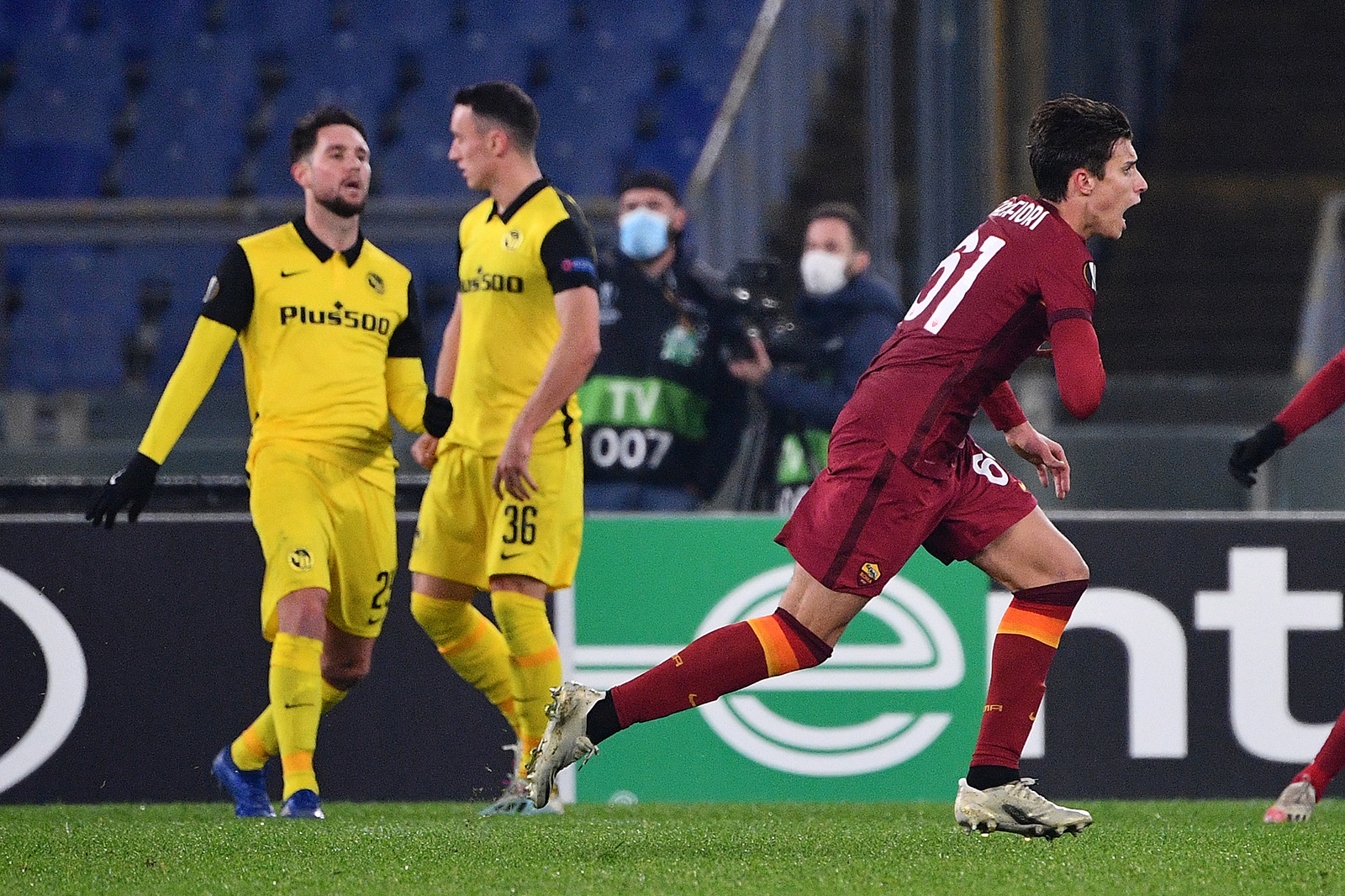 Last night Roma wrapped up their Europa League group after beating young boys 3-1 at the Stadio Olimpico. It seemed to be precisely what the Romans needed after having a hard time over the weekend against Napoli. Roma has another challenging game upcoming, but even a victory in Europa League should give them even that little momentum to take them up a level. Roma needs to get back on track and continue to keep rolling. Roma had beaten young boys in a come-from-behind 2-1 victory when the teams that played in Belgium. It would be a similar type of match. Roma dominated the first half of play; however, young boys struck on the counter in one of their only chances of the first half and converted as the Switzerland Champions took a 1-0 lead. However, that did not last very long Pedro's powerful shot at the keeper lead to the equalizer as bojar mayoral converted a header on the rebound. It was all level after the first half; however, Roma would take advantage and all but wrap up their Europa League group in the second half. We saw an emotional moment for Riccardo Calafiori, the 18-year old wingback who had just gone through covid-19 and two knee surgeries in the last couple of years, finally had that moment he had been waiting for his entire life. Calafiori hit an absolute rocket into the top corner to give Roma a 2-1 lead on a free-kick that was deflected outside of the box. Roma only continues their dominance in the match. Young boys had some chance of occasionally, but for the most part, Lopez was not threatened all that often. With less than 10 minutes to go, edin Dzeko continued to chase down Roma history. The Bosnian Striker orchestrated an unbelievable ball down to the wing before receiving it back into the box before tucking it into the bottom corner in what was a sublime finish. It would be his 110th goal for Roma; he is now only one goal away but moving into third on their all-time scoring list as Roma took a 3-1 lead, basically solidifying the result. Late on, there was some controversy about henrikh Mkhitaryan after getting hung up with Mohamed Kamera was punched in the face immediate red card would be issued as It was a sour end to an outstanding Roma performance Roma get the points, and when group A. After the Napoli performing Roma needed a display to give them that momentum and confidence going forward even though this is the Europa League they compass that against young boys.
A Night to Remember for Riccardo Calafiori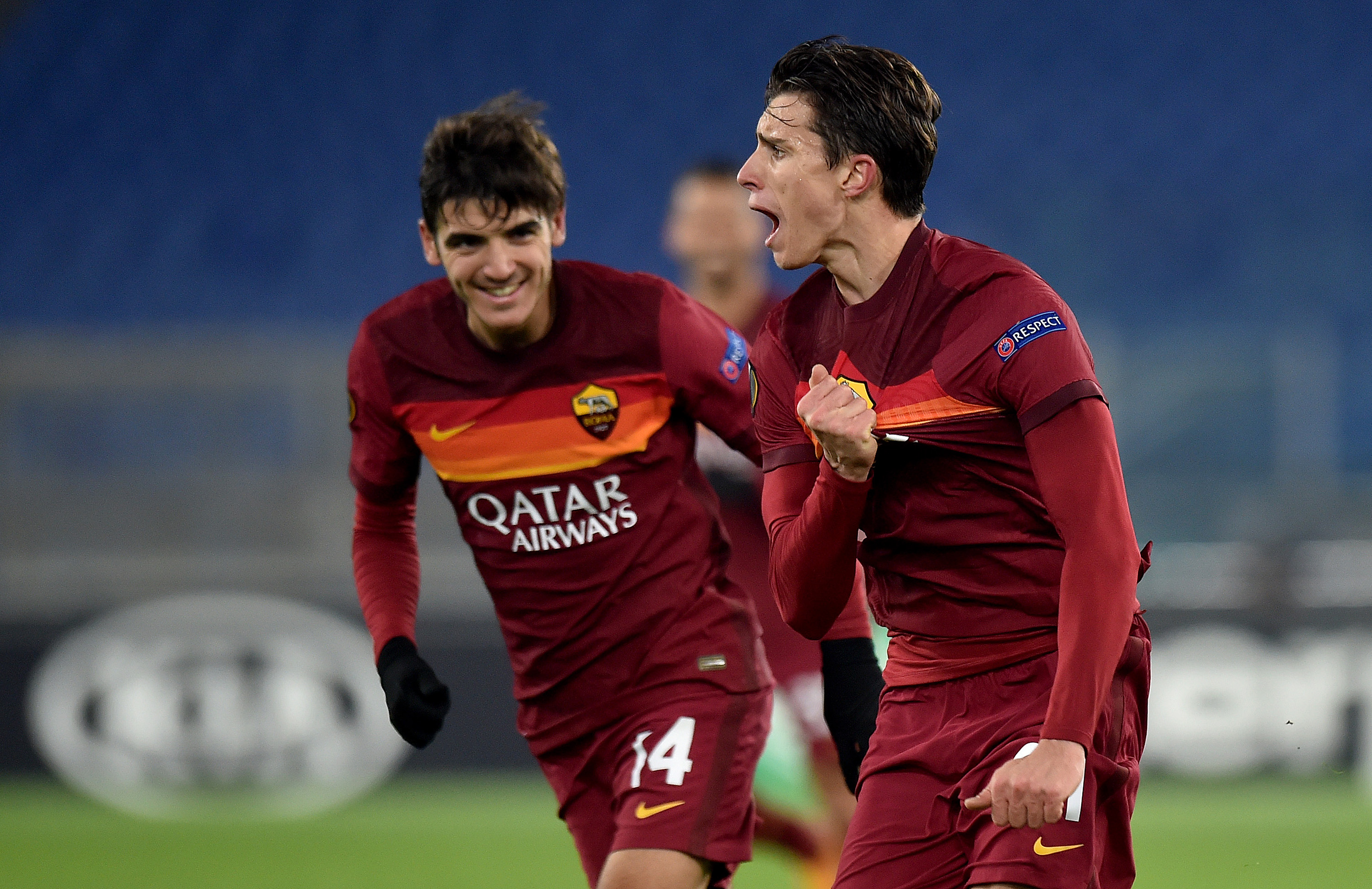 Riccardo calafiori is widely considered the most talented youngster in the Roman ranks. He has the biggest ceiling of any player currently in Roma's Youth Academy or under 19 teams. We've heard about this 18-year-old stud for quite a while, so much so Manchester United and Juventus we're both interested in him before him signing a new contract with the club. Riccardo calafiori has world-class potential he can be one of the best players in his position in the league. He may not be the most prominent talent at the whole club, but he certainly is one of them. Last season against Juventus on the final matchday of the campaign. The majority of Roma starters were rested. At the time, Roma was preparing for the Europa League Clash a few days after the Juventus match because of this, it allowed youngsters such as Riccardo calafiori It was his first appearance wearing the Roma colors. He had just recently turned 18. Despite that, he was the best player on the pitch showed Roma an entirely different dimension. He had the look of a player that can play weekend and week out for the club. Roma has highly regarded him for a long time. Everything came to fruition on that night; he even scored a goal, but unfortunately, it was taken away by VAR Roma ended up winning that game, and even though he did not score, he showed his qualities in that matchup. The bad luck he has been dealt with only increased. Riccardo calafiori ended up with two knee surgeries while playing with the Roma's primavera after recovering from that. He got covid-19; not only did he get the virus he only recently got a negative test. He's been waiting for this moment a long time. He made his first appearance of the Season against CFR Cluj on Thanksgiving and then played last night in what was a night to remember for the youngster. When you grow up in Roma, your biggest dream is to wear the Roma colors. It is a rite of passage with Daniele de Rossi. Francesco Totti recently and Lorenzo Pellegrini. He is one of two Roma born players in the team. He got to fulfill his dream, not only playing the game but making a massive impact. He was Sensational last night, and in the second half, his dream became a reality. On a free-kick that was cleared out by young boys, Riccardo calafiori hit a strike from the gods. As the ball with being cleared out, calafiori drop the ball out of the air; it was a missile ripping through the top corner. It was his first goal in his Roma career in three games played for the club. It was an absolute Thunderbolt; the youngster celebrate kissing the badge; you could tell how much it meant to him. he is a superstar in the making; now that he is healthy, he can make a massive contribution not only in the Europa League but in the league as well. He showed more than just his ability score; he was touch and antagonizing matchup on the way he showed passing ability he showed that determination that grit he had everything necessary to deliver. He has a massive ceiling, and Roma locking him up was such a smart decision because sooner rather than later other teams will understand and be aware of his qualities. It was a dream come true for him. He has Justified the claim that he should be starting more games. Rick karsdorp has done a pretty outstanding job at wingback this season. I fully expect him to continue to get minutes. However, Riccardo calafiori, after a performance like that, should become more regular for Roma. I am not suggesting you need to start every game, but I think Roma should consider starting him periodically, potentially rotating with him and Rick karsdorp. He is such a talent that was highlighted in what was nothing short of a sensational performance. Riccardo calafiori has that talent has the ability to become world-class; he is one for the future, and the best thing about him is he only just turned 18; he won't be 19 until the end of the season. He may just be 18 years old, but he is an absolute baller. It's not just a goal; it's all a collection of skills that he has; he will become an incredibly vital piece to Roma changing their culture.
Mouhamed Camara Send off for Punching Mkhitaryan

In all likelihood, young boys will finish second in this group and make the round of 32. It is still up in the air; all they need is one point against CFR Cluj to get the results they are looking for. Young boys have enough quality in their team to go on a little run. They're not one of the favorites to the competition, but maybe they could get to the round of 16. They have the team's qualities to give a team a game over two legs. I think this team is very capable, and they will be tough out if they get through. It won't challenge it to seem like Roma or teams of that level, but a second to your team in this competition they could do very well with. We have to remember Copenhagen made it into the round of 8 last season FC Basel, and Shakhtar Donetsk made the semi-finals. Finishing second could surely put them in a position where they're taking on a team from the Champions League. However, you just never know this competition will seen Europa League teams take down a team that's been dropped into it. That's not the story here in all likelihood. They'll get the point in getting through. It's not done yet, but I think it is highly likely that they will get the result and necessary to advance to The Knockout rounds. That's not the issue. Mohamed Kamera is there backbone of the defense. He is absolutely fantastic and shows the types of qualities necessary he is a vital and Critical piece to what young boys do well obviously, Jean-Pierre is the one to watch for he's the one who scores the goals and is their biggest weapon however, Mohamed Kamera is a very physically demanding assignment he makes you uncomfortable he is a Defender that can disrupt somebody's rhythm. At the end of the game last night, he lost his cool for whatever reason and punched Mkhitaryan in the face. This is incredibly important because, without him, young boys will have some issues defensively. First of all, it was a bonehead move, and I don't even understand why he did it; secondly, he saw a red card sent off for the game, so at the very least, he misses the next match. However, given the circumstances of what he did, if UEFA does their job right, this will be a multiple game ban. I don't think he should be thrown out for the rest of the campaign or anything drastic like that. However, he probably deserves a between a 2 and 3 match ban. When you strike someone in the face for no apparent reason, there has to be accountability made. Unfortunately, he's likely going to miss out in their match against CFR Cluj. I still think young boys will through. However, in all likelihood, he will miss at least these first leg are the round of 32 if they get there. He is the rock defensively; from a defense perspective, he is our most valuable player. He is the captain of the defense and like I said, makes attackers uncomfortable having him in the team versus having him not in the team. You could see two different types of performances. They probably can do enough to get past CFR Clues, but the fear is what happens when they draw a Champions League team in the round of 32. What if they end up with Shakhtar Donetsk a counter-attacking team that can hit you on the break constantly or Inter Milan or Real Madrid? One of those three teams will end up in the Europa League. Countless other teams will also end up in this competition from the Champions League getting second in this group almost guaranteed you're going to have a tough match about the gate. They're not going to handle a counter-attacking team without it; maybe they get the luck of the draw and they can handle it but that singular mistake may have cost them dearly.
.