Following a loss to Napoli last weekend in the wake of Diego Maradona, a victory in the Europa League against young boys on Thursday, Roma would welcome the surprise package sassuolo to the Stadio Olimpico. It turned out to be a match of absolute chaos, controversy and just flat-out frustration. Sassuolo has been one of the surprise team this season as they currently are in contention for the Champions League; so far this season it is relatively early and it may not mean much, but they have been massively impressive this season. They just got beat by Inter Milan last weekend; even like Roma, we're looking for a rebound performance. The first half was completely dominated by Roma; even though they did not have the advantage in The Possession battle, they still managed to be very useful. They attacked with great succession struggled with the finishing touch. They came close on many opportunities to kind of break the game open and got those points. However, a slight controversy would hit twice in a matter of minutes. Pedro Rodriguez would be sent off with a second yellow card after being reduced to 10 men, then couple of minutes later henrikh Mkhitaryan scorers the opening goal only for VAR to take it away. It was a completely legal and fair goal; there was a question on whether or not edin Dzeko committed a foul in the lead-up, but that was not the case whatsoever as it shows on the replay his touch did not cause the defender to fall over, meaning the goal should have stood. In the second half, Roma continue to have that control; it was impressed and considering they were reduced to 10 men, they missed a lot of big chances down the stretch but considering the circumstances, it was a very strong performance. However, controversy would not end there sassuolo had a goal chalked off 15 minutes from the end; he was offsides, but it was a very close call. Then we saw Peter Obiang get away with a very dangerous tackle that should have been a straight red ignored not only that the visitors had every advantage on a 50-50 ball for the second straight game Roma had to deal with favoritism against them. Last weekend and they would have lost regardless in this game; if it wasn't for certain situations, maybe they would have won the game, not to mention a prominent penalty call not given to Roma at the end. In the end they held their own against a strong team while being down to 10 men; it wasn't the points they needed or wanted but considering everything, it's was a very strong performance Roma even hit the bar on a few occasions they missed too many chances and that's something that needs to be mentioned, but at the same time they shut out a really strong team with a man down really performing well as it ends as a 0-0 draw at the Stadio Olimpico at the VAR was a victim of a robbery.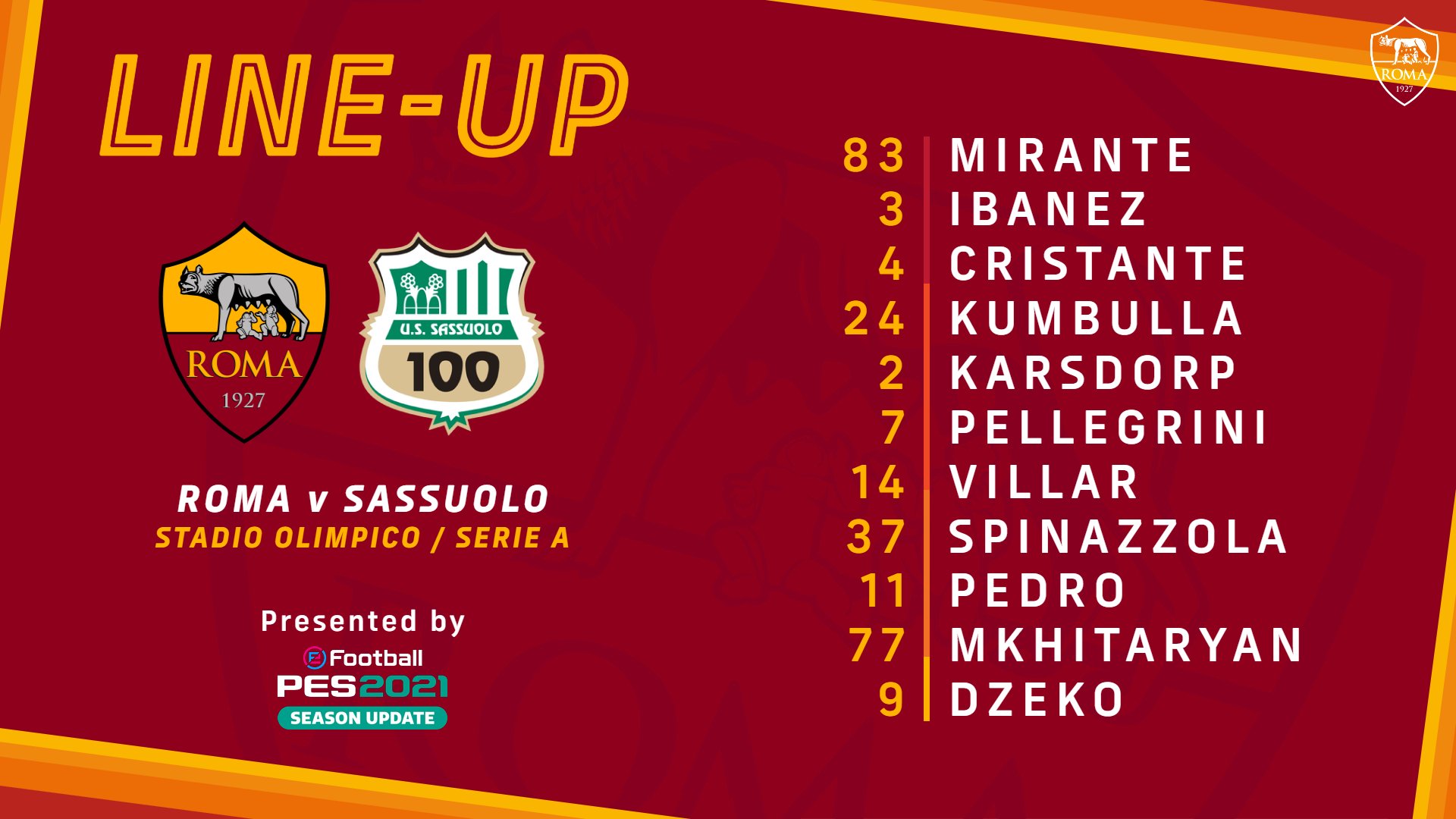 Paulo Fonseca would set his team up out of a typical 3421 formation. In goal as always would be Antonio Mirante. The three center-backs would consist of Rodger Ibanez on the left, Max kumbulla on the right, and Bryan cristante centrally. Then we would see The defensive Midfield pairing of Gonzalo Villar and Lorenzo Pellegrini. The left wing-back would be Leo spinazola on the other side, as the right wing-back would be Rick karsdorp. Upfront on the left-wing would be the red-hot Armenian henrikh Mkhitaryan then on the right-wing would be Pedro Rodriguez. Then, of course up front as the central Striker would be edin Dzeko. Roma would also have options Off the Bench with the likes of bojar mayoral, Riccardo calafiori and others.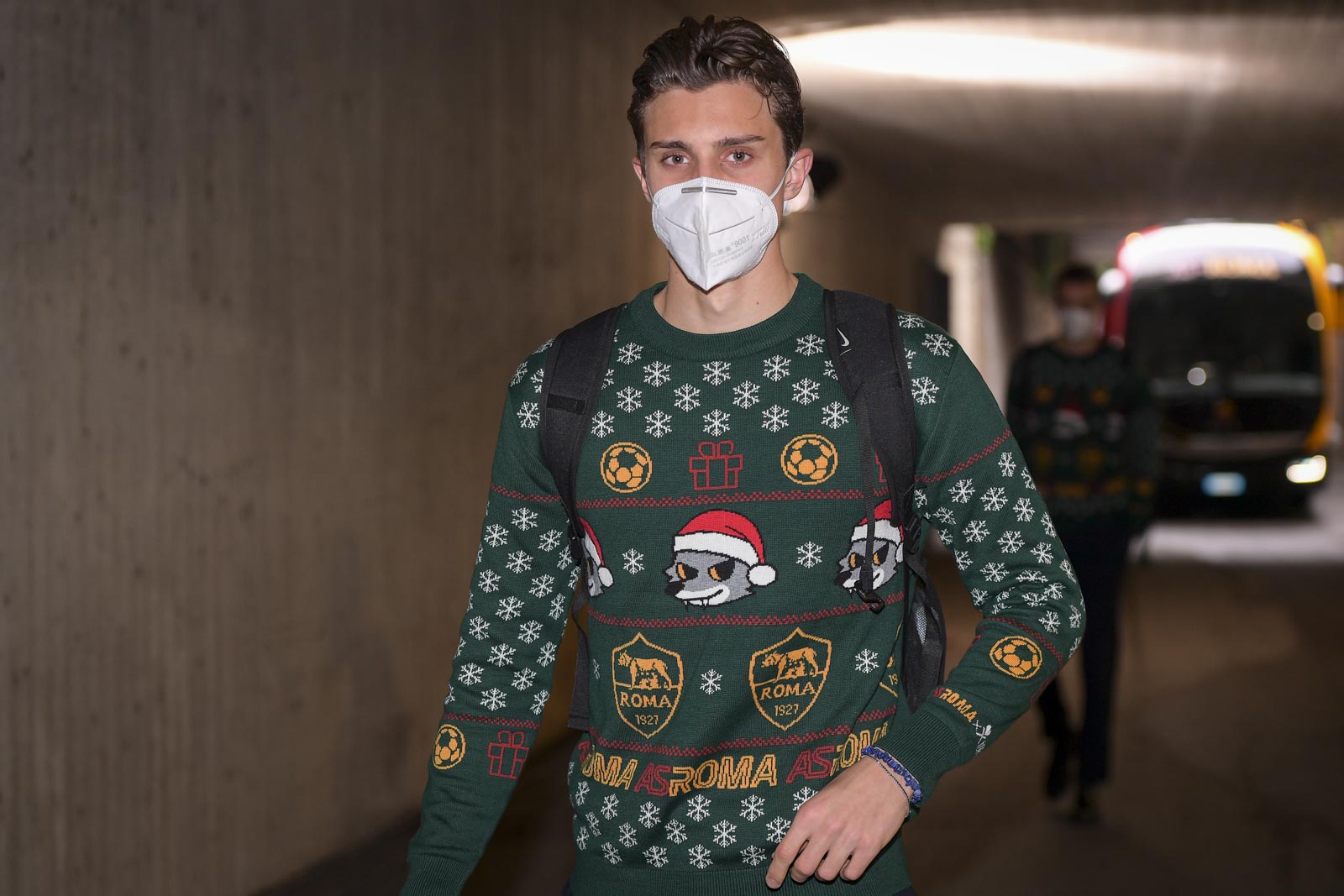 After preparations and predictions, the match underway at the Stadio Olimpico in Rome. It was a very slippery environment; it wasn't raining anymore, but the ground was wet, so you could splashes of water coming up from the surface. Roma went into this game as slight favorites and looked the part in the early part of the game; by surprise, sassuolo did end up having that possession advantage that Roma typically has but it did not come into fruition all that much in terms of creating chances. Henrikh Mkhitaryan came very close on a counter-attack but his shot misfired. We would see more of the same from Roma as they seem to have control despite not having that advantage in The Possession. Near the 20-minute mark Lorenzo Pellegrini connected on a corner the met the head of edin Dzeko the Bosnian had the power and placement behind it, but his header went a little high as it remains scoreless. About eight minutes later, Manuel Locatelli can close on a free-kick outside a few chances here, and there Roma did seem in control. Roma got forward again, this time landed in space for Pedro Rodriguez the Spaniard fired a well-hit shot trying to pick out that top corner but just didn't have enough to give Roma and opener. The Spaniard a couple of minutes later had another chance to put Roma in front with a deep strike but missed the mark. That would be the extent Pedro's afternoon couple minutes later he can committed the foul on sassuolo breaks as he was sent off with a second yellow card. Pedro, a very disciplined player kind of loses his head as Roma would be reduced to 10 men. However immediately afterwards Roma took the lead, at least it looked like that. Leo spinazzola sent a bomb almost the length of the Pitch to edin Dzeko who was in the box. Pellegrini who probably should have taken the shot, then Lorenzo Pellegrini and gives it back to Dzeko, that eventually ends up at the foot of Mkhitaryan who converted, tracking the ball into the back of the net to give Roma a 1-0 lead. However, VAR was checked in consideration of a foul on edin Dzeko. when you see the replay, you see the defender fall but the Roma Captain's touch did not cause it. Edin Dzeko does Supply a touch with and they more or less run into each other than everything else in the play Dzeko does not cause the defender to fall over; he falls over because the motion it was a completely legal and fair goal that was robbed from them by VAR as the goal was removed. Roma leaves the first half with a bitter taste in their mouth and what was a goalless draw in which Roma been in complete control.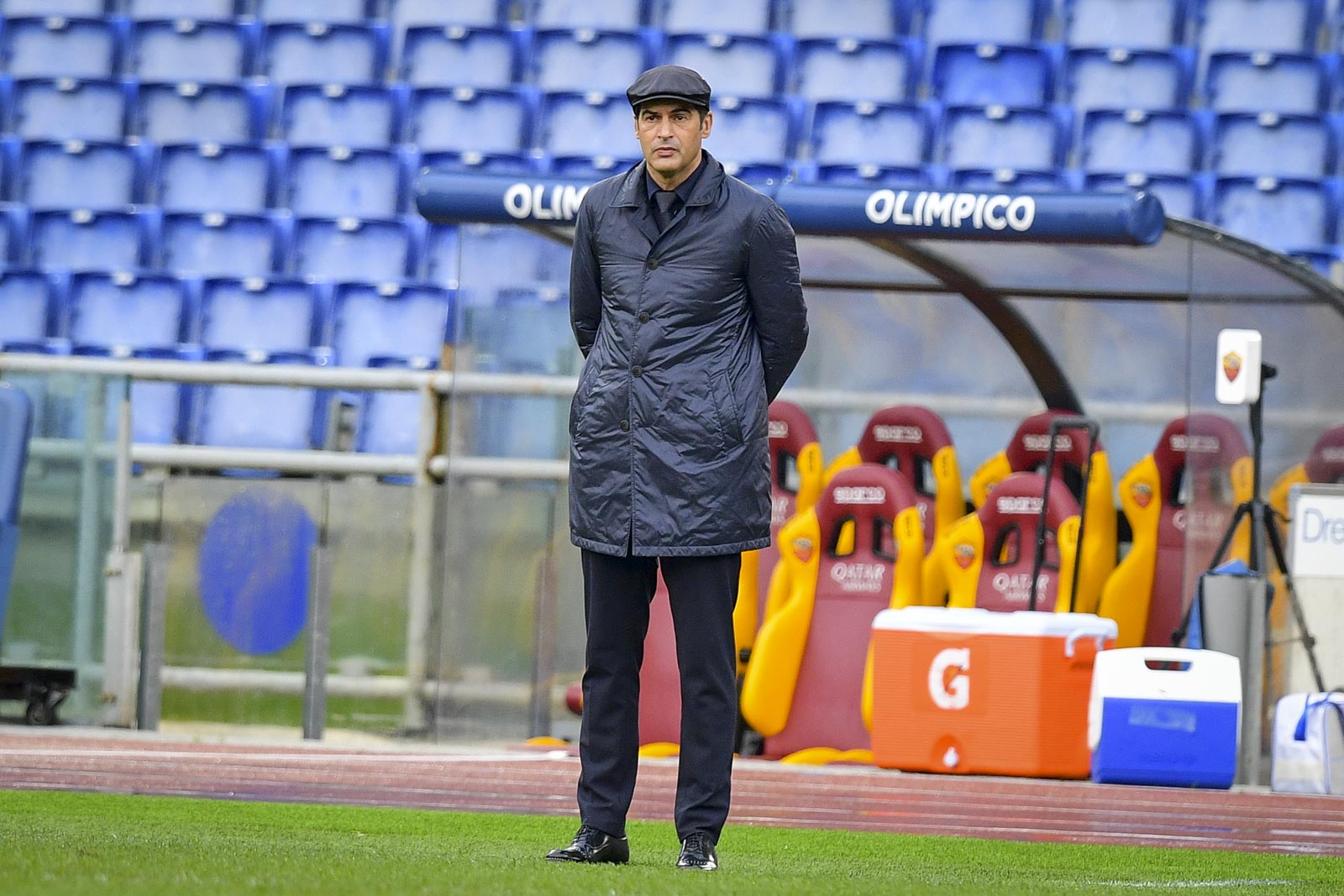 The controversy ended late first-half as a Mkhitaryan goal was wrongly taken away. Paulo Fonseca was sent to the stands following the conclusion of the first half. Outside of the red card in controversy, Roma were actually performing rather well against a team that is well-coached known for their attack. Roma continues to ride their performance of the first half into the second. Mkhitaryan strike from the side of the box slide to the left even though it was off-target Roma continue to pressurize. Just a few minutes later, Roma nearly pushed themselves into the lead. Leo spinazzola cut down the flank into an attacking position finding that space to be effective and then sending a perfect ball Inside the Box Dzeko ended up getting a touch, but the post denied them. Roma really looked like a team determined to get the points. Because they were down to 10 men, they were performing really well. The visitors found their moments, but they were still nothing to split between the teams. With a little under 20 minutes to go, edin Dzeko came close on strike supplied by Rick karsdorp; the Bosnian connected outside the box, coming very close but just having a little too much on it. In the 75th minute, Lucas Harasin looked like he did put sassuolo in front; what a beautiful hit strike, but again VAR intervened as it showed that he was slightly off side as the goal was taken away. Roma came back and tried to hit them repeatedly. Henrikh Mkhitaryan once again came very close, and then edin Dzeko was denied by Consigli a well-hit strike as the Bosnian was looking for that bottom corner. Then all of a sudden, controversy kicked off. Peter Obiang should have certainly been sent off when he struck the ankle of Lorenzo Pellegrini, swinging his leg directly at him when the ball wasn't there. He was given a yellow card but certainly should have been sent off in what was a foul play. Then a minute later this they completely ignored a nailed-on pen for Roma. Leo spinazzola hit a strike Inside the Box that hit the hand of the defender. His hand was in motion with the hand that connected with the ball, which is a clear penalty. However, rotten luck, yet again it was ignored. Diawara came on for Lorenzo Pellegrini after Roma's vice-captain felt discomfort; it does not look like a severe injury more just instant pain from his ankle's connection. with five minutes to go, bojar mayoral also enter the game for edin Dzeko. It ended up being a very controversial 0-0 draw that leaves a sour taste in Roma's mouth given the circumstances that led to the result. However, Roma battled with ten men against one of the best-attacking teams in the league and basically suffocating them. Roma should not be happy with the circumstances that led to the point, but they were unscathed against a team that should have taken advantage of the extra man. but still earned a good point.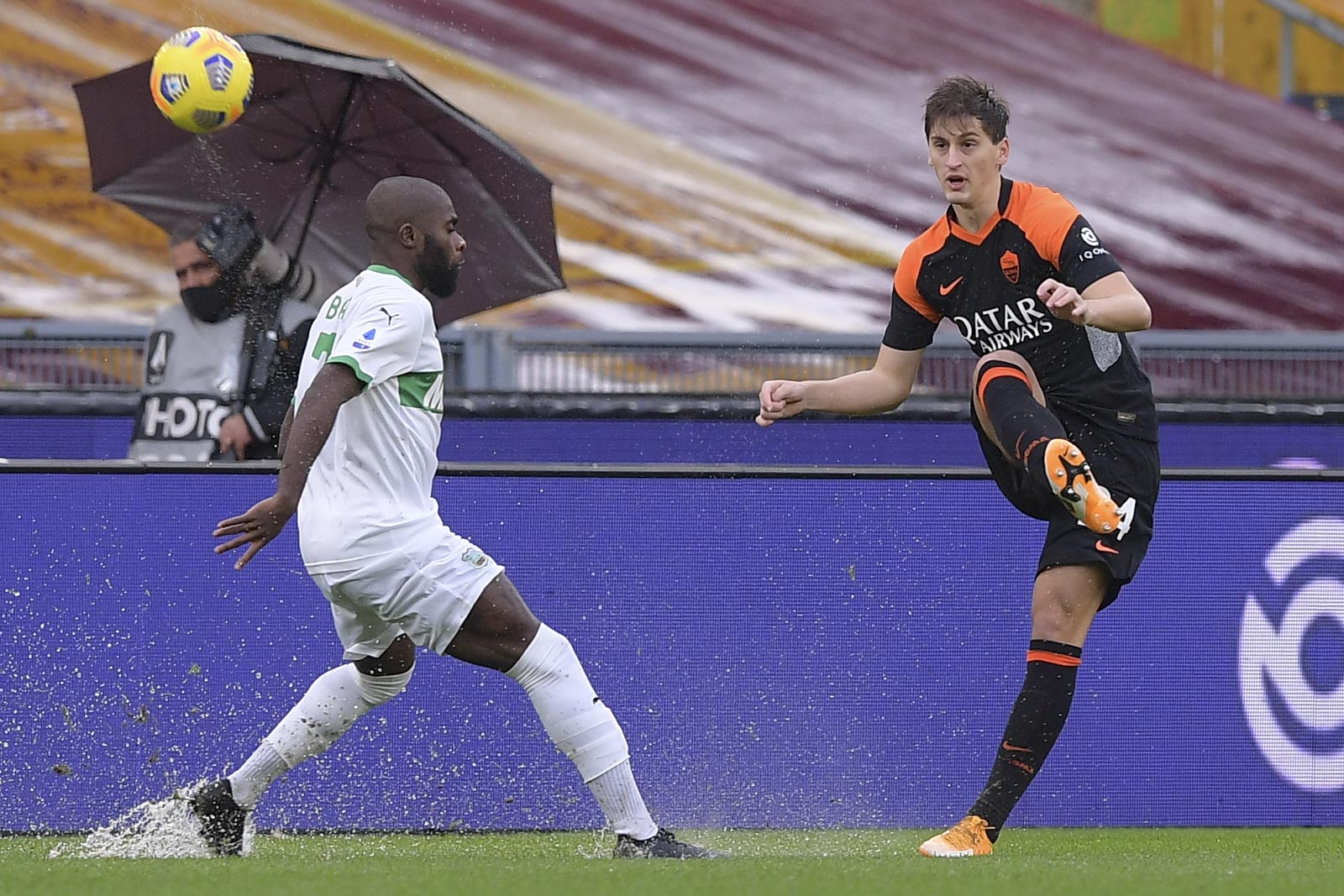 After having a rough time in Naples last weekend, Roma was looking for a rebound performance. They may not have got it in terms of points, but they indeed showed their qualities this season had not been a fluke. Headlining this game obviously has been the red card that Roma got the red card the sassuolo didn't. Not to mention VAR was wholly ruined at the game. After Pedro got a red card at the end of the first half, Roma scored a goal through henrikh Mkhitaryan, an utterly legal goal that was taken away by video review. They dominated this game; yes, they missed a bunch of chances, and they probably should have scored more frequently. However, that doesn't forgive the fact that they had an excellent and legal goal taken away because of some delusional point of view that edin Dzeko made a foul on somebody in the build-up that is just accurate. The defender did not fall down because of the striker; he fell down because of the play. Dzeko did not play the man; he played the ball, and he got slight contact on it, making completely legal. Then in the second half Peter Obiang made a dangerous tackle that certainly should have been a red card. The officials in this game were horrific essentially playing against Roma the entire time. You can't wholly blame the officials for the result, but they positively impacted it with the favoritism they played. The goal that they took away sassuolo also got a goal taken out for all sides may be the result is Justified based on both teams' performance, but Roma outplayed them for the majority of the game. However, we need to give Roma the respect they fought in this game dominated in a game they were down to 10 men and still almost won the game. The goal should have stood, but they went toe-to-toe with one of the best teams in the league this season and managed to survive despite being down to 10 men. The man of the match for me goes to Lorenzo Pellegrini. I understand that he missed a chance to win the game for Roma, but everything else he did was superb. His pass and ball distribution were excellent; his ball control help Roma dictate in the Midfield; he got into attacking positions and looked dangerous; he was always right there to make an essential play & tackles just an outstanding performance; his overall performance justifies the means, so I will say Lorenzo Pellegrini is the man of the match tonight; however I also want to recognize Leo spinazola who is such a weapon on the wing he could do whatever he wanted with the ball on top of that edin Dzeko was superb almost scored hit the post playing that complete Strikers performance.. VAR stole three points from Roma, but Roma still got the point being a man down against one of the top sides in the league; the performance was excellent the result just didn't equal up to the waythey played.
MAN OF THE MATCH: Lorenzo Pellegrini