RB Leipzig 3 Bayern Munich 3FT
The Bundesliga took center stage of European football this week. One of the most thrilling and exciting, and defining matches of the week features two of the world's best teams right now. Bayern Munich is defending champions and is treble winners from last season. They are the best team in the world. I fully expect them to win the Champions League this season and maybe next season; that's how strong Hans flick's Bayern Munich is. He has revolutionized this team into a monster. It is a team nobody wants to see right now, and it's hard to imagine many teams have the materials to beat them down. Since he has taken over as Bayern Munich's boss, he has only lost one game, and even though they have some defensive issues, they are the best team in the world without question. However, RB Leipzig looks to be launching a legitimate title challenge this season they have the capabilities to challenge Bayern Munich for the Bundesliga title. Last year's Champions League semi-finalists look to have the stuff to make things awkward and uncomfortable for Bayern Munich it ended up being the match of the season. Bayern Munich came into the game in first place with RB Leipzig was not far behind. A result for RB Leipzig would intensify the pressure. Bayern Munich was expected to take care of the business even though it was always a tough test. However, Bayern Munich had more difficulty than expected. In the early part of this game RB Leipzig look strong, confident, and had the momentum to drive them RB Leipzig was significantly outplaying them. The instrumental Midfield Haidara Tyler Adams and Sabitzer with Forsberg pushing forward a really Dynamic team that was on the verge of breaking point very early. Sabitzer tested Manuel Neuer ripping a vicious strike that hit the bar. It was a battle between the best attack Bayern Munich, against the best defense RB Leipzig. Early in this game, the attack of RB Leipzig is what stood out. Bayern Munich came forward and tried to reply, but good goalkeeping kept things in balance as he saved Kingsley Coman, and then a wonderful save on Benjamin pavard, one of the best defenders in the world, hitting maybe the best strike of the ball from a Defender. So you know, that was a tough task, but Zaleski got to it. Then all of a sudden, RB Leipzig got on a run and had their moment. Haidara sends a perfect pass into Emil Forsberg as a Swedish was driving the ball on the counter before releasing Christopher C with a beautiful through ball. Manuel Neuer came off his line to try to defend the situation; the striker provided a touch created separation before rolling the ball into the back of the net to give RB Leipzig a 1-0 lead then Javi Martinez had to come off with injury 17-year-old Marcus musiala came in to replace him it only took five minutes for Bayern to get up back on terms Bayern's youngest ever goalscorer musiala got a short pass from Kingsley Coman before sending a strike into the back of the net to bring things on level terms. That's Bayern Munich for you. Then Bayern hit back again. Robert Lewandowski sends a through ball inside to Kingsley Coman before he found a pass towards Thomas Muller, who scored as Bayern took a 2-1 lead. However, RB Leipzig was still out playing the German champions, for the most part, so they always had a chance to come back, and that they did. On a deep cross that switched the pitch mokulele hit a perfect header inside to haidara, who then released kluivert in the Box before the Dutch youngster replayed strike into the bottom corner to draw things level once again. It was 2-2 Thriller, but things were just getting started. Bayern Munich looked a bit leaky at the back, and it showed. A poorly marked attack by Bayern Munich allowed Angelino to hit a perfect cross into Emil Forsberg, who was unmarked as a wide-open Swede connected on his header into the back of the net as RB Leipzig took a 3-2 to lead. Bayern just could not contend with the Midfield's creativity. However, this was Bayern Munich, so they still found a way back. Kingsley Coman did a beautiful cross into the Box who picked out Thomas Muller; the German converted a header at the back post to level the scores once again. It was a 3-3 draw, and what was an absolute Thriller RB Leipzig significantly outplays the best team in the world, but Bayern found those little moments to avoid defeat. It's only a two-point difference at the top of the Bundesliga; the defensive job the RB Leipzig did on Robert Lewandowski is nothing short of astounding RB Leipzig have the team to challenge them for the Bundesliga title; all the pieces are there; it just comes down to execution, and a performance like that where they outplayed by meaning for the majority of the game shows they are not to be taken lightly RB Leipzig made Bayern Munich look regular Bayern Munich after a performance like this by and we'll certainly be looking over their shoulder as we saw a Thriller at the Allianz Arena.
Juventus 3 Barcelona 0FT
This week in the Champions League, we saw Leo Messi against Cristiano Ronaldo for maybe the last time. After seeing them go to battle for all these years in La Liga and dominate the sport like no one ever has, it was the final outing of the two of them together. They are fading stars at this point, but it was just such a pleasure to see them one more time together. Juventus and Barcelona haven't been in turmoil this season. Both clubs drastically underachieving, Barcelona having their worst season in more than a decade in La Liga, and Juventus are looking like a non-factor in Italian football. Both teams have issues right now, and even their stars are having a difficult time propping them up. Leo Messi kind of feeling trapped at Barcelona despite trying to leave, and then obviously Cristiano Ronaldo at Juventus that is just not the same player and showing that deterioration. Both still great but not what they once were anymore; they're not capable of uplifting an entire team through adversity like it once was. However, we saw some brilliant football between them once more. Leo Messi was sensational; even though he did not score, he was a threat to score almost regularly, and if it wasn't for Gigi Buffon, he might have scored more than a couple of goals. On the other hand, Cristiano Ronaldo did not influence the game much but got two goals from the penalty spot. It all kicked off early in the first half when Cristiano Ronaldo gave a soft penalty in a strange decision as Barcelona's Defender and Cristiano Ronaldo just ran into each other and fell over. Nonetheless, Cristiano Ronaldo stepped up delivered a perfect penalty to give Juventus a 1-0 lead. Right after they took the lead, Juventus, within minutes, got themselves another one. It did seem like a complete. Weston mckennie, the best American player going right who saved Juventus over the weekend and now wanted to add to that. On a perfect run into the Box, he acrobatically connected on a cross into the back of the net. Very Ibrahimovic like It would be the second goal in a row as there is now no debate who the best American player is; it is clearly Weston mckennie. He is undoubtedly the team's best midfielder, and you could argue he's the best player. Juventus took a 2-0 lead. After that, though, it seems like Barcelona was kind of in control. At least at different points of the game, it was a well put together game from Juventus. Not only did they get the goals, but they also defended very well, but the biggest reason they were able to have success was because of Gigi Buffon. Leo Messi was brilliant; his creativity from the Midfield getting into those tight spaces and looking for a room to finish was spectacular. Unfortunately, Gigi Buffon was as well. Outside of Lionel Messi, no one on Barcelona contributed all that much whatsoever; even though he tried to get some of his other teammates involved, it was a losing battle. Barcelona only registered seven shots on goal the entire game; all seven came from the foot of Leo Messi. Some of them were from Deep; others were from the close range; there was a collection of different angles in which Leo Messi try to break down the defense. Lionel Messi could get into space and be effective, but Gigi put together one of the best performances we have seen from him in years; we may not see a better one before he retires. Gigi Buffon is mainly a backup goalkeeper that plays very infrequently; however, he turned back the clock and was sensational, especially dealing with all the attention Leo Messi was pushing on him. Cristiano Ronaldo got another soft penalty and converted as Juventus won the game 3-0, but the performance was about Gigi Buffon and his incredible display. Cristiano Ronaldo did not play very well other than the penalties he scored; he didn't contribute whatsoever; meanwhile, Leo Messi did everything for his team just couldn't score because of Brilliance in goal. It is certainly the last time we will see Cristiano Ronaldo and Lionel Messi line up side by side; it will be a moment we will never forget it was their last dance as Juventus pick up three points and win the group. Maybe they will meet again in this competition, but this very well could have been the last time as Juventus picks up a 3-0 victory.
RB Leipzig 3 Man United 2FT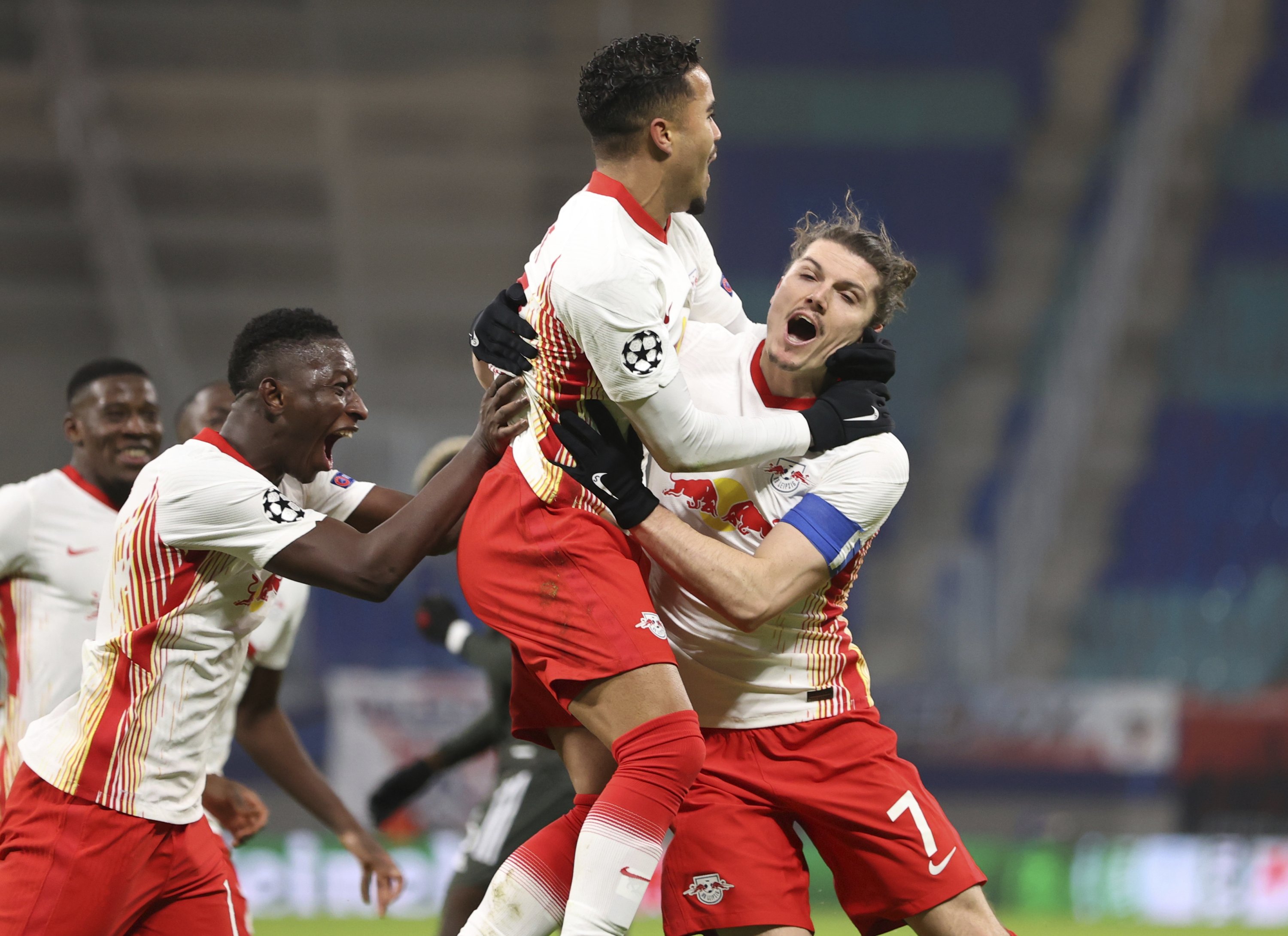 It has been a busy week for RB Leipzig. In a wild 3-3 draw in Munich, the German Challengers battled with Bayern Munich, then a few days later had a tough battle with Manchester United That Could Have Decided their fate in the Champions League group. RB Leipzig is in the group of death with Manchester United and PSG; all three teams went into matchday 6 with nine points meaning RB Leipzig had to find a way to collect all three points. Manchester United absolutely crush them in the first meeting At Old Trafford. Everything was on the line in this tense matchup that was going to decide the Champions League group. Two teams were going to be heading for The Knockout stage, and then one, unfortunately, was going to be dragged down into the Europa League. There is not a team in Europe who had more momentum and confidence driving then then RB Leipzig. Manchester United had crushed them in their first meeting in a 5-0 victory. It proves that as bad as Manchester United have looked at times this season you didn't want to underestimate them. However, RB Leipzig outplayed the best team in the world over the weekend for 90 minutes. It was a resounding performance; no team in Europe wanted to play RB Leipzig on Tuesday; there was so much momentum driving then it was going to be a tough task for anybody. it was always going to be tough for Manchester United, and RB Leipzig showed exactly why. They hit them in the mouth immediately less than 2 minutes had passed before the Germans put themselves in front. A beautiful cross into the Box found Angelino. The former Manchester City player beat David de Gea as RB Leipzig ran out to a 1-0 lead. Truly exposing that defense. RB Leipzig had Manchester United shook. It could not have started any worse for the Red Devils. However, it was going to get even more miserable. a little more than 10 minutes later, and RB Leipzig would get their second. A beautiful hit cross from Angelino found haidara in the Box; the midfielder blasted a strike into the roof of the net as RB Leipzig ran out to a 2-0 lead. It looks like Manchester United were already dead in the water. not long after the Germans need only made it three; a touch from Emil Forsberg just nearly going wide could have killed off the game for good. Manchester United did find some success going forward on the break, but it never materialized into anything. Marcus rashford and Mason Greenwood did their very best getting on the counter and Bruno Fernandes trying to fuel them. However, RB Leipzig defensively is immense it takes an awful lot to break them down. Manchester United's best chance of the first half came on a break with Mason Greenwood trying to beat their Hungarian goalkeeper, who made some really big saves throughout the game; it was a selfish action as Marcus rashford was in a much better position to strike it. Marcus rashford came on a break but William Oban made things very difficult. So many times, they came forward, and they were just thought out. It was a dominating defensive performance with that late. RB Leipzig look like they had a third, but it was ruled out by video review. AMan united just were utterly outplayed and that defense knew exactly how to trap Manchester United. Then in the second half Julian nagelsmann brought on Yussuf Poulsen and Justin kluivert as explosive options they were the far superior side and more or less did what they want against Manchester United. It happened an attack that went into the Box found Justin kluivert who scored for his second game in a row into the back of the net it was all but over for Manchester United on the verge of being humiliating. The youngster picked up the ball before kicking it it in the air in Celebration as RB Leipzig took a 3-0 lead. Man United to continue to try to break them down, but it never seemed to work a defensive Master Class RB Leipzig with constant and their goalkeeper made big saves throughout the game. Luckily they were given a lifeline when Manchester United received a soft penalty. Bruno Fernandes converted as the deficit was minimized. The controversial Paul Pogba converted on a header light on to minimize it even further. Manchester United even had some late chances, but that defense was not letting anyone through. They almost had it late and stoppage-time, but thier goalkeeper made the save that sealed it. Manchester United may have come back, but it was the luck of the draw. RB Leipzig put together a Master Class defensive football behind the attack that punched man united in the mouth repeatedly. RB Leipzig stay hot, and that momentum in the game against Bayern drove it even more; this is not a team anyone wants to play right now, and if they keep this up, they're as good as anyone in European football RB Leipzig are through as Manchester United go to the Europa League. what a week it has been for RB Leipzig; they are a team not to be messed with right now.