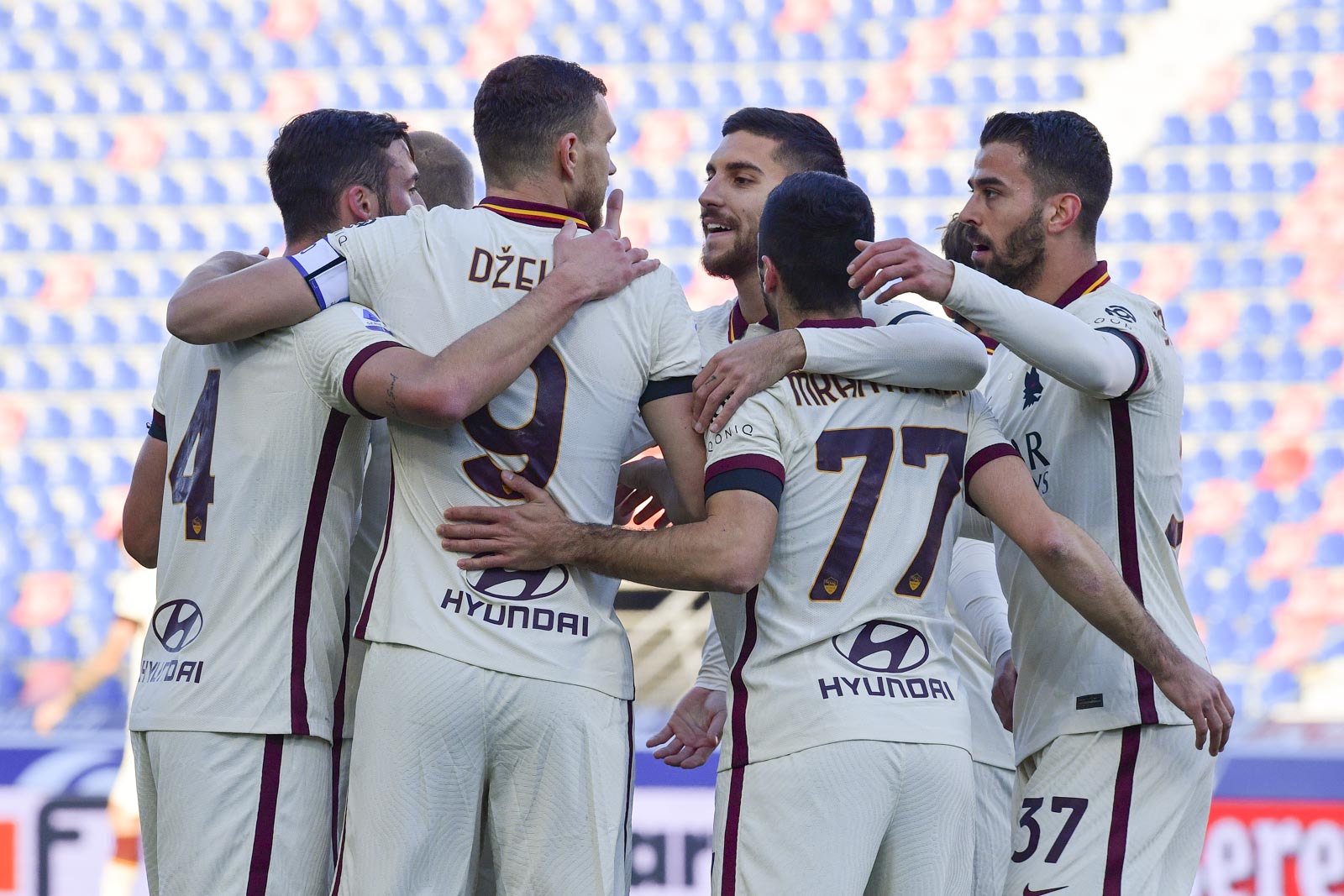 After a controversial goalless draw with Sassuolo, Roma tried to put that behind them as they faced Bologna. Last season the two teams split the season series. Bologna has been somewhat inconsistent but can still be a dangerous team on their day; meanwhile, Roma is one of the best league teams. It was a match that ended up being light work for the Romans away from home. No Paulo Fonseca on the bench and Pedro Rodriguez would miss dealing with suspension on top of that. None of those things mattered because the game mutually ended in 15 minutes. The match started with a Roma counter-attack that leads to Bologna putting in a goal in the back of their own net. Things didn't get better from their 5 minutes after that. Edin Dzeko was set up inside the box before converting a strike into the bottom corner to give Roma a 2-0 lead. Edin Dzeko's 111th goal for Roma as he moved into third on the all-time scoring list. 5 minutes later, Jordan veretout finished off a passing sequence by slotting the ball into the far corner as Roma ran out to the 3-0 lead. A mishap on the other end from Bryan cristante gave Bologna a goal back. However, it was a dominating display by the Roma's; unfortunately for Bologna, they weren't done at the end of the half Rick karsdorp ran down the lane before picking out a perfect pass into Mkhitaryan, who smashed the ball right down the metal into the back of the net as Roma took a 5-1 lead after 45 minutes. In the second half, Roma took his foot off the gas bojar mayoral, hitting the post at the end of the game, but it was light work for the Romans to pick up a straightforward three points and what was one of their most dominating performances of the season. Roma is back on track as they continue to be one of the best teams in the league this season.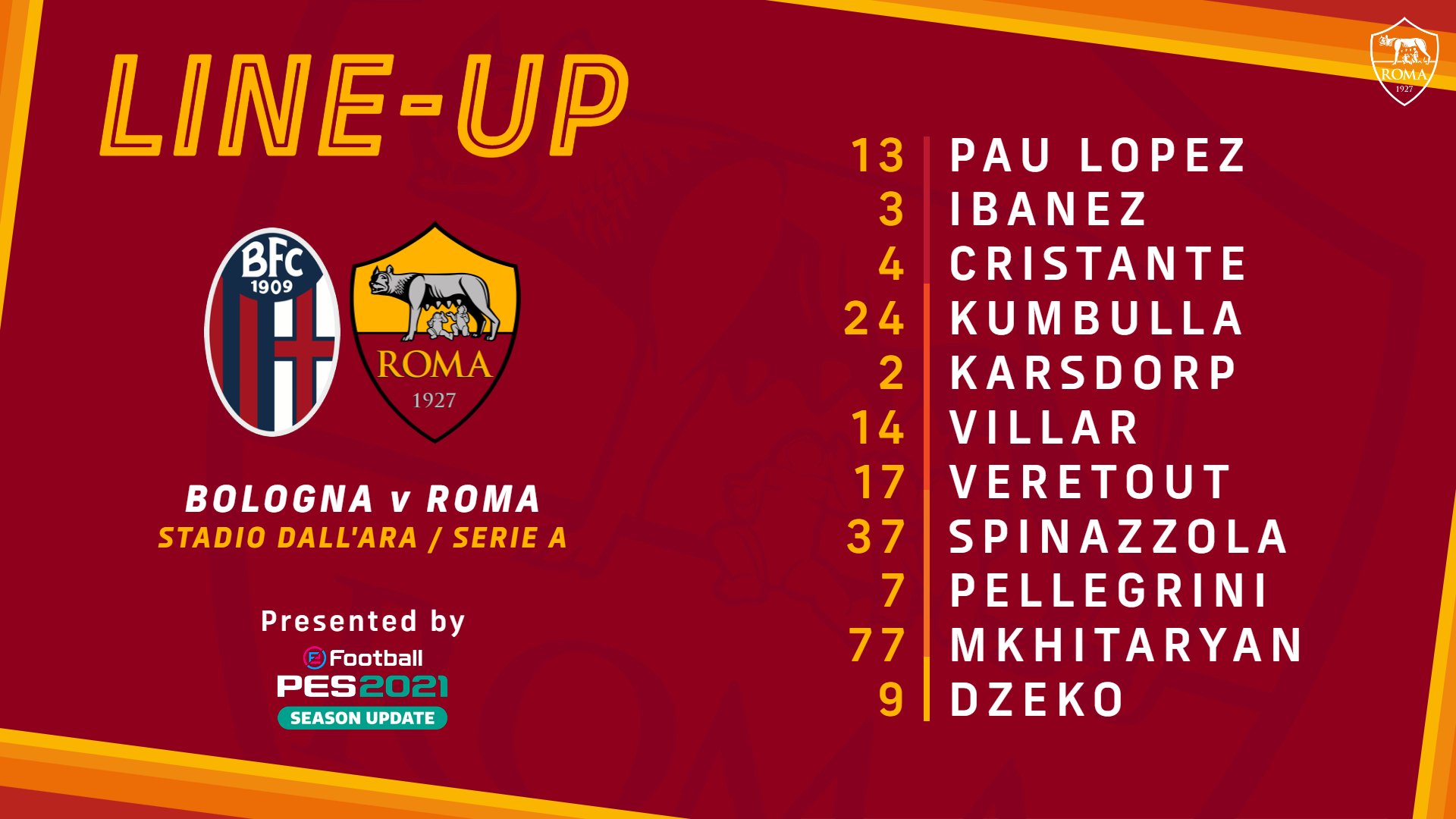 Paulo Fonseca would operate his team out of the usual 3421 formation. But made some slight changes from the goalless draw last weekend. Pau Lopez gets the nod in goal, making his second league start of the season. Gianluca Mancini still out with injury, and Chris Smalling, not at 100% Roma, would go with the back three of Rodger Ibanez on the left, Max Kumbulla on the right, and Bryan cristante centrally. In that left-wing back would be Leo spinazzola as usual on the opposite side of the right wing-back would be Rick karsdorp. We would see the defensive Midfield pairing of Gonzalo Villar and Jordan veretout. On the left-wing, as always, would be the inform henrikh Mkhitaryan, and on the opposite side filling in for Pedro Rodriguez, Lorenzo Pellegrini pushes up to play on the right-wing. Then upfront as the main Striker would be the Bosnian edin Dzeko. Roma would have options Off the Bench with Riccardo calafiori, bojar mayoral Chris Smalling, and others.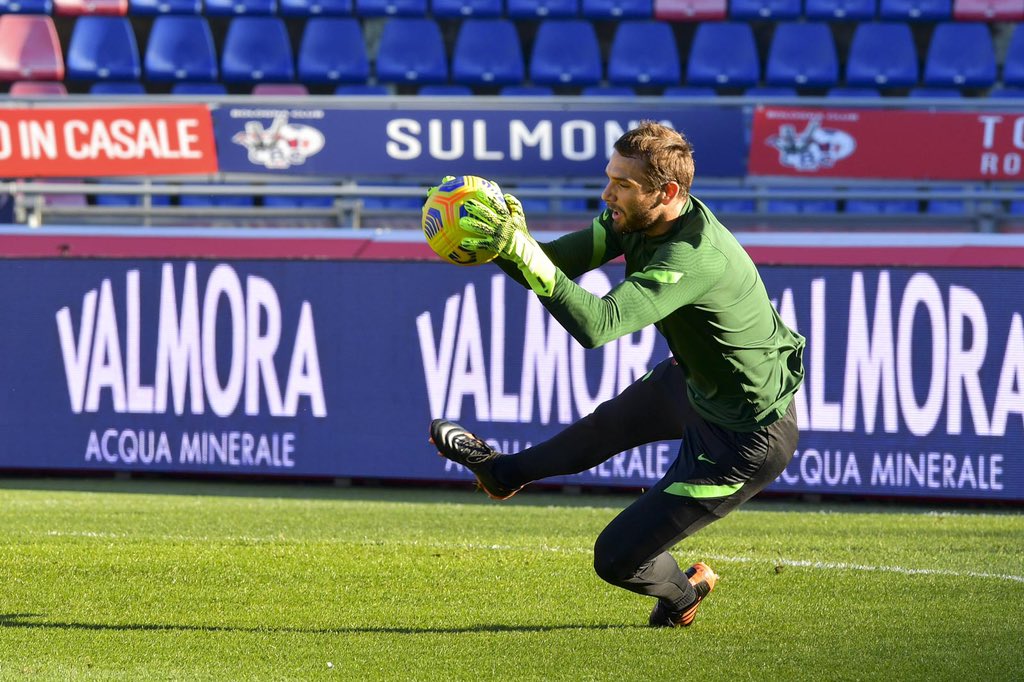 After preparations and predictions, the match got underway at the Stadio Renato in Bologna. Roma, we're looking to get that victory to put them back in the right direction. Roma dominated from the jump; they overwhelmed Bologna very early. Bologna had an early chance in which they cut Inside the Box, nearly scoring. However, that was the only positive football we saw from them. It did not take very long whatsoever for Roma to crack themselves in front. In the fifth minute on a counter, Leo spinazzola hit a ball inside intended for edin Dzeko the Bosnian did get a touch, but Andrea Poli put the ball in the back of his own net to give Roma a 1-0 lead. Is 5 minutes later, in the 10th minute, Roma added a second Roma were pushing forward when Lorenzo Pellegrini released edin Dzeko Inside the Box. Edin Dzeko took a slight touch; they gave him space between himself and his Defender before the Roma hit a beautifully hit strike into the bottom corner in what was a very Swift finished as Roma took a 2-0 lead. It would be edin Dzeko's fifth goal of the season, but more importantly, his 110th Roma goal moving him into third all-time on Rome was the all-time scoring list. Roma was up 2-0 after just 10 minutes; it couldn't have got any worse, could it? Yes, it could. A few minutes later, Mkhitaryan can close on a strike that drifted. Been on a corner kick edin Dzeko nearly scored another goal; the Bosnian was unmarked on a corner when he connected with a header, but the power of the touch bounce off the ground a missed chance he should have gone with a finesse finish. Still, I'm not going to kill him for that one. Then in the 15th minute, Roma scored another one. Leo spinazzola sends a perfect through ball into Lorenzo Pellegrini, who was by himself. Bologna played their offside trap so horribly, allowing Lorenzo Pellegrini Roma's vice-captain to be alone by himself in the box. The midfielder strike from outside the box beat the goalkeeper into the bottom left corner as Roma took a 3-0 lead. In just 15 minutes, Roma had three goals. Roma added more fun when Lorenzo Pellegrini hit a hit strike at the goalkeeper, but he was denied. Finally, Bologna was giving a lifeline on a break. Bryan cristante made a horrendous mistake by accidentally putting the ball in the back of his own while trying to clear it. You can see his frustration as he kicked the post with his foot after the fact. Despite popular belief, Bryan cristante has transitioned well in his new position. Shortly after, edin Dzeko came close again, seeing a strike from close-range Miss in what could have been his second goal. However, edin Dzeko was playing phenomenal up to that point. And that showed in the 35th minute Roma scored a definition of a team goal. On the wing, edin Dzeko supplied a ball to the midfield to find Lorenzo Pellegrini. Pellegrini then sends a well-timed ball inside to Mkhitaryan. The Armenian then supplied a through Pass inside the Box to Jordan veretout, who hit strike, placing it into the far corner as Roma scored yet another one. It would be his best goal this season as Roma ran out to a 4-1 lead. A perfect goal of communication of short passing that ended up being one of the most beautiful goals we have seen from Roma this season. Bologna was genuinely terrible; they could not defend, could not do anything, and it was going to get even worse in the 45th minute Rick karsdorp made a beautiful run down the right flank cutting Inside the Box before finding henrikh Mkhitaryan, who crossed the ball right down Main Street into the back of the net to give Roma a 5-1 lead. Beautiful run by Rick karsdorp and an exceptional finish by the Armenian as Roma were doing Bologna. It would be henrikh Mkhitaryan's seventh goal of the season. That would signify the end of the first half as Roma had a 5-1 lead after 45 minutes thanks to edin Dzeko, Mkhitaryan, Lorenzo Pellegrini, and Jordan veretout.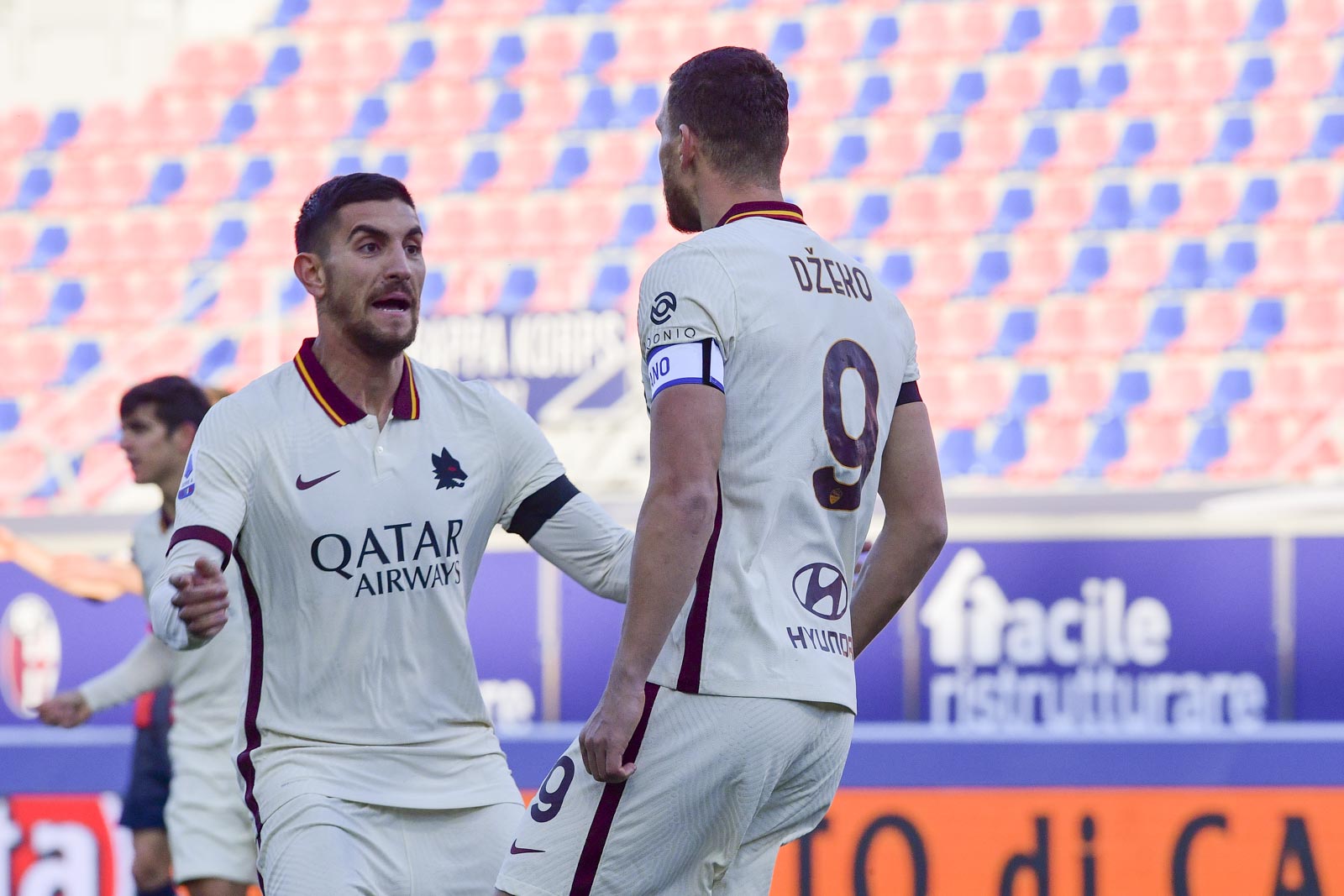 Edin Dzeko becomes Roma 3rd All time goal-scorer in club history in Dominate 5-goal first half 
Roma was as close to perfect as one can get during the opening 45 minutes. They scored five goals, essentially killing the game after 15 minutes. They could not have asked for a better performance thus far. This allowed them to take their foot off the gas and just see out the game. Roma is all over them. They could have added several more goals here, but Roma showed them respect. Bologna made three adjustments at half-time to try to make the game a little bit more respectable. It kind of worked; they were much improved in the second half they were starting to play much better. After missing on the second half's opening chance, Rodrigo Palacio tested Lopez minutes later, but the Spaniard was able to deny him. Roma's approach changed; they didn't necessarily feel the need to go aggressive and try to pile up goals, unlike the us women who embarrassed themselves; Roma did their job thats all that was needed. There were minimal chances in the second half Roma had the points in the bag. Midway through the 2nd half, the VAR took away Nicholas Dominguez goal becuase of offsides. Shortly afterward, Chris Smalling came in for Max kumbulla. Bologna exposed their defensive lapse again when Chris Smalling was left wide open on a free header; the Englishmen didn't score, but it was a dangerous scenario defensively. A second goal from Lorenzo Pellegrini was taken away due to an offside, but other than that, there wasn't much going. With 10 minutes to go, bojar mayoral and Perez came in. A minute after entering the game, bojar mayoral nearly gave Roma the sixth goal. The bologna goalkeeper came outside the box, and the Spaniard tried to pull it past him, but his strike ended up hitting the bar in what nearly could have been in yet another Roma goal. Shortly afterward, Time ran out as Roma put together a dominating 5-1 victory while also showing professionalism in the second half. Paulo Fonseca from Box sees his team put together a performance of world-class proportions as Roma gets back on the right track away from home.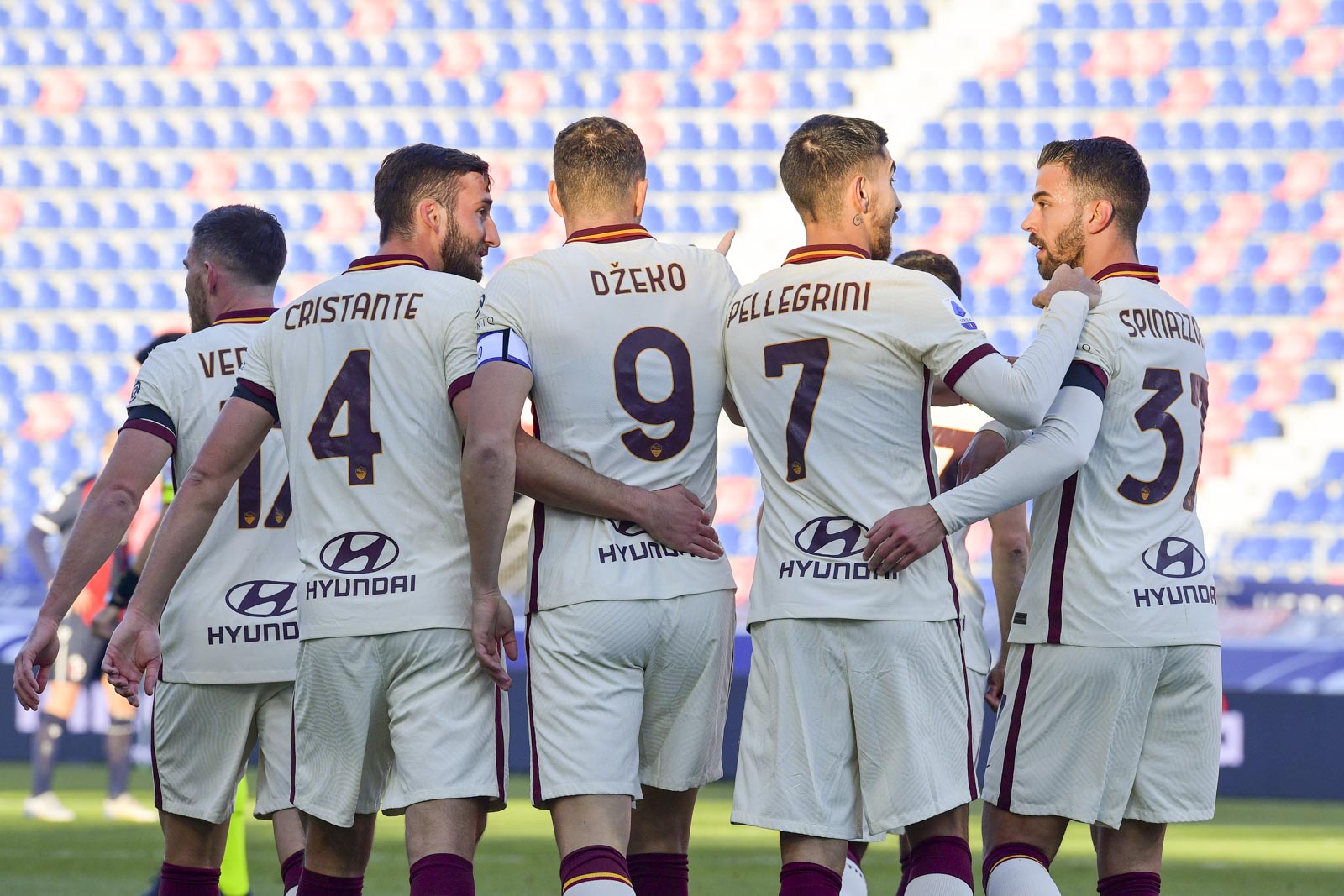 Roma come and conquer in Bologna going home with all the points
Roma put together a performance of unbelievable brilliance. They scored three goals in the opening 15 minutes in the 5th, 10th, and 15th minutes Roma scored on their opening three shots. It was just a world-class display. Everything was clicking from the back to the midfield to the attack. After controversial results last weekend in which VAR took a victory away from them, they got the revenge, and unfortunately, Bologna, we're on the wrong end of this. Bologna is a good team that is a little bit inconsistent. No Pedro Rodriguez Paulo Fonseca had to watch from the stands. Everything went in their favor: Rome or heavy favorites won the game and should have, but the thought was that Bologna would put together a display that made Roma work for it. The game was cooked after 15 minutes. The only goal that belongs scored came from Bryan cristante putting the ball in the back of his own net. In addition to the three goals they scored and their opening 15 minutes, They got a goal from Jordan veretout and Mkhitaryan to keep things going. They didn't attack in the second half; they played conservative and took their foot off the gas, a great display of respect and professionalism shown to a bologna team that Roma certainly has affection for. Not many teams would have approached the second half in that way and been as respectful towards the opposition. Rome was lethal tonight; they could have scored another five goals; they could have utterly humiliated them, but they took the high road. Edin Dzeko scored his 111th goal for Roma moving him into third on the all-time scoring list. Finally, Roma has a team that might win something this season, so all the goals that edin Dzeko has scored for this Roma team can be justified with a trophy. They were in control the entire game looked like a team with the right mentality Paulo Fonseca has instilled that into the side that is capable of winning something significant this season. Roma has had some injuries this season. Bologna is not a team that is going to be finishing in the bottom half of the table. They are a team as a mid-table side and can push even further they wrecked them. Beautiful Finish from edin Dzeko on the Roma second goal. Roma's third goal was made out of pure teamwork and communication, going through four to five different passes and a perfect run from Rick karsdorp, setting up Mkhitaryan's goal, not to mention Lorenzo Pellegrini strike before that. It was Total Domination by Roma. The match man could have gone to so many different players, but Lorenzo Pellegrini was specifically dominant. Not only did he score a goal supplied and in total control of the midfield, but he also distributed the ball he played a perfect performance; he was absolutely breathtaking. It's finally starting to show that he can be a future captain of this team; he can be a player that can turn into a world-class midfielder. Especially with his passing intelligence and an overall game, he's only getting better each game this season. It was a collective performance from everyone that contributed to such a dominant display. Roma could have scored 10 goals tonight; they had respect for their opponents, and they played the approach exactly the right way, but this is exactly the type of performance Roma needed even further proof that they're still one of the best teams in this league and will be hunting for trophies this season they may not win the league this season, but the Europa League in Coppa Italia is very much up for grabs in a word it was perfection.