Score: A.S Roma 3 Torino 1FT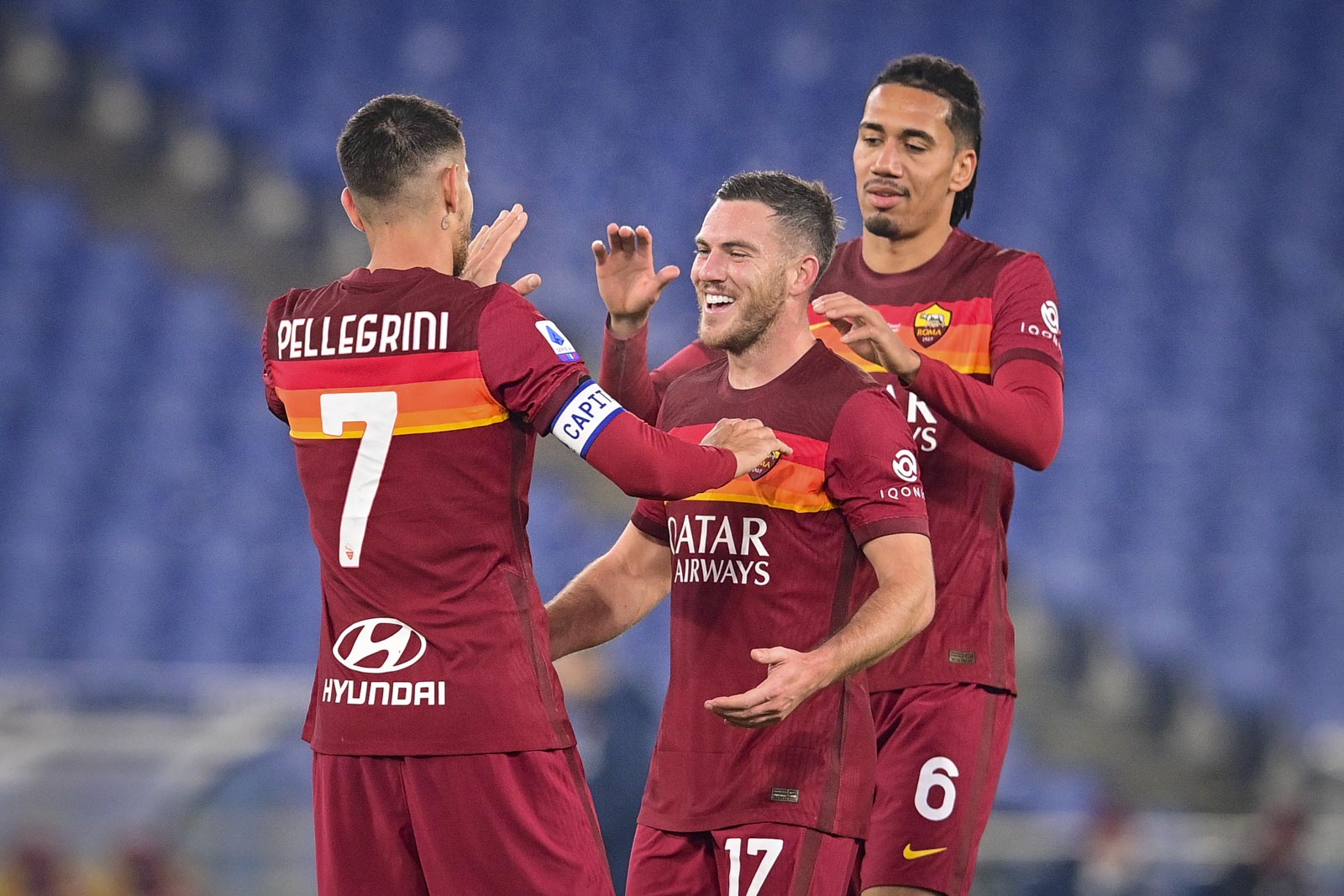 Roma came into this match having played the game just four days ago. It turned out to be one of their most outstanding performances since 1938 in their 5-1 win against bologna last week, a match in which they scored a goal every 5 minutes to start the game. Roma got the big points there and headed home to the Stadio Olimpico. Thanks to Juventus dropping points against Atalanta, Roma had the chance to move into the top four with a victory. Andrea Belotti and Torino made the trip to the Stadio Olimpico. Torino is in serious threat of being relegated this season. This entire match was set up for Roma to get the points. Very early in the game, Torino was reduced to 10 men after Singo got two yellow cards in 14 minutes. After the sending-off, Roma pounded them with attacks. Come and close on many opportunities until the Armenian wizard henrikh Mkhitaryan found space striking from outside the box, hitting the crossbar before going in the back of the neck to give Roma a 1-0 lead. Later in the first half, edin Dzeko was given a perfect ball inside the box but was taken out by the Torino defense. Roma was given a penalty. Jordan veretout stepped up and converted from the spot to provide Roma with a 2-0 lead going into the second half. It was more of the same from Roma in the second 45 minutes. A lot of opportunities for them to score, and they just have to wait for their moment. Roma would eventually get their third through Lorenzo Pellegrini in a perfectly orchestrated Roma attack as Roma took a 3-0 lead. Roma made a defensive mistake about 10 minutes later. Lopez made three saves trying to eliminate a goal-scoring opportunity, but Andrea Belotti got his goal as Torino and minimized the deficit. It gave Torino an infusion of energy; Roma held on picked up the three points as Paulo Fonseca's side get another victory, pushing them into the top four. As it's all smiles at the Stadio Olimpico.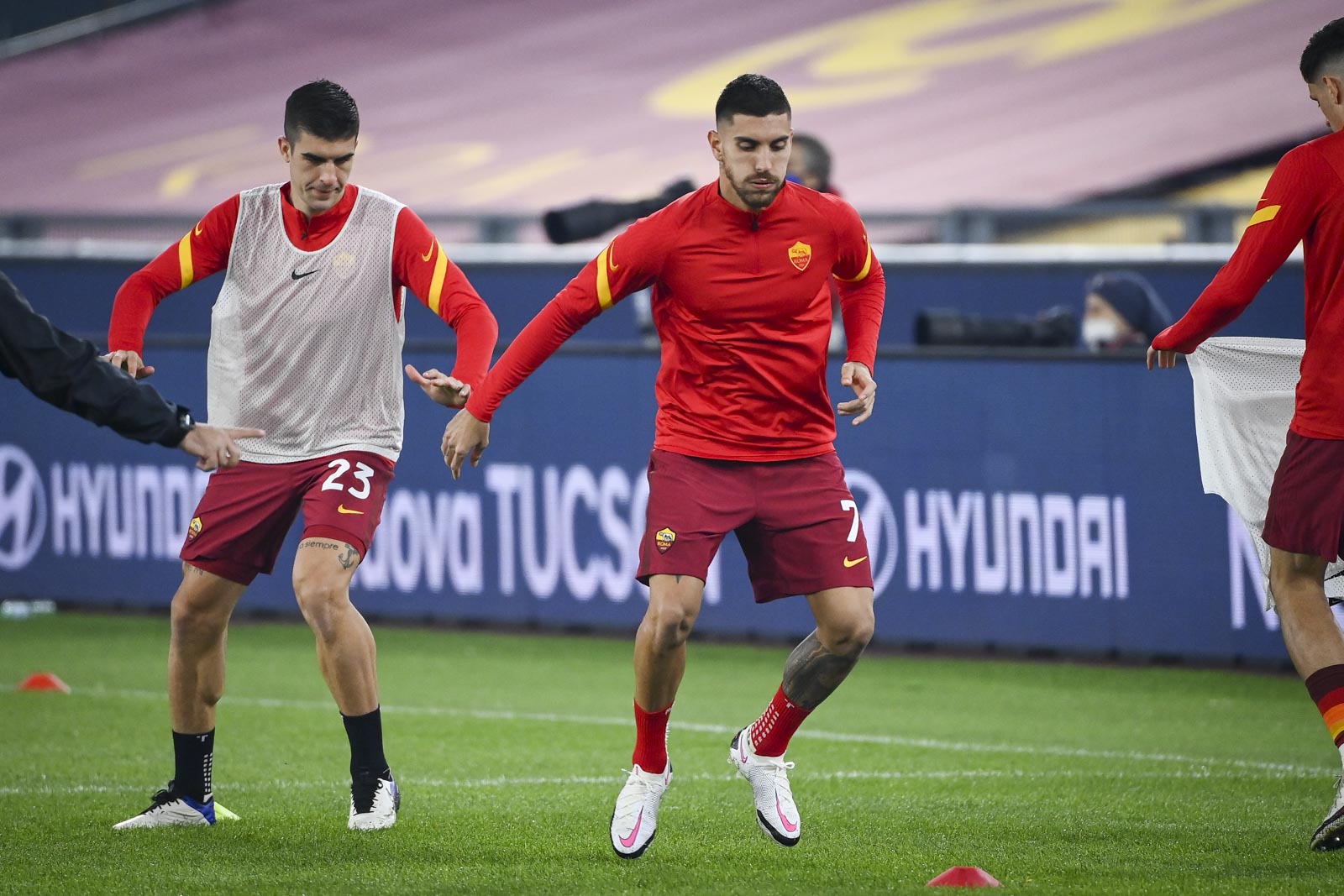 Paulo Fonseca would return to the bench after his suspension last week. His team would operate out of the 3421 formation as always. In goal with his second League start in a row would be Pau Lopez. Roma would have Chris Smalling back at full fitness, and Gianluca Mancini returns as well. Roma's three center-backs would be Rodger Ibanez on the left, Gianluca Mancini on the right, and Chris Smalling centrally. The left wing-back would be Leo spin at soba and then on the opposite side as the right wing-back would be Bruno Perez. The defensive Midfield pairing would be the same as last week with Jordan veretout alongside Gonzalo Villar. Upfront underneath the striker on the left-wing would be the red-hot henrikh Mkhitaryan, then on the opposite side on the right way would be Lorenzo Pellegrini as Pedro Rodriguez starts on the bench. Upfront as the central striker would be at a Dzeko. Roma would have options Off the Bench with Max kumbulla Pedro Rodriguez, Rick karsdorp, and others.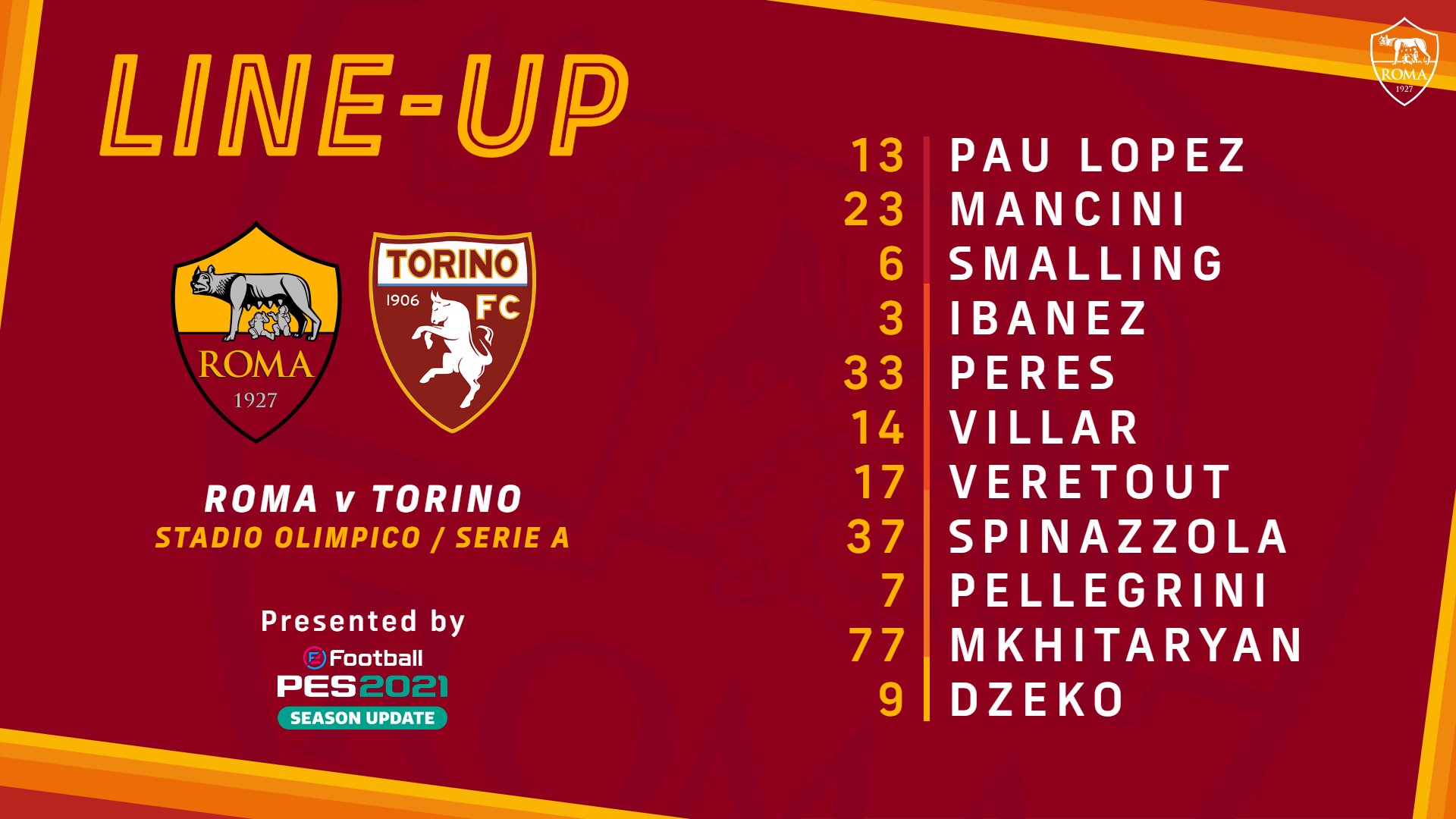 After preparations and predictions, the match got underway at the Stadio Olimpico on Rome on a Thursday night. Torino came out rather ambitious at the start. Roma had control possession or dictating how the match was played, but come early and chances from Torino kicked off the game. Andrea Belotti tried to hit on an early strike, but the Roma defense got in the way. Bruno Peres was set up perfectly just 10 minutes into the game but miss-timed what could have been an opening goal. Andrea Belotti, just minutes after on a header, was dealt with by Lopez. However, things got bad for Torino when they were reduced to 10 men. Stephen Singo received a second Yellow Card as the visitors were reduced to 10 men. Basically, from the jump, Roma took advantage of that and was overwhelming Torino. It seemed every time down the flank, Leo Spinnazolla occupied that space, trying to cut into the box and facilitating a teammate. Chris Smalling provided a headed pass to Gianluca Mancini drop from the side of the box searching for Roma's opening goal but was denied. Andrea Belotti tries to reply, but Lopez was there to make the save again, getting both hands on the ball. Then the moment arrived in 27th minute Gianluca Mancini tried striking from outside the box milinkovic savic made the save. Still, it fell to the feet of Leo spinazzola, who provided across inside Torino, who wanted to clear it out. Still, ultimately the ball fell to Mkhitaryan The Armenian directed a strike at the left post, making a slight connection before the ball ended up in the back of the net. As the Armenian, it gave Roma a 1-0 lead. It would be his eighth goal of the season as he continuously has been one of the best players in European football this season. This goal crushed their spirit as Roma felt firmly in control. Roma tried to hit back a little later Julio spinazzola, who is trying to erect a strike into the top corner, coming very close but misfiring on the attempt. Then right before the second half in the 43rd minute, Roma doubled their lead. A through ball from the Midfield was in for edin Dzeko; the Bosnian beat the defender before taking it out inside the box. The referee did not hesitate to point straight to the spot with no hesitation, clear contact no protest necessary. Jordan veretout stepped upconverted a strike into the bottom corner as Roma took a 2-0 lead. The French midfielder would score his fifth goal of the season. That would signify the end of the first half.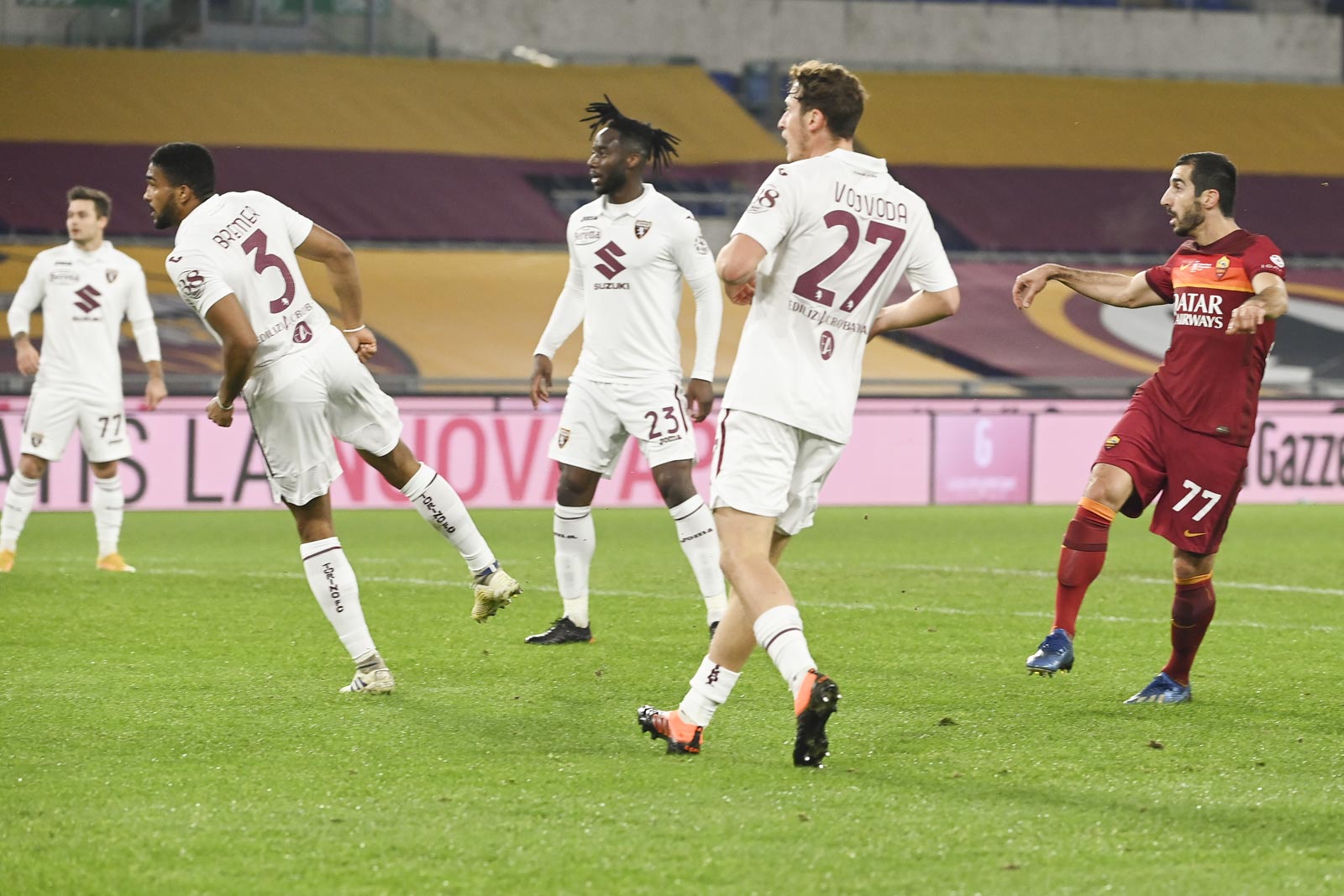 Mkhitaryan and Veretout create separation for Roma as they held a 2-0 lead 
At the start of the second half, Paulo Fonseca made two changes as Rick karsdorp, and Max kumbula came in for Bruno Peres and Gianluca Mancini, who just returned from injury. Fonseca probably took him out just because he didn't feel comfortable giving one of his best players a full match on less-than-full fitness. In the second half, it became more of a concerted effort trying to see out the game. Roma controlled possession and try to push forward while Andrea Belotti was trying to bring his team back all by himself, as he has done many times this season. Roma was in complete control and got on the break quite a few times. Edin Dzeko and Gonzalo Villar what replaced by bojar mayoral and Pedro Rodriguez. after the changes were made, Torino had a great chance to get one back Simona Dara sent a strike hit off the post, but Lopez grabbed it to avoid a near goal. in the 68th minute Roma killed off the game once and for all. Mkhitaryan sends a beautiful cross from the Midfield inside the box to find Pedro, who takes a slight touch before supplying a short pass. Bojar mayoral received the ball takes one touch laying it off to Lorenzo Pellegrini Roma's vice-captain took one dribble before sending a rocket into the roof of the net as Roma ran out to a 3-0 lead. Lorenzo Pellegrini scorers for his second game in a row as Roma nearly kill the game. After Roma's goal, they brought on Riccardo calafiori for Leo spinazzola. What followed was a collection of Torino chances as Lopez denied both Lycono and Andrea Belotti. In the 73rd minute, Torino got one back after a defensive mistake from Roma. Pau Lopez made an initial save and then another one a but Roma's backline, not being able to clear it out, ended up with Andrea Belotti finding the back of the net in what was a horrific Mistake by the defense. Really the only low moment of the entire match. It confused some energy into Torino; the visitors created a lot of changes in the last 15 minutes, none of them really challenging Lopez; they tried to get themselves back in it, But ultimately it was trial by fire as Roma held on for a routine 3-1 victory the Romans take the point at the Stadio Olimpico as they move into the top four after the victory. After a slight hiccup, Roma is back in business.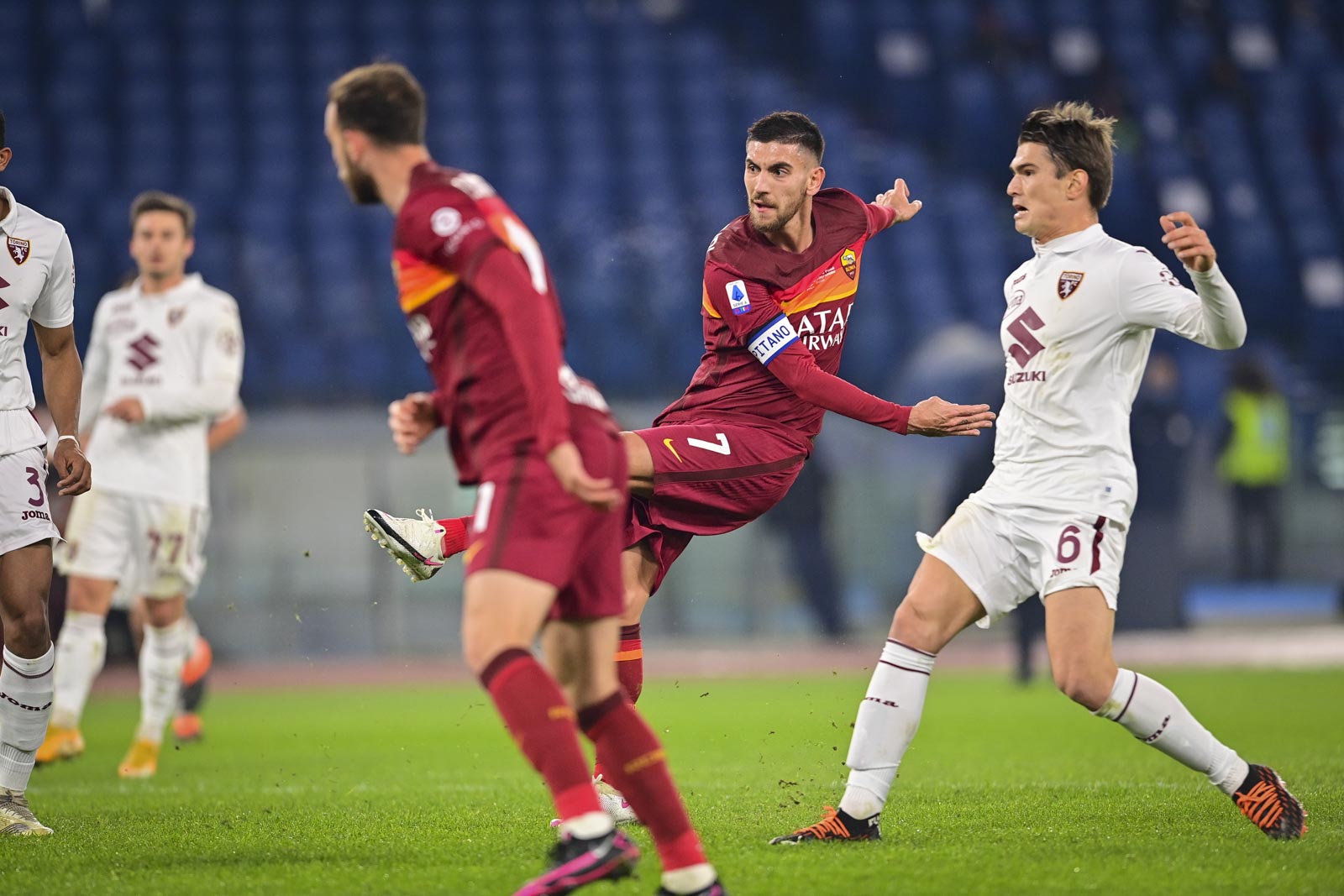 Pellegrini scores for second game in a row as Roma kill off the game in 3-1 victory.
Roma kept things rolling after they're dominating display from last week to pick up another three points at home at the Stadio Olimpico brushing aside Torino in a 3-1 victory. Torino didn't look good in the early part of this game before everything went downhill when they saw one of their players get sent off in 14 minutes. I don't think this game's results would have been any different, but it was a gut-punch to Torino, who is already struggling so much this season. They have lost multiple leads across many games this season and seemed Doom for the relegation Zone. However, after that happened, Roma just cut through and dominate the match. It wasn't a perfect performance in Rome mistakes were being made, Roma controls the game after getting that early lead thanks to Mkhitaryan and Jordan veretout from the spot and eventually Lorenzo Pellegrini in the end. I'm going to put this simply Roma got the job done; they got their points there; now, in the top four, things are looking good for Roma. It wasn't one of these performances where it was just a breathtaking display, but Roma got the points; we're able to give some rest to players, and the end of the job well done. I thought collectively Roma play well together, especially on the third goal there's a lot to look at this match as a positive outlook. However, I would say that one of the negative takeaways is we have to do better on that defense of a mistake that is a dumb error that could have been completely avoided. Secondly, even though I thought Lorenzo Pellegrini played well and got that goal after watching today, I think he is better Suited in a more defensive position. He has the capabilities to play an attacking role, and it's something that Roma can use because of his versatility, but that's just food for thought. Pellegrini, I thought he was one of the best players on the pitch tonight he responded well with his performance with another goal, and you have to like what you've seen from the lad. The standout players from me outside of Pellegrini were Jordan veretout, Leo spinazzola and Chris Smalling, and Gonzolo Villar. It was great to see the Englishmen back in action, and I thought defensively that he was superb. Leo spinazzola is my man of the match. However, he provides such an attacking sense up the flank. It makes it really difficult for anybody to contend with him that he had the athleticism, intelligence, and dribbling ability to maneuver around players and get the ball into dangerous positions to help his teammates. This performance gives them good momentum heading into a match against Atalanta that has been slightly inconsistent this season. The team's health and form should play a big role in whether or not Roma will be able to expose and in Bergamo. An overwhelming positive performance as Roma gets the points.
MAN OF THE MATCH: Leo Spinazzola