Score: A.S Roma 3 Cagliari 2FT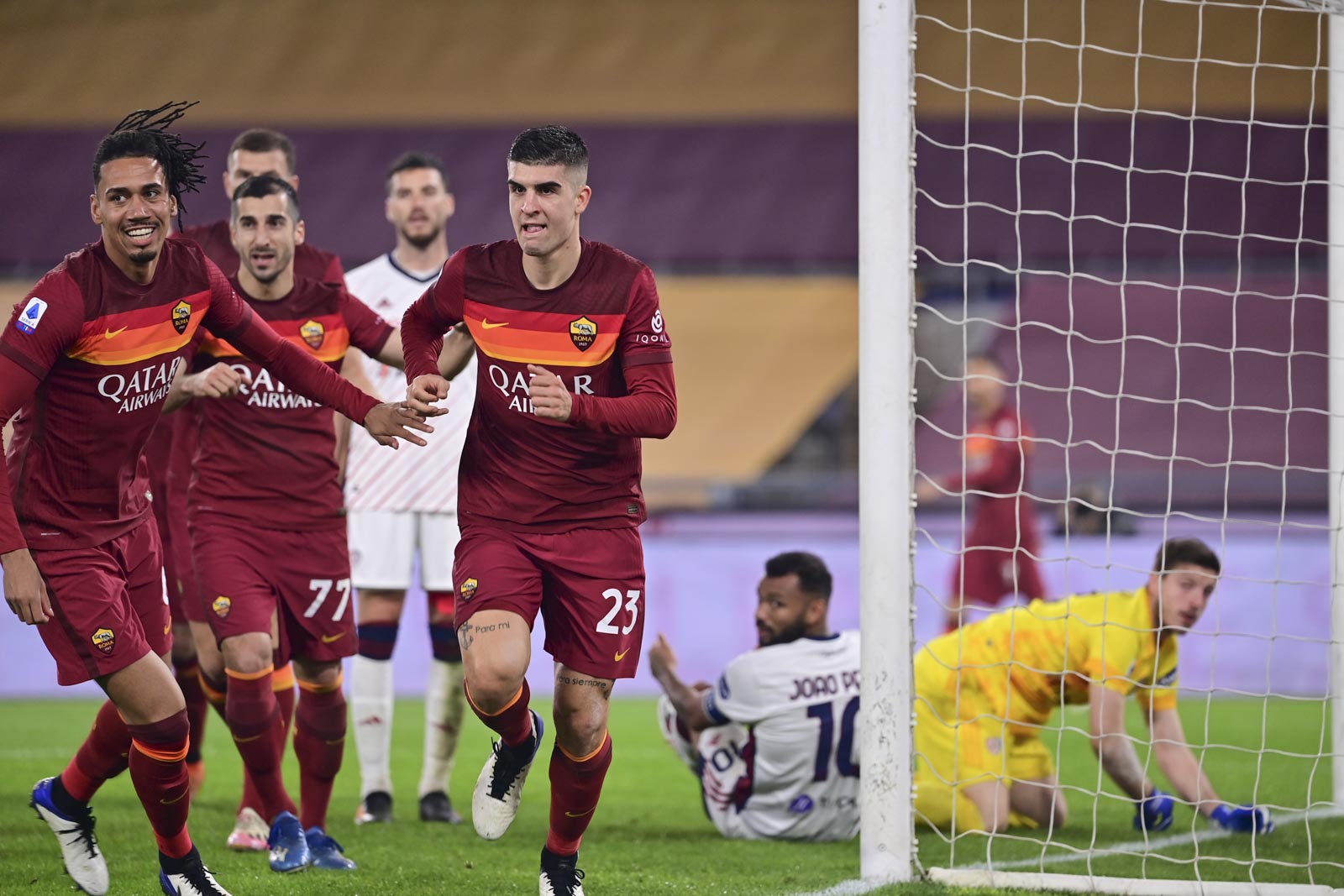 Roma was coming off of a very disappointing route in Bergamo on the weekend. A game in which they took a 1-0 lead after 3 minutes before they were cut open repeatedly in the second half conceding four goals in 25 minutes. Roma looked to put that performance behind them and try to get themselves back into the top four. Juventus lost to Fiorentina, allowing the Romans to jump them in the table. Roma returned home to the Stadio Olimpico in what turned out to be a thrilling match against Cagliari. Paulo Fonseca made some changes, but it did not seem to disrupt the momentum they struck early in this game just a little over 10 minutes into it on a Counter-attack primarily put together by Mkhitaryan Jordan veretout gave Roma the lead his strike hit off the ground finding the back of the net. Roma had many opportunities in that first half, but Cagliari kept the game open for business. Roma and control often got on the counter-attack and seemed like a game that was going to be smooth sailing. However, Roma had a rough time in the second half during a stretch as they made some costly mistakes that gave the visitors some momentum. Eventually, they would break through Joao Pedro, scoring the equalizer to suck some of the hosts' momentum. However, Roma managed to get back into this game with a beautifully orchestrated attack ending with Rick karsdorp finding edin Dzeko to give Roma a 2-1 lead. Then not long after, Gianluca Mancini scored off a corner kick giving Roma a 3-1 lead. Cagliari pressed in the final 15-20 minutes, really looking like a danger to score a two-goal lead seemed like it was going to be too much to overcome. Still, they did draw a penalty in stoppage time as they minimized the deficit despite a slight scare. Roma held on to win the game 3-2. To end the year positively as Roma jumped into third place after Napoli's draw with Torino and Juventus losing to Fiorentina. It wasn't always pretty, but in a tough match, Rome figured out a way to do enough to collect the points. As Roma protects their Fortress, all smiles at the Stadio Olimpico.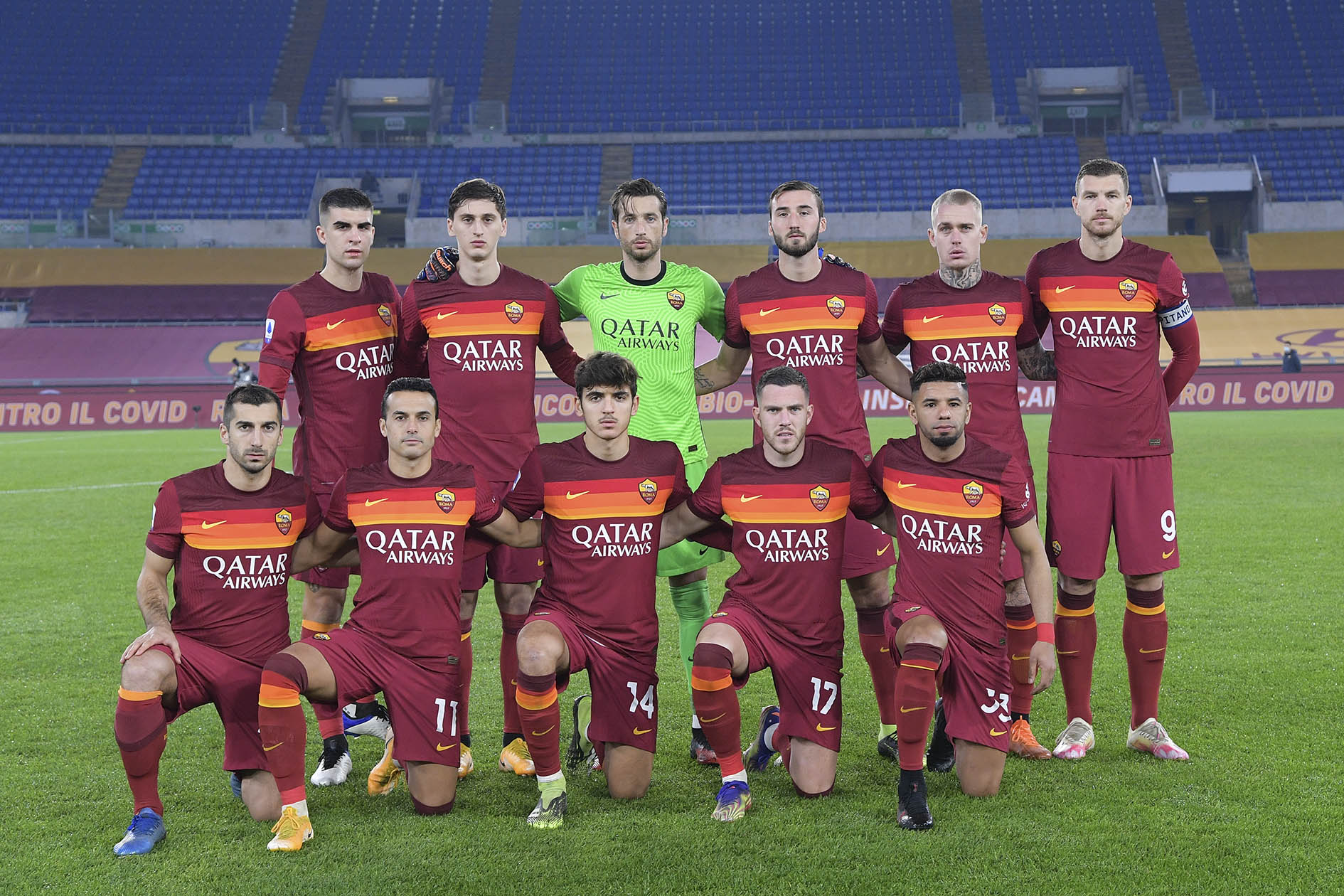 Roma line up out of their typical 4-2-3-1 formation; however, Paulo Fonseca made a couple of changes ahead of this match. In goal, Antonio Mirante would remain despite his struggles. The center-backs would consist of Max kumbulla on the left Gianluca Mancini on the right, and Bryan cristante centrally. At left wing-back would be Rick karsdorp on the opposite side, at right wing-back would be Bruno Peres. In the defensive Midfield, we would see the pairing of Jordan veretout and Gonzalo Villar. On the left-wing would be the red-hot Armenian Hendrik Mkhitaryan, then on the opposite side on the right-wing will be Pedro Rodriguez. Then upfront as Roma Central Striker would be edin Dzeko. Roma would also have options Off the Bench if needed.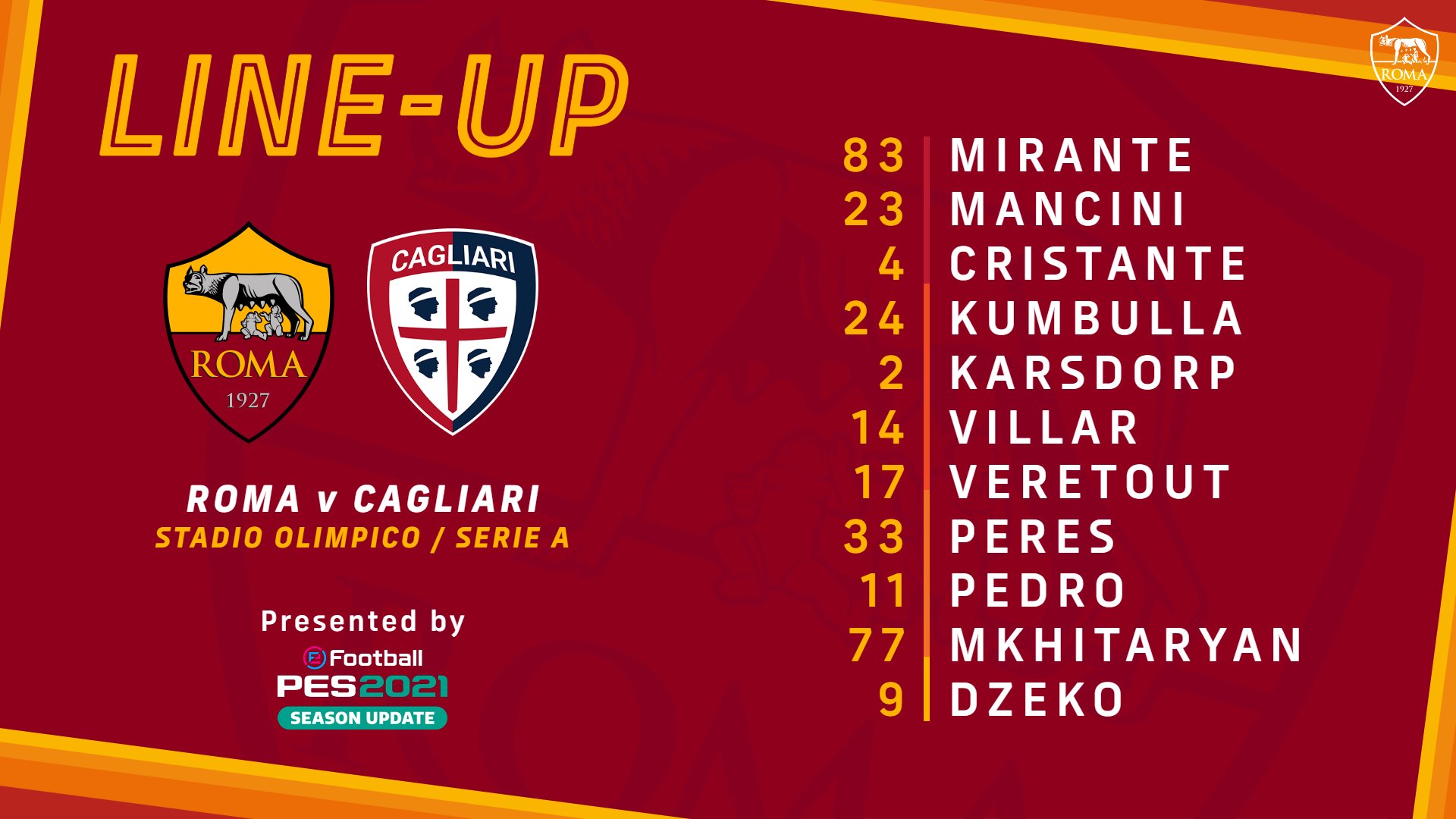 After preparations and predictions, the match was just about to get underway at the Stadio Olimpico on a Wednesday night and the Eternal City. The visitors would be Cagliari, a winless team in the last five looking to get themselves back on track. Roma wasted absolutely no time getting themselves in the driver's seat of this game. For the third time this season, Roma started on their very first shot of the game. It took a while for Roma to get there, but a converted on it once they had that chance. In the 11th minute, the first touch by Jordan veretout started A beautiful counter-attack. Henrikh Mkhitaryan sends a stunning cross on the wing to Rick karsdorp to find Jordan veretout as the midfielder hit a strike that took a big bounce off the ground and out of the reach of Alessio cragno as Roma took a 1-0 lead. It would be Jordan veretout seventh goal of the season, already level on his total from last season. Roma had control in the first half. They continued to break get on the counter quite a bit and had their fair share of chances to increase the game even further. About 12 minutes later, the game starts to open up as we began to see more possibilities. Pedro Rodriguez can very close to giving Roma their second before Alessio cragno denied him. Here came Roma edin Dzeko saw his strike from deepness before Bryan cristante was denied after getting his foot on a Pedro cross before Max kumbulla saw a header being brushed away once again by the goalkeeper. Roma was in complete control, and we're rather unfortunate not to have scored more than they did. At the end of the first half in stoppage time, Razvan Marin misfired from close range; it was Cagliari first shot of the game. Roma defensively gave them issues from Back to front, really making there the point of attack insignificant as they kept Joao Pedro quiet. Roma's opening goal saw them maintain a 1-0 lead thanks to Jordan veretout after the opening 45 minutes.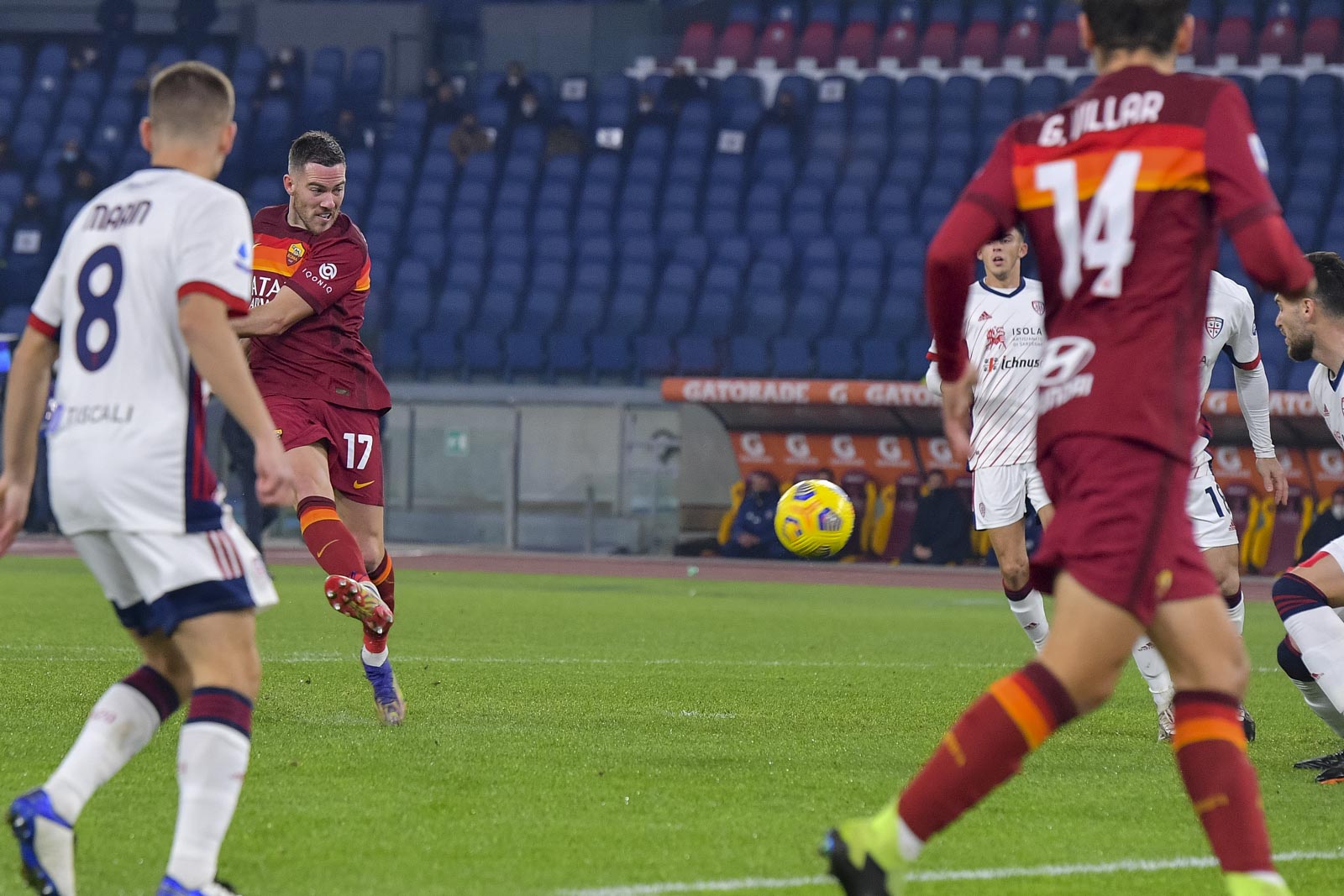 A Veretout strike give Roma an early lead 
Roma got that early momentum and the first 10 minutes and was looking like they were going to maintain it, unlike the match last weekend. They got on the counter-attack they passed the ball with great succession. Rick karsdorp proved to be such a weapon on the outside, and Gonzalo Villar was doing bits in the Midfield. Everything was going for then; it never felt like it was a match that would get ugly, but they had firm control of it. Roma had two chances early in the second half through henrikh Mkhitaryan, and Bruno neither hit the target. Roma really could have scored a second when Mkhitaryan supplied a perfect ball inside to Pedro Rodriguez on the Breakaway using excellent pace and athleticism to separate and looks like it was going to be another goal for Roma certainly; however, the finish was atrocious instead of hitting it low aiming for the bottom corner Pedro hit it straight at the goalkeeper. It was going to come back and haunt them. Following that chance, Roma is making some mistakes in the back, and we're not able to push the ball intimate feel they were making too many ill-advised backs passes, keeping the ball in their dangerous area instead of trying to push the ball forward. A horrific pass that was picked off by Cagliari nearly could have been the equalizer has Cagliari had two opportunities to potentially breakthrough, missing on both chances. Then in the 59th minute, Cagliari had a third chance; being unable to clear it out, the visitors took advantage as Joao Pedro picked out the bottom corner to get things on level terms. Two minutes later, they nearly get a second when Giovanni Simeone hit the bar. All of a sudden, all this momentum was in Cagliari favor. However, Roma still managed to keep themselves at the forefront of it, but Cagliari looks excellent following their equalizer. Great defensive tackling was in order during the stretch; luckily for Roma, they could operate in the situation as Cagliari started to cool off. They were running on adrenaline; eventually, it was going to run out. Roma, with that, make two changes as Rodger Ibanez and Lorenzo Pellegrini enters the match. Jordan veretout tries to put them back in front, but Alessio cragno came up with a big save. However, in the 71st minute, Roma got themselves back on the front a brilliant counter-attack from Roma as Rick karsdorp made a beautiful run down the flank, cutting inside before supplying a ball to edin Dzeko the Bosnian followed through as Roma took a 2-1 lead.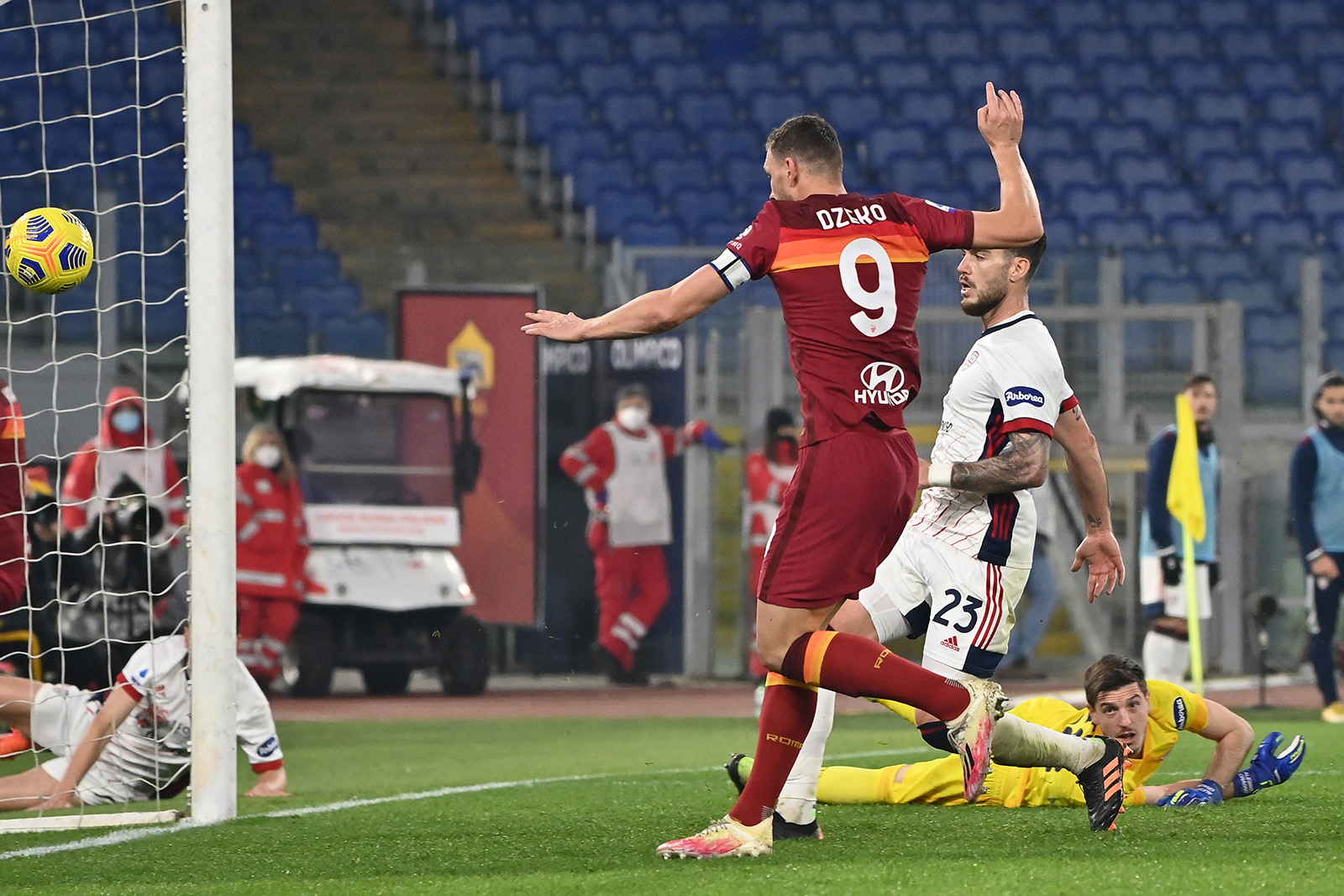 Edin Dzko scores again to take Roma back in front 2-1
It would be the seventh goal of the season for the Roma captain. Chris Smalling entered the game following Roma's go-ahead goal. He immediately impacted coming off a corner shortly after; however, Antonio Mirante got injured and had to leave the game as Lopez went in goal. In the 77th minute, coming off a corner kick Chris Smalling supplied a headed pass inside to Gianluca Mancini; the Italian Center back follow through on a header with conviction as the ball ripped into the back of the net as Roma ran out to a 3-1 lead. Roma made their final change as bojar mayoral came in for edin Dzeko. With three minutes to go, mayoral could have made it a fourth across from Bruno inside to an open bojar mayoral, but the Spaniard's header went High over and opened the net in what will a golden chance for yet another goal. However, it didn't seem to be that costly in stoppage time. Roma conceded a penalty as Joao Pedro minimized the deficit once again, converting from the spot, but it was too little too late as Roma scored twice in a span of 10 minutes in the second half to secure the points. Roma now pushes themselves into third place to end the year on the highest of notes.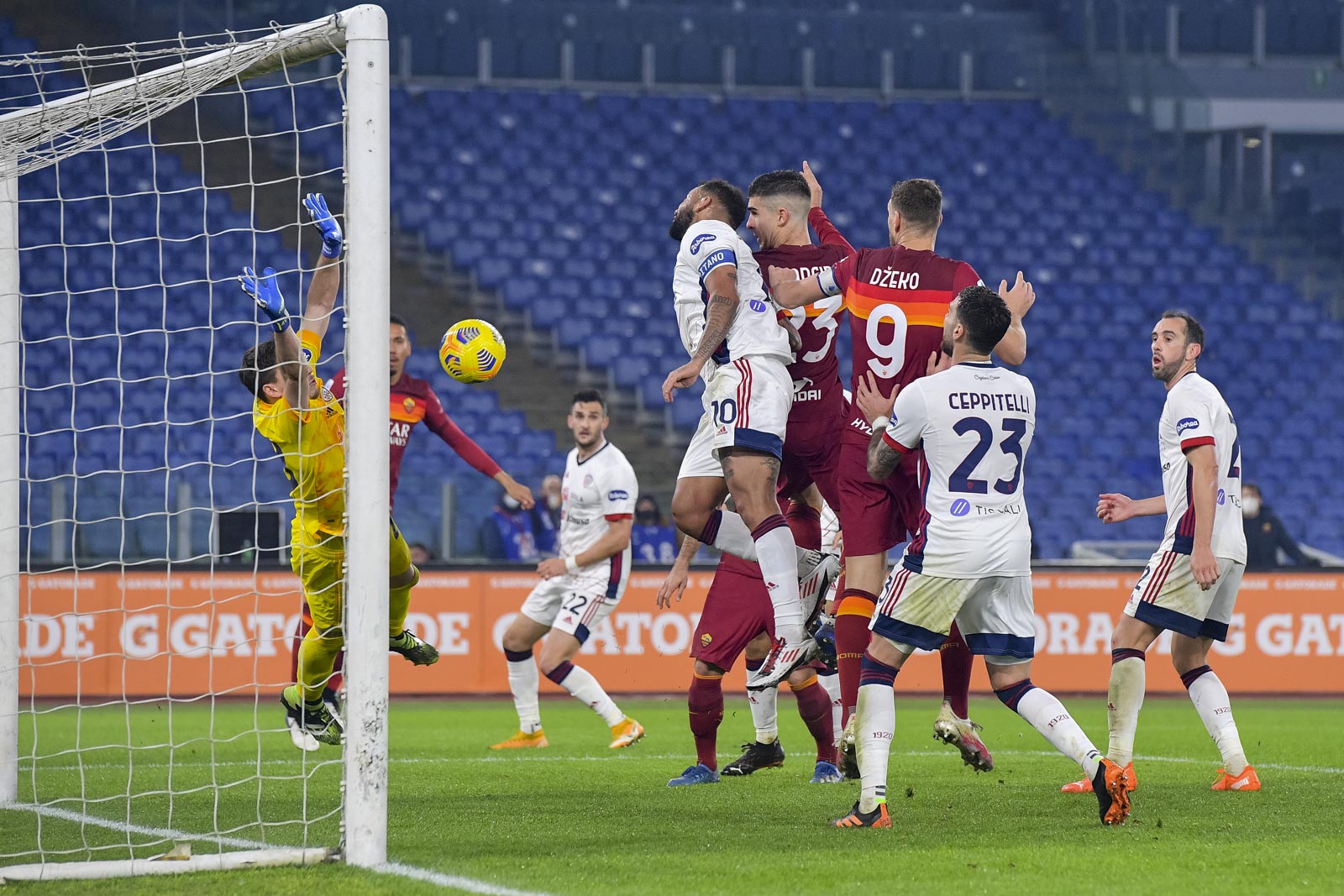 Mancini header finishes the job as Roma hold on
Roma had a point to prove after being ripped apart by Atalanta in the second half over the weekend. Roma felt the need for a resurgence of confidence and momentum. You're nothing without these two components. Roma still has to play at a high level, but they have to maintain that momentum that carries them in some of these games. This was a game that was, in honesty, was quite a challenge at many points. Cagliari did an exceptional job of keeping themselves in the game. They didn't take too many uncharacteristic risks; they stayed calm and waited for the moment. Even though they did come up short in this game, I think Cagliari will get on a run once they get that victory to put them back in the right place. Roma works in control most of the game, but when Cagliari had their moment, they made a Roma very uncomfortable. The game was even in balance, but the turn determined and desired to win this game shined through. Roma was able to jump into the top three after Napoli and Juventus dropped points. Unbelievable on the counter-attack, really tough to deal with, and really turned it on outside of a few mistakes. This is exactly is what they needed to end the year. Roma should have scored more both bojar mayoral and Pedro missed opportunities the score more. It was in the balance right until the very end. Edin Dzeko scoring at the go-to head goal and a beautifully struck header from Gianluca Mancini sealed the victory in the second half after Jordan scored an early goal. Unlike the performance against Atalanta, you saw the mental capacity in the strength that they showed in this game. They never lost belief and continue to go after it as they pick up a huge boost. Gonzalo Villar filled in for Lorenzo Pellegrini and was just a magician with his feet great control; he distributed the ball very well-made intelligent runs, and overall outstanding performance. He has turned into a critical player in this Roma team after coming from the second Spanish division. He looks like someone who can be a huge part of the future of this club. Roma is a champions league team as they showed it tonight, and he certainly will be a heart of that. As good as Villar was, Rick karsdorp was the man-of-the-match he was antagonizing gave everything he had on every play. Karsodrp is rejuvenated in the team with his energy and made a beautiful run down the wing setting up edin Dzeko's goal that put Roma back in the driver's seat, and he was mainly influencing the first goal as well. He was spectacular; he has evolved and rejuvenated himself a struck and has been one of the best players at his position this season. Tonight was another example of it. It wasn't just that he showed the attacking mindedness of the way he plays, but he also came up with some excellent tackles and important moments using his speed athleticism to break up the play. It was a complete performance for the Dutch wing-back. Roma gets the result and has its momentum restored.
TOP OF TABLE
1. A.C Milan 10-4-0 34Pts
2. Inter 10-3-1 33Pts
3. A.S Roma 8-3-3 27Pts
4. Sassuolo 7-5-2 26Pts
5. Napoli 8-1-4 25Pts
6. Juventus 6-6-1 24Pts
BOTTOM OF TABLE
15. Parma 2-6-6 12Pts
16. Spezia 2-5-7 11Pts
17. Genoa 2-4-8 10Pts
19. Crotone 2-3-9 9Pts
20. Torino 1-5-8 6Pts
Next Match: vs Sampdoria Sunday January 3rd @ Stadio Olompico   
MAN OF THE MATCH: Rick Karsdorp